Photos by Zach Taiji.
Paul Lee from Everett, WA has been a long time supporter and has been here since we first started the site. His 2005 Mazda3 sedan has been through many different iterations along the way, from his teal RP1's to his Orange MB Weapons. Now he's running a different setup and it's the best looking one yet. I got a chance to ask Paul a couple questions.
Click the link to read more and view more pictures!
–What made you get into cars in general?
A russian bastard named Mike aka weaksauce, told me modding my car is a great investment.
–What made you get into the stance scene?
I always liked how lowered cars looked and throw in some nice wheels that are flush and you has skeet skeet bang.
–How long have you owned the car? History of it before the build?
I've owned the car since '07, so it's been 4 years. Been my daily driver as always. I was more into "going fast" through the corners, light wheels and such. but with a 2.0L base model automatic… "fast" isnt anywhere near attainable lol. So go low and get flush was my next choice, became pretty much a semi wheel whore at this point, going through two sets of traklites, RPF1's, Weapons, ect ect…
–What issues have you encountered during the build?
Well as styling goes, there will always be differences of opinions. Even more with my "style" I do shit my way, I dont go with most trends because I dont think like most people, and I'm not afraid to try new things. Also with a base model automatic slow ass car, there isnt much out there to do, in the mazda3 world, the hatches rule the mod market lol. Suspension wise is finding the balance for daily drivability and stance. I recently said screw it and go lower in the front, the rear im still debating cause it has a chance to make the rear actually look higher than the front.
–Your favorite part of the car?
My favorite part of the car will have to be the random carbon fiber parts. I have a fetish for CF parts.
–Any future plans for the car?
maybe remove the last collar in the rear, repaint the lip lol but other than that no, due to other future plans.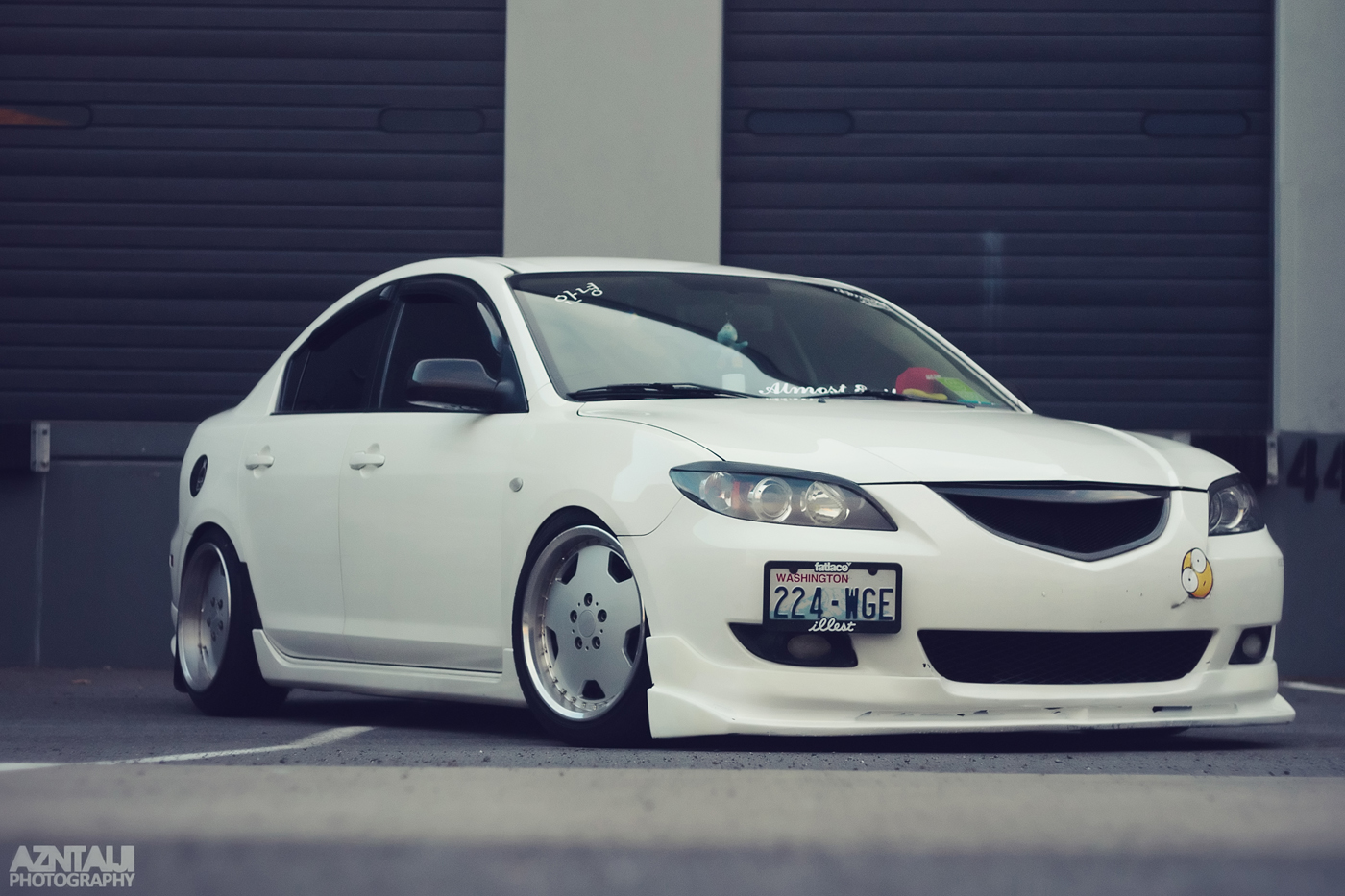 –What is your most memorable moment with this car?
I was on a date and we were driving on this road we call Intermec, its a fun road, short but it has a couple good corners. Anyway i took the long sweeper at about 70 and right as we are passing the apex shes looking out the window saying "whoa…." lol not a big deal to us guys, but her reaction was priceless.
–Who or what inspired the direction of modifications on this car?
Most of the ideas are mine of course, couple of my close friends also threw in some of the ideas we have tried, some failed, some pwnd, but thats all expected from experimentation.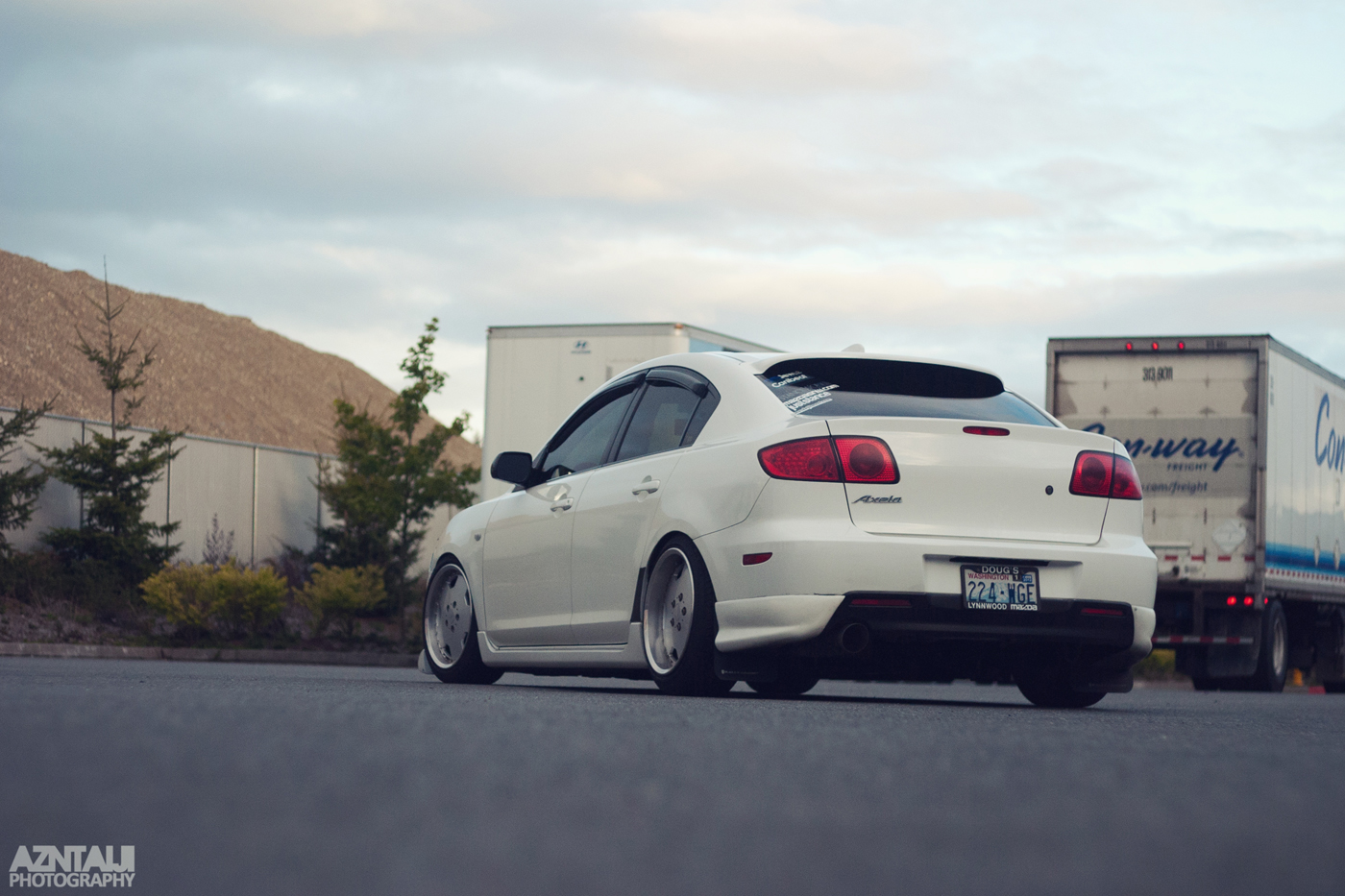 –On a scale of 1 to 10, how satisfied are you with the outcome of this project?
It was my first car and I'm very happy with it; I'd say 8. I had great memories with this car, and all the experience was great.
–Who helped you build this car?
Mike G aka weaksauce, Dennis T, Mikes Dad for letting us use the garage and his tools lol thank goodness we have Mazda Race House now.
Engine:
-Simota Carbon Fiber SRI
-GTSPEC Radiator Cooler
Exterior:
-Hole in bumper…..
-Carbon Fiber Eyelids
-Carbon Fiber Open Mouth Grill
-Carbon Fiber Mirror Overlays
-Custom Carbon Fiber side pieces
-CP-e Tow Plate Mount
-MagnaFlow Tip
-MS front and rear Lip
-AVS Wind Deflectors
-Aftermarket LED Tails
-Shark Fin
-Rally Armor Mud Flaps
-Axela JDM Badge
-SP Rearroof spoiler
Wheel & Tires:
Wed Farmas (17×8 +33, 17×9+38)
Falken 512 (215/45/17)
Suspension:
-BC Coilovers replaced front springs with hypercoil springs
-Fronts have no collars
-Rears have one collar left-Carbon Fiber Dash Kit (overday)
-AWR Front and Rear endlinks
-GTSPEC 4-Point Ladder Brace
-GTSPEC Lower Front Tie Brace
Interior:
-Carbon Fiber Arm Rest
-Carbon Fiber E-Brake Cover
-NRG Carbon Fiber Shift Knob
-Vibrant Suede E-brake boot
-Recaro Speed Seat (Drivers)
-Mazdaspeed Type F Seat (Passanger) from RHD FD =p