Making your car unique from the next guy can be a challenge. You do not want to overdue it, but still make it look good. Here we have Taylor White's 2010 Mazdaspeed 3 from Ontario, Canada, who is a long time follower of MF, and wanted to combine his "country boy" origins into this build. Thank you to Dinesh aka MRDVisuals for capturing this.
Taylor, how did you get into cars? Was the MS3 your first car? Do you daily this?
"I first started getting into cars when I bought a PASMAG Magazine that focused on modified tuner cars.  After reading a few I knew I wanted to build something of my own…"
"…My first car I started to build was a 2005 Mazda 3 GT after a couple of years I saw the Mazdaspeed 3 and knew that was my next build…"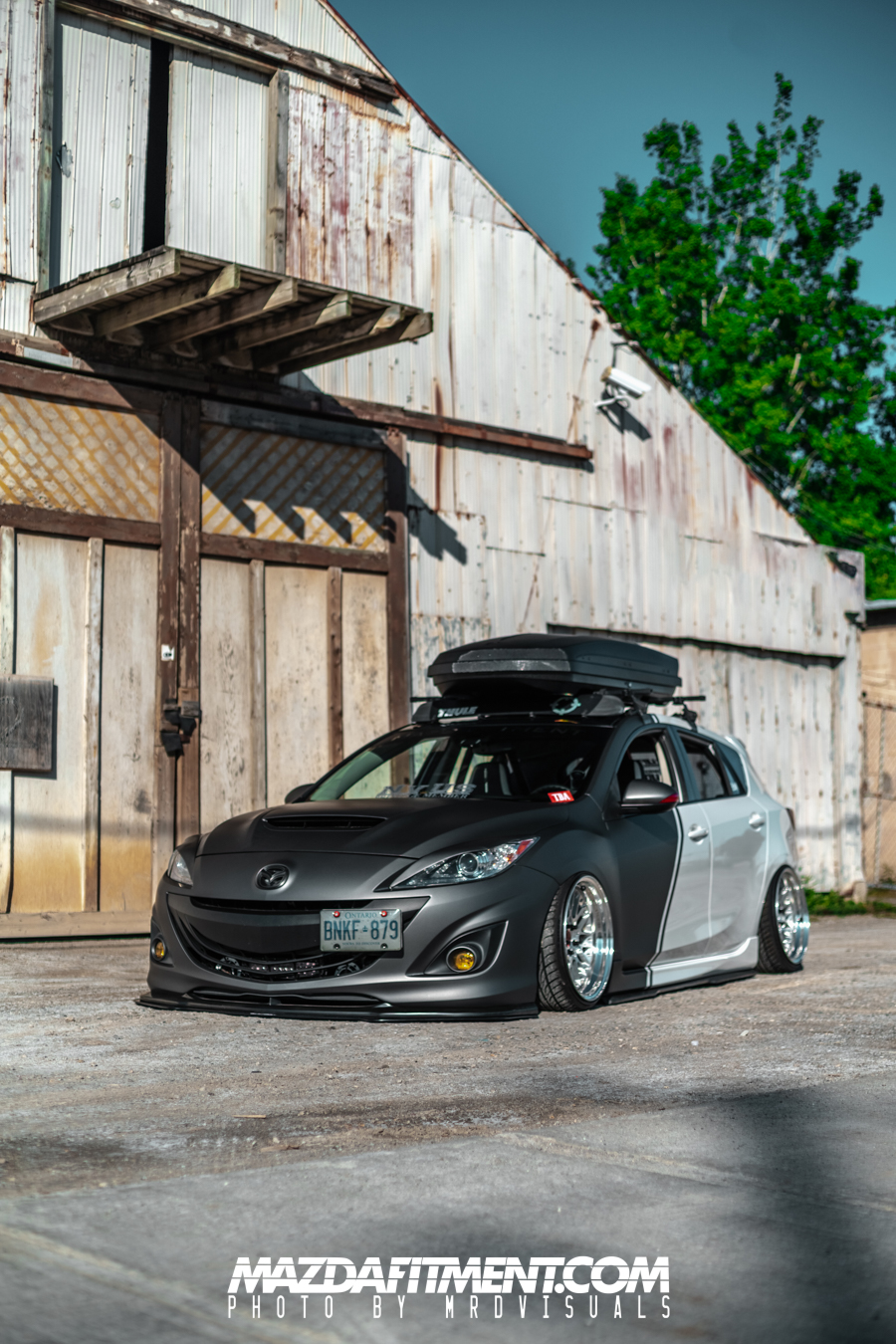 "…I do not daily my MS3 but try to drive and enjoy it as much as possible."
What inspired you to modify the MS3 the way you did?
"I've always been a country guy so I wanted to combine a country theme into my build. I built it to be different from all the other builds!"
How did  you come up with doing that livery scheme? 
"I always loved Camouflage so I really wanted to incorporate it into my Mazdaspeed, door panels wrapped in a red tiger camouflage. Had custom shift boot and e-brake boot made to match. Air Tank and Compressors have been wrapped in the red tiger camouflage. Pairs nicely with the candy red custom half cage…"
"…But decided to change up the camouflage colour in the engine bay as the car is a half and half design I wanted to do a stealth black camouflage in the engine bay…"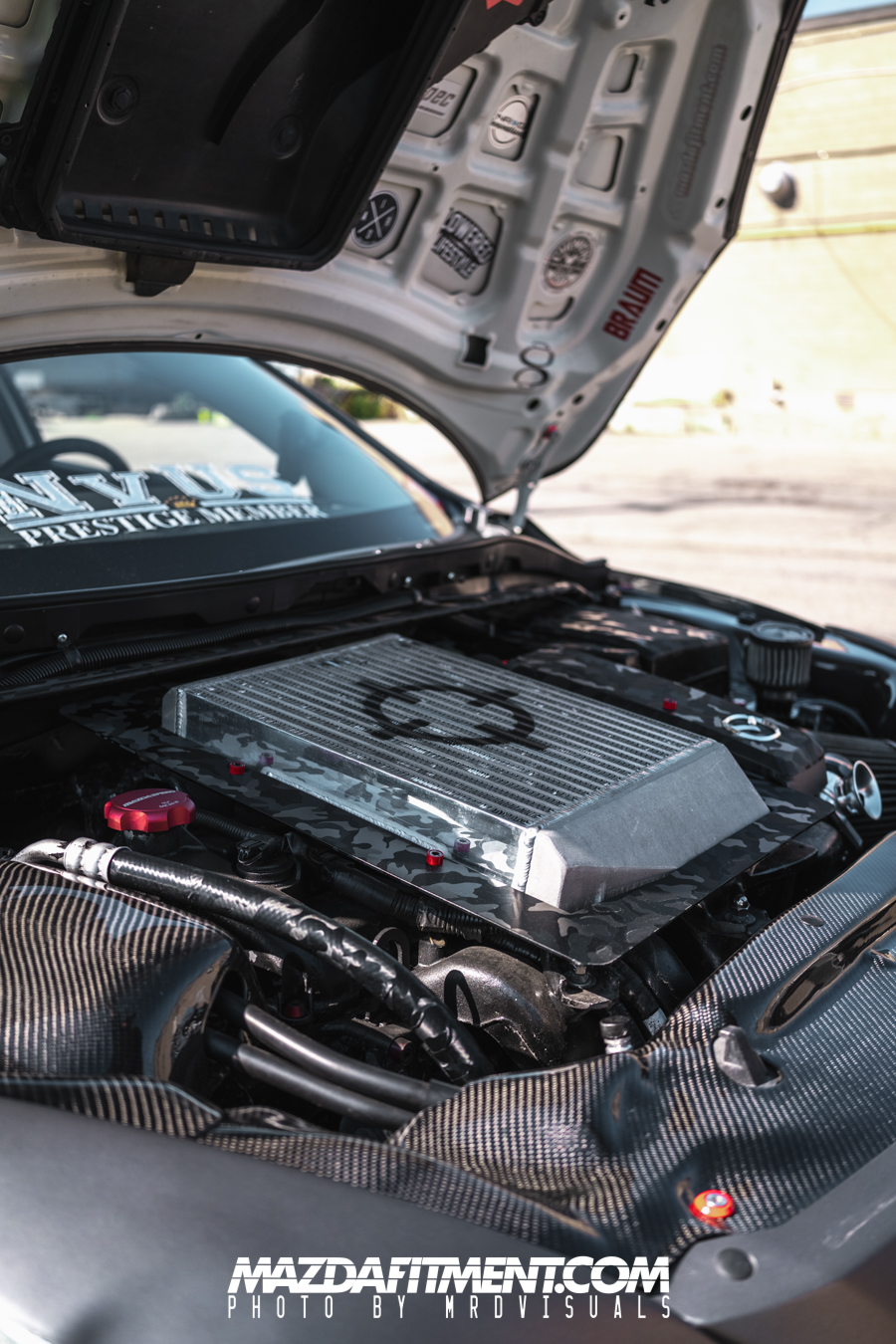 "…I wanted to take my own personal taste and tie it in with this build."
Anyone you want to give a shout out to for the journey with the MS3?
"I'd like to shoutout:
– Sinful Visions (@sinful_visions) for helping me with the half wrap design and trunk setup.
– Fabulous Auto LTD (@fabulousauto_ltd) for all your detailing needs inside and out.
– Dealership LTD (@dealership_ltd) for amazing car show cleaning products
– SW Auto (@swauto_) for helping install motor parts"
MODIFICATION LIST:
ENGINE

-COBB Accessport V3 (Tuned by: Stratified Automotive)
-Corksport Turbo-back Exhaust
-Corksport Catted Downpipe
-Corksport Race Pipe
-Corksport V3 Turbo
-Corksport Short Ram Cold Air Intake
-Corksport Turbo Inlet Pipe
-Corksport Injector Seals
-Corksport Engine Mounts (Transmission, Passenger and Rear Motor)
-Corksport Shifter Plate, Weight and Cables
-Corksport Tower Strut Bar
-Street Unit Intercooler
-Corksport Intercooler Cuplers
-Autotech High Pressure Fuel Pump Internals
-TurboSmart Hybrid 50/50 Blow Off Valve
-ACP Vented Oil Catch Can
ENGINE DRESS UP
-ZSpec Engine Bolt Dress Up Kit
-Password JDM Carbon Fiber Cooling Plate
-Password JDM Carbon Fiber Left Frame Shield
-Password JDM Carbon Fiber Right Frame Shield
-Camo Wrapped Trim Pieces
EXTERIOR
-Custom Half Wrap Design By Sinful Visions (Matte Charcoal Metallic)
-Mazdaspeed Front Lip + Sinful Vision Splitter
-Mazdaspeed Side Skirts
-Mazdaspeed Rear Lip Kit
-Bayson R Motorsports Spoiler Extension
-Sure Motorsports Rear Wiper Delete
-Front Wiper Delete
-Rear Bumper Valance Wrapped Gloss Back
-Roof Wrapped Gloss Black
-Acep"Hulk" Headlight Eyelids
-Rear Tail Lights/3rd Break Light Tinted Red
-Rally Mod 3rd Break light
-Red Tinted Turn Signals (Mirrors)
-Matte Black Front grill
-Front Bumper Trim Pieces Painted To Match Wrap
-Yellow Fog Light Housings
-Damond Front Plate Relocate
-Sport Rack Roof Rack With Thule Fairing and Cargo Carrier
-12" Light Bar (Lower Grill)
-Hella Horns X2 (Lower Grill)
INTERIOR
-Braum Elite Series Racing Seats (Black With White Trim)
-Planted Seat Brackets
-Braum Racing 5 Point Racing Harness X2 (Red)
-Custom Candy Apple Red Half Roll Cage By Jensen Fabrication
-Quick Release Racing Fire Extinguisher
-Camo Wrapped Door Panels
-Camo Shift and E-Brake Boot
-Red Painted Door Trim
-Dash Trim Blacked Out
-White COBB Shift Knob
-Corksport Shift Bushings
-NRG Short Hub
-NRG Quick Release
-Grip Royal Steering Wheel
-Rear Seat Delete
-Custom Trunk Design and Air Ride Setup By Sinful Visions
AUDIO
-Eonon Head Unit
-Pioneer Door Speakers X4
-Pioneer Tweeters X2
-12" Pioneer Subwoofer
-Taramps AMP
SUSPENSION
-Airlift Performance Bags
-UAS Rear Bags
-All Day Fab Rear Control Arms
-Airlift V2 Management
-Dual 444c Compressors
-5 Gallon Tank
-SPC Rear Camber Arms
-Corksport Front Sway Bar
-Corksport Rear Sway Bar
J-BR Mid Chassis Brace
WHEELS + BRAKES
-GMR VX8's (18X9.5 +10)
-1 OF 2 Set's Made (Only Set In Canada, 1st Set In Step Lip)
-Saliun Atrezzo Z4+AS (215/35/18)
-ARP Extended Wheel Studs
-SR48 Forged Lug Nuts
-Max Performance Slotted/Drilled Rotors
-Max Performance Ceramic Brake Pads
Featured also on Taylor's MS3 is the Mazda Fitment windshield banner in Matte Black. Subtle addition he has had for many years.
Banners available at shop.mazdafitment.com
Thank you to Taylor for letting us share this here and following us for so many years! And thank you again to Dinesh aka MRDVisuals for this awesome photoset. Many more photos in the gallery below. Enjoy.
Want to feature your ride? There are lot of builds we will never be able to come across, so please email us if you think we would be interested!
Email us at mazdafitment@mazdafitment.com