The NA Miata played a significant role in the revival of the affordable, lightweight, and fun-to-drive sports cars, and its success influenced the design of subsequent generations of the Mazda MX-5 Miata. It is celebrated for its timeless design and pure driving experience. Today, it remains a popular choice among car enthusiasts, and continues to be enjoyed by car enthusiasts around the world.  A prime example of this timeless approach can be seen with Kaimon Chapman's 1991 Brilliant Black Miata from Wilmington, North Carolina. Photos by Ponti Visualz.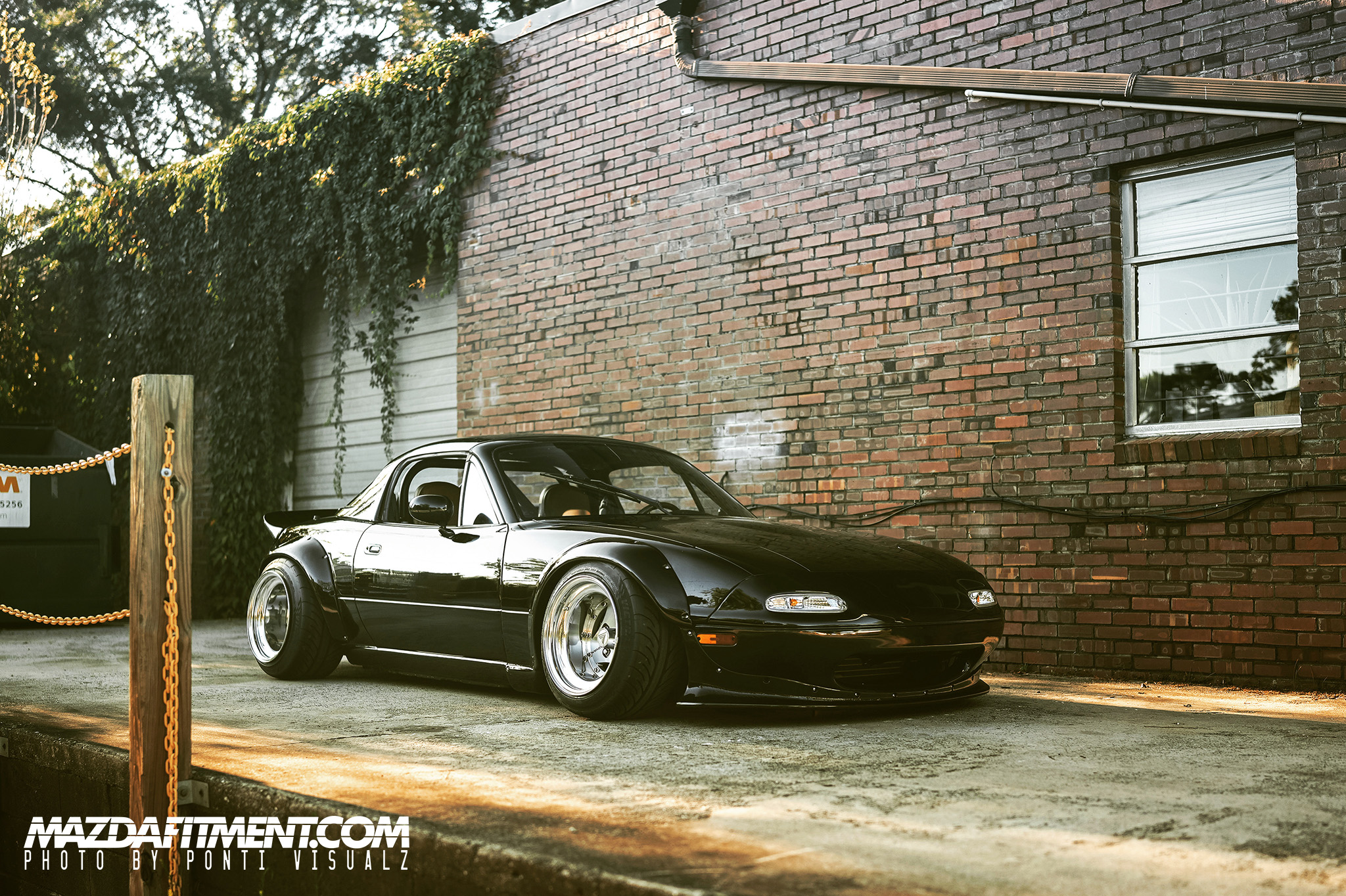 What also makes this special is Kaimon is a long time follower of Mazda Fitment. He would spend time reading our website instead of doing school work, and now he is being featured himself.
So, we got to talk to Kaimon about his MX-5 Miata and what made him make certain choices to the way it was built.
Kaimon, what lead you to owning the Miata? Did you come from something different before this?
"The first generation Miata has always been my favorite car, I've wanted one since before I could drive. I've had a little bit of everything, VW's/ Audi, Honda's, Nissans, I even had a Toyota Crown for a few months, and after being out of an enthusiast car for a few years I found this chassis and saw the opportunity to finally build the car I've always had in my head. This is actually my second NA Miata and it's definitely been a labor of love. This build started with a pretty dilapidated chassis that I was able to buy for the cost of the included hardtop, and over about a year and a half I was able to get it to the stage it's at now."
So, what is the inspiration behind your modifications and styling?
"I've always had a huge infatuation with Shakotan, Kyusha, and Grachan styling, the real roots of the widebody, deep small wheels culture. The cars have so much presence and are so well curated. I tried to bring a similar design philosophy to this build, despite it being a less than traditional chassis for the style."
Then what would you say is the biggest challenge modifying/styling the Miata?
"Definitely trying to find a happy medium between function, and form. You'll notice a lot of Rocket Bunny equipped Miatas have awful front fitment, this is because the RB kit radiuses the front fenders nearly two inches. Which means with proper static fitment you might have 1/4-1/2" between the tire and the sheet metal supporting the shock tower, while having maybe two inches between the pavement and a fiberglass front lip. So instead most people just keep the front tall and it looks bad. I wanted to have decent front fitment and still be able to drive the car pretty aggressively, so opted for bags which are pretty soft compared to the spring rates a traditional Miata would run at that height, I would have liked to be on coils but just wasn't able to make it work for this application. Also just working on a less than ideal chassis, I've had some pretty crappy afternoons trying to get 32 year old parts to release. I'd say about 90% of the car is new parts and the parts that are old have been off at some point. There is a light at the end of the tunnel and I am nearing it."
We love the Advan A3A. What made you decide on this wheel? Dream wheel?
"These are probably my proudest car moment, I've been obsessed with small classic Japanese wheels, especially the A3A, for as long as I've been into cars. This is the dream, between the wheels and the car I've checked my younger selfs biggest boxes. I had these built by Pine Engineering, who sourced the donor set and the rebuilt them for me. Knowing I had to build a set to fit the kit and my previously mentioned love for Shakotan style, the A3A were a no brainer for me."
So, are there any future plans for the build that we can expect to see?
"I've been chasing a steering wheel wobble, which I recently resolved, for the better part of a year. This made the car pretty scary to drive above 55mph. So now that it's fixed I can moved on to the motor work. Right now it's stock mechanically. Later this year I'll be installing a fully built motor, e85, Kraken turbo kit, upgraded trans, LSD and hopefully doing something about the rear brakes as they're standard right now. I'll be looking for somewhere around 350hp with a lot of head room. I'd also like to look into tubing the front for more clearance so the car will sit lower when aired out."
Lastly, anyone you want to thank or give a shout out to for helping with the car?
"The car was really in an awful state cosmetically when I bought it, I literally couldn't have done it without my painters who absolutely killed themselves in the heat to complete the transformation. Pine Engineering for the incredible job on the wheels, Aiden is a great business owner and really does an incredible job at what he does. Also everyone that helped keep me motivated to get it done, this was the first time I'd done a lot of this stuff and tons of people have chipped in their knowledge and time."
MODIFICATION LIST:
-Advan A3A built by Pine Engineering
-15×10 (f) with 225/45/15 & 15×12 (r) with 245/50/15
-Rocket Bunny V1 Style kit
-Carbon Miata 3 piece monster wing
-Garage Vary style rear finish panel with clear tails
Manzo Catback exhaust
Carbon Miata quilted seats, and doorcards
IL motor sports center console
Nardi Classic steering wheel
Works Bell quick release
Hard Dog double diagonal roll bar
Truhart bags custom manual management
Flyin Miata sway bars
Super Miata 11" box mount BBK
V8 Roadster rear upper and lower control arms
Flyin Miata Cannon brace
Special thank you to Kaimon for sharing this with us. Really love the direction this Miata is headed, and can't wait to see updates on it in the future. Also, special thank you to Ponti Visualz for capturing this. Hope you guys enjoyed this.
Want to feature your ride? There are lot of builds we will never be able to come across, so please email us if you think we would be interested!
Email us at mazdafitment@mazdafitment.com