Its been about 10 years since the 1st generation Mazda 3/Mazdaspeed 3, but its still great to see this generation still going strong. Here we have a long time owner Zhang Jian's (张建) 1st generation 2008 True Red Mazda 3 2.0L from Hangzhou, China.
Zhang Jian has converted the exterior of the Mazda 3 to Mazdaspeed 3 Japanese spec rear bumper, rear wing, front bumper, and front fenders.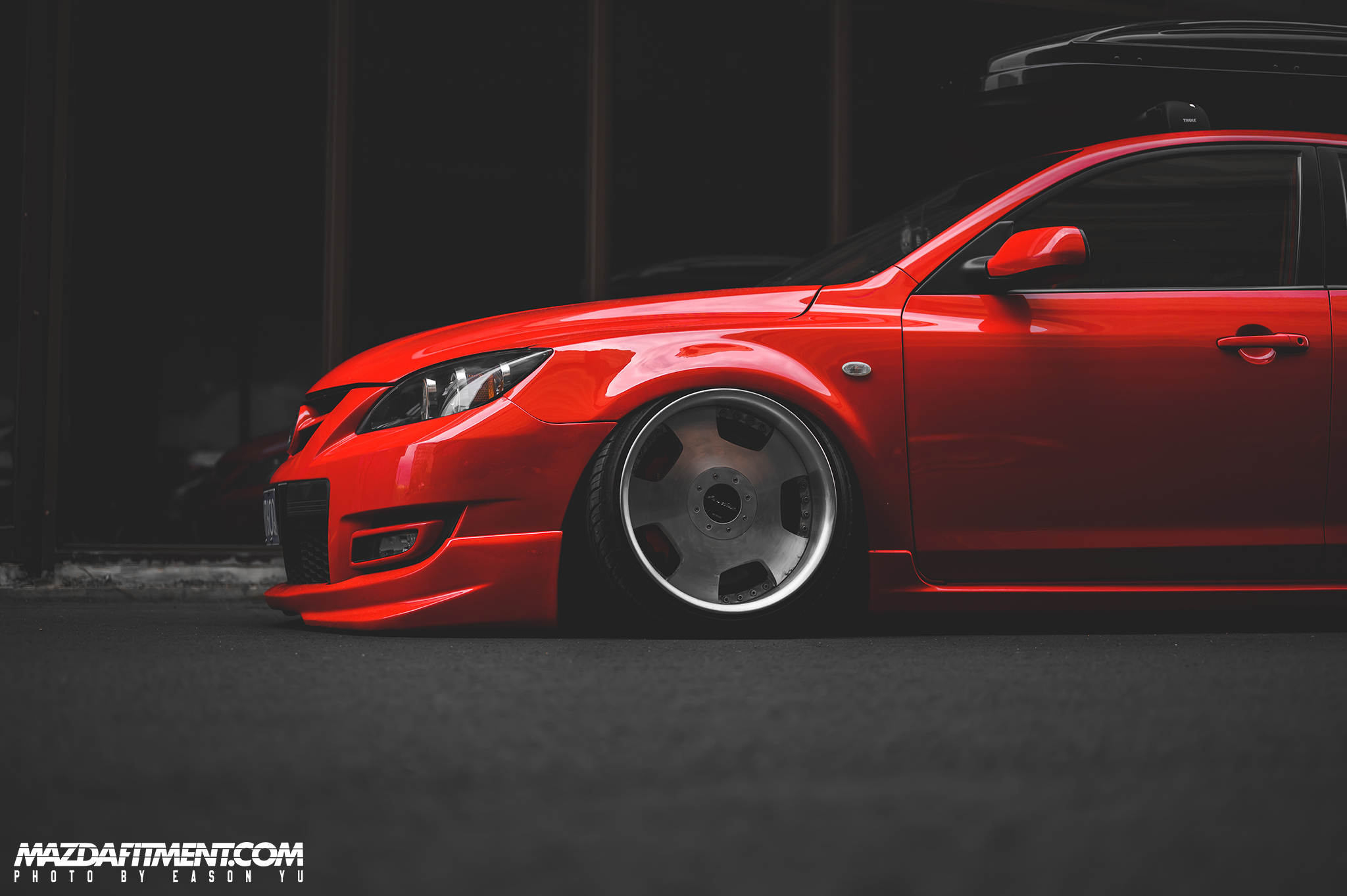 The exterior was further modified with a custom metal wide body all around with a Garage Vary/Replica front lip.
A nice wide set of Work Euroline HD in 18×10 to go with everything. You can also see a set of XYZ big brakes behind the shoes.
Everything simple and clean with the fitment fender to lip of the wheel.
With the roof mounted cargo carrier and the stance of the car…this car just looks good!
Zhang Jian has also modified the interior quite a bit. You can see the Buddy Club racing seats, D1 quick release/wheel, and red suede headliner.
MODIFICATION LIST:
-Japanese MPS Exterior
-Custom Metal Wide Body
-Work Euroline HD 18×10
-Nankang 205/35 and 215/35
-XYZ Front Big Brakes
-Cosco Bar
-Suede Interior and Starry Sky Roof
-D1 Quick Release and Steering Wheel
-Buddy Club Seats
-Airlift Performance Air Suspension with 3H Management
-HKS Exhaust
Thank you to Eason, who is a veteran in the Mazda 3 fitment game, for sharing this photo set with us. Hope you enjoy. More pictures in the gallery below.
There are lot of builds we will never be able to come across, so please email us if you think we would be interested!
No need to be modest!
Email us at mazdafitment@mazdafitment.com