The 3rd generation Mazda 3 is highly praised for being one of the best looking MZ3 generation. This is especially accentuated by a low stance and good styling. Recently we were able to talk to Sean Wilson a long time follower of MF, and his 2015 Jet Black Mazda 3 hatchback from Sacramento, California.
What lead you to this MZ3? Did you come from something different before this?
"For graduation from high school my dad helped me buy a car since I was going away for college in 2013. That car was a 2009 BMW 328i. As it was my first car and I didn't know anything about cars I failed to realize that having 99,000 miles on a 2009 BMW or "BM-Trouble-You" was a bad idea. About one year and a half later I had already spent over $7000 fixing loads of issues ranging from electrical problems, to oil leaks, to misfires. The final straw was when I drove it off the lot after getting a check engine light taken care of and I made it about a mile before the light came back on. As I went home I realized that I needed a new car so I drove around my local auto-mall until I passed the Mazda Dealership and I fell in love with the new 2015 Mazda 3 Hatchback at first sight."
What inspired/made you modify the car like you did?
"Believe it or not it was actually a post from your site! After I saw Kiyomasa's Mazda lowered on some coils and Work Wheels I knew that it was my turn. After seeing his post I started prowling on forums and getting more ideas and wheels specs."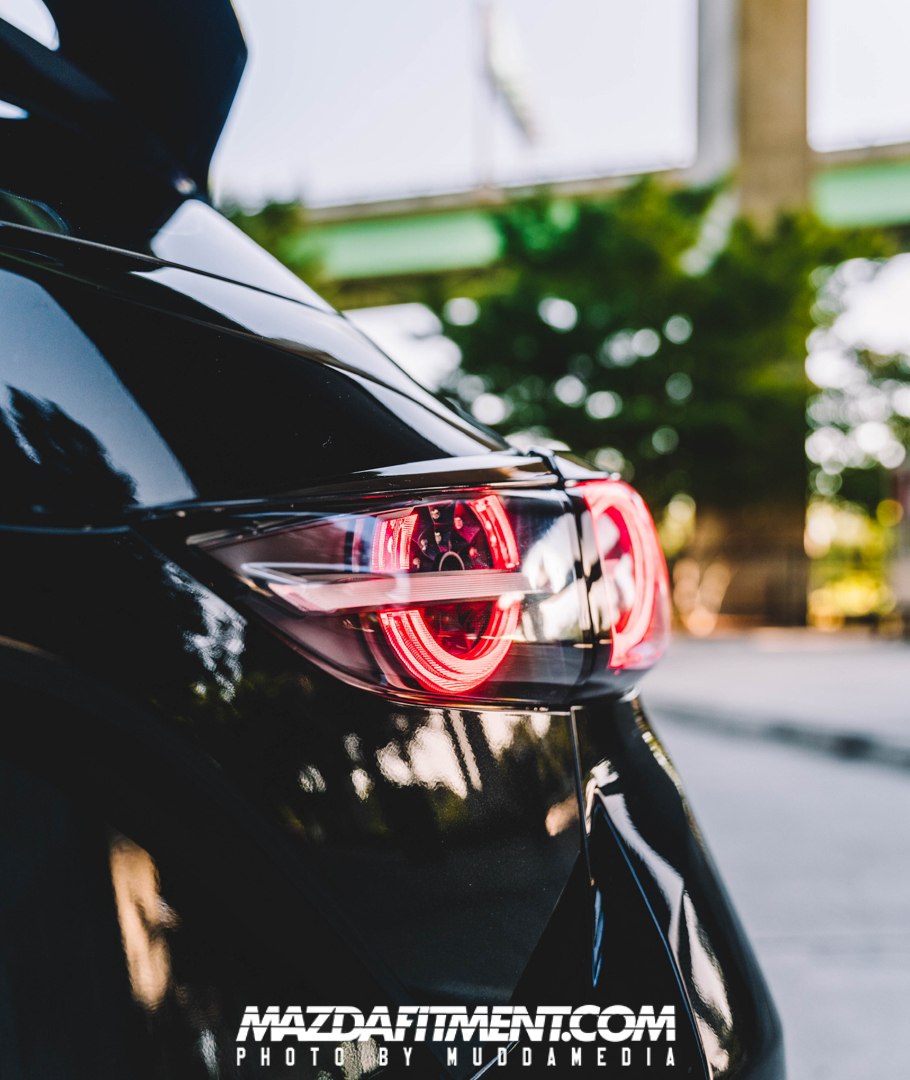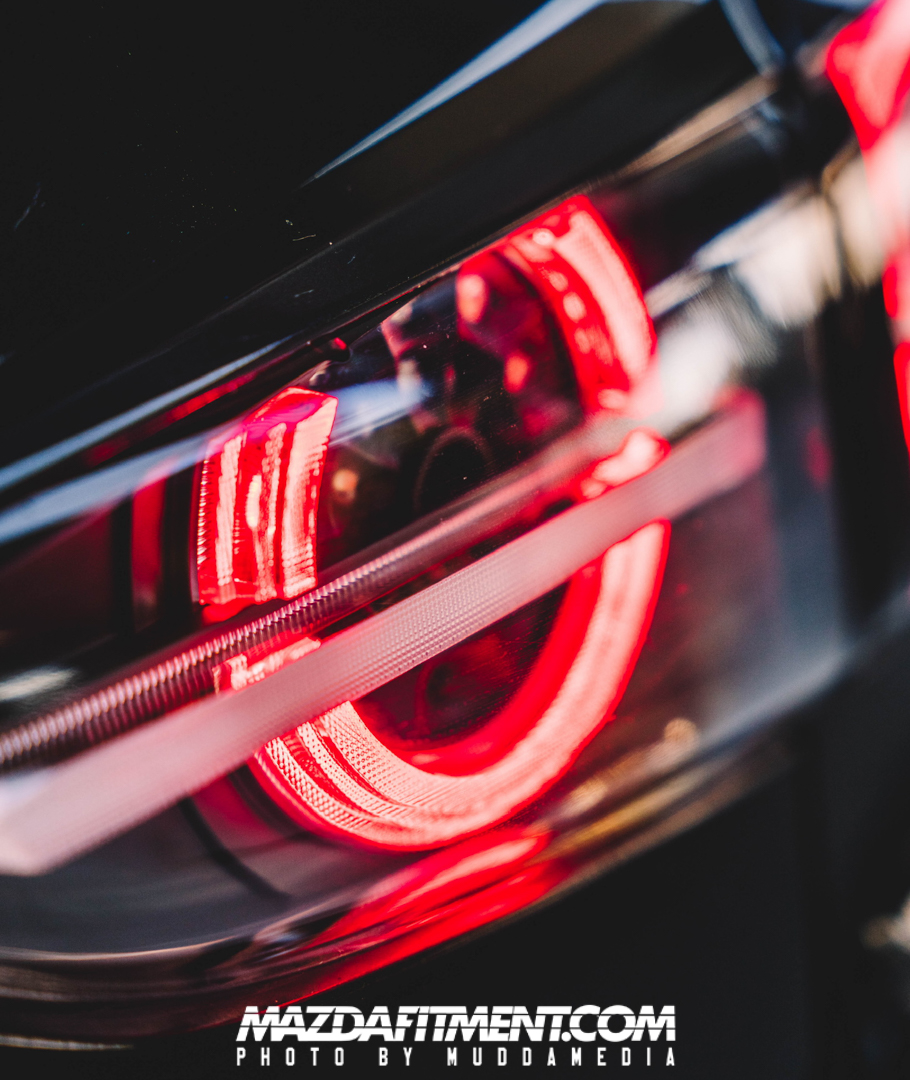 The Work CR 2P look great on there. Is this your dream wheel or something else?
"My dream wheels are the Work S1 3P in Bright Buff Finish or the TE37 in Bronze."
What would you say is the biggest challenge with modifying the third generation MZ3?
"That would definitely be the lack of aftermarket support. Besides Corksport there aren't really a lot of amount of companies making parts for my generation since Mazda didn't make a Mazdaspeed Model. Actually most of my parts besides Corksport are from China or Thailand since the Mazda community is bigger there."
Any future plans for the car?
"I'm planning on a new color for sure, and either doing a custom widebody or adding more camber to tuck all four corners. If I still have the car in a couple of years then I'll look more into doing a 4G63 swap. Other than that I definitely want to do more handling and interior mods."
Curious why you would do a 4G63 swap? Any reason for that compared to the other popular/famous engines out there?
"Mainly because it's been done before by Feeliq Motorsport in Thailand so I'd have someone to help answer questions, and because the Mitsubishi Evo 9 has always been one of my dream cars. Also the engine bay has very limited room so a lot of engines are already off the table that won't require a lot of surgery on the entire car. Another engine swap that I considered was taking the 2.5 turbo from a CX-9, but I'd probably run into the same problem with having the lack of aftermarket support I have now."
Anyone you want to thank or give a shout out to?
"Definitely! First would be the SLAMBROS because without them I'd still be running around on lowering springs and rep wheels. Next would be Affinity Automotive for helping me dial in my fitment and any other work I needed. Then acdna , stilin907 , and jdm_chow for helping me install and source parts for my car. Also muddamedia , gohanfilms , and maticworks_ for shooting my car better than I ever could. And of course my girlfriend stefuhnydao for putting up with my very expensive hobby."

MODIFICATION LIST:
-Airlift 3P Management
-Airtekk Air Struts
-Work CR 2P GT Silver 18×10.5+22
-Hankook Ventus V12 Evo 2 225/40/18
-Eibach Front Camber Bolts
-Corksport Rear Camber Arms
-NEXTMOD Side Skirts & Rear Diffuser
-BaysonR Motorsports front lip
-MZSTORE Bonnet, Spoiler, Headers, Taillights
-MVTuning Front & Rear Eyelids
-Custom Exhaust with Varex Mufflers
-Injen Intake
Thank you to Sean for sharing this with us. We have been waiting to share this build for awhile now for how cleanly executed it is. Also, specially thank you to MuddaMedia for providing an awesome photo set. More photos in the galley below. Enjoy.
There are lot of builds we will never be able to come across, so please email us if you think we would be interested!
Email us at mazdafitment@mazdafitment.com