Before the popular Mazda 6 existed, Mazda experimented with more upscale marketing in the 1990s and introduced a few marque brands (Eunos, Autozam, ɛ̃fini) with short lived executive models. In that process they created the Eunos 500 (Japan/Australia) or the Xedos 6 (Europe) to be the luxury car, but still used successfully in British Touring Car Championship (BTCC).
Here we have Marcin Wójtowicz's 1999 Silver Stone Metallic Xedos 6 from Rzeszów, Poland with a story of never giving up on a forgotten car.

This is rare to see and I am sure many think this is just another Mazda6 generation/model, but its before that even existed and was limited.
How did you come across a rare mark on the Mazda history of models?
"This Mazda Xedos is a symbol of patience. It came to my family many years ago, when I was still a young driver, who couldn't afford buying his dream car. That's why I persuaded my dad to do it, when he was looking for a new family vehicle…"
"…I found it on the Polish Mazdaspeed forum. It was the rare exclusive version, a little lowered with the optional Eibach suspension kit and equipped with 17-inch BBS Postert wheels…"
"…Several years have passed, Xedos served long and bravely until my dad said that I can drive such a low car on German highways, but not South East Poland, full of holes roads; which he had to deal with every day. That was time for a change for him, and a chance for me to buy it back…"
"…When I finally did it everything started to fall apart, but I was determined to bring it to a perfect mechanical and visual condition, which, as it turned out later, took me another couple years…"
"During this time I've lost hope many times, cause the solution of one problem becomes the beginning of another. List of repairs (not all written down) has over 100 entries. The availability of parts for this model is limited, and moreover they can vary between production years…"
"…For example, the radiator replacement or air conditioning repair were really a challenge. The same applies to all modifications, most of which have a really long history. Even the coilover suspension from Ksport, which I had been waiting for several months, came to me with the wrong top mounts. It seems no one has ordered this set before. The complaint process took a long time again, but in the end the manufacturer made a set of dedicated parts for me."
Glad you never gave up keeping this rare car alive to this day. Anything on the Xedos you want to highlight?
"There is already a third engine (KL-ZE 2.5 V6) installed in the car, and what is worth adding, the first swap was made by my dad. Car is equipped with a dedicated Maxton Design splitter set, built after scanning my car in 3D. These elements, together with the coating of the bumpers bottoms and original side skirts, helped to improve body lines."
"Not everyone will appreciate the long list of repairs and modifications, because almost no one drives such a car today, it's also difficult to find help for modifying these cars for the same reason."
At this point you are probably going to keep this car forever. Any future plans for the car?
"The car is in constant use, traveling through Europe and Poland. Everything works perfect and I hope that keeping it clean is the only thing left after long years of repairing and building it."
Anyone you want to thank or give a shout out for the journey with this?
"I'd like to thank all the guys who played a role in this car's long story, including my dad. To be honest – I tuned this car to make him proud :D."
MODIFICATION LIST:
-Mazda Xedos 6 (CA) '99 (also known in Japan as Eunos 500)
-KL-ZE 2.5 V6 (swap, third engine in this car)
-KL-47 throttle
-Curved neck intake manifold
-Fender washers
-DIY CAI (based on 77mm aluminium tubes, D1Spec elbows and Simota filter)
-TurboWorks 6-2-1 exhaust manifold (wrapped with a thermo bandage)
-2.5″ piping (acid-resistant steel)
-RM Motors Silencers
-Water-jet cut flanges
-Everything welded in ProWorkShop
-Standalone EasyECU 3+
-TurboWorks 255LPH fuel pump
-D1Spec fuel pressure regulator
-M6 GG front brakes swap
-KF transmission
MX-3 K8 flywheel
-K-Sport Street Coilovers with custom made camber plates (also by K-Sport)
-Work Euroline IS 18×8 ET38 (polished lips, gold face)
-D1Spec lug nuts
-Federal 595 Evo 205/40/18
-Lower parts of bumpers, side skirts, rear mood flaps & plate frame painted in body colour
-Dedicated, custom splitters by Maxton Design (based on the car's 3D scan)
-OEM + refreshed leather seats
-White LED dashboard lighting
-Custom antenna switch
-V6 + Proa Simplex 160 & Simplex 19 (with 4,2 µF capacitors)
-Front doors soundproofed with Dynamat & STP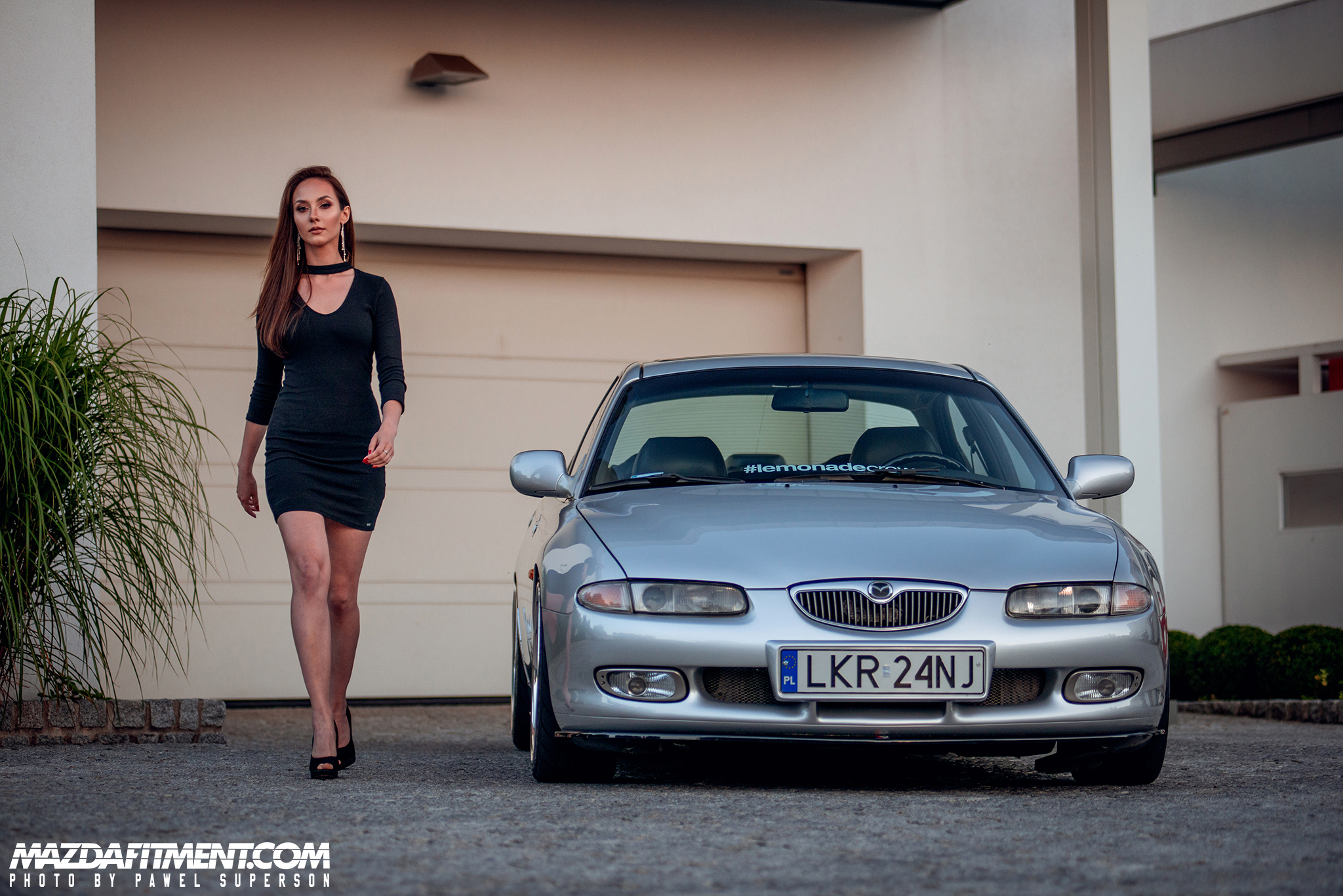 Thank you to Marcin for sharing this rare piece in the Mazda history. Glad you have kept it alive and clean. Also special thank you to Paweł Superson and Marcin Raczkowski for the photosets. More photos in the gallery below. ENJOY!