From all the most common Mazda models out today, the crossover line up is more rarely seen modified with low style in mind. Specially, the CX-3 model, which is a crossover model based on the Mazda 2 (Demio). The appeal of this car type lies in combining the styling of a subcompact SUV with the versatility of a station wagon, but the agility of a car. Here we have Toshiki Ishii's 2018 Ceramic Metallic CX-3 from Hiroshima, Japan. We got to talk to Toshi about his love for the platform, and need to customize the car without breaking the style produced by Mazda.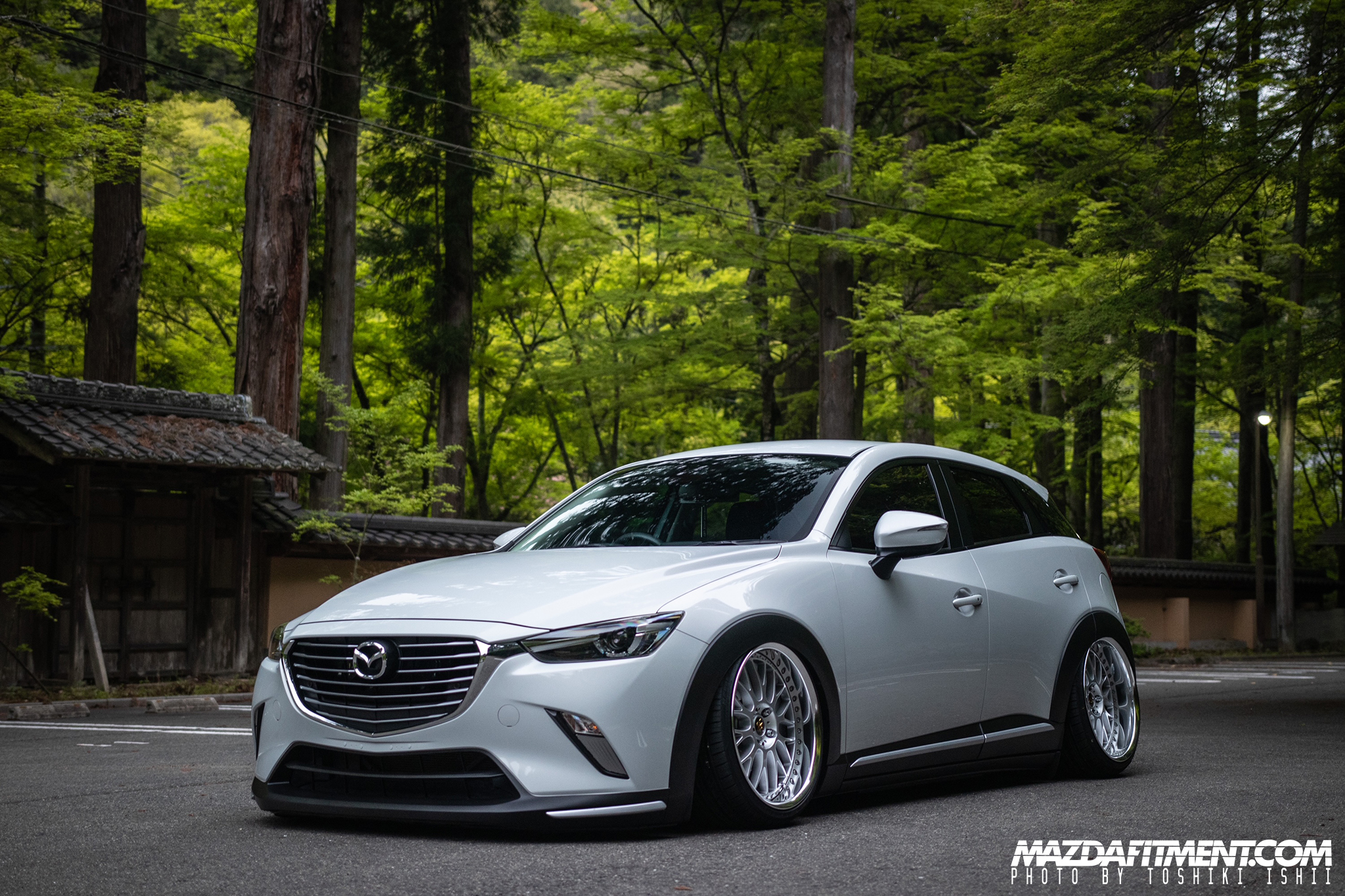 So Toshi, what made you want to own a CX-3? Did you come from something different?
CX-3を所有するきっかけは何ですか?この前は違うところから来たんですか?

"I was looking for a reasonably priced compact SUV to replace my previous car, and I was attracted by the high quality interior and 2000cc displacement."
"前の車からの乗り換えで、価格が手頃なCompact SUVを探していたところ、内装も質が良く2000ccという排気量に惹かれたからです。"

What would you say inspired your styling?
あなたのスタイリングにインスピレーションを与えたのは何ですか?

"First of all, Ikuta's (@ik_cx3) CX-3 inspired me to customize this car. I also learned custom knowledge from Mr. Ikuta."
"まずこの車をカスタムするきっかけになったのはIkutaさん(@ik_cx3)のCX-3です。カスタムの知識もIkutaさんから学びました。"

And for this platform what is the biggest challenge in modifying the CX-3?
CX-3を改造する最大の課題は?

"Since the rear suspension is a torsion beam, the axle must be processed to extremely lower the vehicle height. It was difficult to measure because there was no data for processing."
"リアの足回りがトーションビームなので極端に車高を下げるにはアクスル加工をしなければいけないこと。加工するにもデータがないので計測が難しかったです。"

Are there any future plans for this car?
将来的にはどのような計画がありますか?

"I want to try different styles. Out lip and high camber. However, I will customize it elegantly without breaking the style of Mazda. I also want to put it out at various events."
"様々なスタイルを試したいです。アウトリップやハイキャンバー。ただマツダのスタイルは崩さずに上品にカスタムします。またそれを様々なイベントに出したいです。"

And lastly, is there anyone you like to thank for helping with the CX-3?
CX-3 を手伝ってくれた人に感謝したい人はいますか?

"I mainly work by myself, but I would like to thank his Chibioni Body Works for the axle lower arm processing. They produced the exact item in response to this detailed order."
"主に自分で作業しているのですが、アクスル・ロアアーム加工をしてくれた ちび鬼(Chibioni Body Works)に感謝をしたいです。こちらの細かい注文に応えて正確な物を製作してくれました。"

MODIFICATION LIST:
-AirForce air suspension
-Modified rear torsion beam
-Modified front lower control arm
-Work VS-XX 19×9.5 +29 front & 19×9.5 +4 rear
-Tire 225/35/19 all around
-Negative 6 camber all around
Hope you enjoyed this simple and clean build. We just love the way it looks with low style in mind, and a great set of wheels. Thank you to Toshi for sharing this with us.
Want to feature your ride? There are lot of builds we will never be able to come across, so please email us if you think we would be interested!
Email us at mazdafitment@mazdafitment.com