It's pretty clear the difficulty of find a new car that meets some pretty good basic qualifications to really enjoy it. For those that are drawn to latest Mazda models that is means a good manual transmission in today's sea of automatic transmissions, and the hatchback style. Both hard to come by in today's automotive market. These were the qualifications for Hiro's 2014 Titanium Flash Mica Mazda 3 hatchback from Hyogo, Japan.
How did you end up owning the MZ3? Always into modifying cars?
"The concept at the time was a Civic EG6. I wanted to ride a Civic, but fell in love with the MZ3 style. I was looking for a good 6 speed manual transmission used car to reduce the vehicle height as much as possible to make it racy…"
"I found the best to be the Titanium Flash Mica and went to see it…I loved the fact that it matches the bronze paint of my JZZ30 Soarer…"
"…I always used own a Subaru Legacy B4. I have always modified the cars I have owned. "
Volk Racing TE37s are a wheel that look good on anything, and for some considered a dream wheel. Why did you do with the TE37SL?
"TE37SL is a very good wheel that is light and easy to wash. There are many cars that wear it, so I made it brushed to give them their individuality…"
"The wheel I really want to wear is Advan wheels. I haven't decided yet on which Advan wheel, but Advan is all racy and cool…"
We know you have been a long time owner of this car. Any future plans?
"For future plans…I would like to change the exit of the muffler and the brake calipers."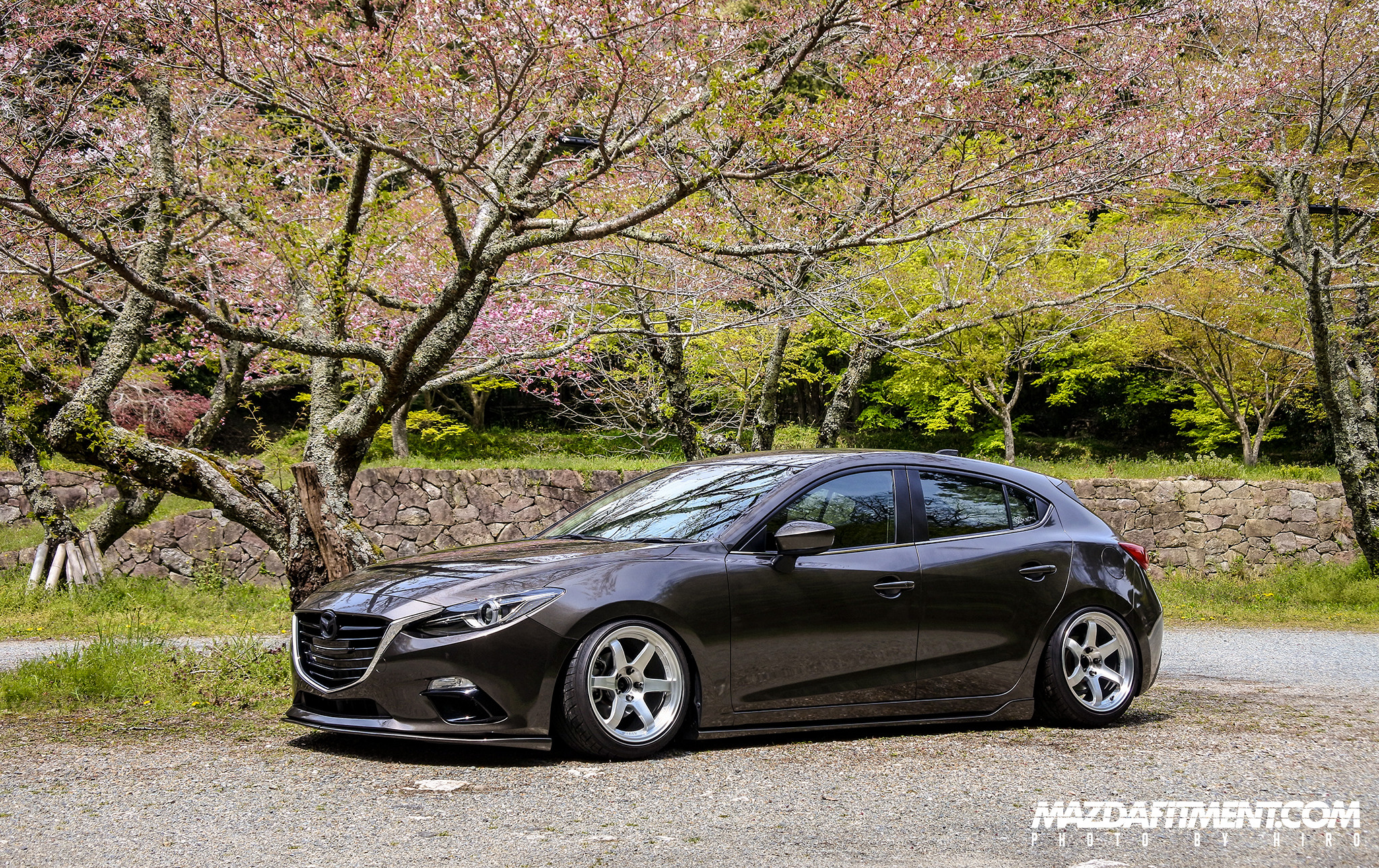 MODIFICATION LIST
-Stage21 lip spoiler
-Mazdaspeed sideskirts
-Odula grill cover
-Blitz coilovers ZZ-R
-One-off pillow upper mounts
-Amtex camber arms
-326power Charabane springs
-Nardi classic steering wheel
-Recaro RS-GS seats
-Crystal shiftknob
-floor crossbar
-front towerbar
-Volk Racing TE37SL 17×9.5 Brushed
-Goodyear Rev Spec 235/40/17
-Spacer Front 20mm Rear 5mm
-EXART muffler
-Straight pipe
-Odula CPU
-AutoExe Intake
Anything you want to highlight?
"I love Titanium Flash Mica…I want to highlight the 22FM addict sticker. 22 represents the atomic number of titanium on the periodic table of elmements. FM just means flash mica…"

Thank you to Hiro for letting us share this with you. Enjoy. More photos in the gallery below.

There are lot of builds we will never be able to come across, so please email us if you think we would be interested! No need to be modest!
Email us at mazdafitment@mazdafitment.com