We love wagons and the Protegé5 wagon is the last coolest wagon available from Mazda to those in outside of Japan and Europe. After many years of being phased out for the Mazda 3 platform, it is great to still see these still taken care of with enthusiasts that will definitely take care of it. Here we have a great example of that with Danny Topete's 2002 Cinder Spark Red Protegé5 from Palmdale, California. Photos provided by Ciegos Vision and Infamous Photography.
How did you get into having the Protege5?
"When I started looking for my first car I wanted something different that not many people knew of and when I found out about the Protege5 and actually found one for sale I was all over it. Even when the people around me didn't want me to,but this exact one because it needed a lot of work (frame damage, front bumper and fender)."
We are fans of the Kansei wheel brand. What made you choose the KNP? Was there another wheel you wanted instead?
"I'm a big fan of Kansei also and love their wheels, so once they made KNP in a size 17″ that's when I knew I needed them and bought a set."
Any future plans?
"I still want to continue to work on the Protege5 and keep adding to it for as long as I can and keep the protégé platform alive. Maybe even get a protégé sedan some day."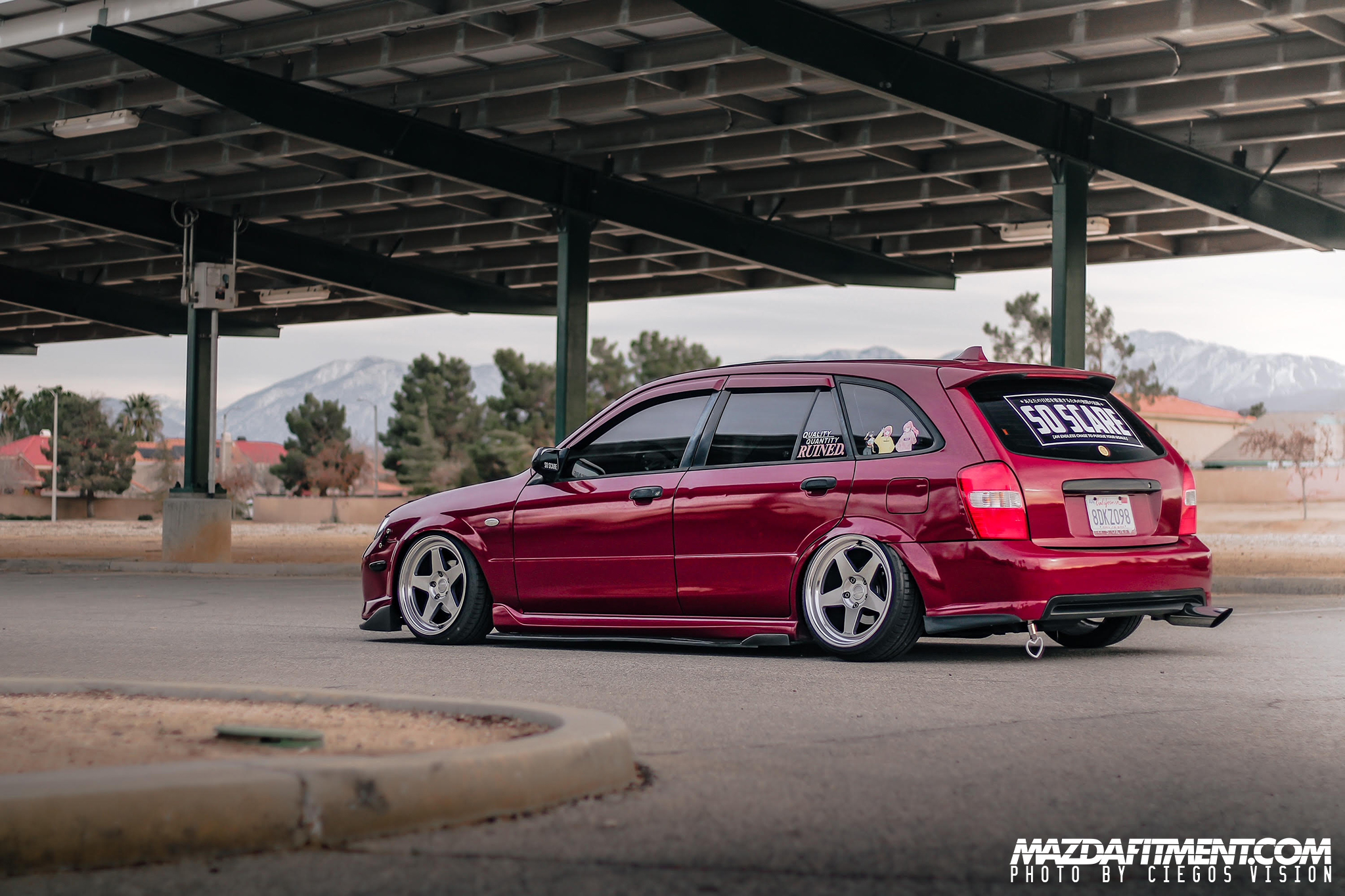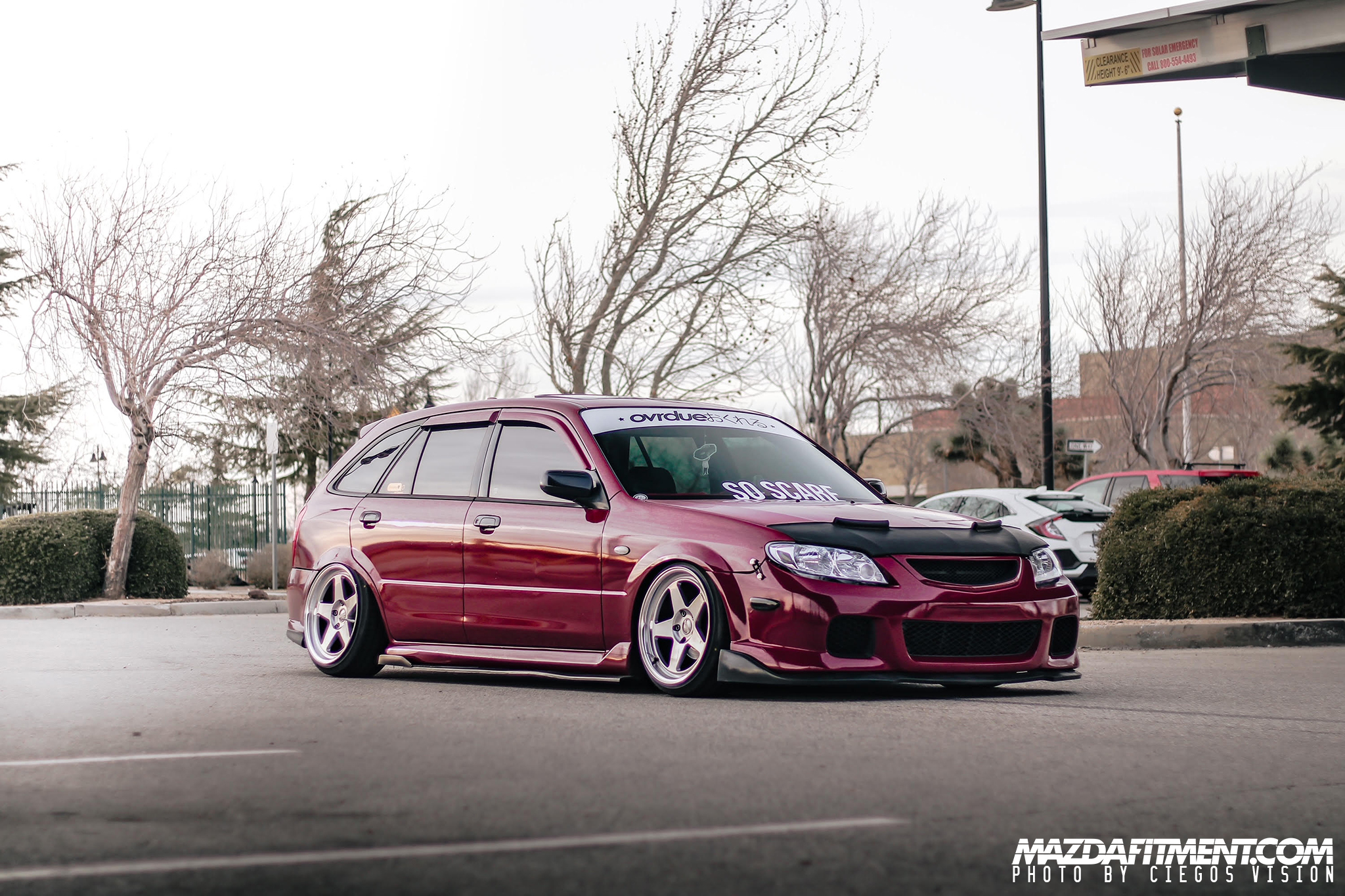 Any shout outs to anyone?
"I wanna give a shout out to @jp_parts for always helping out with any questions and for also finding all the protégé parts you ever need. Also shout out to @soscare.tm@ovrdue."
MODIFICATION LIST:
2002 Mazda Protege5
-Gloss cinder spark red vinyl wrap
-Kansei KNP 17×9 +22
-Godspeed Mono ss coilovers
-AEM cold air intake
-NRG Quick release steering wheel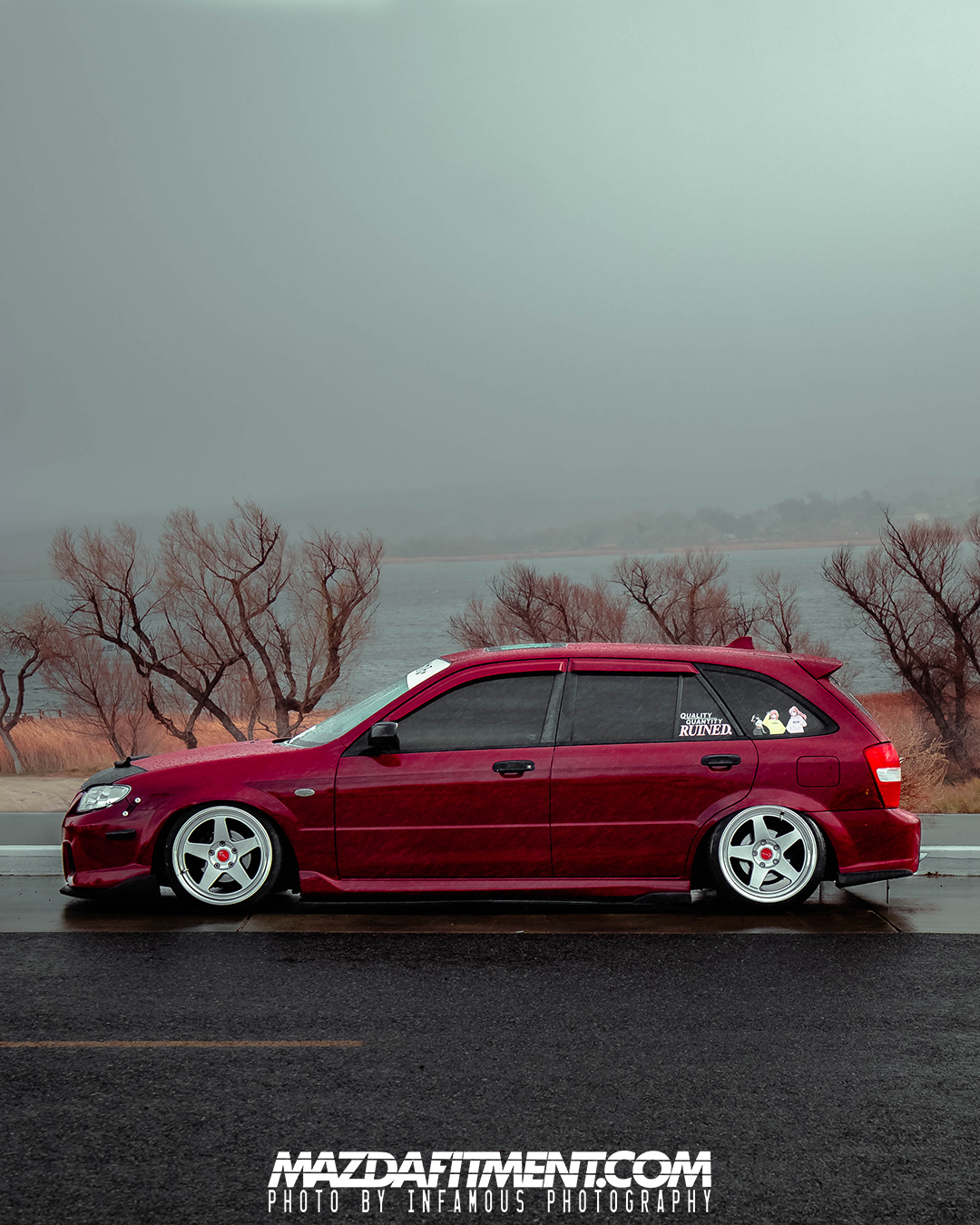 Here is more recent photos by Infamous Photography to enjoy this style wagon on a cold and rainy day.
Even wet, the color of the car and wheels look great.
Thank you to
Danny
for sharing this with us. We are interested in seeing this preserved for more years to come. And special thank you to
Infamous Photography
and
Ciegos Vision
for providing photos for this style wagon. More photos in the gallery below. Enjoy.
There are lot of builds we will never be able to come across, so please email us if you think we would be interested!
Email us at mazdafitment@mazdafitment.com