If you frequent here then you know that we go by a motto of "Never Give Up!," which transcends its motivational meaning into many different aspects of our lives.  So, what does "Never Give Up!" mean? It means that perseverance is necessary to reach your goals. Here we have a prime example of that with Simon Noitalay's 2002 Gloss Green Envy Protege5 from Charlotte, North Carolina. We probably last saw Simon's Protege5 about 6 years ago, which during this time he focused on his own personal goals, but never gave up on his Protege5. The Protege5 is probably one of the most underrated sports wagons. So it is a treat to see one that is clean and styled nicely in today's world. Nevertheless, we got to talk to Simon on his journey and resurrection of the green machine. And a special thank you to Bryan Meyers and Simon Barbre for sharing their photos to make this happen.
So, we know you have had this P5 for awhile now and recently brought it back out. Can you tell us how you ended up with this? Did you come from anything else before this?
"It was actually my first car. My parents bought it brand new in 02 and gave it to me in high school with 150k miles. I learned how to drive a manual in this car. I pretty much used the car to learn how to do everything I know how to do on cars now. I've had/have a couple cars since, Hondas, BMWs, Porsches. Just always preferred the way this car drove. Really is a very underrated chassis."
What inspired the way you modified and styled the P5?
"Well I tried the built motor/big turbo setup and these cars just cant make power reliably, so I focused on making it look good. I've always liked the clean look, less is more in my mind. I wanted to just let the body lines speak for themselves. I always used to put Falken Hanabis on my cars when I built them in Need for Speed, so when I saw the directional wheels from Infinitewerks, I knew those were the ones. I tried to fit the widest wheels possible under stock fenders and managed to get a 3.5" lip (which is massive for these cars.) Took some math, measurements, and custom parts to get it perfect but really happy with the current stance."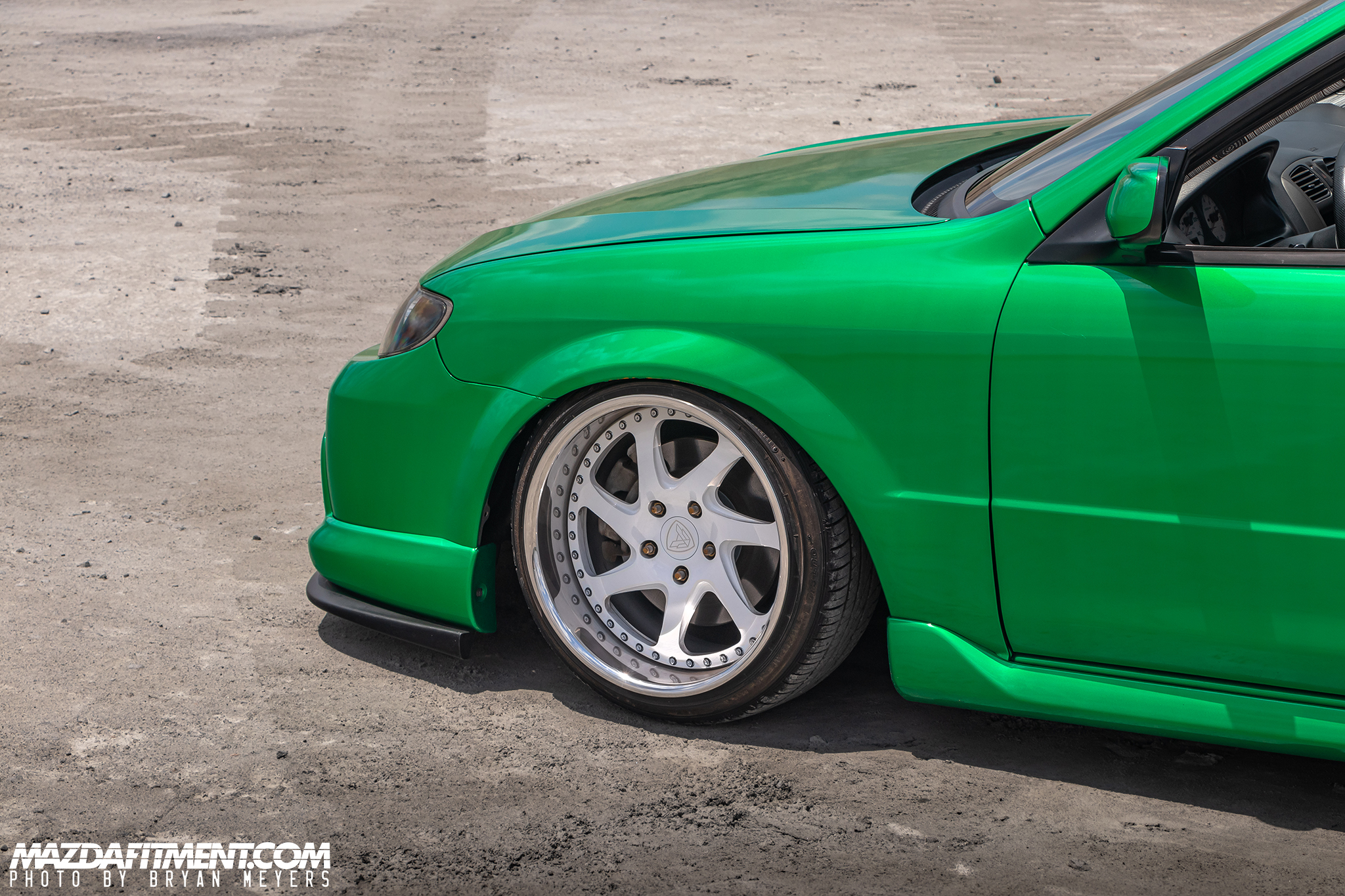 What would you say was the biggest challenge with modifying this?
"Definitely the fact that not many companies make parts for these cars anymore. A majority of the parts I have on the car I had to find second hand or have had for years. It forced me to make a lot of the parts myself, but I'm 100% jealous of the people who can just buy parts and bolt them on. I think it makes the build a little more unique this way though. Cant just go out and replicate it with off the shelf parts"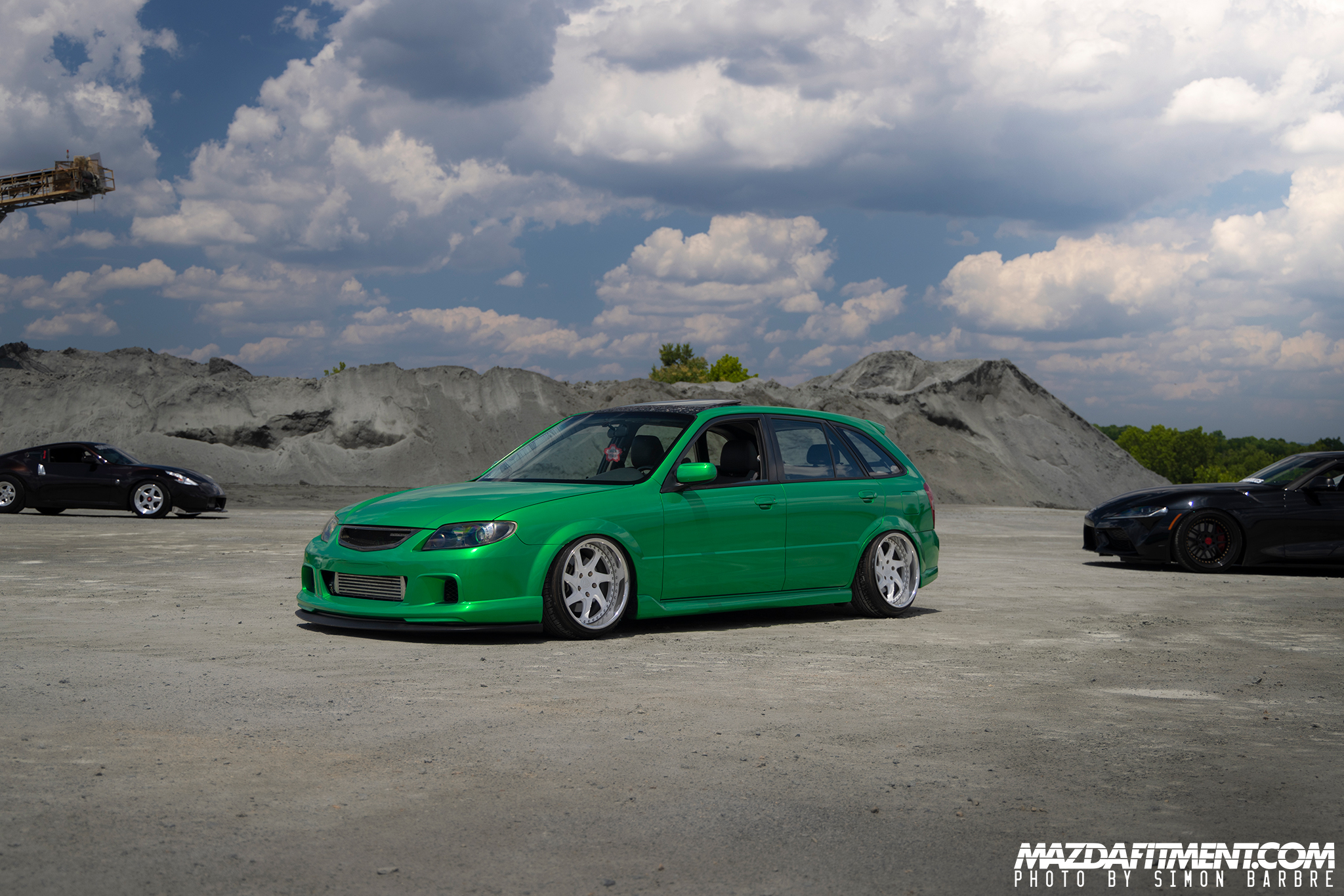 The Mazda Fitment Sakura air freshener. Thank you Simon for showing love for MF with this. This and more available at shop.mazdafitment.com 
So you have recently resurrected the P5 to enjoy again. Anymore future plans for it? Definitely a car you want to keep as long as you can?
"Yea, I'm just trying to enjoy it right now without too much change planned. Only thing I have in the works this year is air suspension. I love driving it low but worked a little too hard on making it look good to have it destroyed by these South Carolina roads lol. After that Ill probably dive into the interior. Always wanted to learn how to re-upholster and the interior is looking a little faded so seems like a good next move. As for keeping it, I don't think I'll ever sell it. Its not worth much on paper and has too much sentimental value to put a dollar figure on."
Anyone you want to give a shoutout to or thank for your journey with the P5?
"Sure, My parent for giving me the car as a blank canvas. All my friends who build cool cars too, because without them, building a car like this would be boring. All the people keeping the car scene alive by organizing meets and shows. The photographers, Bryan Meyers and Simon Barbre. And obviously you guys over at MazdaFitment for giving me a platform to share my creativity."
MODIFICATION LIST:
Engine/performance
-Supertech 1mm Oversize Valves
-Supertech Bronze valve guides
-Supertech Titanium retainers
-Supertech Dual Valve springs
-ARP head studs
-Steedspeed turbo manifold
-Garrett GTX 2867R
-Pope 3" Downpipe
-Vibrant ultra quiet resonator
-Custom 3" center exit exhaust
-626 Intake manifold
-Custom Front mount
-Greddy Type S BOV
-Mishimoto Radiator
-Hydra lightweight crank pulley
-Hydra Thermostat housing
-Samco Silicone Coolant hoses
-AWR engine mounts
-Spec Stage 2+ Clutch
-Fidanza Lightweight flywheel
-B&M Short Shifter
Suspension/brakes
-Fortune Auto 500s
-12k front/10k rear
-Custom rear camber plates
-Modified front camber plates
-Corksport rear strut bar
-Hardrace Control arms
-ARP extended studs
-C4 Corvette lug nuts
-Mazda 6 Front brakes
-Brembo blank rotors
-EBC red stuff pads
-MSP rear brakes
-Brembo blanks
-EBC red stuff pads
Exterior
-Mazdaspeed front bumper/lip
-AAC Bumper Sag fix brackets
-Subaru S204 lip
-Shaved hood (wiper nozzles)
-Shaved hatch
-Smoked LED Spoiler light
-Roof rack delete strips
-Shaved antenna
-Rear wiper delete
-JDM Tail lights
-Morimoto Mini projectors
-E46R shrouds
-DG Carbon grill
-Hella Horns
-3M Gloss Green Envy wrap
-Vivid Forged Composite roof wrap
Wheels/Tires
-Infinitewerks DX7
-17×9.5 +26
-Reverse Lip (3.5")
-Falken 912
-205/40/17
Interior/Misc
-Pioneer head unit
-Pioneer speakers
-AEM Wideband
-Prosport Boost gauge
-Prosport oil pressure gauge
-MS3 Front seats
-MSM Nardi steering wheel
-MazdaFitment air freshener
Hope you guys enjoyed this as much as we do. Thank you to Simon for letting us share his green machine with everyone. And again special thank you to Bryan Meyers and Simon Barbre for sharing their photos.
Want to feature your ride? There are lot of builds we will never be able to come across, so please email us if you think we would be interested!
Email us at mazdafitment@mazdafitment.com