Good things take time, and that is okay. But, seeing a car build with great attention to detail is quite the sight. Here we have a prime example of that with Takeshi Kaneshiro's 2015 Aluminium Metallic Mazda 3 sedan from Johor Bahru, Malaysia.
We got the chance to talk to Takeshi about his well put together MZ3. You will definitely see the attention to detail from exterior, interior, wheels/brakes, and engine bay. And of course it has a great sense of style to it.
"What lead you to owning the Mazda 3? Did you come from something different before this?"
"Last time I liked the Mazda 3 BL when I was still studying in Melbourne and couldn't afford a car. After graduating and returning back to my country, I working hard for many years. In 2015 the new Mazda 3 BM was launched, and the Kodo design looked elegant…I checked my bank account and decided to buy it."

"What inspired your modification and styling?"
"I am very interested in car modification, especially stance and fitment. So I always wanted my Mazda 3 to have air suspension. In 2015, air suspension were not common in my country, It was more difficult to find a professional air suspension workshop. Finally I found one and the boss Mr. Bob had graduated Automotive Mechanic in Japan. Now we become very good friends."

"How is the car scene in Malaysia? People are into stance and low style?"
"The car scene in Malaysia is very free and diversification although our country also has relevant law and regulations, but not really strict. Stance and low style also very common nowadays, but overall mostly still prefer performance modifications here."

"Biggest challenge modifying or styling the MZ3?"
"Mazda 3 accessories like bodykit, carbon-fiber, steering and etc are easy to find and get. The biggest challenge is camber and wheel setting, I still not satisfied my front camber setting because some technical issue."

"Anymore future plans for the car?"
"The front wheel need more cambers, also looking rear big brake kit."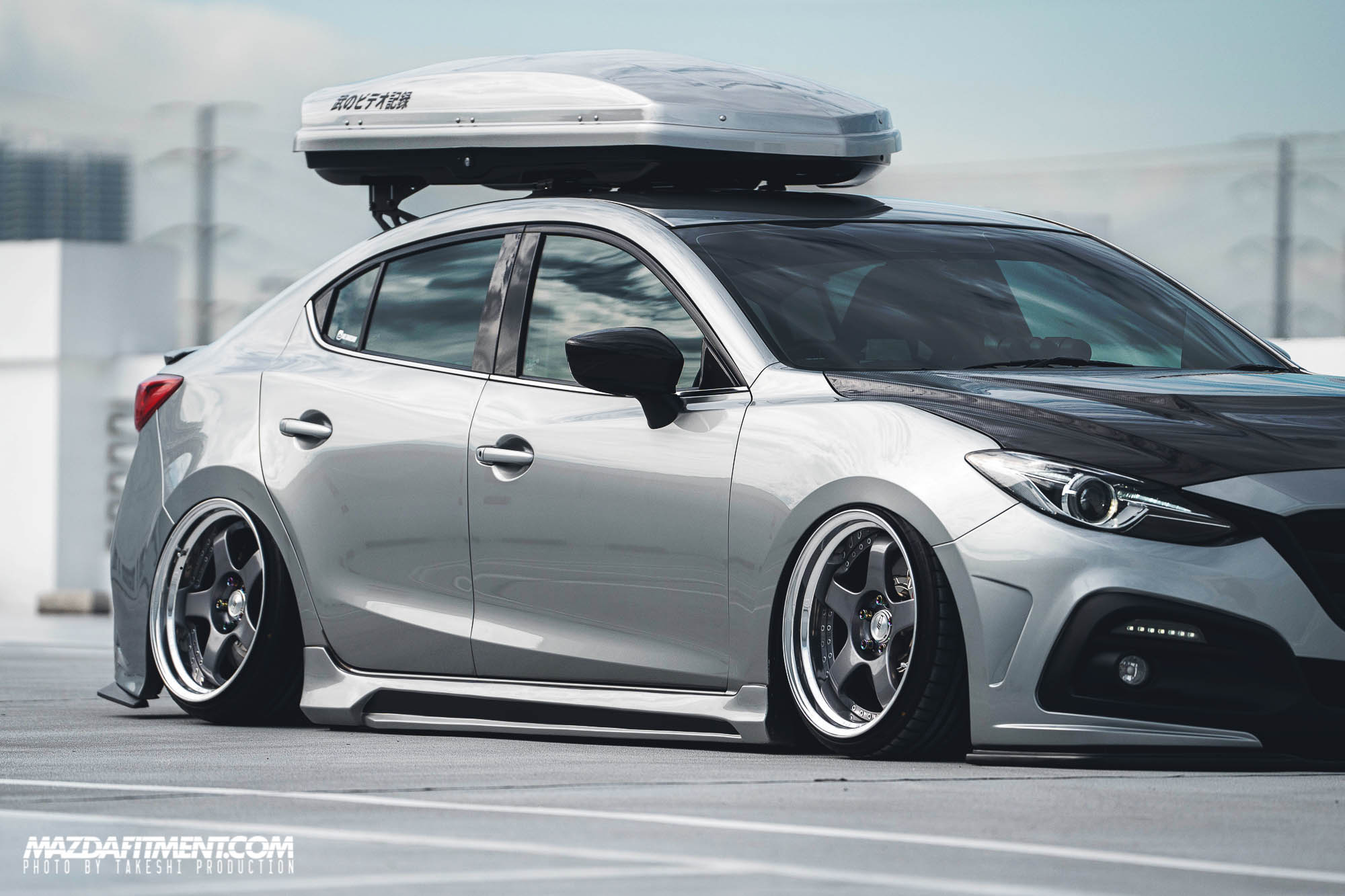 "Anyone you want to thank or give a shout out to?"
"I want thank 99 Bob Motorsports, Mr. Bob, maintaining my car…everything works perfect. And also thanks to HD Top 1 Car Beauty, Mr. Paul, detailing my car… looks shiny always. And last, I want special thank my wife, Fenny, always support me, and giving me big freedom to enjoy my car life."

Details of the interior are great from the Recaro seats, DEFI sports display/gauges, 4th-Gen Mazda3 LED Steering, and carbon fiber accents.
Additionally, Takeshi did not skip on attention to detail on the engine bay. Look at all those awesome pieces.
EXTERIOR
– Knight Sports Front Bumper
– Knight Sports Front Splitter
– Storm Design Side Skirt
– A-Power Rear Bumper
– MSS Performance Carbon-Fiber Bonnet
– Carbon-Fiber Spoiler
– Carbon-Fiber Side Mirror
– LED Signal & Daylight
INTERIOR
– Recaro SR-7 Bucket Seat
– Recaro Pro Ride Hero Baby Seat
– DEFI BF Gauges
– DEFI Sports Display F
– Carbon-Fiber 4th-Gen Mazda3 LED Steering
– Carbon-Fiber Paddle Shift Extender
– Carbon-Fiber Shift Knob
– Carbon-Fiber Center Console
– Pivot Throttle Controller
WHEELS
– SSR Professor SP1 (18 x 9.5 ET10)
– KYO-EI Monolith Lug Nuts
– 205/35R18 Tyres
AIR SUSPENSION
– Airforce RC1 Air System
– 4 Ways Controller
– AZ Compressor
BRAKES
– Savanini 6-Piston Front Brake Caliper
– Savanini 330mm Front Floating Disc
– Endless MX72 Front Brake Pad
– Goodridge Braided Front Brake Lines
– Savanini 330mm Rear Disc Oversize Kit
ENGINE BAY
– Skyactiv 2.0 Remap 151WHP 192NM (On Wheel)
– Carbon-Fiber Engine Cover
– Carbon-Fiber Fuse Box Cover
– AUTOEXE Aluminium Oil Filler Cap
– AUTOEXE Aluminium Oil Level Gauge Grip
– AUTOEXE Carbon-Fiber Air Intake
– KODOSTYLE Carbon-Fiber Air Intake Hose
– Aluminium Radiator Cap with Carbon-Fiber Cover
SUSPENSION
– Airforce 36 Level Damper Absorber
– Ultra Racing Front Strut Bar
– Ultra Racing Rear Anti Roll Bar
– HARDRACE Rear Camber Kit
– AIRBFT Front Camber Plate
EXHAUST
– RES 4-2-1 Header
– 2.2" Full Piping
– GP Sports EXAS EVO Tune Muffler
SOUND SYSTEM
– Speaker : Dominations CFS4 / R50 Full Range / D'Lite Pro Tweeter
– Processor : Alpine PXA-H800
– Amplifier : Ground Zero Uranium Pure SQ + Sound Magus SC160.4
Hope you enjoyed this well put together 3rd generation Mazda 3. Not to mention you don't see the sedan variant modified as much as the hatchback variant. Takeshi did an excellent job executing every part of the car, and it deserves recognition.
We have wanted to share this for awhile now. Special thank you to Takeshi for sharing his build with us. More photos in the gallery below.
Want to feature your ride? There are lot of builds we will never be able to come across, so please email us if you think we would be interested!
Email us at mazdafitment@mazdafitment.com