About every time we feature a Mazda 6 (Atenza) wagon, we always talk about how limited it is to get one in your own country. This is because it is probably one of the best-looking wagons made, especially when you give it some low-style treatment. So, again you are lucky if this version of the MZ6 is available in your country because we are huge fans. of this variant Here is a prime example of the low-style treatment to the MZ6 wagon with Toby Williams' 2014 Liquid Silver Metallic Mazda 6 Wagon from Perth, Australia. Special thank you to Cody aka Low Multimedia for providing the beautiful photos.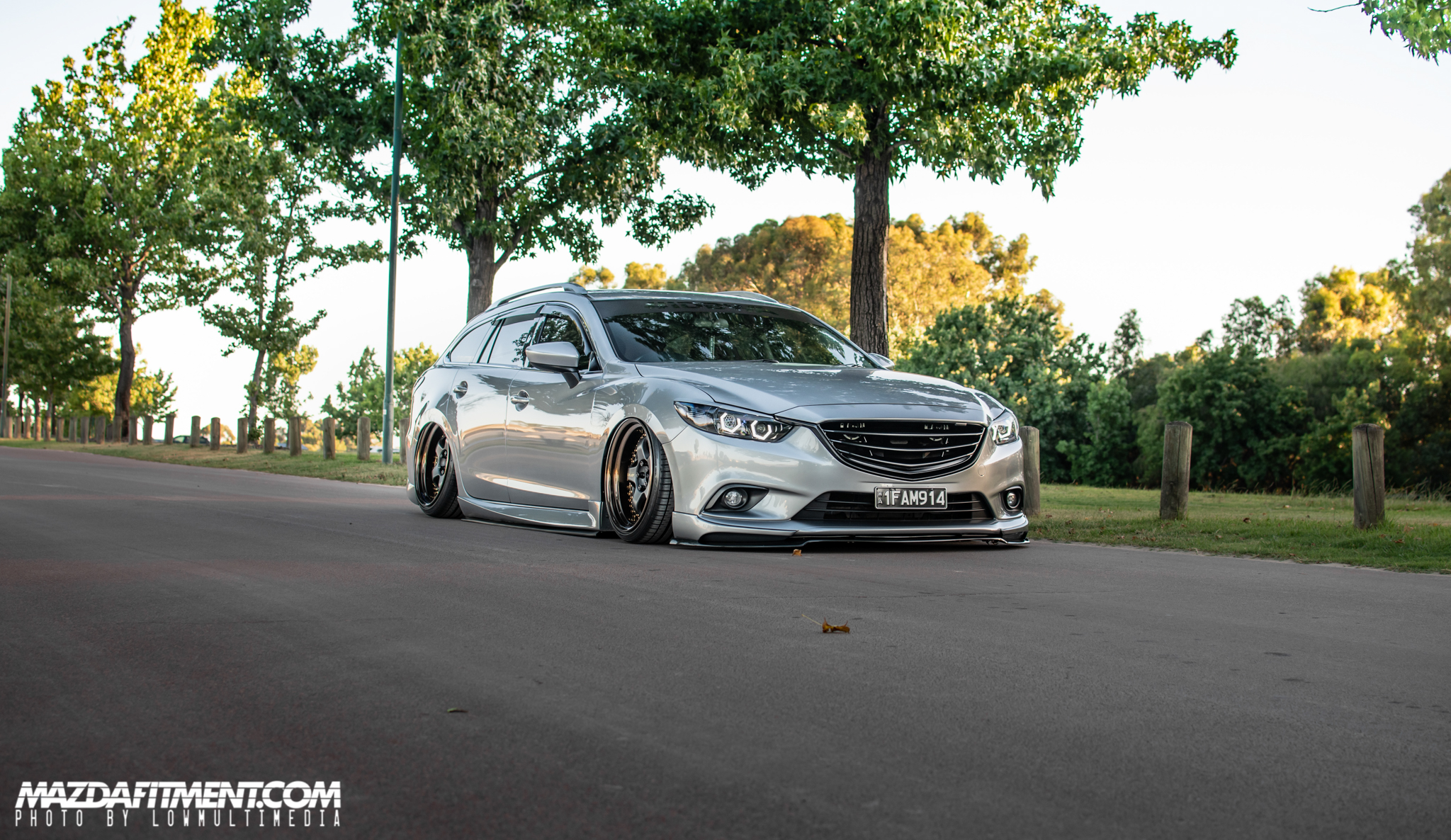 We got to talk to Toby about his MZ6 wagon, and learn what inspired him to style his wagon the way he did.
Toby, what lead you to owning the MZ6 wagon? Did you come from something different before this?
"I was looking for a comfortable and reliable daily driver that I could slam on a nice set of JDM wheels and after seeing what the guys in Japan were doing with the new generation Mazdas the 6 wagon was a natural choice. I've had the car for nearly 2 years now and it hasn't skipped a beat. My previous car was a 2012 Hyundai Veloster turbo and was disappointed I couldn't achieve the fitment I was after so I traded it in for the 6. With a bit of camber and fender rolling it has no problem tucking the 19×10 Work Meister's which have been a dream wheel of mine for a long time."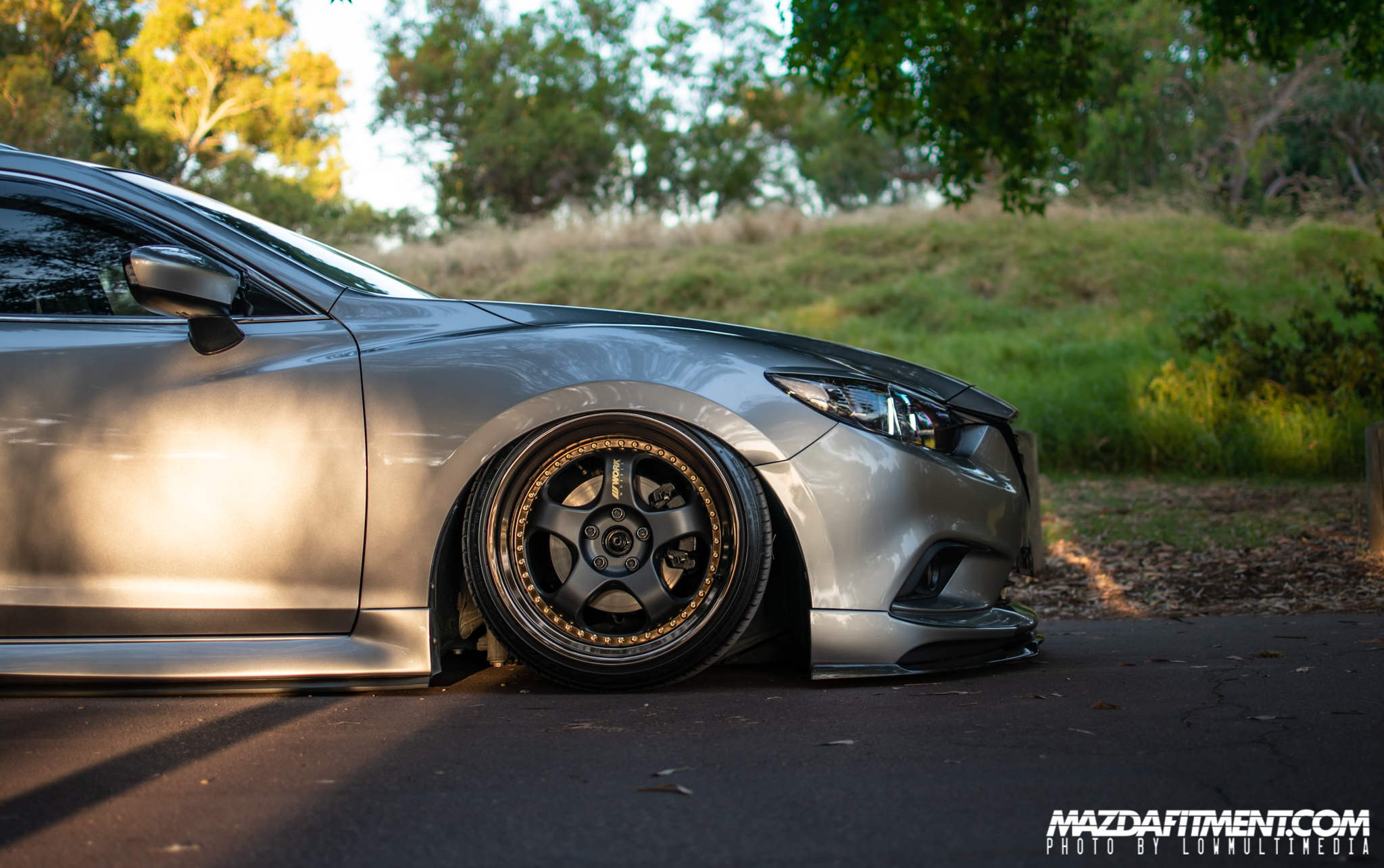 What inspired the way you modified and styled the car?
"I love JDM styling and fitment so air suspension and 3 piece JDM wheels was the plan for the car from the beginning. Unfortunately aftermarket parts are quite limited for the 6 so I've pretty much had to use the few choices available. The MV tuning bodykit for example had to be ordered from Russia and due to the wagon not being sold there had to be modified to fit because of the differences in wheelbase and bumper design compared to the sedan."
How is the car scene in Australia? People are into stance and low style?
"The laws around car modification are generally pretty strict in Australia so it's risky driving a lowered/stanced out car on the road but where I am in Perth there's a small but strong stance community with some really nice builds."
For Toby to achieve his height and camber, he used a pair of a Mazda fitment onikyan camber plates in the front.
Our camber plates are available at: shop.mazdafitment.com
So, Toby anymore future plans for the car?
"Definitely a stereo upgrade and possibly a wrap in the future but I've done pretty much everything I wanted to do with it so far."
Anyone you want to thank or give a shout out to?
"The guys at IDB WA for sorting out the bags and fitment and Low Multimedia for the killer photo set!"
Thank you Toby for repping MF on the car. Our Mazda Fitment outline sticker looks great on there.
If you want any of our products, then check out our online store: shop.mazdafitment.com
MODIFICATION LIST:
-Airlift Performance struts with 3P management
-Accuair Endo 5 gallon tank
-Dual Viair 444c compressors
-MV Tuning 3 piece front lip, sideskirts, rear pods, grille and eyelids
-Maxton Design rear diffuser
-Custom quad halo LED headlights by Dan's Custom Car Lights
-iilumo LED low beam and fog lights
-Work Meister S1 3P 19×10 +17 F+R
-Matte gunmetal face with gloss bronze lip
-Falken Azenis FK510 235/35/19
-Project Kics Monolith T1/06 wheel nuts
-Corksport rear camber arms
-Mazda Fitment onikyan front camber plates
-WindowVisors weather shields
-Hella Supertone horns
-Likewise Daytona shift knob
Hope you guys enjoyed this. Again, we wish this variant of the MZ6 was available in more countries. Special thank you again to Low Multimedia for sharing this awesome photo set.
Want to feature your ride? There are lot of builds we will never be able to come across, so please email us if you think we would be interested!
Email us at mazdafitment@mazdafitment.com