We have shared the MX-6 here only less than a handful of times; especially the 2nd generation MX-6, which is similar to the 626 and Ford Probe/Telstar.
Every time we share it we are amazed to find the owners using parts from a Nissan 240SX S14 to add some nice aesthetics to the car.
Here we have Amakusa Hsaio's 1995 Black MX-6 from Taipei, Taiwan.
We got to talk to Amakusa, and found out he was inspired by our own blog for the platform and visual direction.
Amakusa, how did you end up with the MX-6? Did you drive something else before?
"This is my first car… I had other plans before this, but I accidentally chose this car later."
"I bought her when I was 22y from an older gentleman who drove the car from new until now. All the mileage is pretty low, so I bought it from him and that is how the story began."

So, what inspired your modifications/styling?
"MX-6 body kit is very hard to find. At first I planned to make RX-7 front with pop-up headlights, but I gave up on this idea."
"And found inspiration from the Mazda Fitment website…Eventually,  I found the S14 bumper and used photoshop to piece it together, and it looked great. So, I decided to use S14 bumper and gave her RX-7 lines."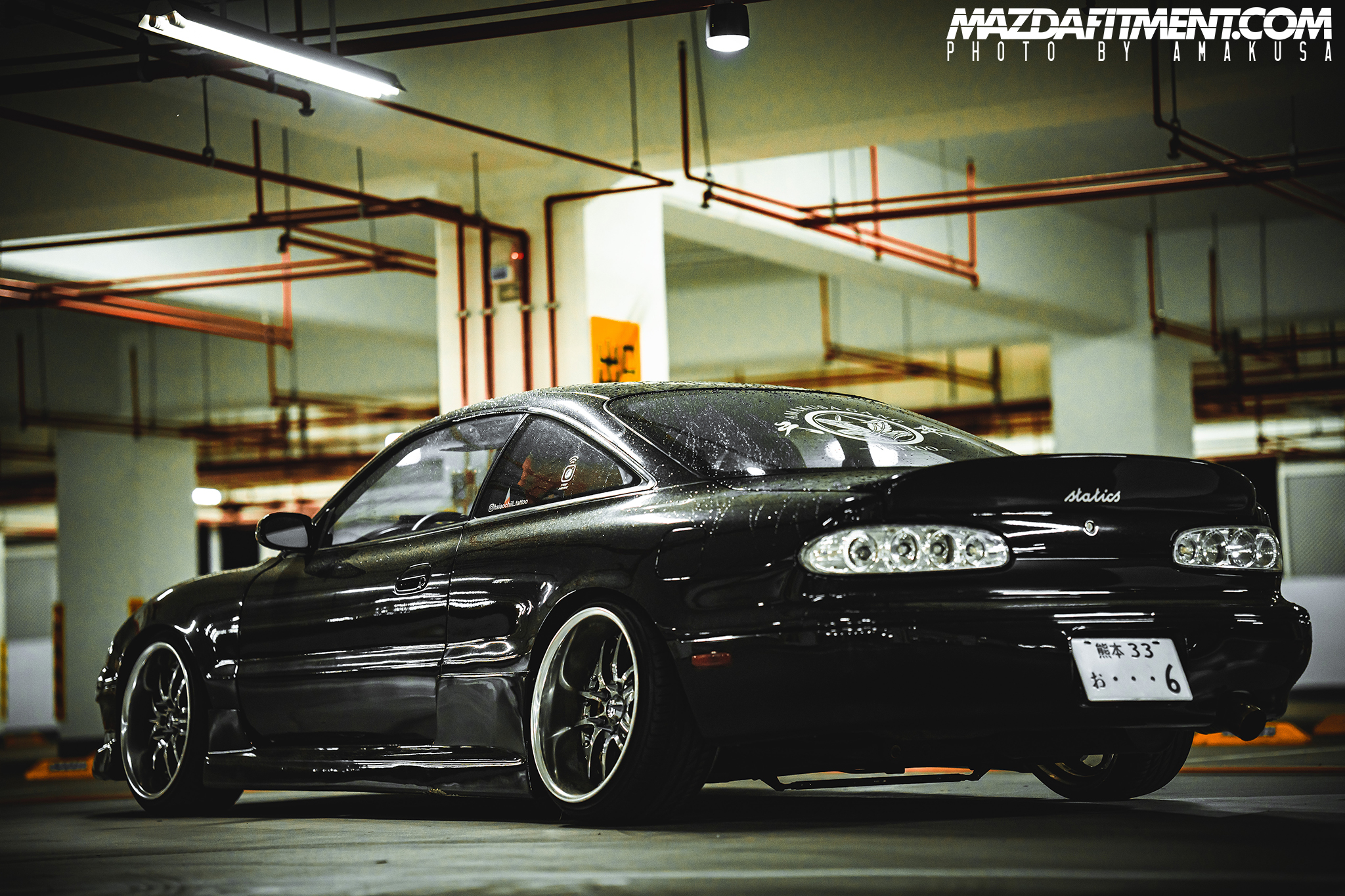 And then what is the biggest challenge modifying/styling the MX-6? You kinda already touched on that, but elaborate more…
"All mods must be custom made to connect different parts and make the car what I want it to be is very difficult."
"And refurbishing this car from the engine to the chassis is a challenge. The parts have been collected for a long time."

So, I am sure you still have future plans for this. What can we see in the future for this build?
"In fact, the ultimate goal is to make the car look like theRX-7. I hope one day it will be successfully done, but that would cost a lot of money haha."
"But if I have the chance, why not? haha"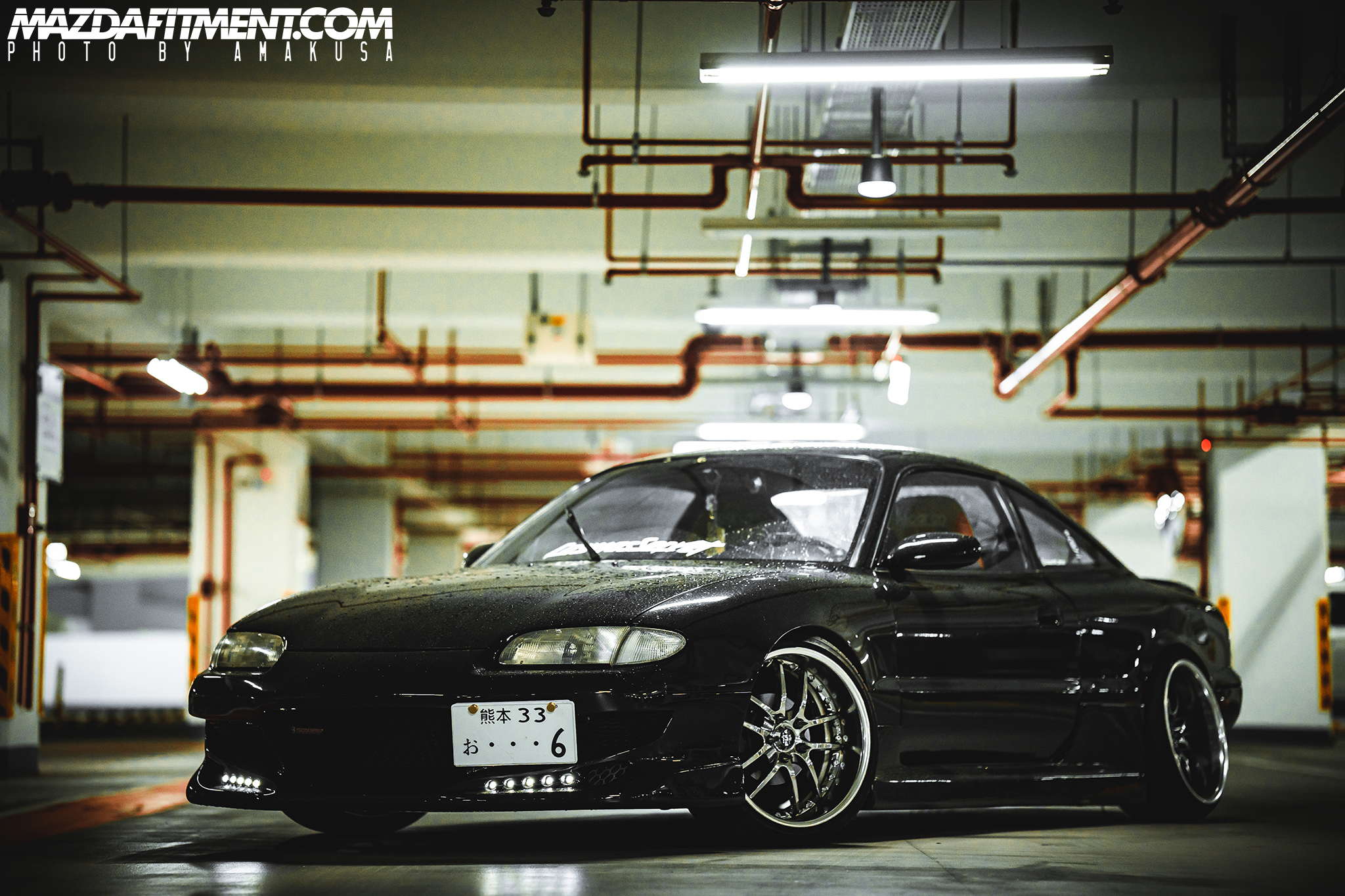 Lastly,  is there anyone you want to thank for helping with MX-6??
"Thanks to the Tian Ding Aerodynamic for supporting my body kit idea and helping me make her so smooth and beautiful."
"And Shih teacher help me make my clear tail lights, and Yao to setting my wheels /tires  and engine to the chassis."
"And many of my friends, thanks a lot for their help."


MODIFICATION LIST:
-S14 front bumper
-S14 side skirt
-S14 lip
-Custom ducktail
-Custom clear tail lights
-PIAA 2-piece wheels (18×9 +25 & 18×10 -/+0 )
-7075 lug nuts
-KF racing Sports suspension kit
-Sparco Racing seats
-Momo prototipo steering wheel
-Momo shift lever
-Momo shift lever cover
-Worksbell steering wheel hub
-Mazdaspeed Exhaust
-JE motorsport clock
-Anti roll bar
-Camber front- 5° & rear -7°

We always love coming across this platform, and wish more people would share these with us; especially to preserve the car on our website before it is lost to time. Thank you to Amakusa for sharing this with us. Special thank you to Xiang for providing the photos.
More photos in the gallery below. Enjoy.
Want to feature your ride? There are lot of builds we will never be able to come across, so please email us if you think we would be interested!
Email us at mazdafitment@mazdafitment.com