Car enthusiasts are obsessed with modifying all types of platforms. This is no different for SUVs, but these are commonly more seen to be needing to be lifted and more rugged in appearance. But, today we have a one of a kind SUV that has embraced the low style of modifying a car with premium accents. The CX-8 is exclusively the biggest SUV available in Japan, China, and Southeast Asia, whereas, the CX-9 is exclusively the biggest SUV available in a few countries outside of Asia.
This can be seen with Toshiya Kuriki's 2019 Snowflake White Pearl Mica CX-8 from Aichi, Japan.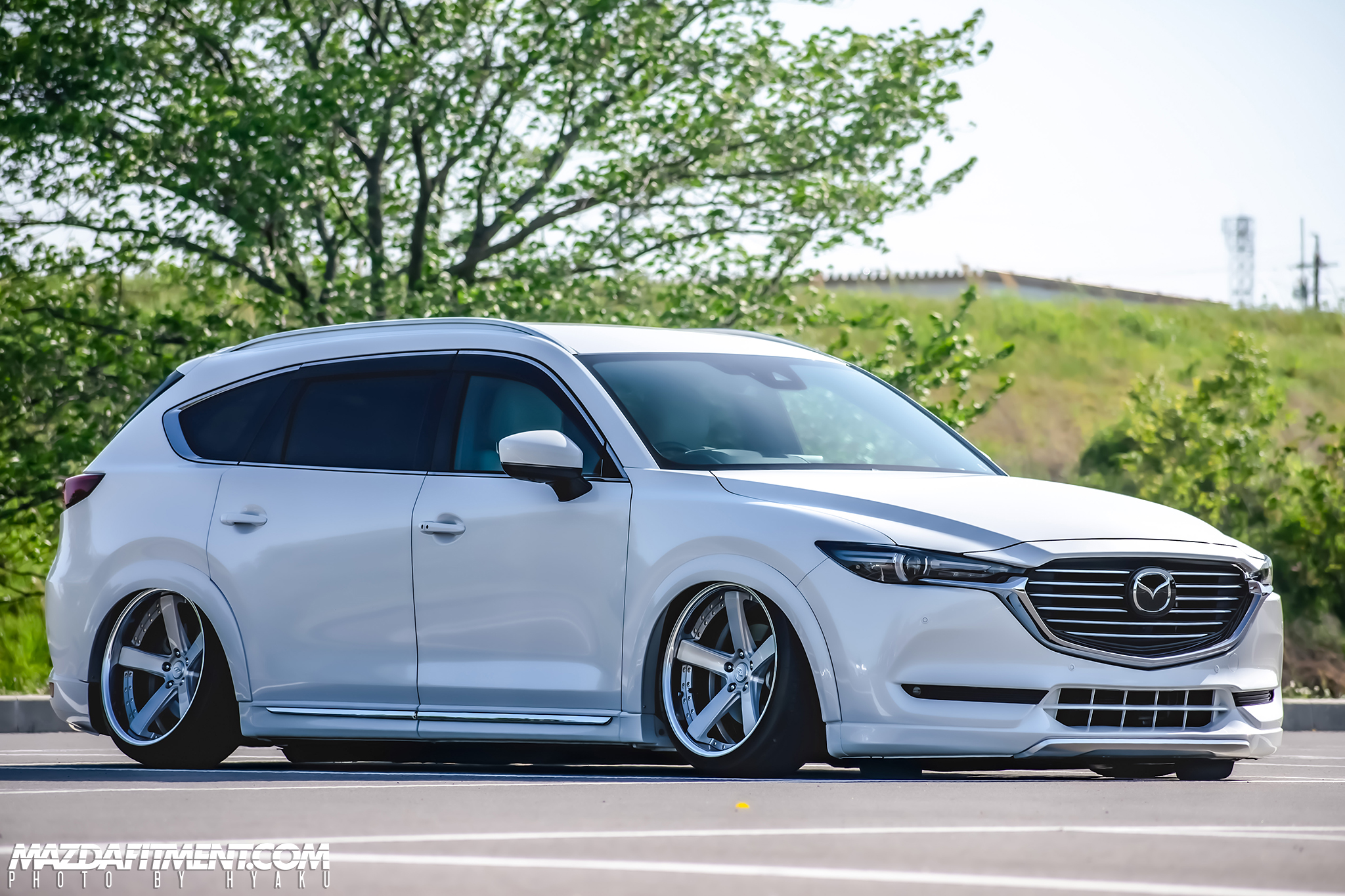 We got to talk to Toshiya about his one of a kind CX-8 to find out why he did what he did.
Toshiya, what lead you to owning CX-8? Did you come from something different before this?
"Originally, I liked SUVs and owned a TOYOTA Harrier. I owned a lowered Harrier."
"As my family grew, I decided to switch to the CX8, which is one size larger. Of course I owned the CX8 and immediately lowered it!"

And so what inspired your modifications/styling?
"Inspiration is stance style. Based on Stance Nation and Japanese Fenderist vehicles."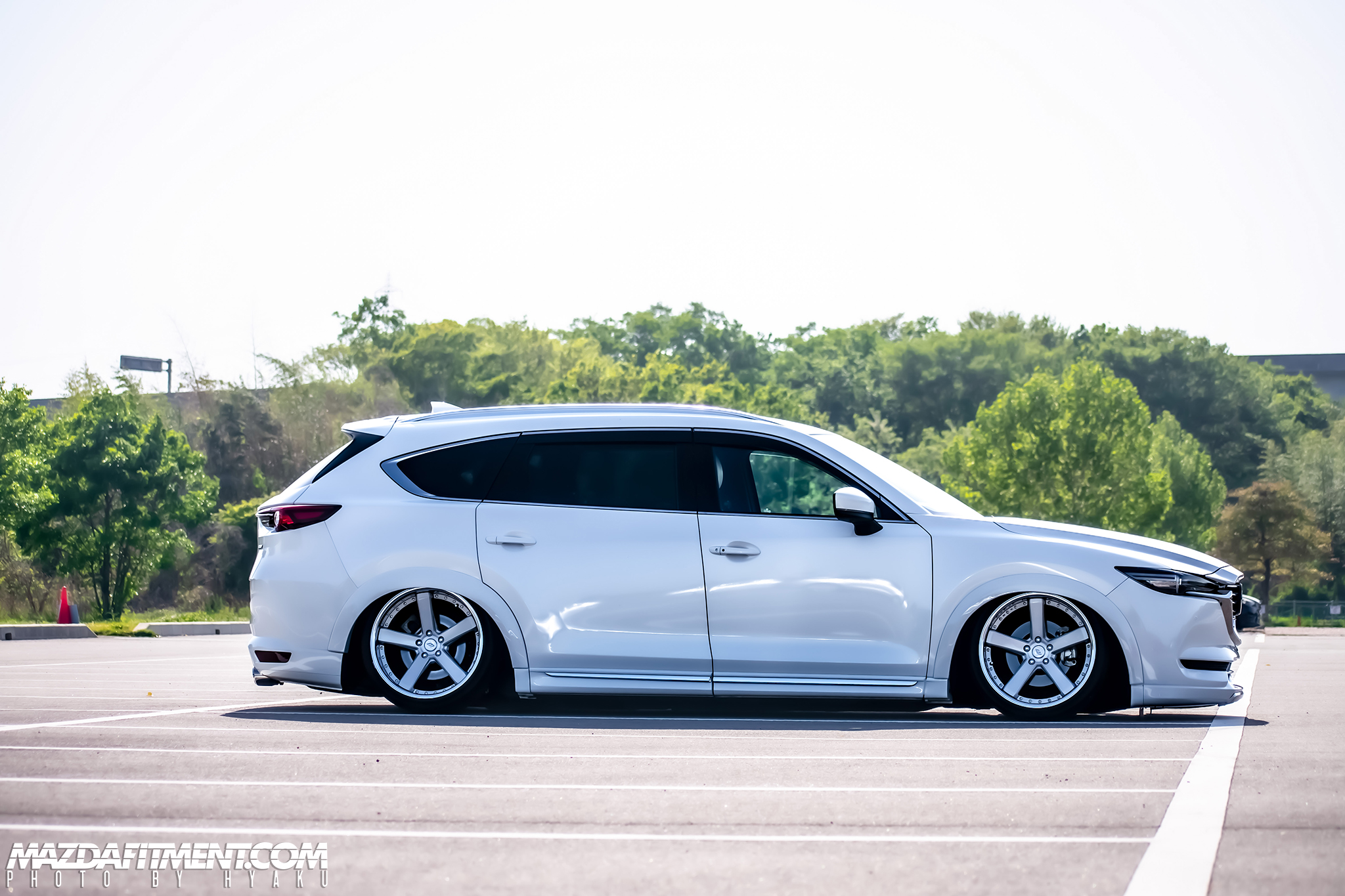 We are curious what would you say is the biggest challenge modifying/styling the CX-8?
"The biggest problem is to cover the rim with the fender. SUVs are originally tall, so it is difficult to lower the vehicle…"
"Change the suspension to air suspension, I was able to lower it further by changing the arm and modifying the fender. Moderate camber angle is also a point."
We like what you have done with this platform so far. Any future plans still?
"I plan to replace the front brake with a drilled and slotted ones in the future…"
"Eventually, I would like to replace it with a big caliper or big rotor. It's still a long way off, but I'd like to make an original aero!"
Lastly, is there anyone you want to thank for helping with CX-8??
"I would like to thank my family the most. Special thanks to my wife who let me customize it to my taste…."
"I also want to thank the car shop that made the vehicle. They solved various problems and made my ideals come true…"
"Also thanks to fellow CX8 mates for their advice. Their data solved my problem. Thank you to everyone involved in customizing this car."
MODIFICATION LIST:
SUSPENSION
– Air Force suspension
– SUPER PERFORMANCE
-Air Force suspension pillow upper mount
-J-LINE front camber bolts
-Front lower control arm one-off by Sun Works
(Extended it by 10mm and raised it 15mm)
-Rear Upper control arm one-off by Balance Autoparts Warehouse (shortened)
EXTERIOR
-Admiration 10mm wide over fender (front and rear)
– Produced by 213 Auto
(The arch of the front fender is cut 25mm above. Cut the folded part of the claw of the rear fender)
-Produced by 213 Auto
(All resin parts at the bottom of the body are the same color as the body and smoothing)
(Removable front number plate and smoothing the mounting part)
WHEELS/TIRES
– Work Wheels
– BACK LABEL ZEAST BST2 (Deep concave)
– Front 9.5j +10 20 inches
– Rear 10j +/-0 20 inches
– Discs are brushed and rims are buff anodized
-Hardware bolts gold
– NANKANG tires (front and rear)
– 235/35/R20
ENGINE/EXHAUST
-Unknown manufacturer Exhaust Tips
OTHER INFO
-The front camber angle is- 7 degrees
-The rear camber angle is -8 degrees
It isn't everyday that you see a lowered crossover SUV, especially one that still looks well-executed. Hope you guys enjoyed this one as much as we did.
Special thank you to Toshiya for sharing this with us, and for Hyaku for the photos.
Want to feature your ride? There are lot of builds we will never be able to come across, so please email us if you think we would be interested!
Email us at mazdafitment@mazdafitment.com