The Miata is one of the successful models that made Mazda's name in the automotive world. It doesn't matter if is an old or new Miata model; automotive enthusiast still are adding their own styles and visions for the car. So, it is always a treat to see the Miata styled to what the owner was inspired to envision the roadster to be.
Here we have a prime example of that with Kengo Shikichi 1998 Gray Metallic NB6C Miata from Japan.
We got to talk to Kengo about his NB Miata to find out how he ended up with this car, and what inspired him to modify it the way that he did.
"Kengo, did you own another car before the Miata? And what made you own a Miata?"
"Kengo, その前に別の車を所有していましたか? Miata を所有するようになった理由は何ですか?"
"I had a Suzuki Wagon R before owning a Miata."
"The reason why I decided to own a Miata is that when I ran a mountain pass with Wagon R, I hit an animal and it broke, so I bought a cheap Miata that is easy to run on the mountain pass."
"ミアータを所有する前はスズキのワゴンRを持っていました。"
"ミアータを所有する事になった理由はワゴンRで峠を走ってたら動物とぶつかってしまい壊れたので、峠で走りやすくて安いミアータを購入しました。"
"And what was your inspiration for the car styling?"
" 車のスタイリングのインスピレーションは何ですか?"
"Inspiration is a racing car. Japan's JGTC, German touring cars, GT3 vehicles, etc. are helpful."
"インスピレーションはレーシングカーです。日本のJGTCやドイツのツーリングカー、GT3車両などが参考になってます。"
"What is the biggest challenge when modifying the car?"
" 車を改造する際の最大の課題は何ですか?"
"The biggest problem is that the vehicle height is low, but the tires do not enter the fender, and the camber is not added so as not to create a stance.
You can't call it a racing car unless the vehicle height is low."
"最大の課題は車高は低いがタイヤはフェンダーに入らない、スタンスにならないようにキャンバーをつけない事です。車高が低くないとレーシングカーとは言えないですからね"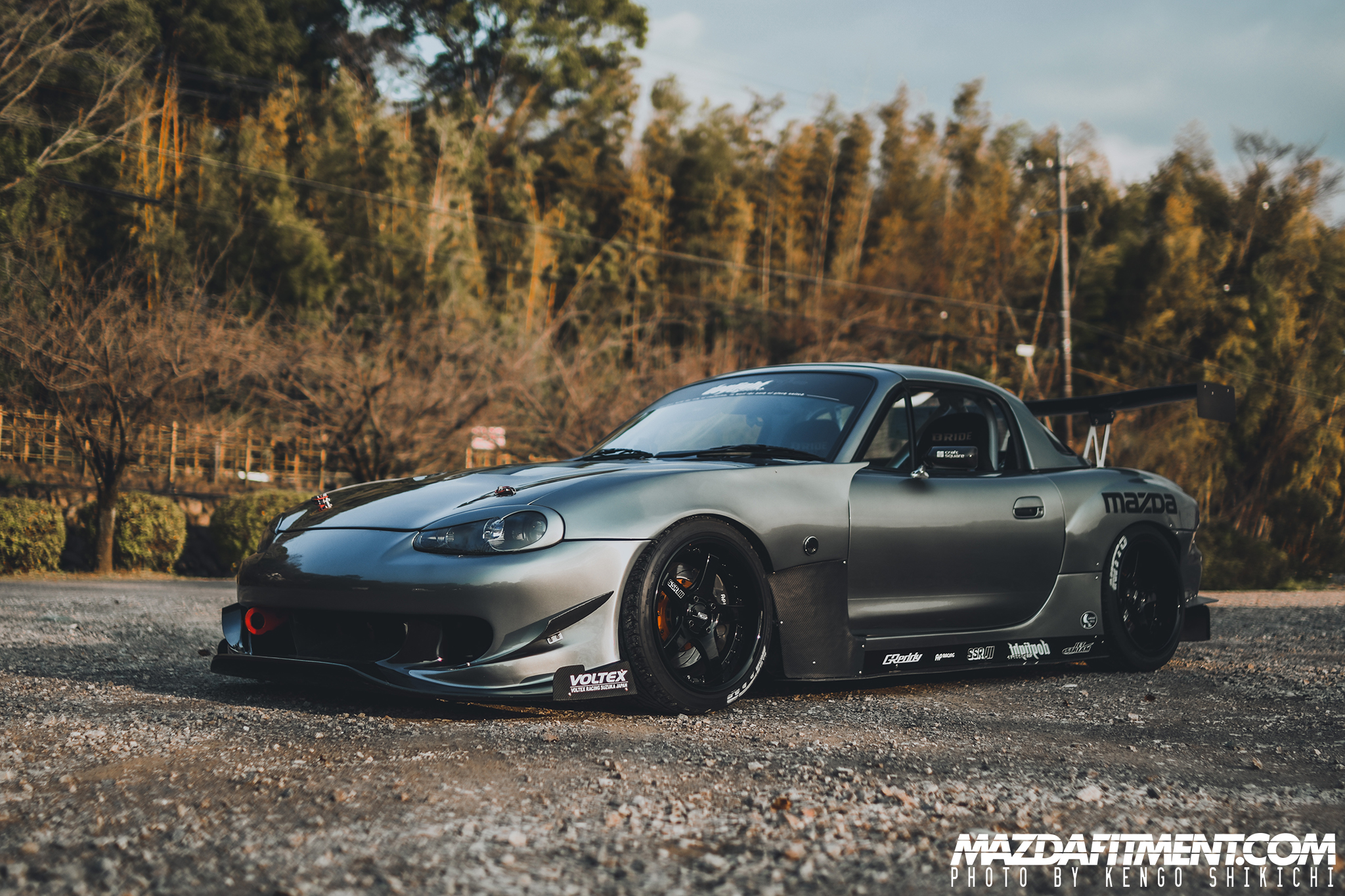 "The roadster looks great. Can't imagine there is anything else you want to do to it. What are your future plans?"
"ロードスターは素晴らしく見えます。 あなたがそれに対してやりたいことが他にあるとは想像できません。 今後の予定は?"
"We plan to make it a racing color in the future. I've already written it in the illustration, after that it's up to me to save money."
"今後はレーシングカラーにする予定です。すでにイラストには書いてて後はお金が貯まり次第ですね"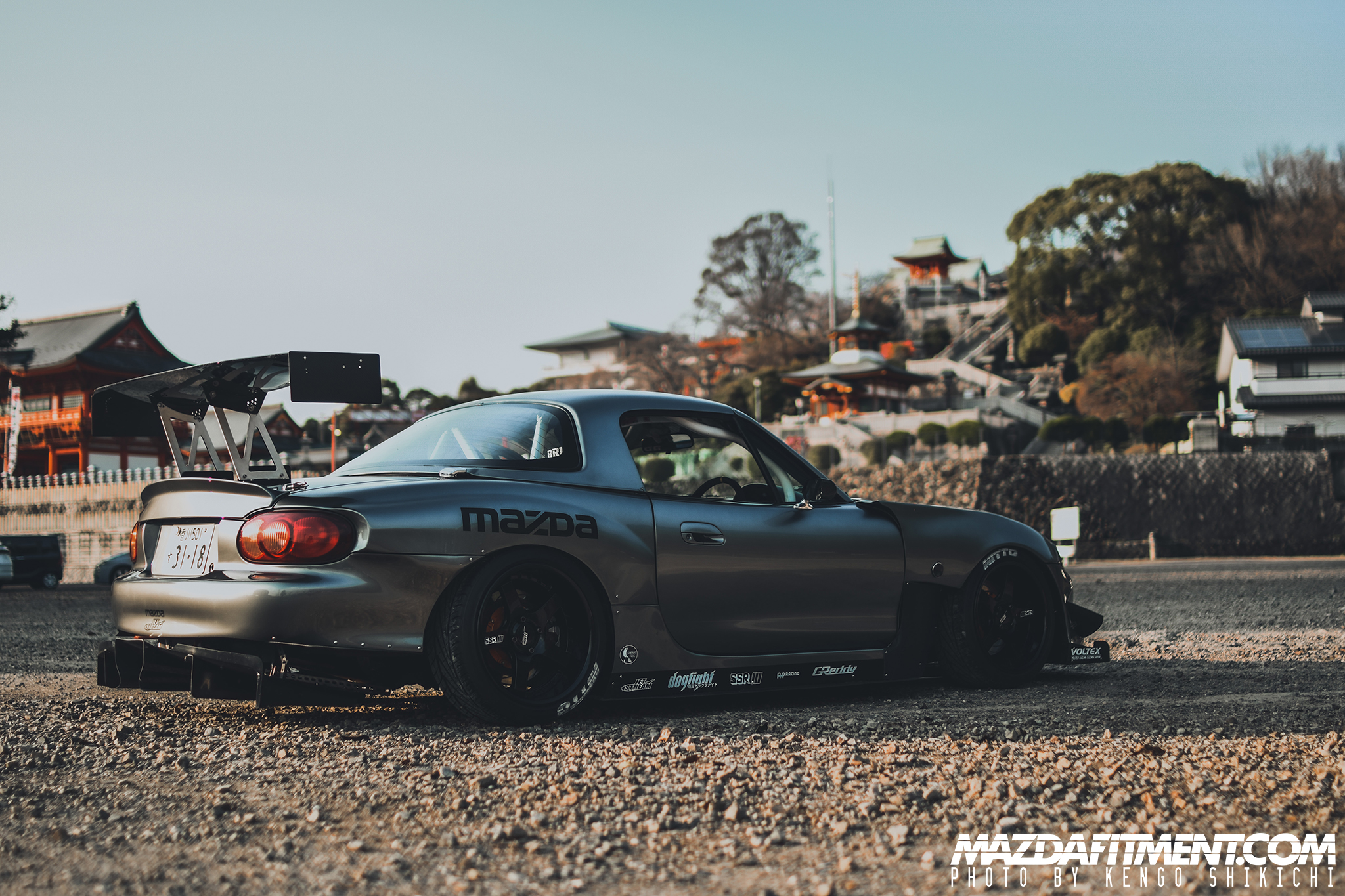 "And lastly, who do you want to thank for helping with the car?"
" 車を手伝ってくれて感謝したい人は?"
"This car was made possible with the help of many people. I was helped by various people, such as consulting on the shape of the aero, having a muffler made, and lending me a work space.
Use this case to say thank you."
"この車は色んな人の手伝いがあってここまで出来ました。エアロの形を相談したり、マフラーを作ってもらったり、作業場所を貸してくれたりと様々な人に助けられました。
この場合を借りてありがとうと言います。"
MODIFICATION LIST:
EXTERIOR
-Original wide body
-Jet Stream eyeliner
-Roadster turbo headlight
-Toyoshima Craft bonnet hood
-Craft Square mirror
-Vortex Type 7 GT wing
-Garage Vary trunk spoiler
-Lotus Exige rear diffuser
-Original tail lamp
-Narita Dogfight Banner
WHEELS / SUSPENSION / BRAKES
-SSR Professor SP4R
-Front 8j +26 16 inches
-Rear 8j +/-0 16 inches
-TEIN MONOSPORT damper
-326 power springs F 24k R20k
-Kneelex stroke up mount
-roadster turbo stabilizer
-AP Racing Pro 5000r caliper
-Front and rear 300mm rotors
ENGINE / TRANSMISSION
-Integral Kobe 1722cc
-Injector NB8C
-K&N Ram Air
-Maxim exhaust manifold
-Without power steering
-No air conditioner
-Koyorad copper 2-layer radiator
-Maruha Motors radiator hose
-NB8C 6-speed transmission
-Final 4.1
INTERIOR
-Momo Racing steering wheel
-Defi meter
-Original meter
-BRIDE full bucket seat
-Wielands 4-point belt
-Interiorless
BODY REINFORCEMENT
-Cusco front tower bar
-Solid support
-Okuyama 6-point roll cage
-Carbine rear tower bar
Thank you to Kengo for sharing about the roadster and for the photos highlighting the details of his car build. More photos in the gallery below. Enjoy.
Want to feature your ride? There are lot of builds we will never be able to come across, so please email us if you think we would be interested!
Email us at mazdafitment@mazdafitment.com