The Mazda 3, the most popular Mazda model, has gone through a few generations already. Now on the 4th generation, the Mazda 3 is still pushing new technology with the latest modern aesthetics.
We got the chance to meet with a 4th generation Mazda 3 owner that has executed this platform very tastefully.
Here we have Ashley Reyes' 2022 Chameleon Gold Green Mazda 3 hatchback from Granada Hills, California. Special thank you to TJ Watkinson for collaborating with us on this photoshoot.
During the photoshoot and video shoot we got talk to Ashley about her 4th generation MZ3 hatchback, which just looks so good.
So Ashley, what kinda inspired you to modify and style the MZ3 the way that you did?
"Honestly, I would say it kinda happened this way. Obviously, with the help of my boyfriend and him modding his car at the beginning."
"We decided to kinda roll into Mazda and try to figure out what we could do with this car."
"We start with lowering the car cause I really didn't wanna ride stock height."
"So that was one is lowering it and we really got the feel for it…"


"…And we started throwing on like…I had at first the Gramlight 57DRs and then the Gramlight 57CRs and we kinda just kept going with it."
"And I would say by month 6 to 8, we were already done fully modifying this car."
"So, I would say we really took a passion into, and really focused everything on this car…"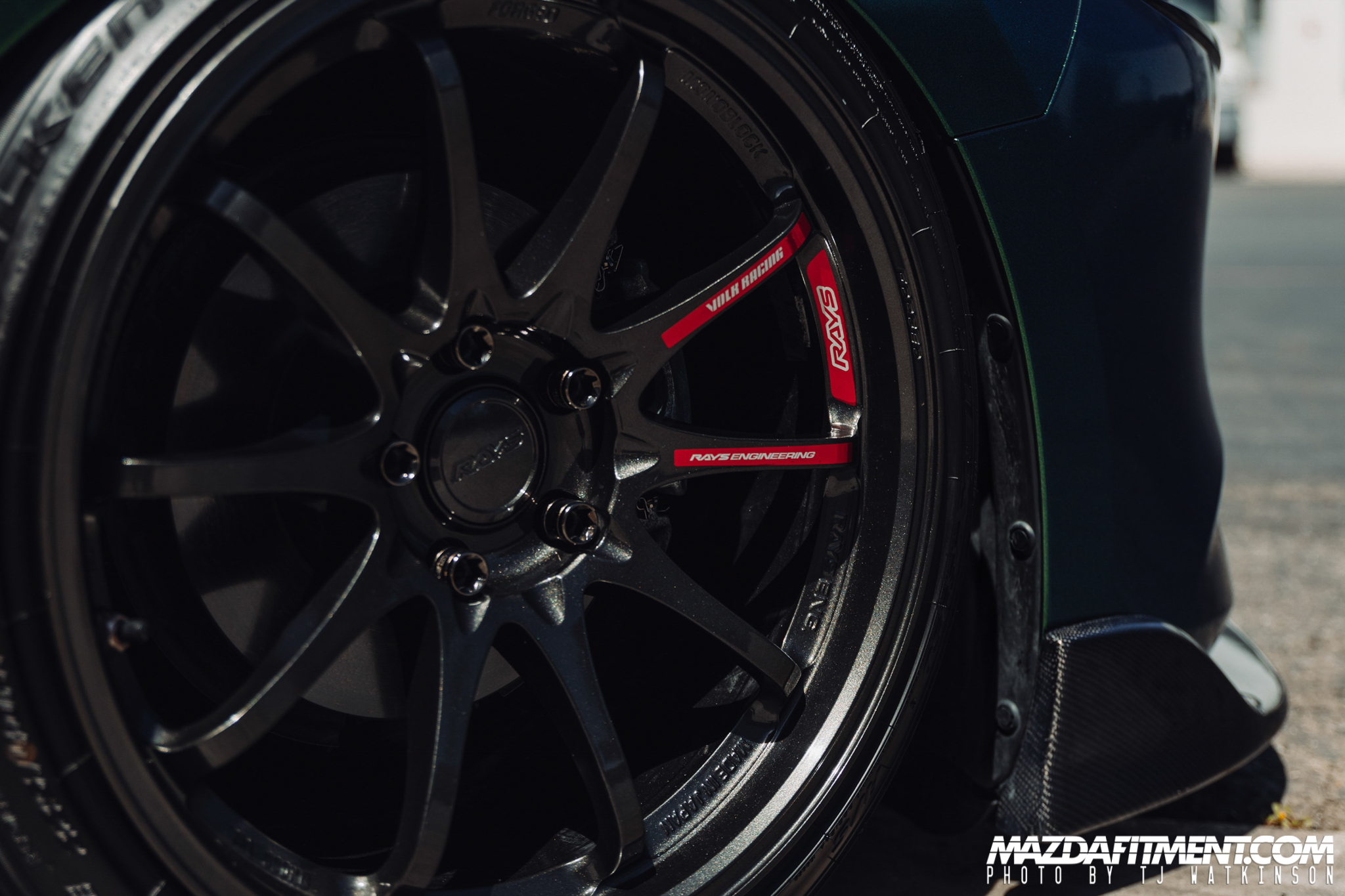 "…And as far as just the wrap color, I know it's a very loud color."
"But, it was one that complimented carbon a lot, and it was also something different that a lot of people don't have."
"And I think that's one thing we wanted to do with the Mazda was make sure it's something people really don't have"
"Kinda be the first to have a bright car, and modded the way it is…"


"…But I would say that's how it got started, just by the influence of him.
And him helping me build the car the way that we both like it."

So, how about any like future plans?
"Future plans for this car…See I feel like we modded it out to what it could be."
"If we could find a carbon hood that be cool. But, we aren't really in the rush that."
"We are planning on getting another project car… It might be Honda or might be another Mazda."
"We don't know, but we are staying in that family…I don't know, you guys stay tuned, maybe you'll see it on Mazda Fitment."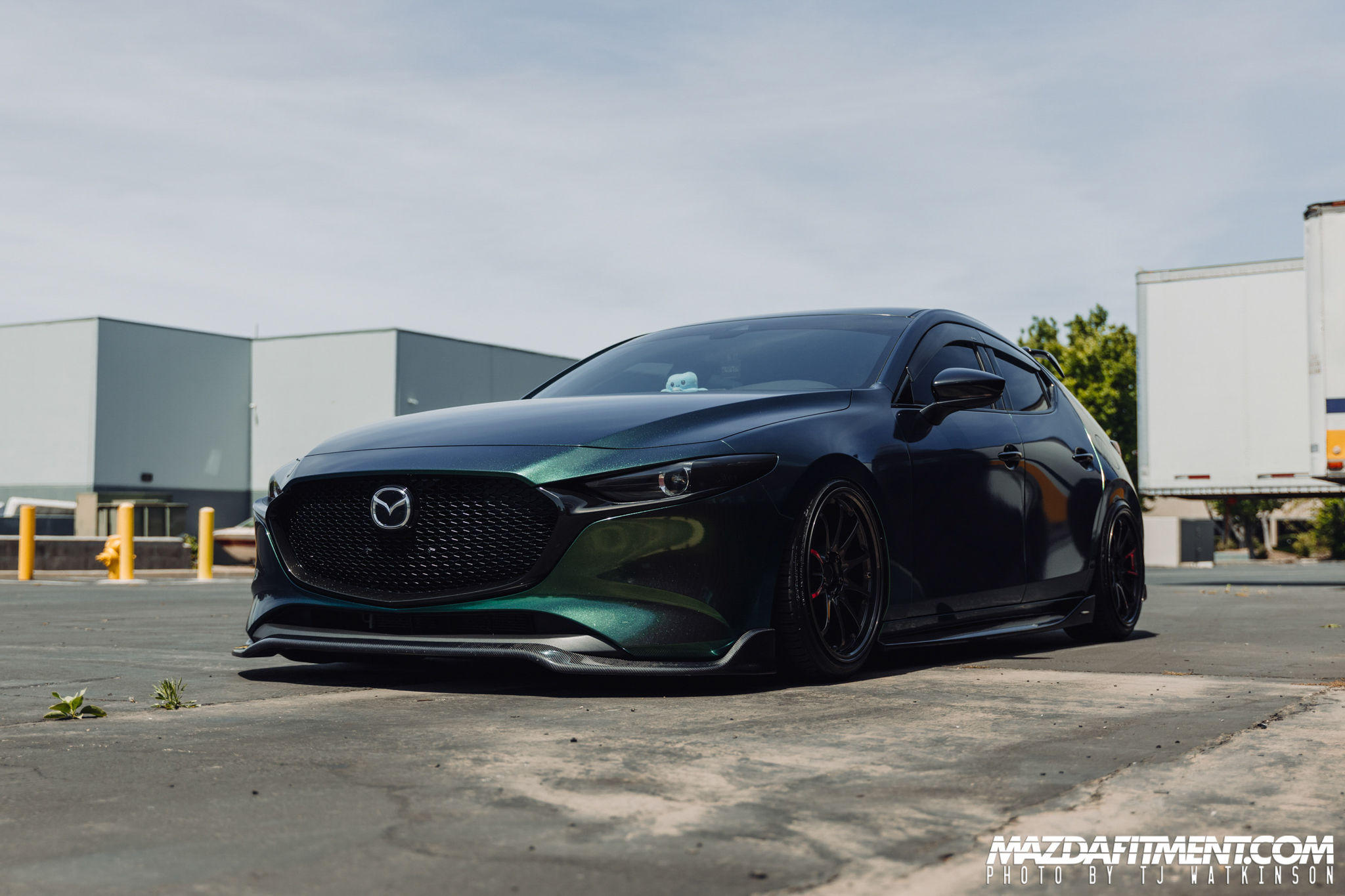 Lastly, who'd you like to thank for like helping out with your car? Any shops or any people?
"Fasure my boyfriend, he's over there. He has a Honda Type-R, you guys can go check it out."
"Sometimes I post him know, sometimes I don't, just because he's not a Mazda. But him, as well as some shops…"
"HellaSexy, he is a wrap garage specialist. He actually does all my installs, I don't really trust anyone to do anything else on my car"
"JDM Mafia, they put the bags on there. Wheel Works, they hooked me up with some wheels"
"So, I would say those shops really like had a real part in this"
"But, I would say fasure HellaSexy Garage, and Modified Nonstop Garage actually helped my a lot with the car"


Everything on this car just goes so well together. From the AutoExe body pieces all around, the Volk Racing CE28s, and to the vinyl wrap with the carbon fiber accents.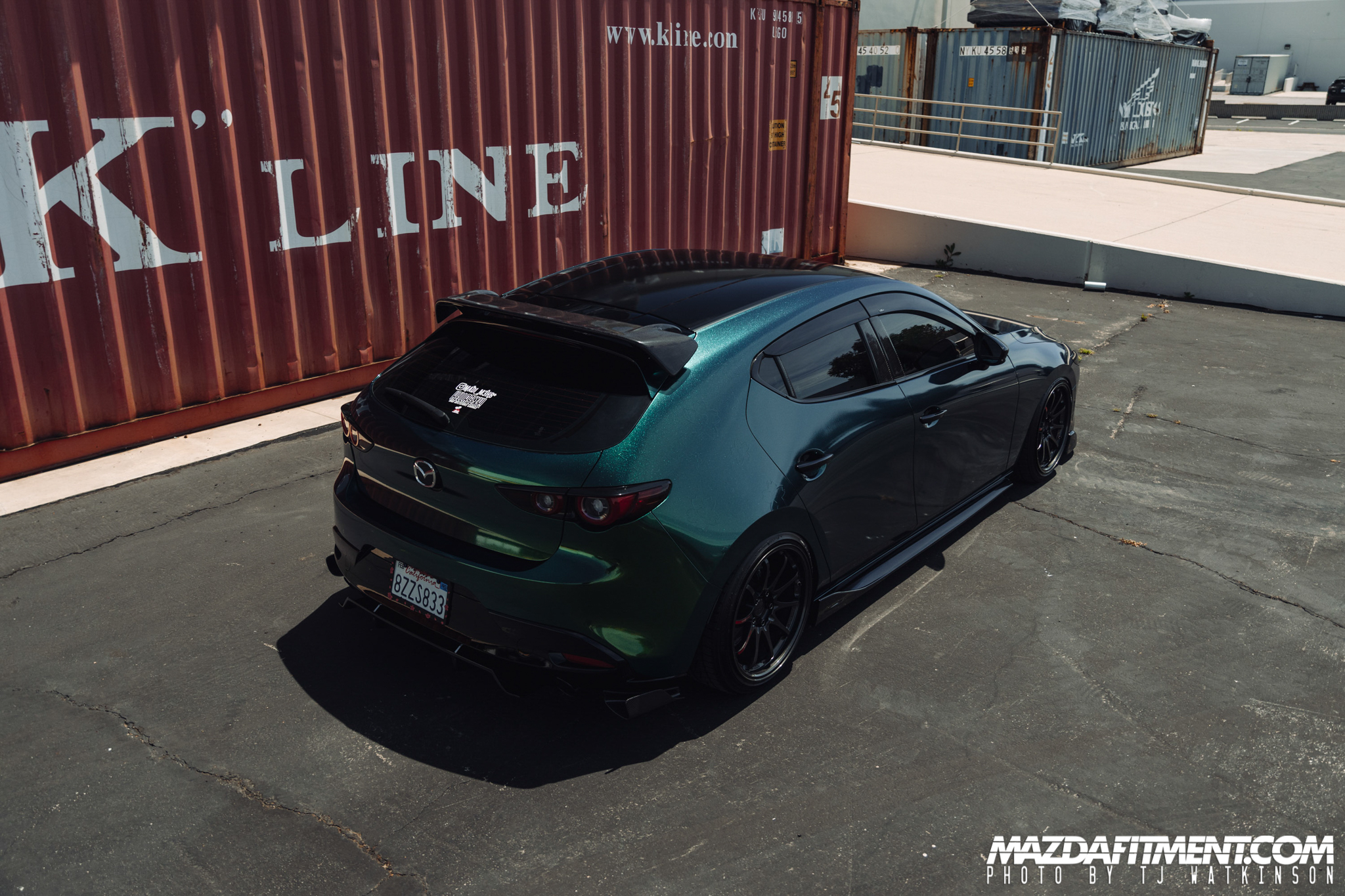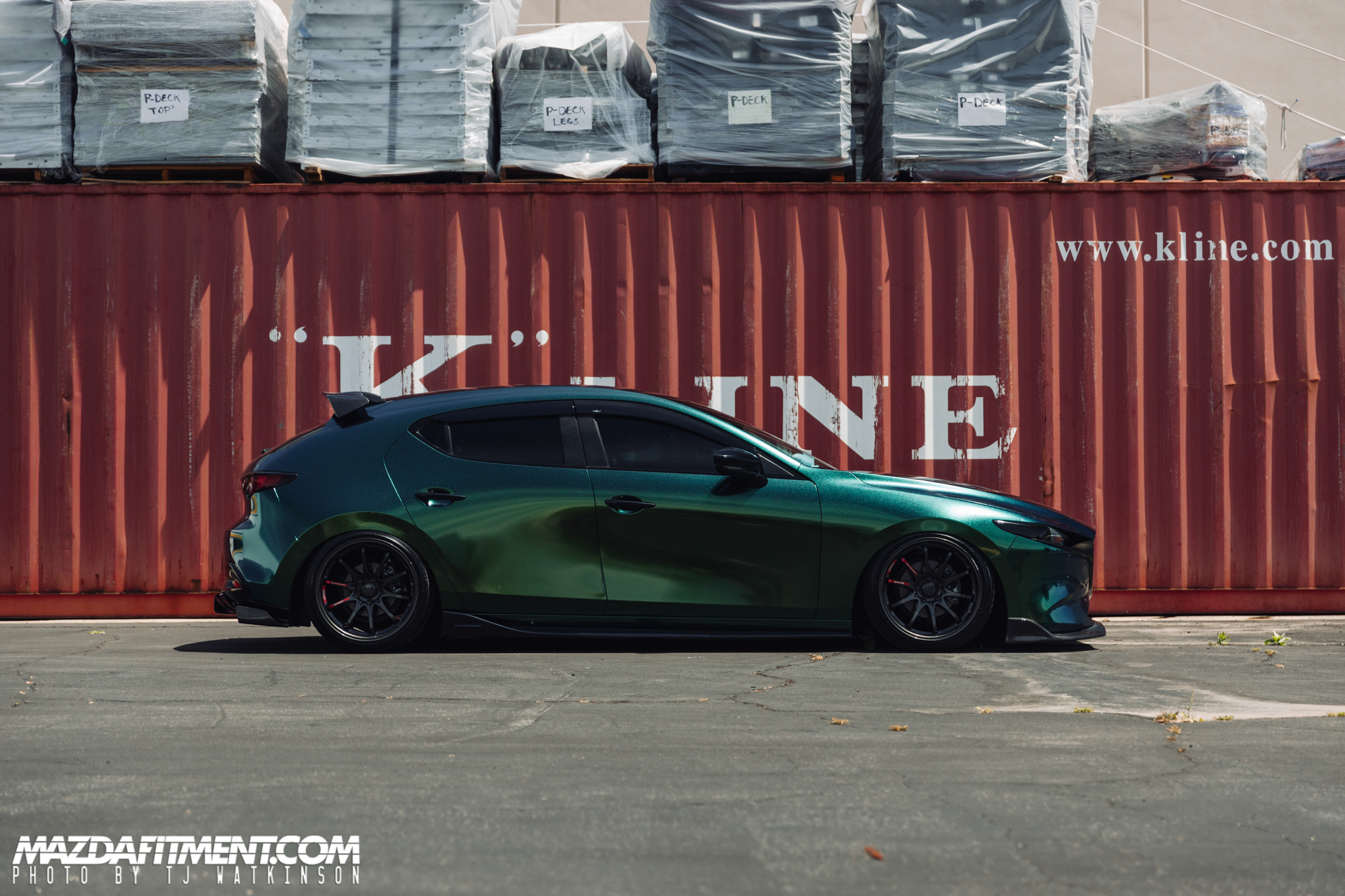 Gotta love the side profile of the 4th generation MZ3 hatchback; just such great body lines. Also, the sleek front headlights on this generation is just so nice.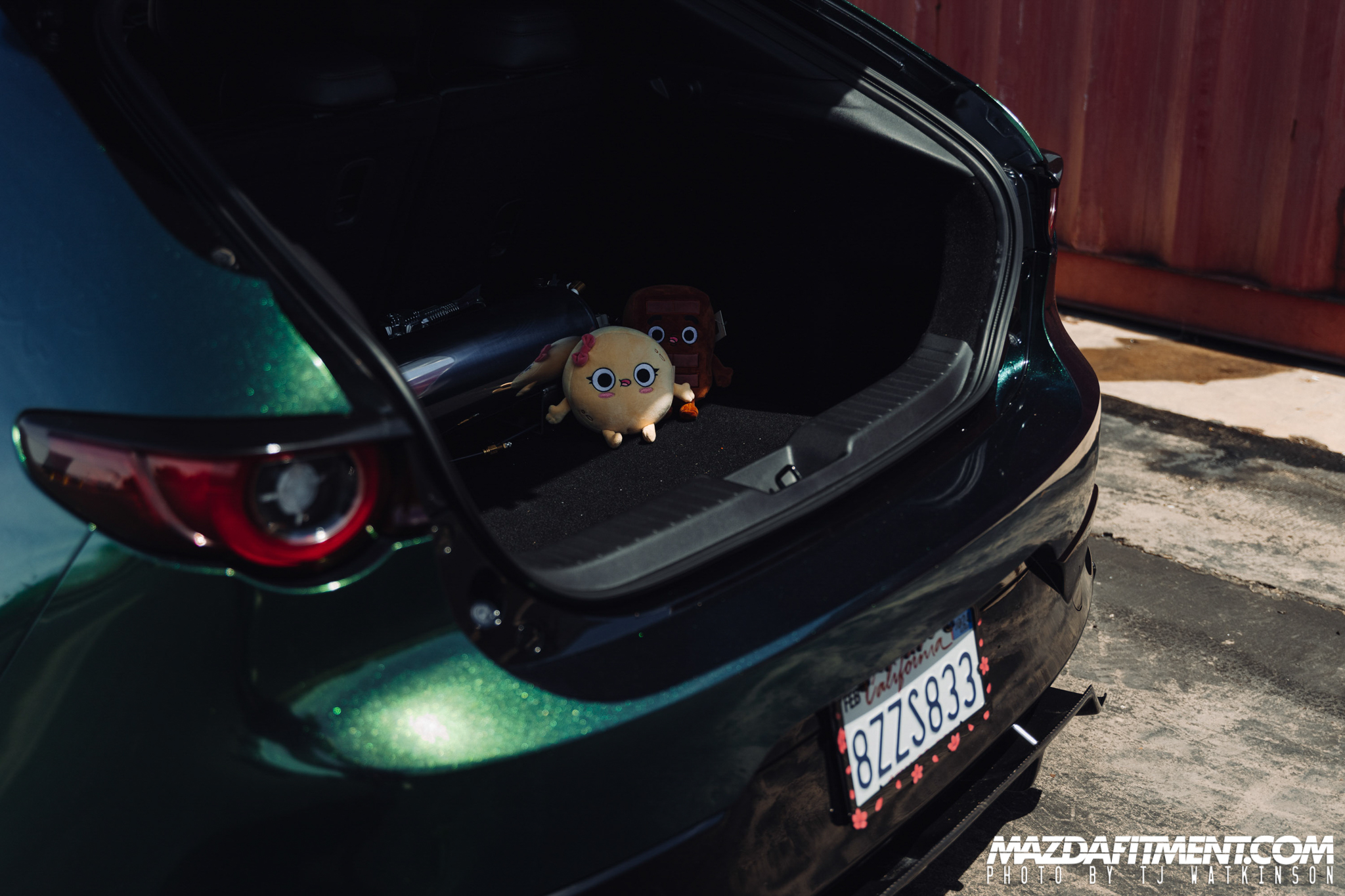 MODIFICATION LIST:
-Autoexe carbon front lip
-Autoexe carbon diffuser 3 piece
-Autoexe carbon spoiler
-Unknown side skirts
-Mikstore carbon flat bottom steering wheel with white stripe
-Carbon shift knob
-Carbon interior trim
-Carbon exterior trim
-Airlift 3P management system
-D2 suspension coilsover
-Corksport short ram intake 2.0 L
-Borla axle back exhaust
-Corksport midpipe
-Volk Racing CE28 Club Racer II  (18 x 9.5 +35 with 225 40 18)
-HIC Window visors
-Wrapped in Chameleon Gold Green
Hope you guys enjoyed this tasteful 4th generation MZ3 hatchback. Special thank you to Ashley for letting us share this with a photoshoot and video. And thank you to TJ Watkinson for collaborating with us on the photoshoot. More photos in the gallery below. Enjoy.
Want to feature your ride? There are lot of builds we will never be able to come across, so please email us if you think we would be interested!
Email us at mazdafitment@mazdafitment.com