If you are new to Mazda Fitment, then you should know we started our origins with the first generation Mazda 3 and Mazdaspeed 3 chassis. So, of course we have a soft spot for this model. And with every generation of this model, Mazda has stepped it up, despite discontinuing the Mazdaspeed variant. The Mazda 3 is now on its 4th generation, but of course everyone is still trying to tinker with the previous generations. Even with the 3rd generation MZ3, this generation introduced new body lines and overall improved look for this model.
Today, we look at Masaya Kashima's 2014 Snowflake Whitewater Pearl Mica Mazda 3 hatchback from Japan. Kashima's MZ3 is a prime example of perfecting your fitment and keeping the overall car clean in the process.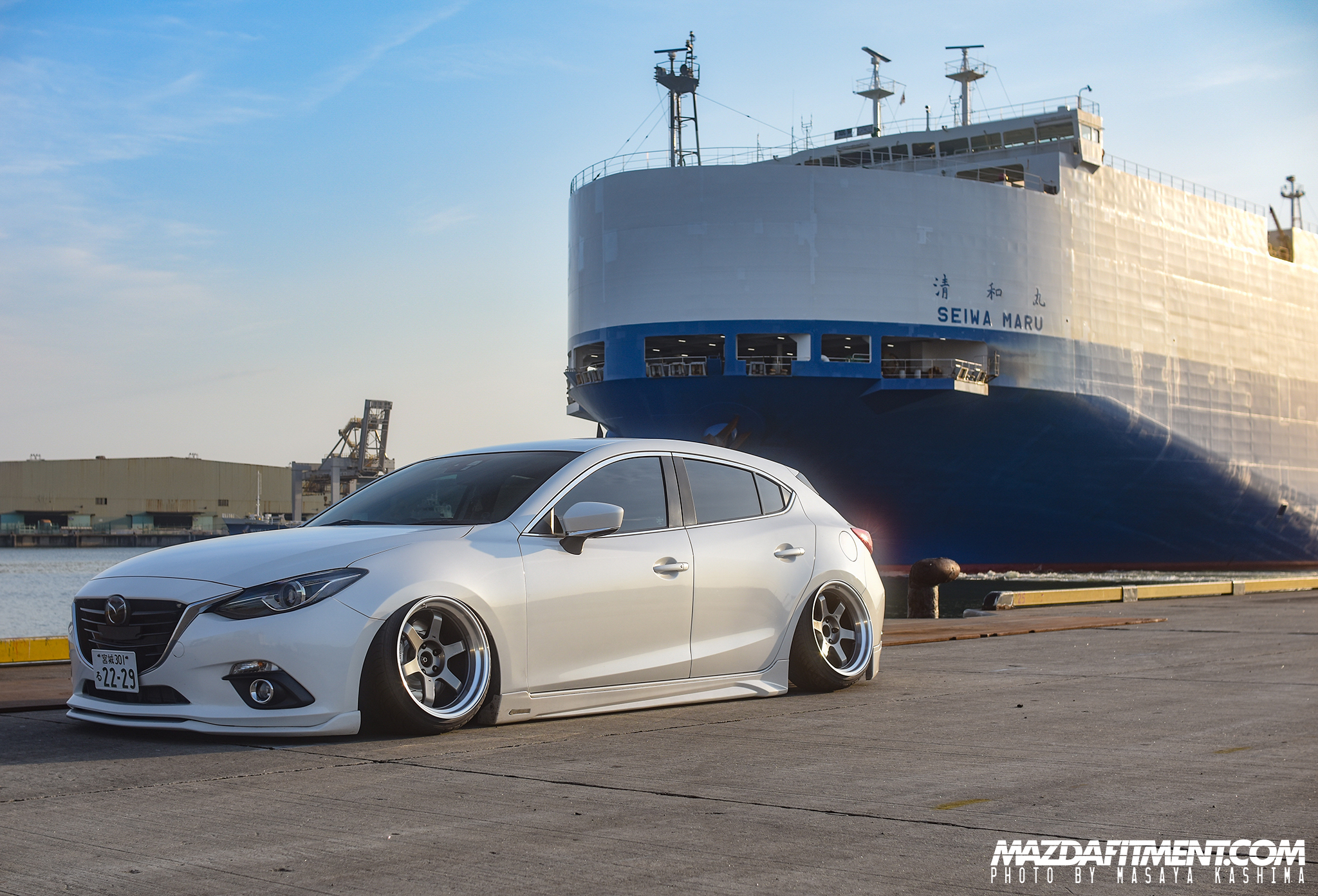 We got to talk to Kashima about his car and what made him do what he did to make his fitment so good.
So, Kashima how did you end up with owning this generation of Axela (MZ3)?
"Axela is the first car I bought after getting my license. A full aero Axela was on sale and I fell in love at first sight and bought it."
And what inspired you to modify this the way that you did?
"I was inspired by seeing cars with fitment at local car events and admiring them."
What would you say was the most challenging thing when modifying the Axela?
"I think Axela is difficult to put on wide wheels. I struggled to wear 10.5 ±0."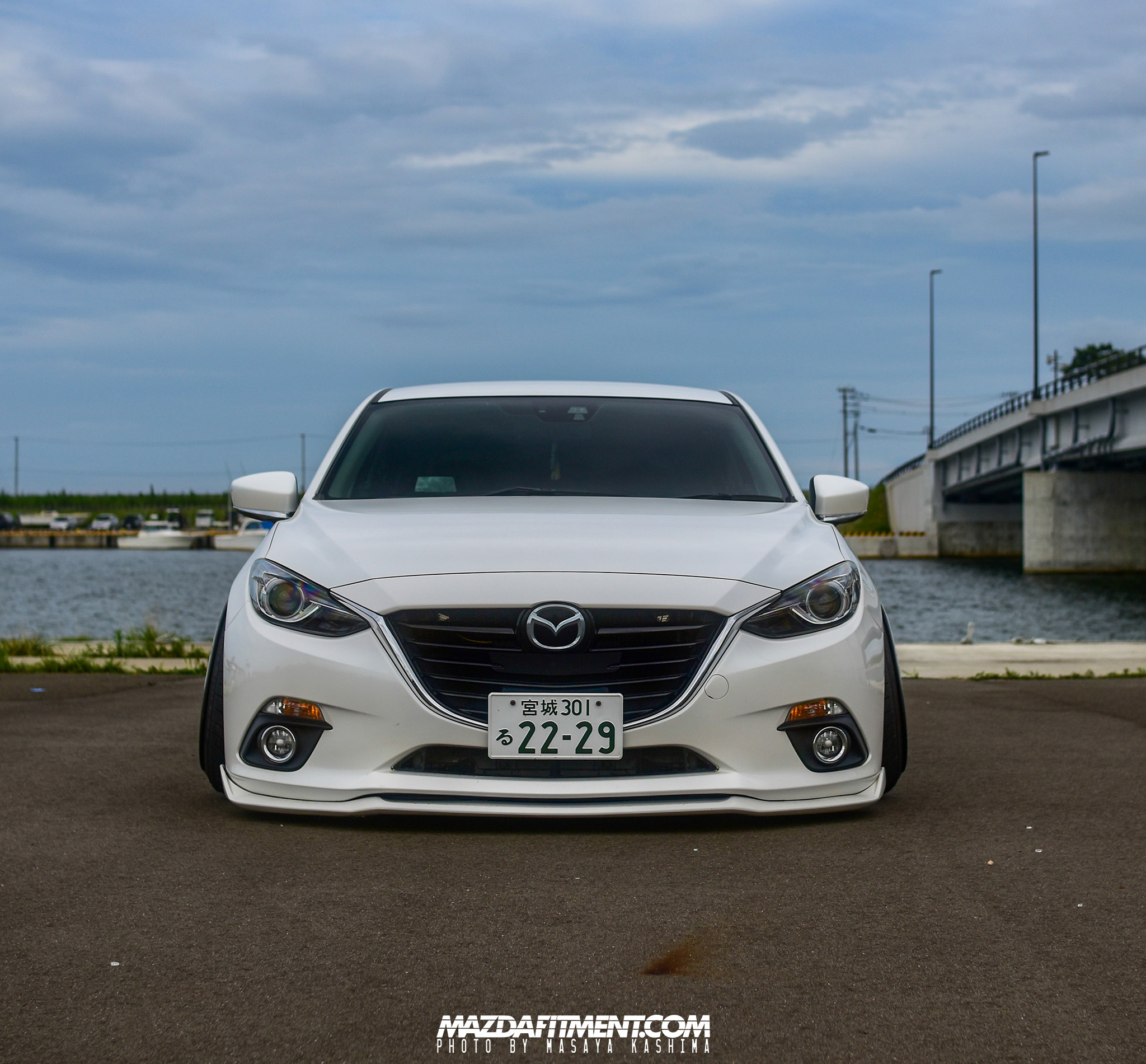 Then are there still any future plans for this?
"I want to do bigger rear brakes in the future."
Lastly, is there anyone you want to thank for your journey with the Axela?
"Axela is all customized by myself, so I would like to gain more knowledge."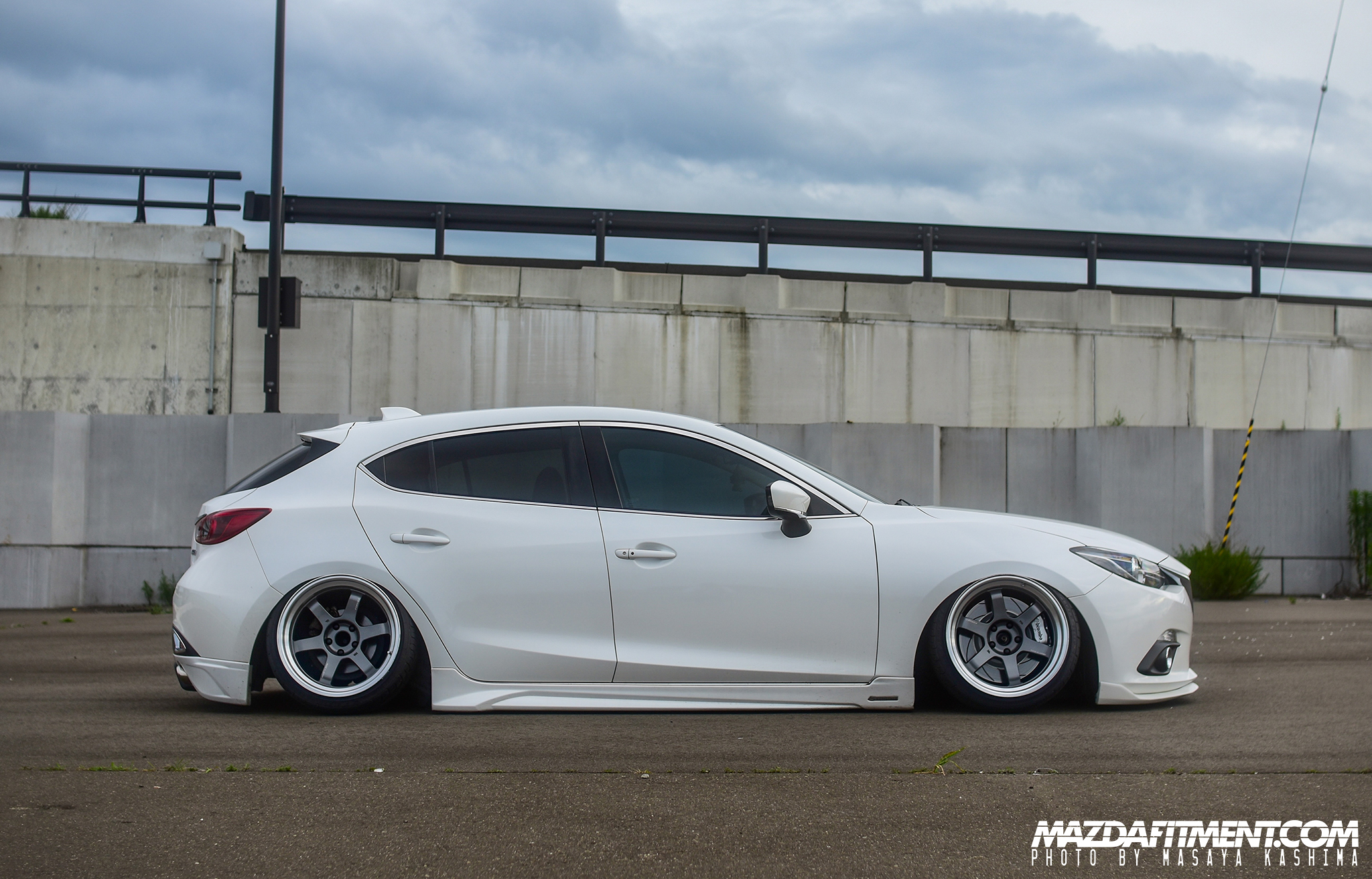 MODIFICATION LIST:
-Airmext air suspension
-Volk Racing TE37V 18×10.5 ±0 with 225/35 tires
-BCNR33 genuine Brembo caliper
-Lexus RC F Sport Brake Rotor
-Megan Racing rear upper arm
-Front lower arm for cx-5
-J-LINE camber bolt
-MAZDASPEED front lip
– KENSTYLE side skirts
-KENSTYLE rear
-Rear fender arch raised by 2.5cm
Hope you can see how dialed Kashima's fitment is and how the overall aesthetics are so clean. Special thank you to Masaya Kashima for sharing this with us.
Want to feature your ride? There are lot of builds we will never be able to come across, so please email us if you think we would be interested!
Email us at mazdafitment@mazdafitment.com