The Mazda 6 aka Atenza is Mazda's popular sedan/wagon model that is now on its 3rd generation, where the wagon variant is super limited to specific regions of the world.  It doesn't matter if the wagon variant is simply modified or highly changed, this is one of the best looking wagons in modern times. A prime example of this simple approach to the visual cues of the Atenza wagon can be seen with Yuji Ichioka's 3rd generation Jet Black Mica Atenza wagon from Hiroshima, Japan.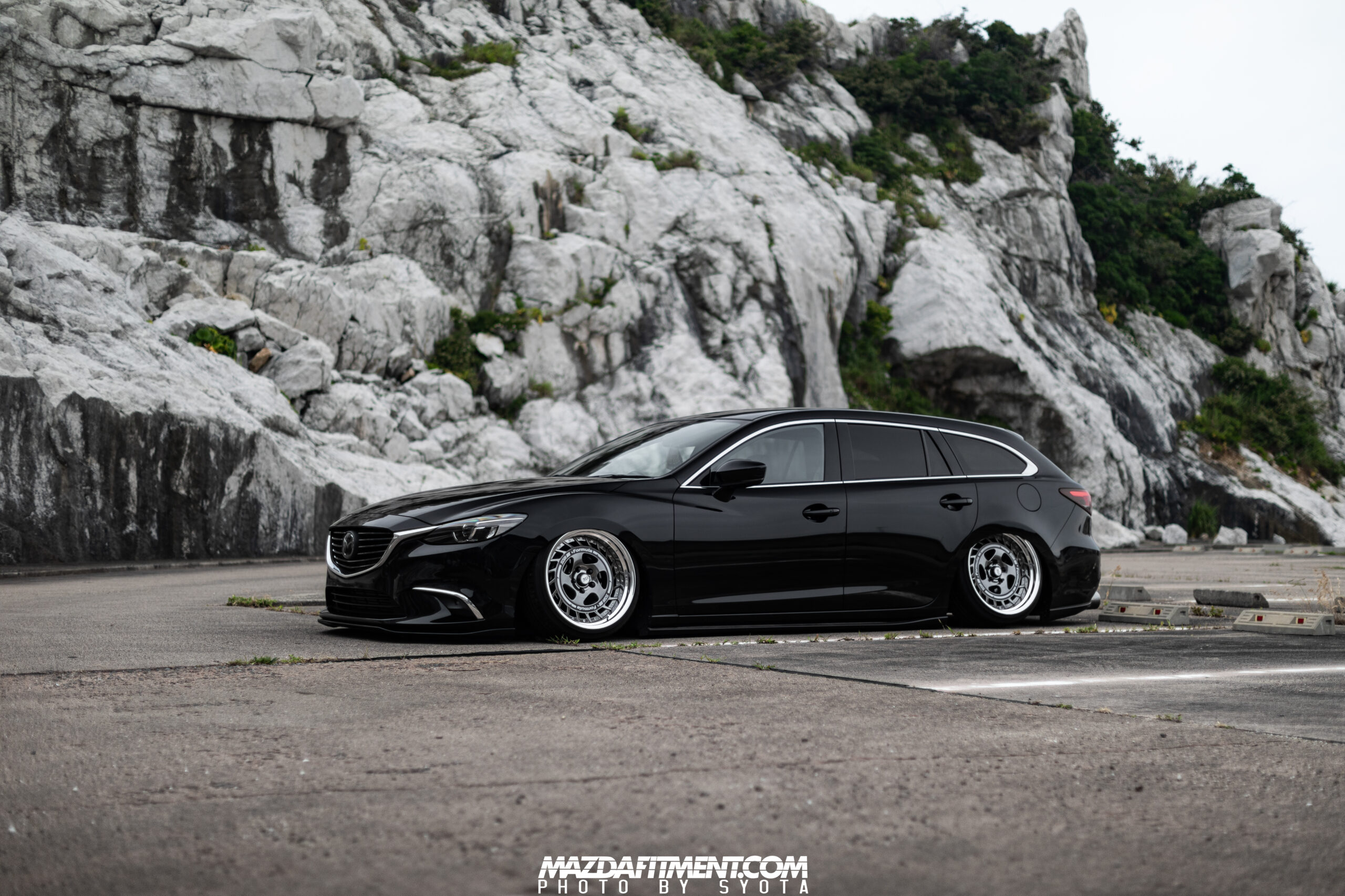 We got to talk to Yuji for a bit about his build with the Atenza wagon model we truly love.
What lead you to owning the Atenza wagon? Did you come from something different before this?
アテンザワゴンを所有するきっかけは何ですか?この前は違うところから来たんですか?
"I used to ride a BM AXELA (Mazda3)."
"I admired Yushi Kuroiwa's car and liked the shape of the station wagon, so I switched to it."
"Yushi Kuroiwa's car is static and I have a different approach by making it bagged."
"私は以前BM AXELA(Mazda3)に乗っていました。
"Yushi Kuroiwaの車に憧れたから、そしてステーションワゴンのフォルムが好きだからそれに乗り換えました。"
"Yushi Kuroiwaはstatic、私はbaggedで違うアプローチをした。"


What inspired your modifications and styling?
修正やスタイリングのインスピレーションとなったのは何ですか?
"Inspired by Instagram, Twitter and other social media. And I exchanged opinions with my friends and made it better."
"InstagramとTwitterとその他のSNSからインスピレーションを受けた。そして、友達と意見交換をしてより良くしていきました。"
What would you say is the biggest challenge modifying/styling the Atenza wagon?
アテンザワゴンの改造/スタイリングが最大の課題?
"It is important to have a cool setting for both the vehicle height when driving and the vehicle height when the air is 0.
"走行時の車高もエア0時の車高もカッコいいセッティングが重要。"
We love the SSR Formula Aero Spoke wheels. Why did you choose this wheel? Wanted another wheel?
SSR Formula Aero Spoke ホイールが大好きです。 なぜこのホイールを選んだのですか? 別のホイールが欲しかったですか?
"I was fascinated by the unique design. I also like Leon Hardiritt Beifall."
"If you change the specifications, set the camber to -4°. I want to input Rotiform RSE."
"私は唯一無二のデザインに魅了されました。 Leon Hardiritt Beifallが好きです。"
"もし仕様変更する時はキャンバーを-4°にします。そしてrotiform RSEをインプットしたいです。"
What future plans are there?
今後の計画は何ですか?
"I plan to paint it all over from dirty black to new black this summer."
"この夏、汚い黒から新しい黒に全塗装する予定です。"

And lastly Yuji, anyone you want to thank for helping with Atenza wagon?
アテンザワゴンを手伝ってくれて感謝したい人はいますか?
"The master and benefactor Yushi Kuroiwa."
"I want to say thank you to the car shop who helped me with the custom, and to my friends who supported me."
"師匠であり恩人のYushi Kuroiwa 、カスタムを助けてくれた車屋さん、そして私を支えてくれた友達にありがとうと言いたい。"
MODIFICATION LIST:
-AIRMEXT air suspension
-Customized bracket by Chibioni
-SSR formula Aero spoke 19×10.5+18 front and 19×10.5+30 rear
-Camber drive height F-8.0° R-8.5°
-Camber with zero air  F-8.0° R-9.5~-10.0°
-235/35R18 tires all around
-Modified front and rear OEM lower arms
-Z.S.S. toe control arms
-Shaved license plates
-Shaved antennas
-Shaved roof rails
-MAZDASPEED front, side, and rear addons
Hope you guys enjoy seeing this wagon variant as much as we do. Special thank you to Yuji Ichioka for sharing his car with us, and SYOTA for capturing these beautiful photos.
Want to feature your ride? There are lot of builds we will never be able to come across, so please email us if you think we would be interested!
Email us at mazdafitment@mazdafitment.com