The Mazda 2 aka Demio didn't always start out looking like a miniature version of its brother the Mazda 3 aka Axela when it was first introduced as a model back in 1996. It is only with the newer generations of the Demio that it has been redesigned to be so similar in appearance. Sadly for the US market the Mazda 2 was discontinued after the 2014 model year, but living on as the Scion iA/Toyota Yaris in other markets. Nevertheless, there are those that are enjoying this supermini still to this day, and styling them to make it their own. Here we have Kazuki Nakagawara's 2014 Brilliant Black Mazda Demio from Aomori, Japan.
In Japan, the Mazda 2 still continues onto the 4th generation, which looks just like all other kodo redesigned models. This is the 3rd generation of the model that Kazuki has paid tribute in a sense to the USDM version that has discontinued after this very model year.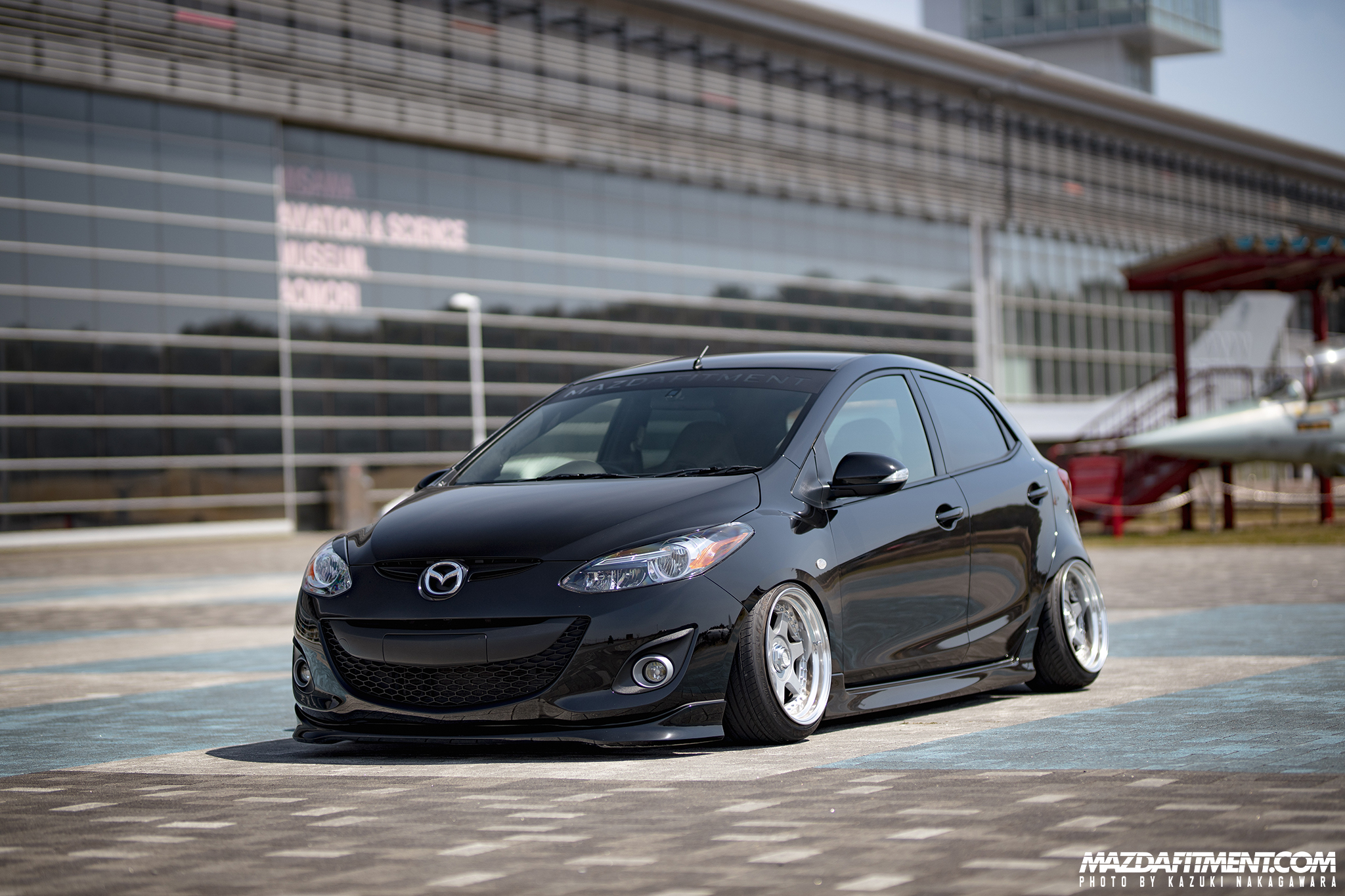 Kazuki did this by adding the USDM license plate holder, rear bumper, mud guards, and side mirrors. All which are very slightly different in the JDM version.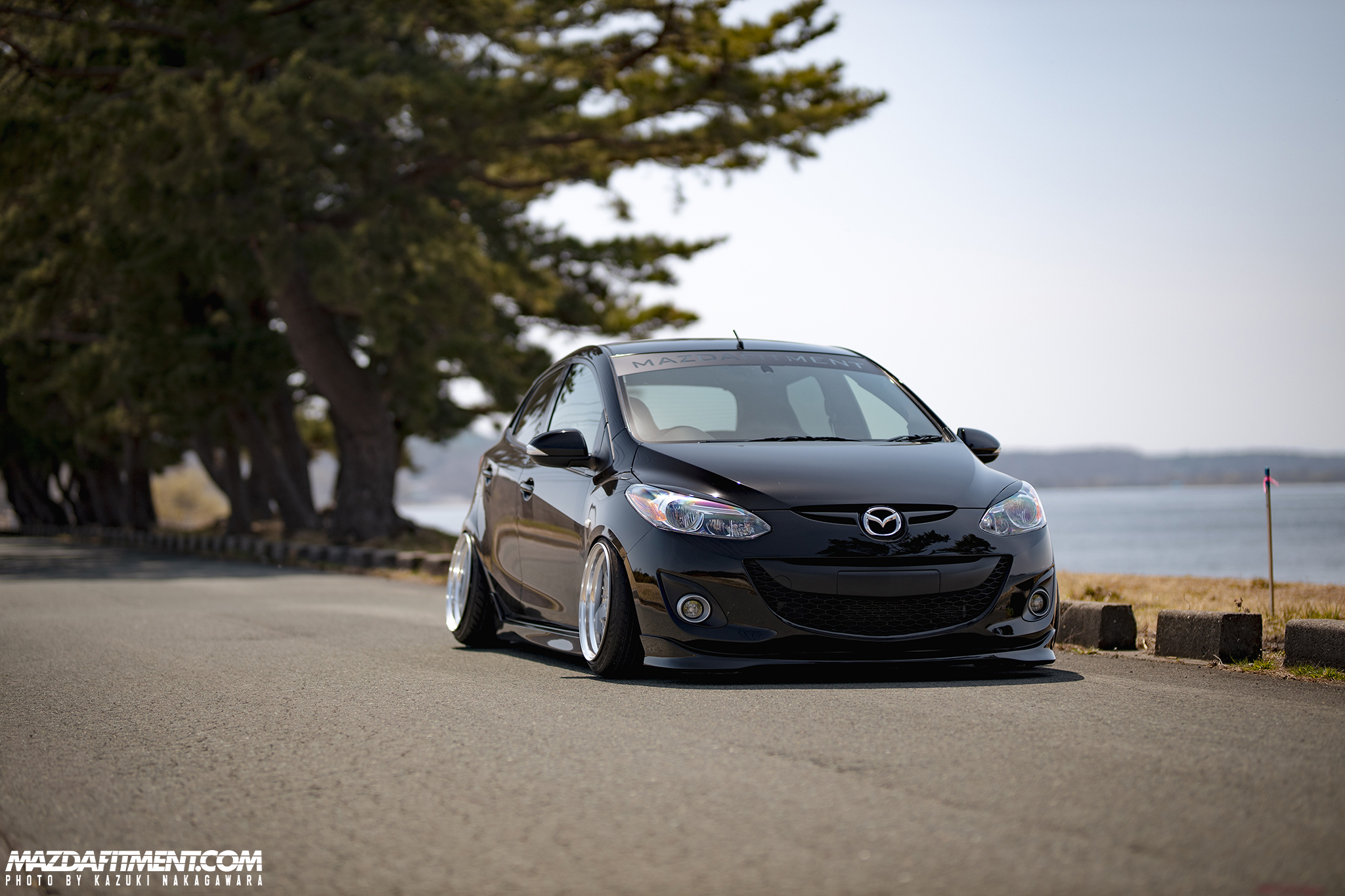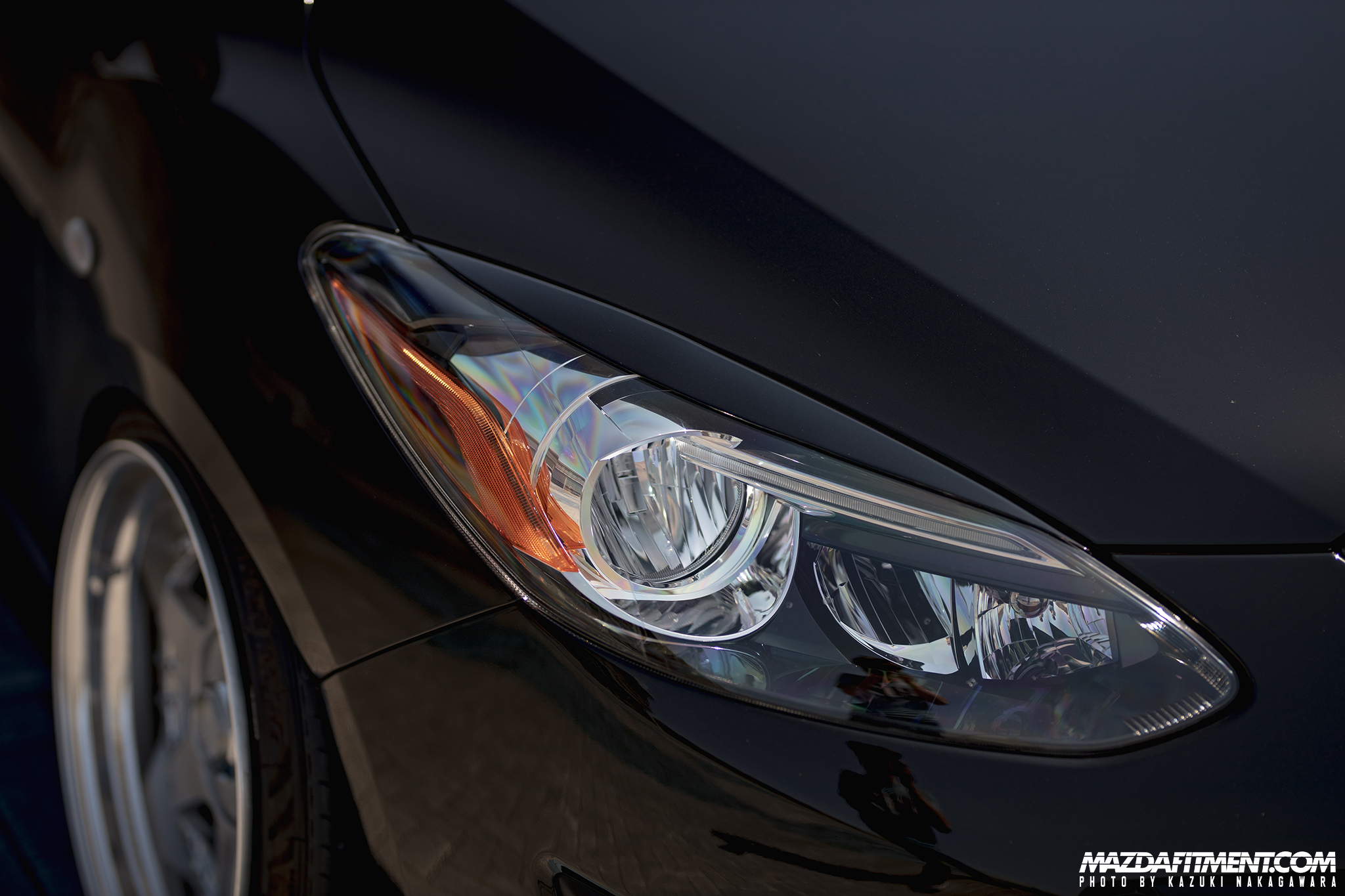 The front end of the car was accentuated with 3Dcarbon front lip and LED headlights with eyelids.
Also seen here is the Mazda Fitment universal windshield banner in matte black; available in various other colors as well on shop.mazdafitment.com and shipped to anywhere in the world.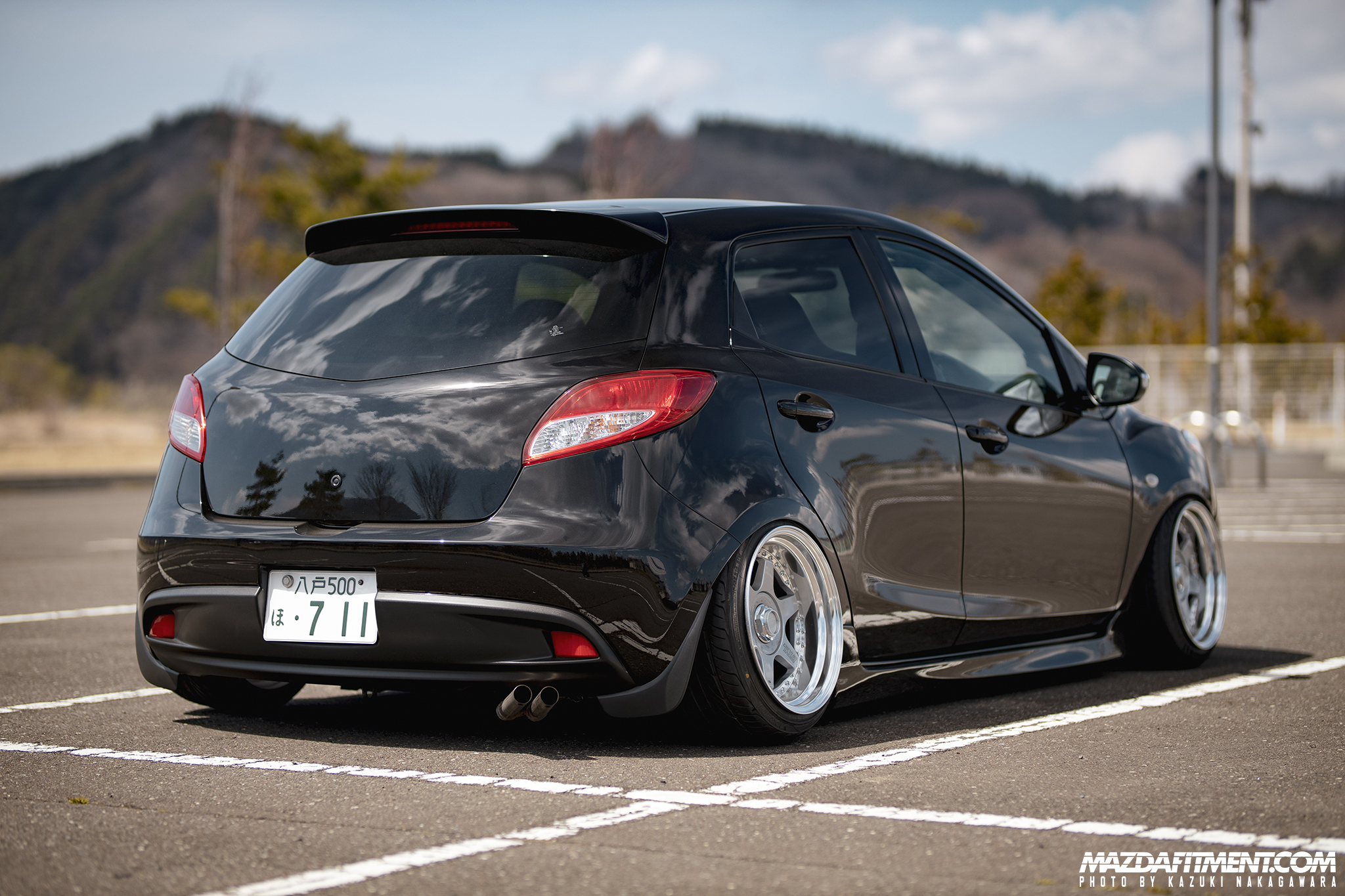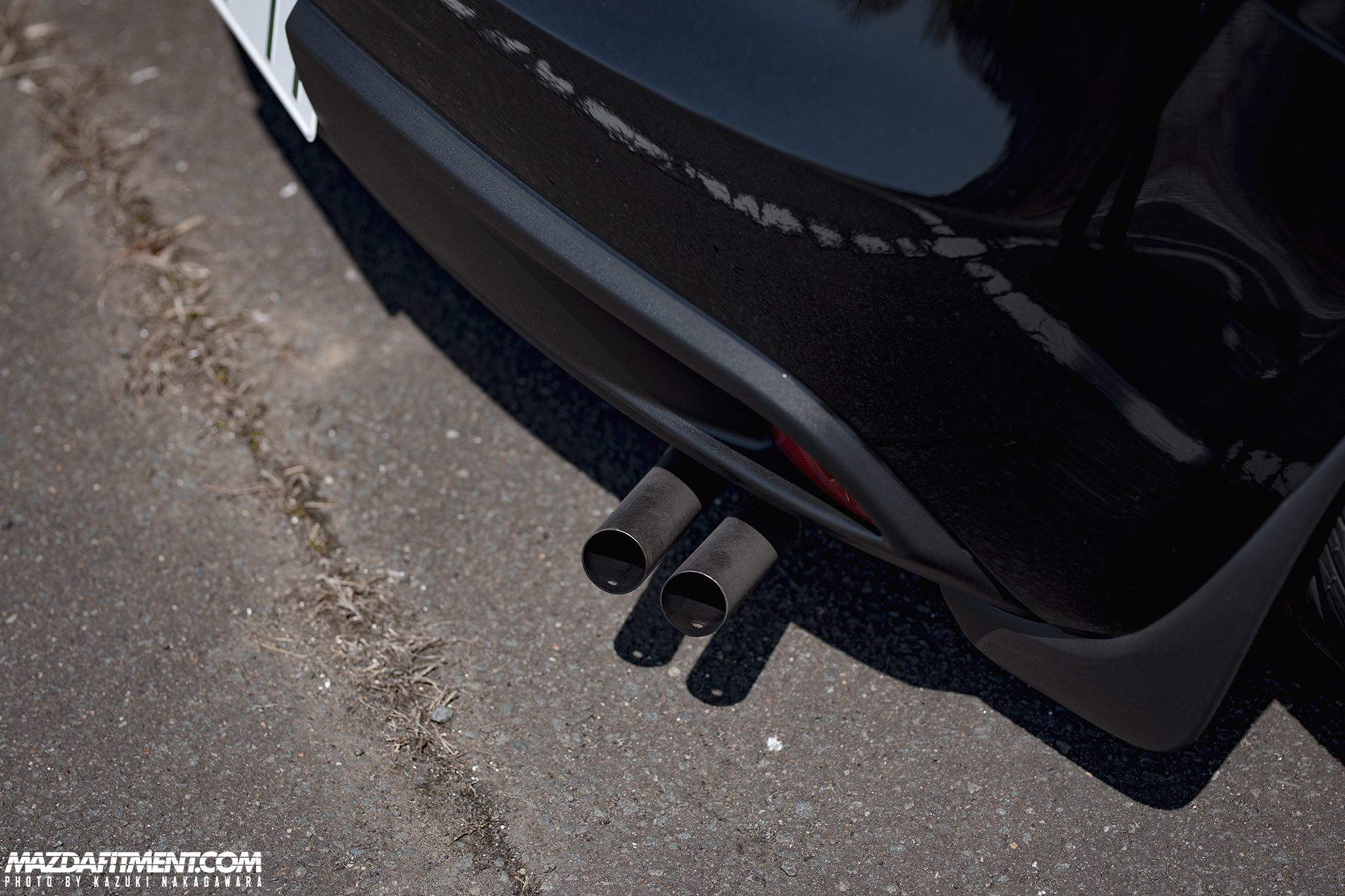 Kazuki went with a debadged rear end with a straight pipe exhaust with angled blast pipes. Adding a cleaner more aggressive look as you can get for a small car.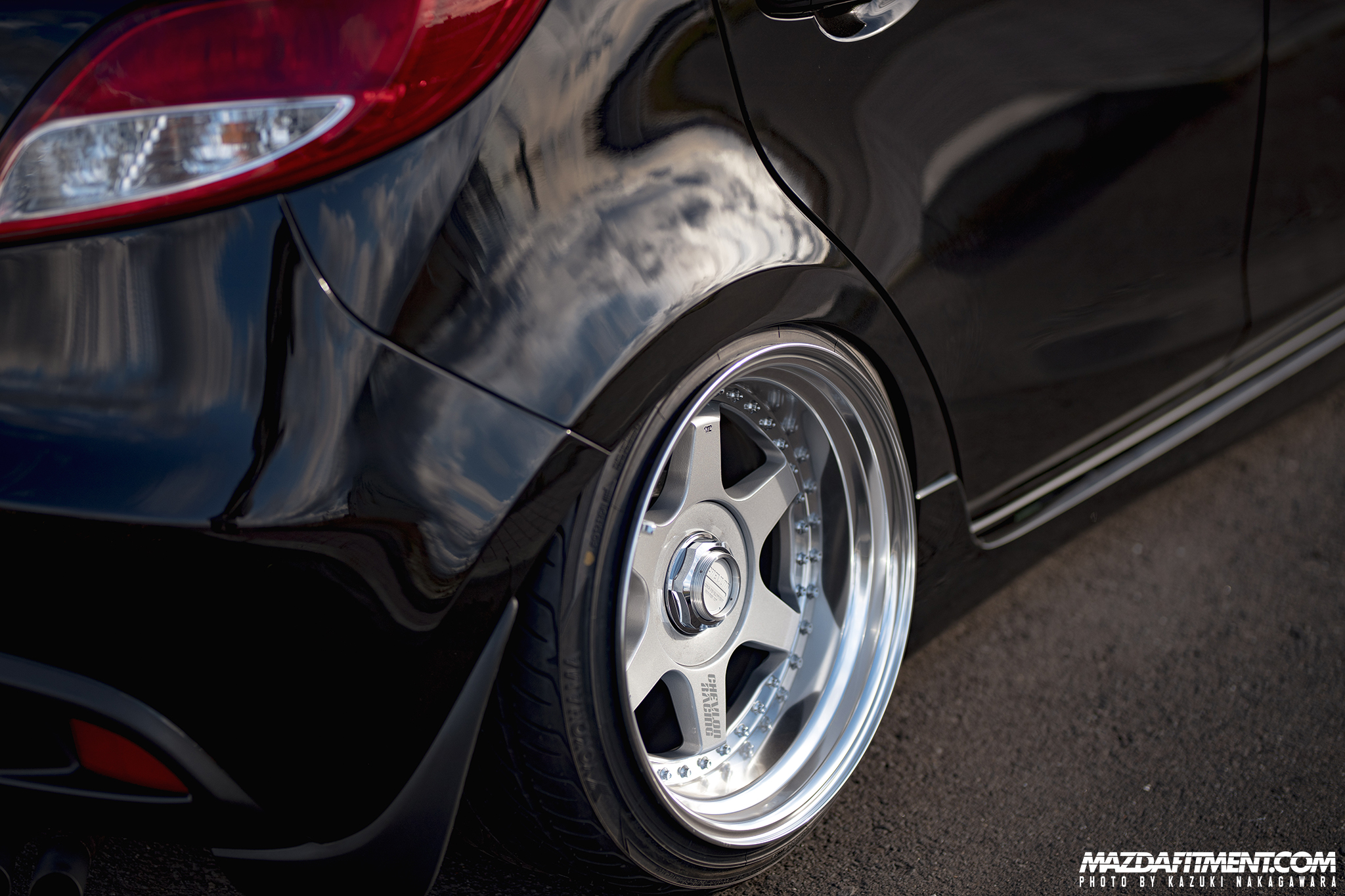 The shoes he decided to go with are SuperStar Chevlon Racing S1C with classic Silver faces and polished step lips. Front with 16×9 +18 with a 205/40/16 and rear with 16×10 +18 with 215/35/16.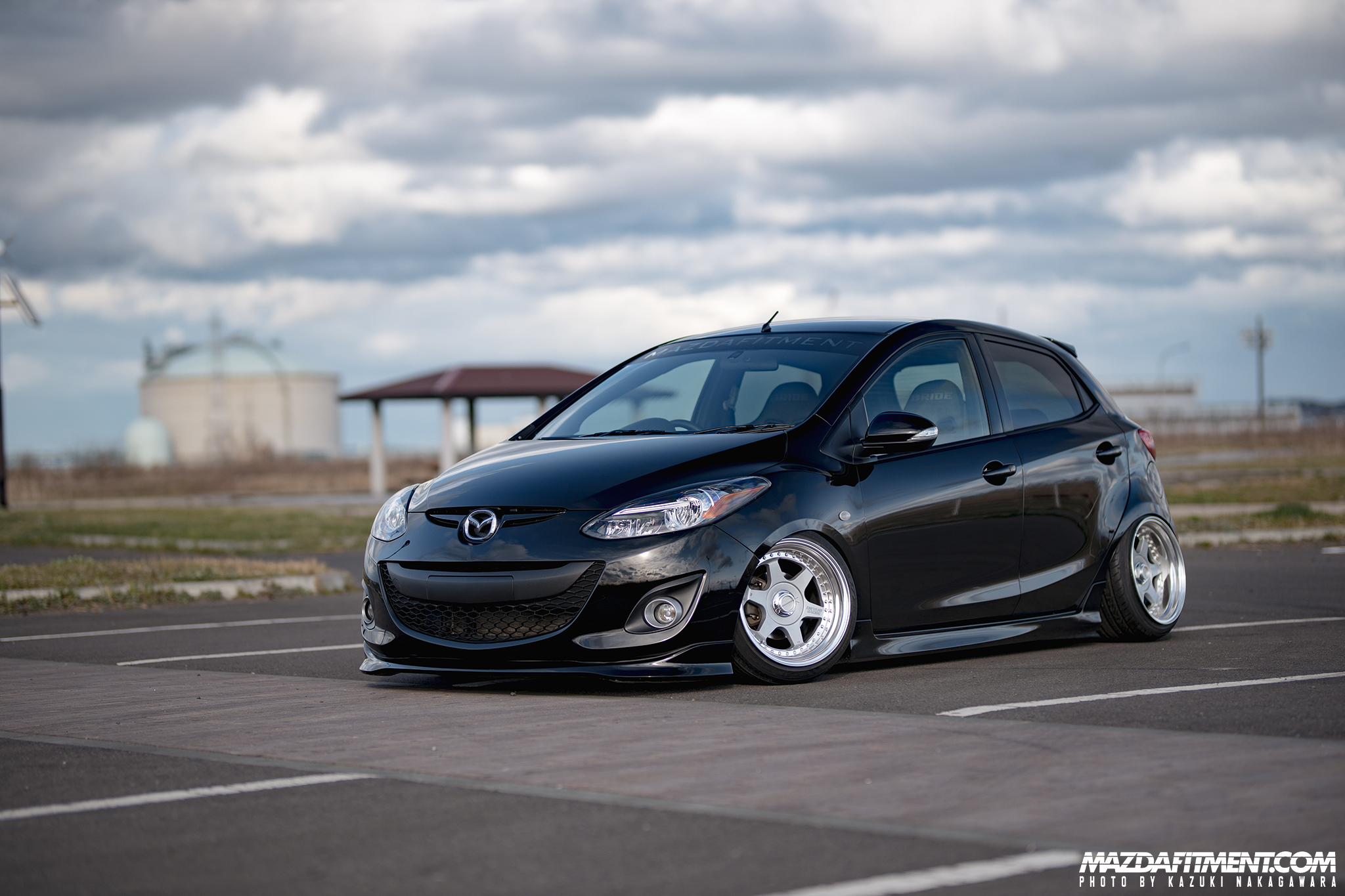 Subtle medications have been done to the fenders to much the stock body lines. The front fenders have been widened by 15mm and the rear by 13mm.  The suspension has been set with RSR coilovers all around with a modified rear torsion beam for more negative camber, which is about -8 in the rear. Nothing has been too over done and all flow nicely with how the body and suspension is setup.
The interior of the car still continues the USDM tribute with USDM odometer dash and hazard panel, but not seen here in detail. What can be seen here is the Renown steering wheel in leather with red stitching and a pair of BRIDE bucket seats.
Modification List:
EXTERIOR:
-3dcarbon Front Lip Spoiler
-LED headlight
-Processed sidestep(Combine mazda2 and mazda3)
-US rear bumper
-US tael rump
-US mud guard
-US side mirror
-US number holder
-Natural wide rear fender(+13mm)& arch up(15mm)
INTERIOR:
-US mile meter
-US hazard panel
-Renown steering
-BRIDE bucket seat
SUSPENSION/WHEELS:
-RSR coilovers
-Modified rear torsion beam
-CHEVLON RACING S1C (F:16×9 +18 with 205/40r16 R:16×10 +18 with 215/35r16)
Thank you to Kazuki for sharing his Mazda 2 with us and getting this shot. There are plenty of more pictures in the gallery below. Enjoy.