As we get deeper and deeper into 2020, who would of thought that a global event would happen to unite everyone.  During this time it has given some the added stress, but at the same time has given people more time to work on their passions. For Dimitri Witpas' 2015 Energetic Yellow Satin Metallic wrapped ND MX-5 Sport Edition from Belgium, this has now turned into being stuck at home with no way to really enjoy the finished product just yet.
What lead you to owning the ND?
"My love for MX-5's beegan with a 1st gen MX-5…I enjoyed driving it and loved the charms…Until I saw this ND for sale with a Mazdaspeed aerokit and Recaro seats…"
What inspired you to modify the way you did?
"…Every since I bought my ND…I saw Uchan's Pandem ND as great example for my dream…"
We actually featured Uchan's ND sometime last year: https://mazdafitment.com/2019/04/15/uchan-nd-miata/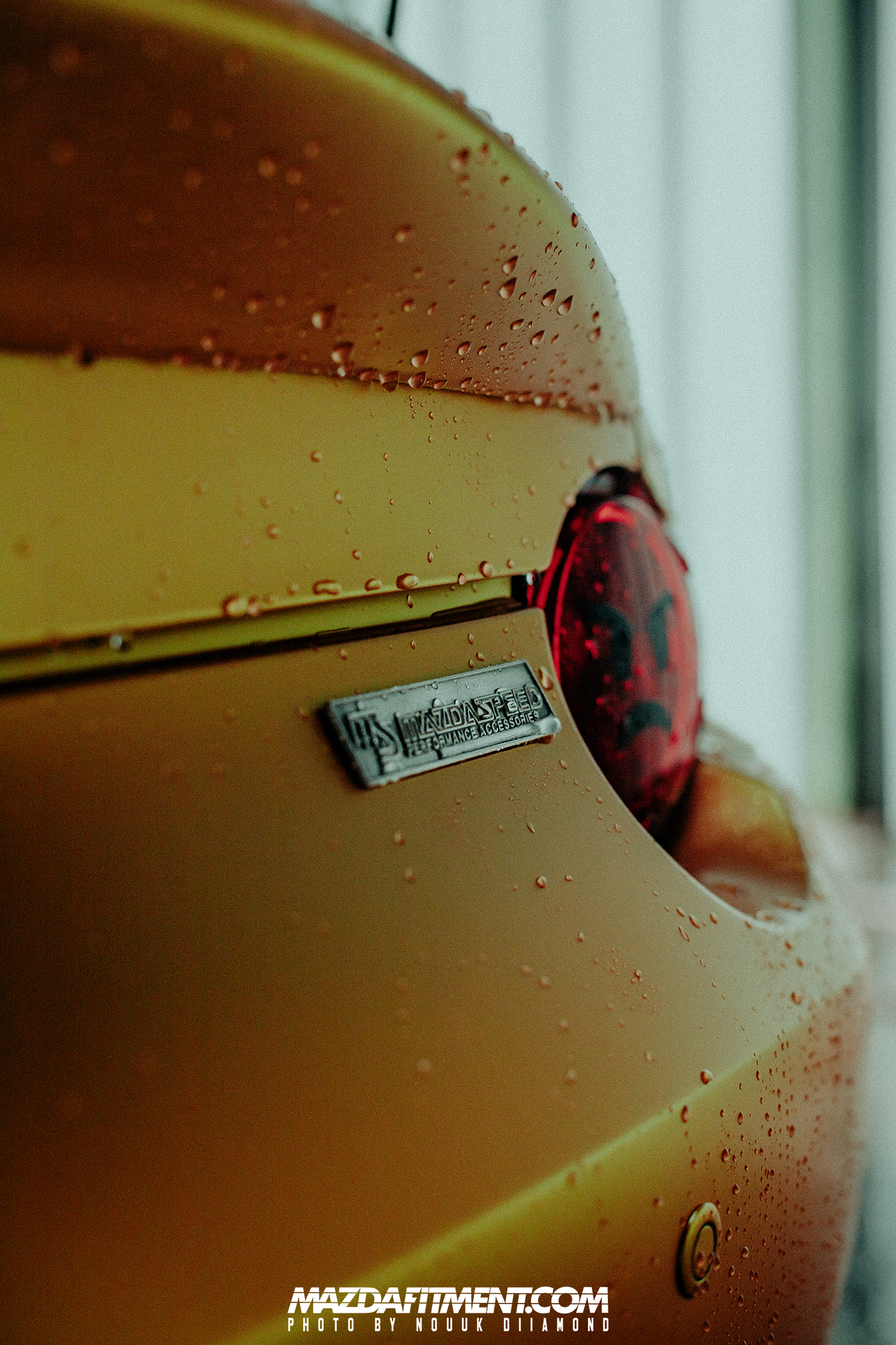 Since your inspiration had a Pandem kit, ever thought of the Aimgain kit? 
"Not really…I've compared the two kits, but Pandem was standing out in my opinion…Also, Rocket Bunny Europe made my head go crazy as they had 1 kit left in stock, and did an impulsive buy….and here we are!"
The wide stepped BBS RS look great. Why did you decide to go with them? Or did you have something else in mind?
"…When I was 13 years old I had a wallpaper of BBS RS wheels…not this wide, but I told myself back then I would own a set of BBS RS. I saw this as a perfect opportunity to accomplish a childhood dream."
Anything else you would like to highlight?
"My love for Mazda in general…I have three Mazda related tattoos!"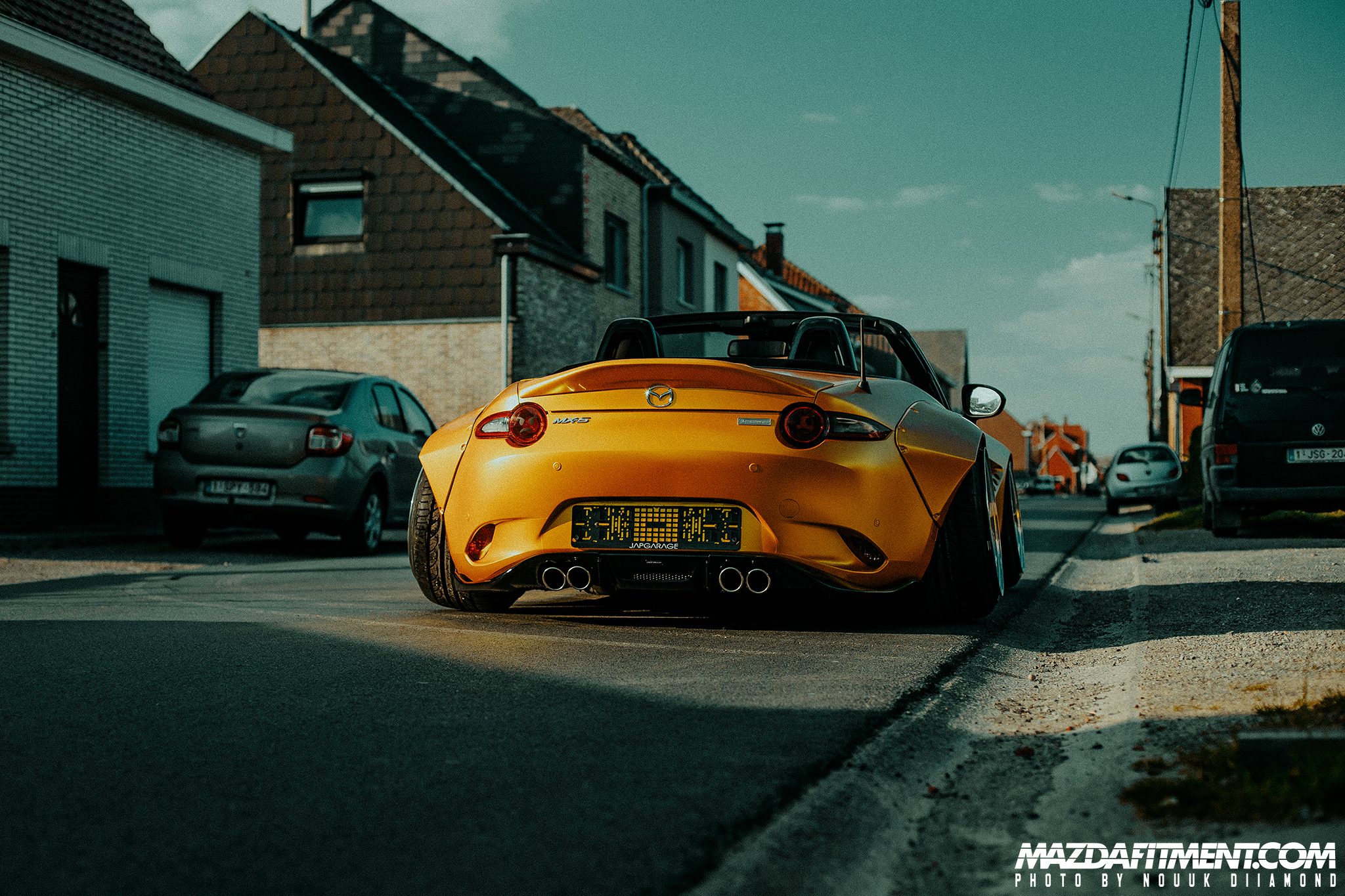 What can we expect for the future plans for the ND?
"Full respray and lots of carbon interior parts."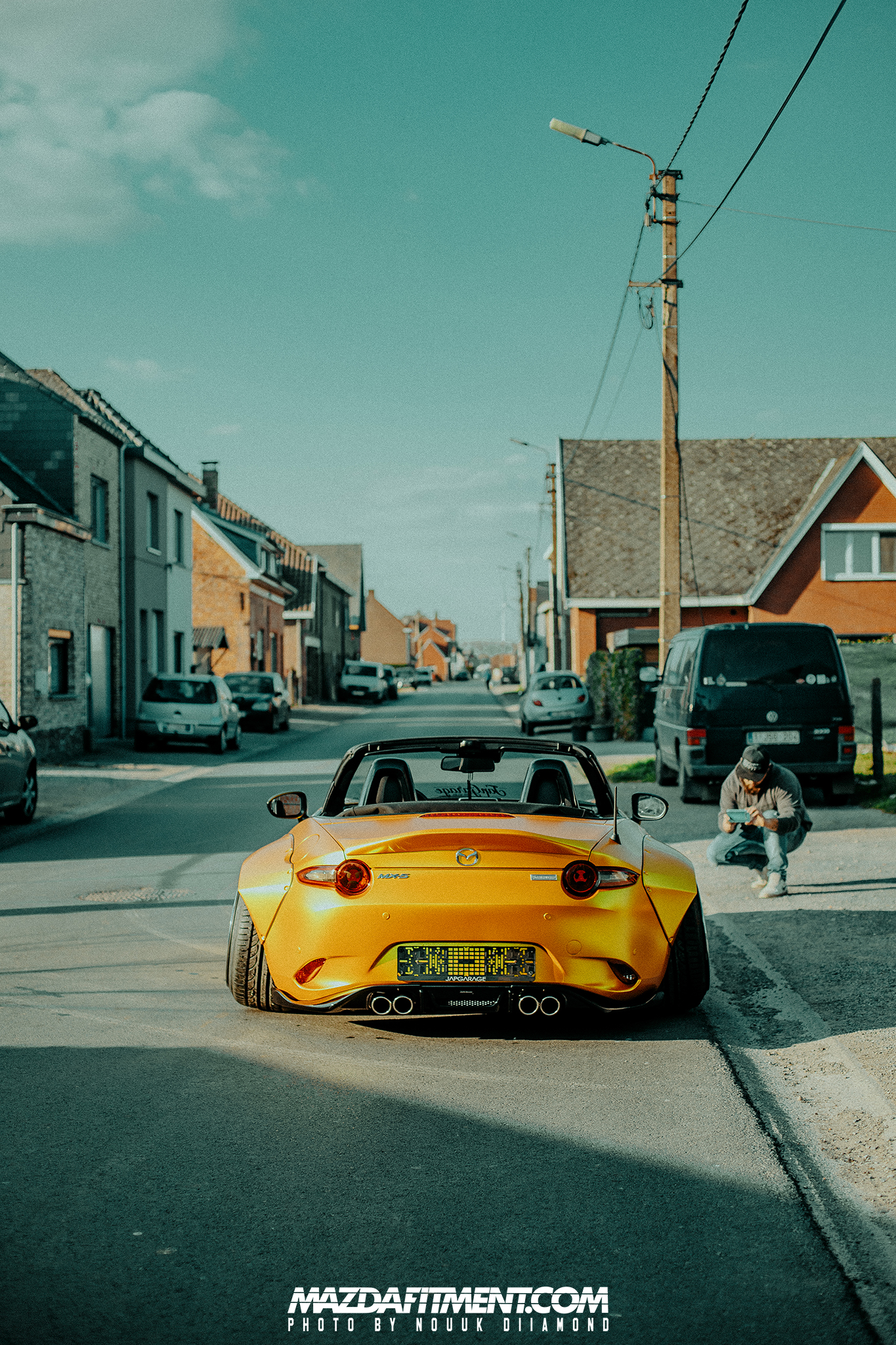 Any shout outs to anyone?
"Sticky World for wrapping the car in my garage, and Nouuk (my girlfriend) for helping and supporting…"
MODIFICATION LIST:
EXTERIOR:
-BBS RS wheels – 17″ to 18″ conversion, 12 & 10 wide, – 15 offset
-Hankook Ventus 225/45 front and 265/35 rear
-Pandem fender kit
-Pandem front
-Energetic Yellow Sation Metallic wrap
-Airlift Performance 3P management
-SilkBlaze rear diffuser
-Legsport ducktail
-Front grille carbon cover
-Sequential rear blinkers
-Custom built quad tip exhaust
SUSPENSION:
-Custom built Bilstein air struts
-Front Hardrace camber arms
-Rear Japspeed camber arms
INTERIOR:
-Likewise Diamond shift knob
-Likewise shift knob extender
-Quilted floor mates
-Wrapped Interior details
-Gloss black painted door sills
Thank you to Dimitri for setting this up with the help of photographer, Nouuk Diiamond. Thank you Nouuk! More photos in the gallery below. Enjoy!

We hope you all stay safe and healthy during this time. Please practice safe physical and social distancing. 
There are lot of builds we will never be able to come across, so please email us if you think we would be interested!
No need to be modest!
Email us at mazdafitment@mazdafitment.com