Finding the right car is important. There are a variety of car types to choose from on the car market these days. For Yuki Ikuta from Hiroshima, Japan, the car type that has drawn this automotive enthusiast to is the crossover SUV car type.  Thanks to Mazda's recent CX-3 model, Yuki was able to fall in love with the CX-3 platform. The Mazda CX-3 is a subcompact crossover SUV that is based on the Mazda 2 (Demio) subcompact platform, which is unavailable in the US market now, but available internationally. If your looking for a crossover model based on the Mazda 3, then check out the CX-30. The appeal of this car type lies in combining the styling of a SUV with the versatility of a station wagon, but the agility of a car.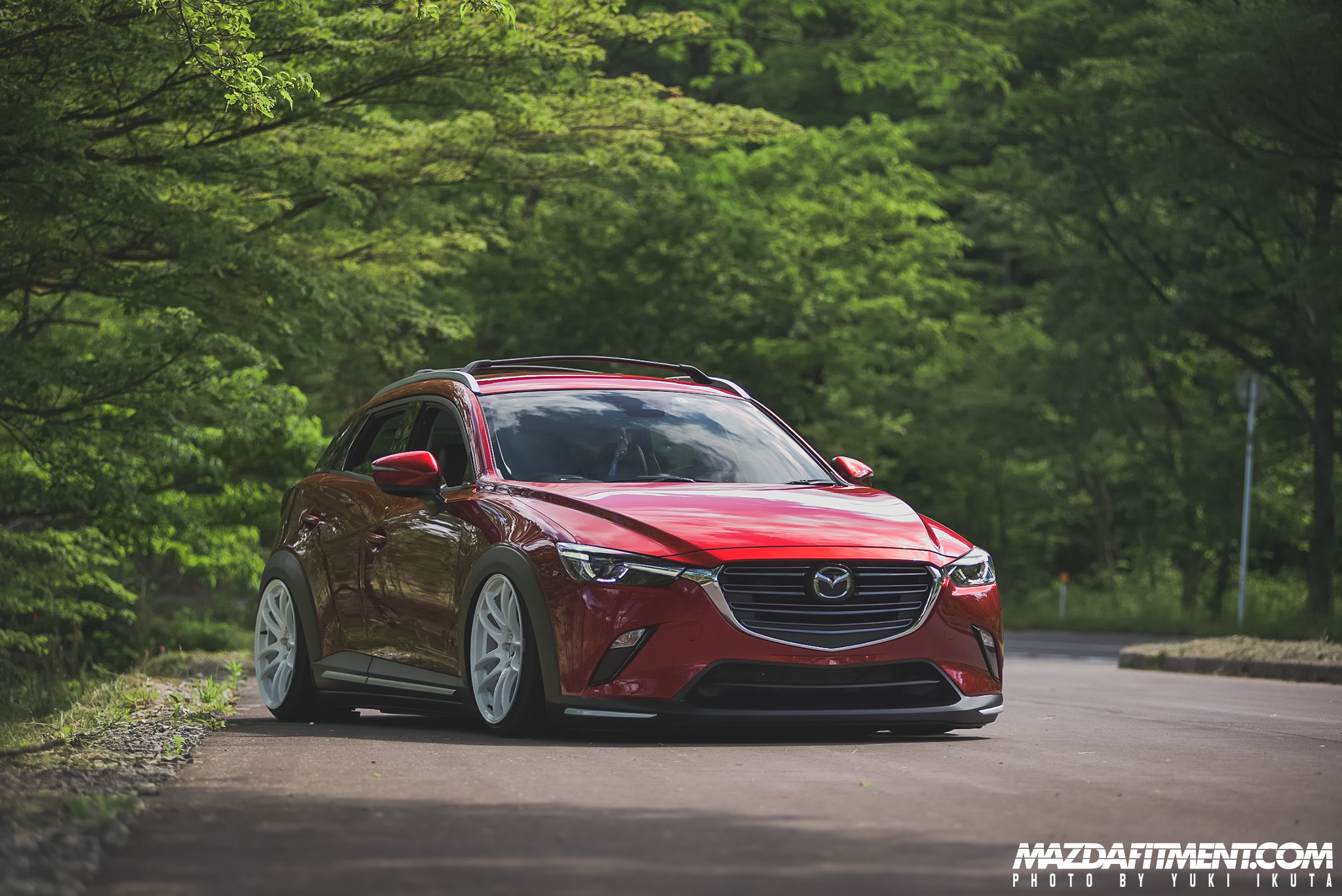 Today, we have Yuki's 2019 Soul Red Crystal Metallic CX-3 20S 6MT (DKEFW). Yuki, is the CX-3 the first car you have modified or have you modified others before?
"I used to ride a 2015 Mazda CX-3 1,500cc diesel, and before that I had a Mazda RX-8."
Oh, so you had a CX-3 before…What made you choose the CX-3 again?
"The size is just right! Also, because at that time there were no people customizing the CX-3 yet…"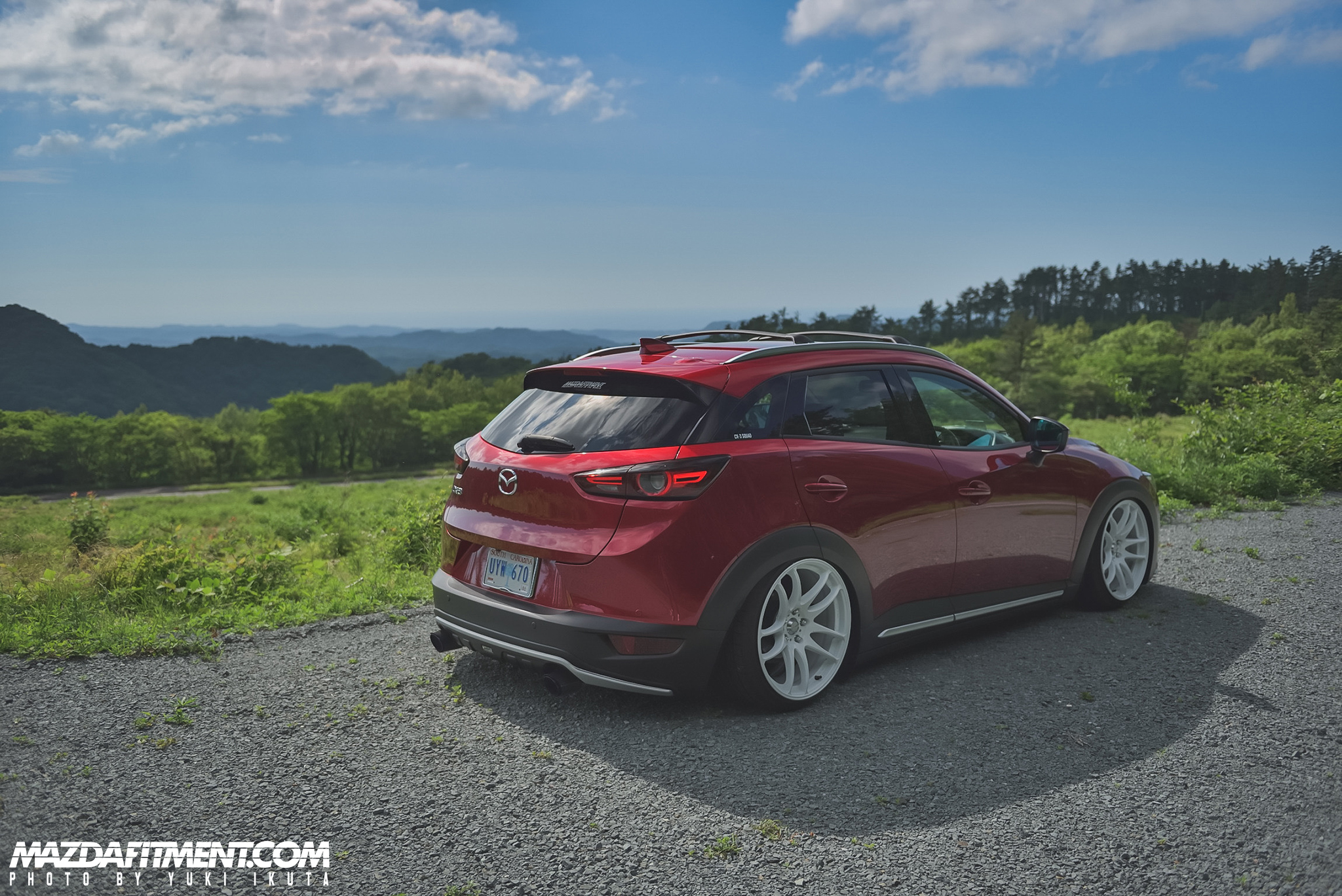 You have been a CX-3 owner for awhile. What inspired the style on CX-3?
"The first owner of @murton.cx3 inspired me. I wanted to imitate the same style since seeing, but now @murton.cx3 is owned by a new owner…"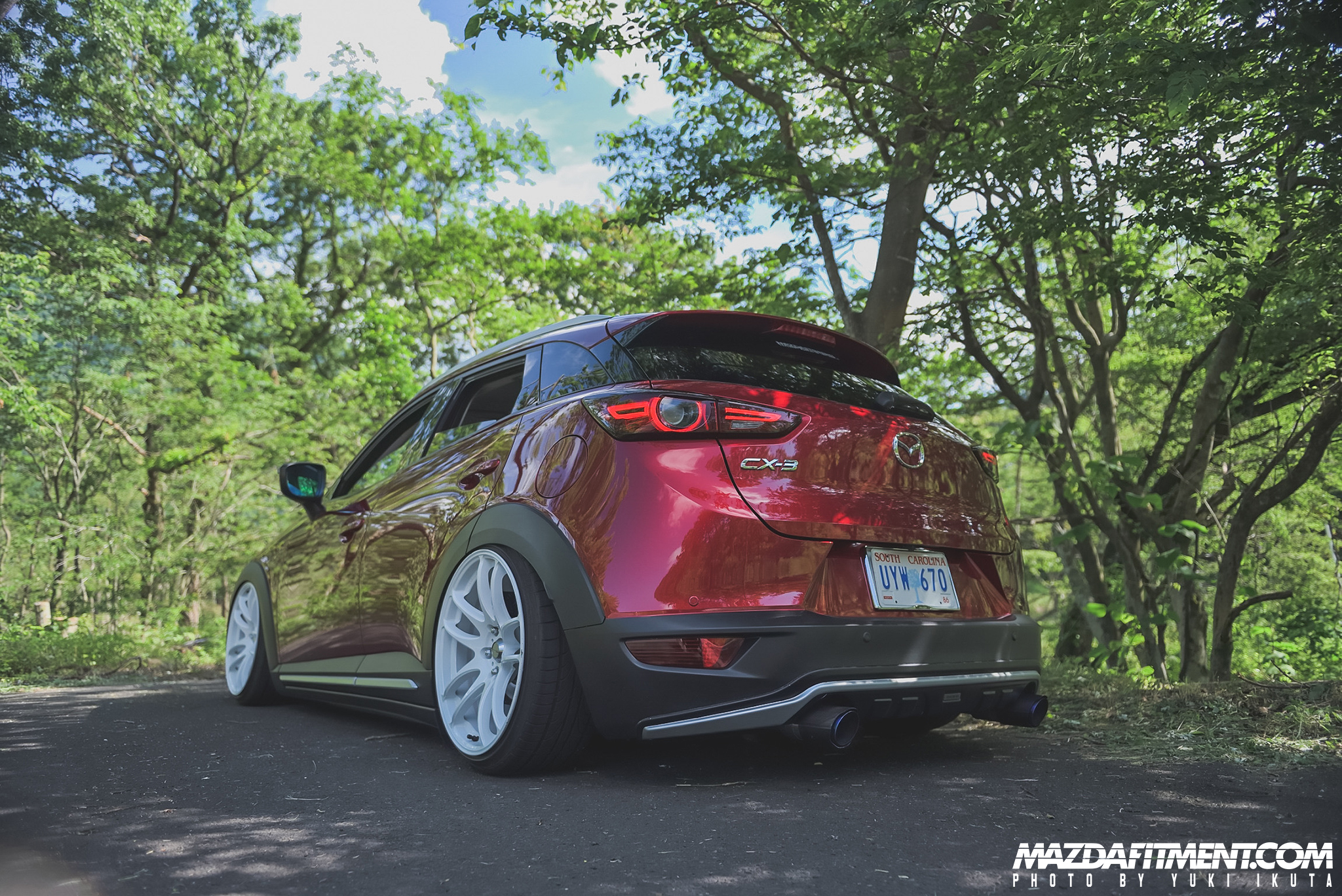 The CR Kiwami look good on there. Any future plans for the car?
"I am interested in changing the body color, wheels, and more camber adjustment…"
What is the biggest challenge you found with modifying CX-3?
"It doesn't fit wide wheels, it is difficult to increase the camber like other cars, and the body price is high, so there are not many users who customize it."
Anything you want to highlight on the CX-3?
"I just want to highlight that because not many people support this model, that I am the first to do things that nobody has done for the CX-3. For example, I was in need of air suspension, so I asked IDEAL to make IDEAL's air suspension, and it was the first mass production. Also, my one-off luggage setup with audio and air suspension management integrated into the trunk. This combination is unique."
MODIFICATION LIST:
-2019 Mazda CX-3 20s S package 6MT FF (DKEFW)
-WORK CR Emotion 極 Deeptaper (19×9.5 +38)
-Pinso PS91 (225/35)
-One-off straight center pipe
-Muffler processing straight rear piece for SKY 1.5D
-IDEAL Super Maximum (Vehicle height Max〜Min [150mm 〜 0mm])
-US Genuine Roof Rail
-US Genuine Cross Bar,
-DAMD rear bumper protector
-Urethane fender inner side processing
-Car body lower side processing
-CX-5 front sway bar end links
-VMS racing Spike Shift Knobs,
-CX-3 Genuine Option LED scuff plate
-Atenza Genuine Domelight
-Full JL AUDIO
-Main Speakers – ZR 650 csi
-Luggage speaker – C2 690
-Amplifier – M700/5
-Processor – TWK 88
Lastly Yuki, do you have any shout outs or special thanks?
"Thanks to the shop that modified the car, WARPS. Also, the first owner of @murton.cx3, who helped me modify my car. Glad that the new owner took over it."
Thank you to Yuki for being a long time MF lover, and sharing this with us. This is a great example of a simple and clean build that embodies the low style, especially on a rare platform. We hope to see more modifying the crossover SUV models. Hope you enjoyed this one. 
There are lot of builds we will never be able to come across, so please email us if you think we would be interested!
Email us at mazdafitment@mazdafitment.com