"Yo is that a Ferrari?.. Nah, just the wheels." Creating something you envision is a glorious thing. Once it is a reality, its your own piece of artwork. Here we have a prime example of that with Navid Haq's 2006 Velocity Red Mica Mazdaspeed6 from Seattle, Washington.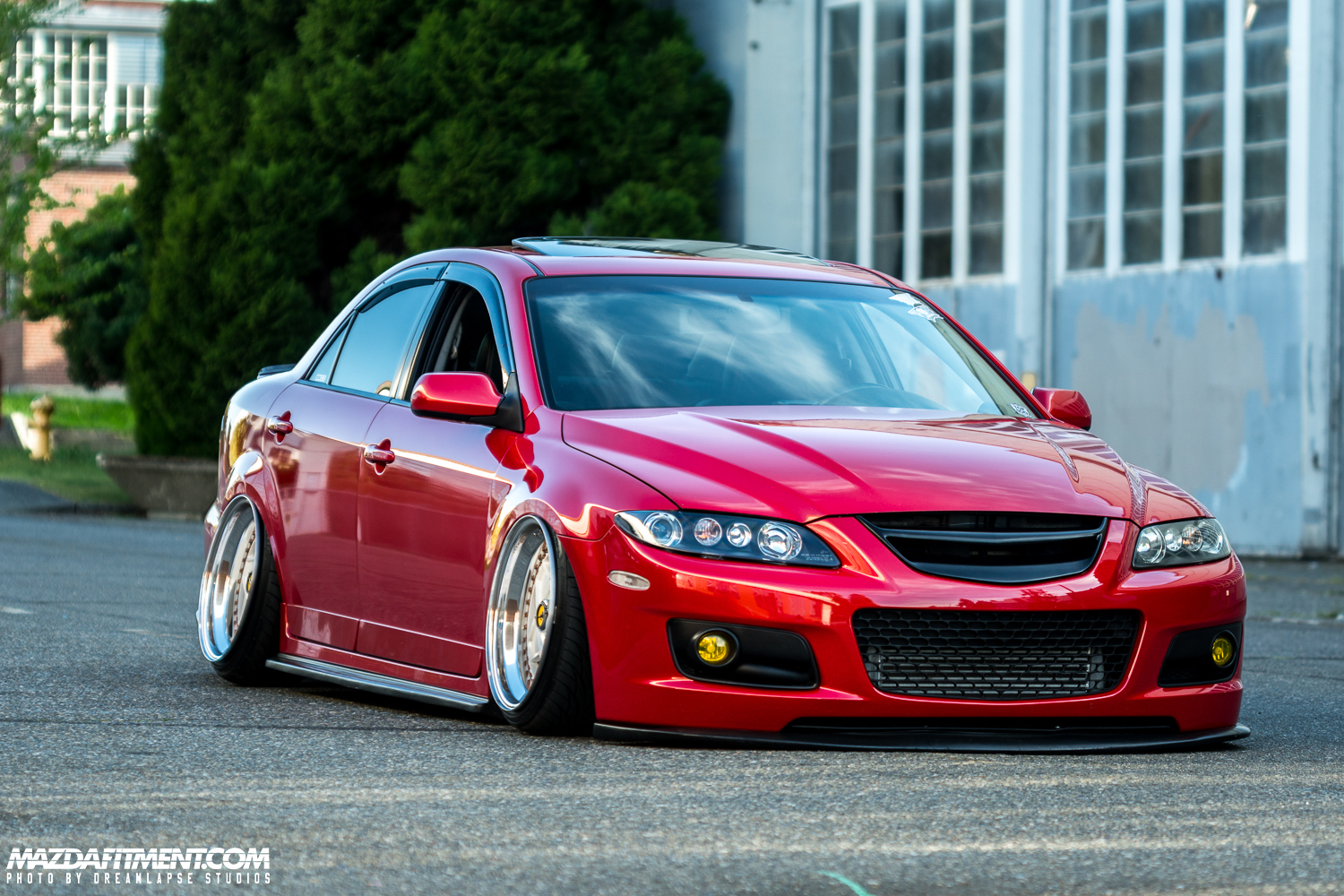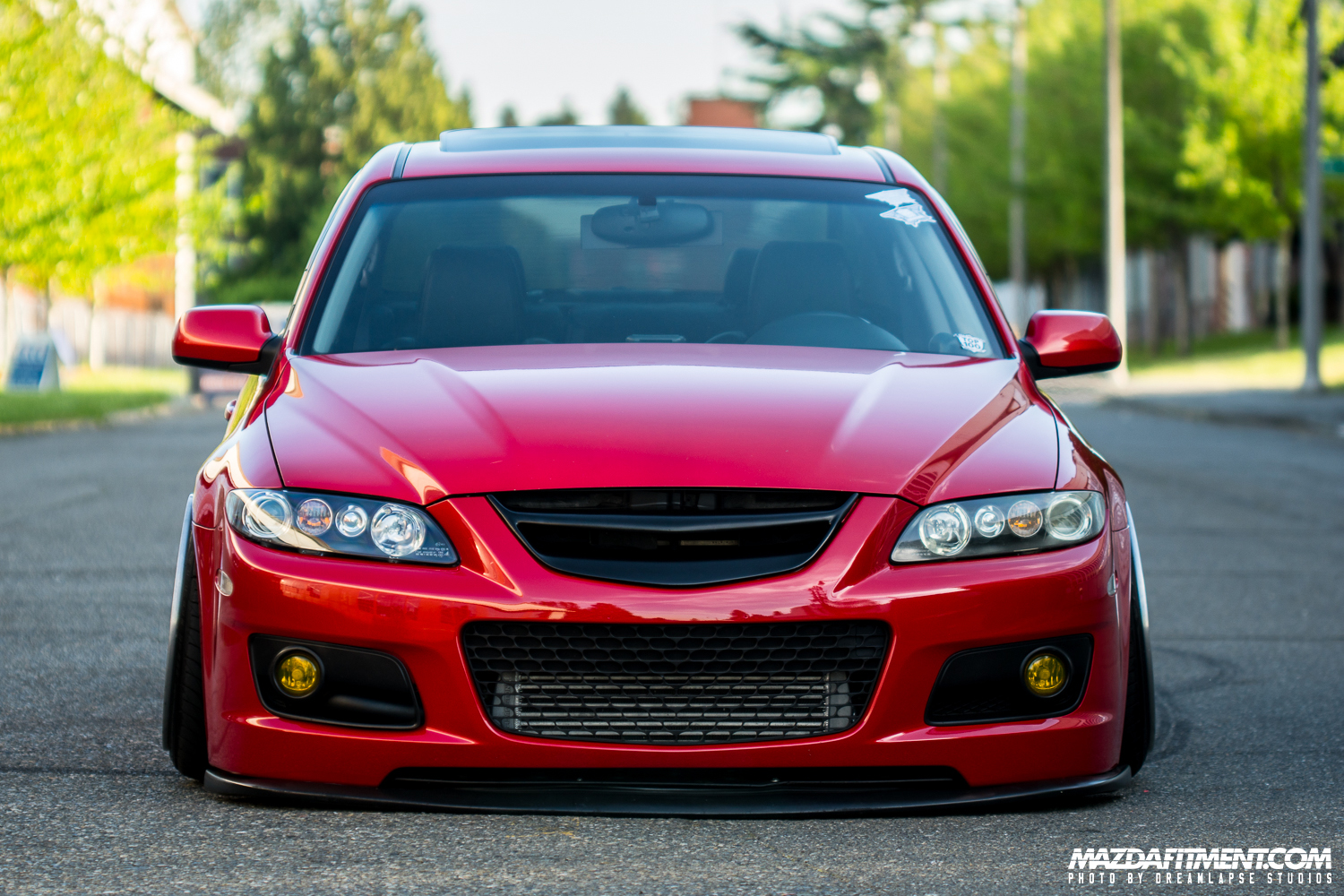 For Navid this started with collecting hot wheels, and playing for hours and hours on his city rug as a kid. Eventually, this evolved to playing racing games like Need For Speed and Forza Motorsports as he grew up. These helped motivate him to having and modifying a car of his own one day.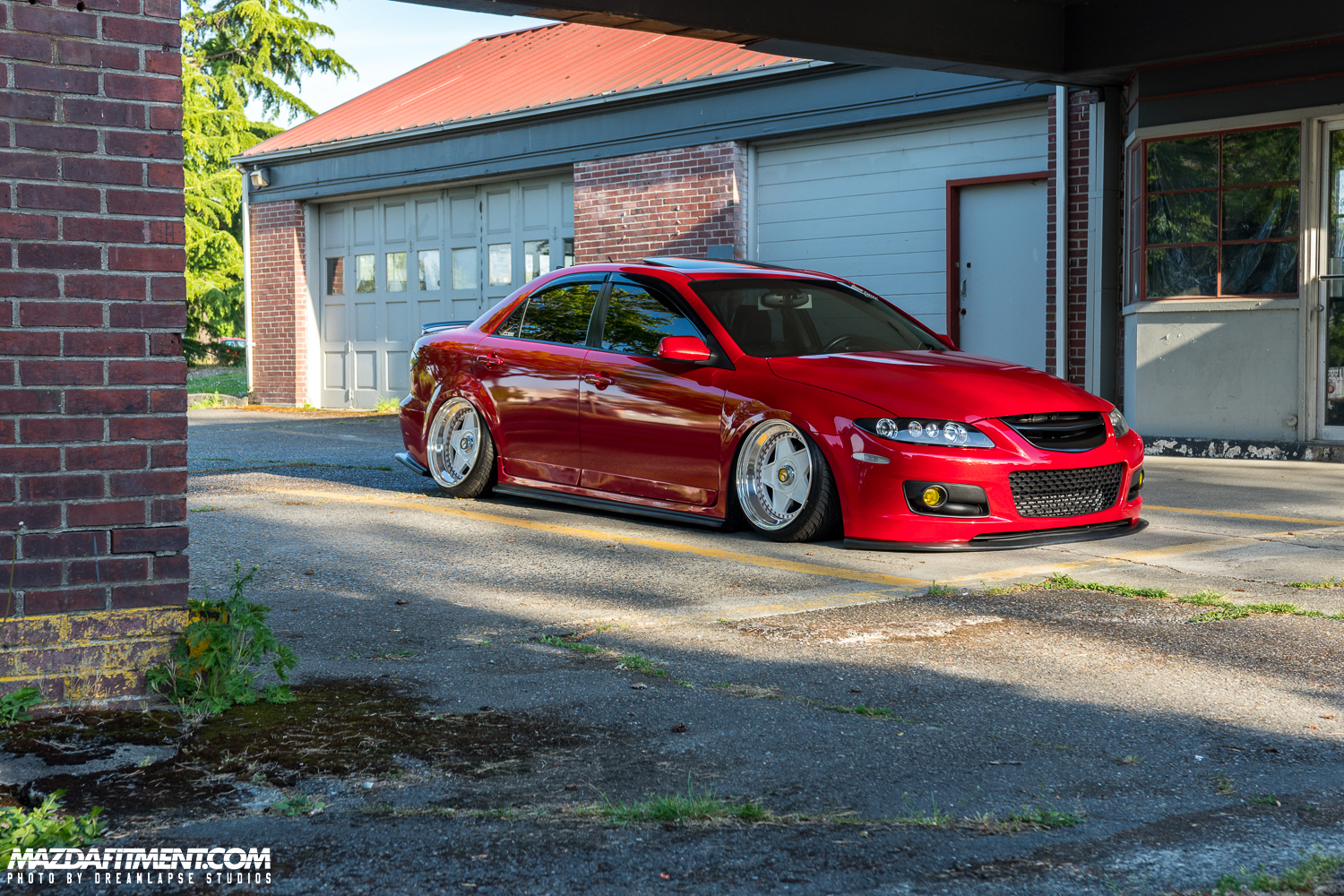 Navid has always been into owning something that was different as a project car. Because of his cousin's Mazdaspeed 3, he was recommended to look into the Mazdaspeed 6. The Mazdaspeed6 had a low production amount, all wheel drive, and 6 speed manual transmission. He was immediately attracted to this model for these reasons and the dual exhaust setup.
It wasn't long until Navid transformed his MS6 into what we see today.
The exterior of the car was modified with a Subaru STi S204 front lip, NextMod sideskirts and rear valances, Maxton Designs spoiler cap, badgeless front grille, and Car-LEDs V3 tail lights and rear lower bumper LEDs.
And to set the exterior off Navid decided to go with 18″ inch Ferrari F40 Autostrada Modena wheels all around. These really set off the car to be one of a kind.
Also seen here is the Mazda Fitment license plate frame. Black plastic frame with raised white lettering. Available on shop.mazdafitment.com and shipped to anywhere in the world.
Not only does Navid have the aesthetics of the car down, he completely did the power modifications for it as well. Look at the modification list below for more details.
He decided to sit the MS6 on air suspension to enjoy the lowness, but also enjoy driving it hard. He went this route by going bag over coilovers with Airlift Autopilot V2 management.  Also featured here is the custom trunk setup with Rockford Fosgate P2 subwoofer built-in.
So not only is the exterior and the performance modified, but the interior has been updated. What you are seeing is a Tesla style 10.4 inch Android screen, SURE stainless steel shift knob, Prosport boost gauge, and Opt 7 interior.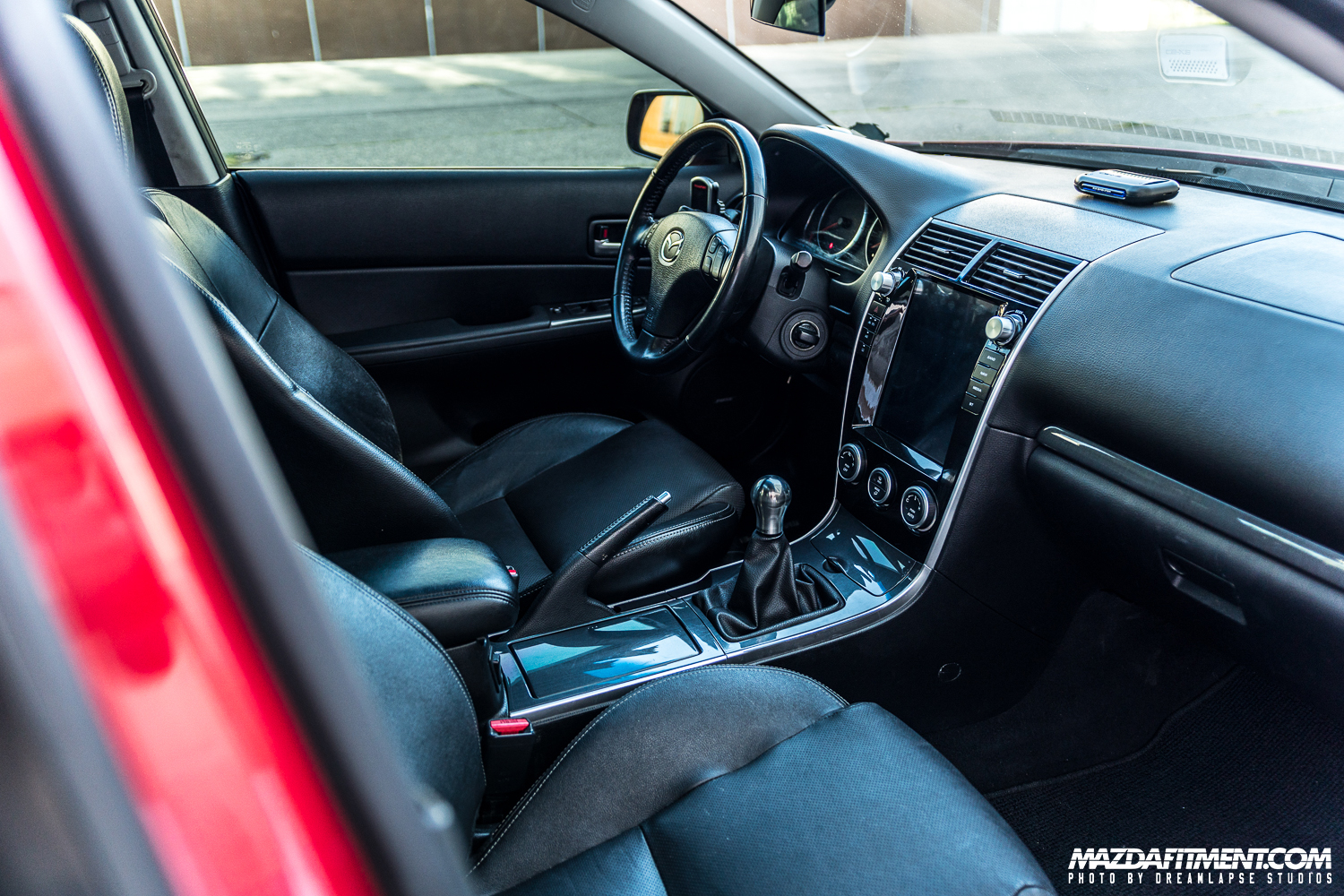 MODIFICATION LIST:
PERFORMANCE:
-Corksport turbo
-Corksport catless turboback exhaust
-Corksport throttle body
-JBR 3.5 inch intake
-JMF intake manifold
-HPS silicone coolant hoses
-GoFastBits Hybrid Respons BlowOff Valve
-Tork HPFP internals
-Cobb AP V3
-Damond PMM
-DM oil catch can
-JBR upper and lower trans mount
-SURE Rear Juggernaut
-Dreadnaut rear diff brace and mount
-DSS Rear Axles
-Stoptech slotted brake rotors
-Hawk HPS Brake pads
-Treadstone Front Mount Intercooler Kit
-JBR EGR Delete
-Damond PCV plate
EXTERIOR:
-Maxton designs spoiler cap
-NextMod side skirts and rear valances
-Subaru STi s204 front lip
-Badgeless front grille
-Car-LEDs v3 tail lights and rear lower bumper LEDs
WHEELS/SUSPENSION:
-Autostrada Modena Ferrari F40 wheels
-BC Racing coilovers converted to bags (bag over) setup
-Michael Rey's rear upper control arms
-Billybons front upper control arms
-Airlift Autopilot V2 management with dual compressors
-Redline rear tie braces
INTERIOR:
-Tesla style 10.4 inch android screen
-SURE stainless steel shift knob
-Prosport boost gauge
-Opt 7 interior
-engine and exterior glow kits
-Custom trunk setup
-Rockford Fosgate P2 subwoofer
-Alpine M500 AMP
Navid would like to give a shout out to the helping hands that got it where it is currently. Joseph Kechichian and Cole Zajicek. His sponsor he acquired recently, Mystique Performance, Erika and Nate Harper. And media and videos by Eric Hutchinson aka Dreamlapse Studios.
Thank you to Navid for sharing this and Dreamlapse Studios for capturing it in all its glory. Hope you enjoyed the pictures and video.