Most people won't understand why you would own two of the same car, even if they are used for different purposes or different generations. But, for John Shih from Vancouver, Canada just owning one wasn't enough. What we see today is his 2006 Mazda 3 hatchback and 2012 Mazda 3 Skyactiv sedan. Both with similar suspension, but differing in engine and drivetrain from the factory.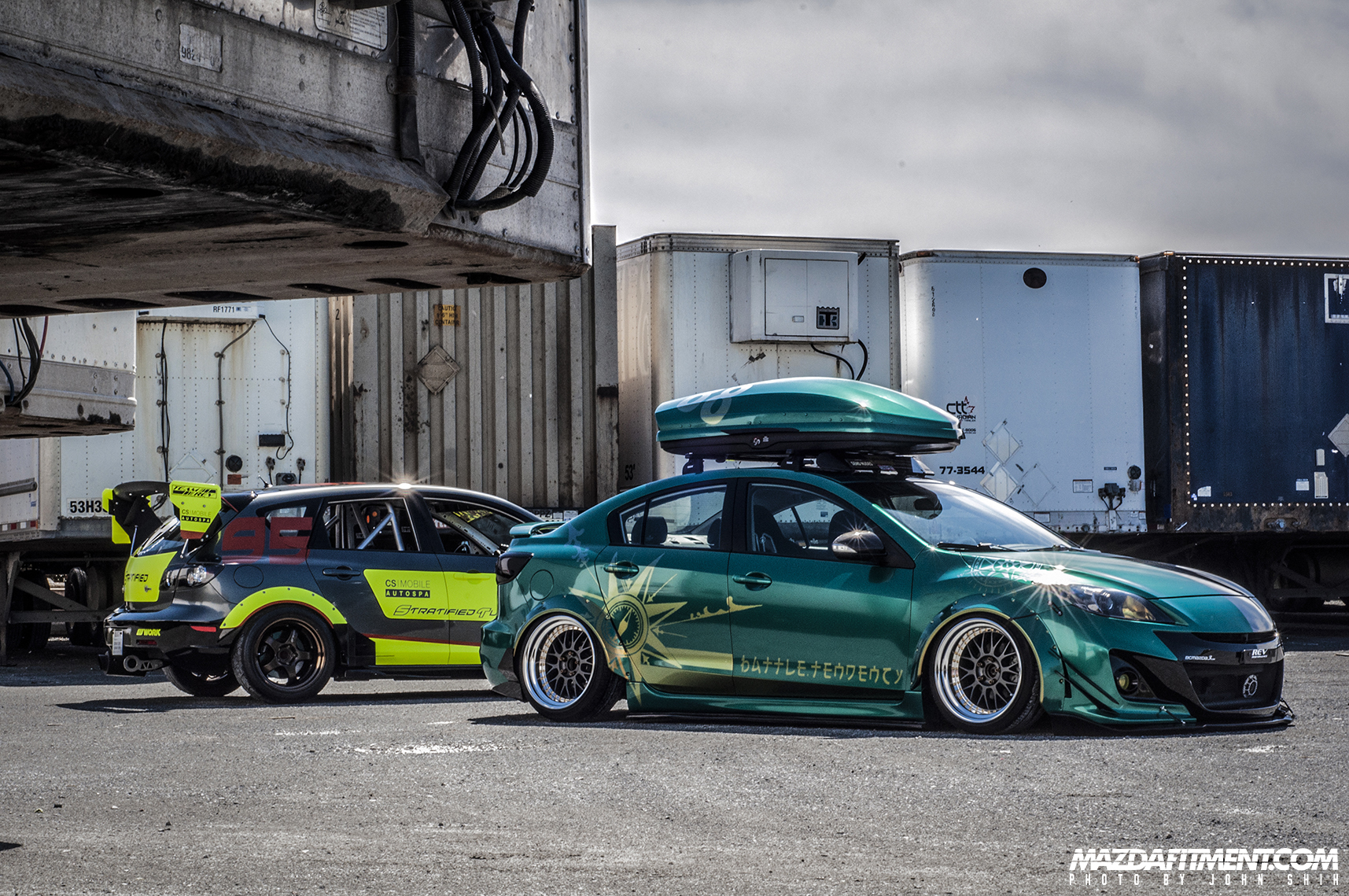 For John there has always been a fascination with mechanically things since he was even a kid. He is a bicycle mechanic, and rides off-road mountain bikes when he can. So, it was only natural for it to evolve to cars, which are more mechanically complex and fun to fiddle with.
John started to build his first race car, the 2006 Mazda 3 hatchback, in his own garage back in 2007. It was a great learning curve for himself with many challenges along the way. This was especially so with the route he took with this car, which is custom boosting a platform that only a few people around the world has done before.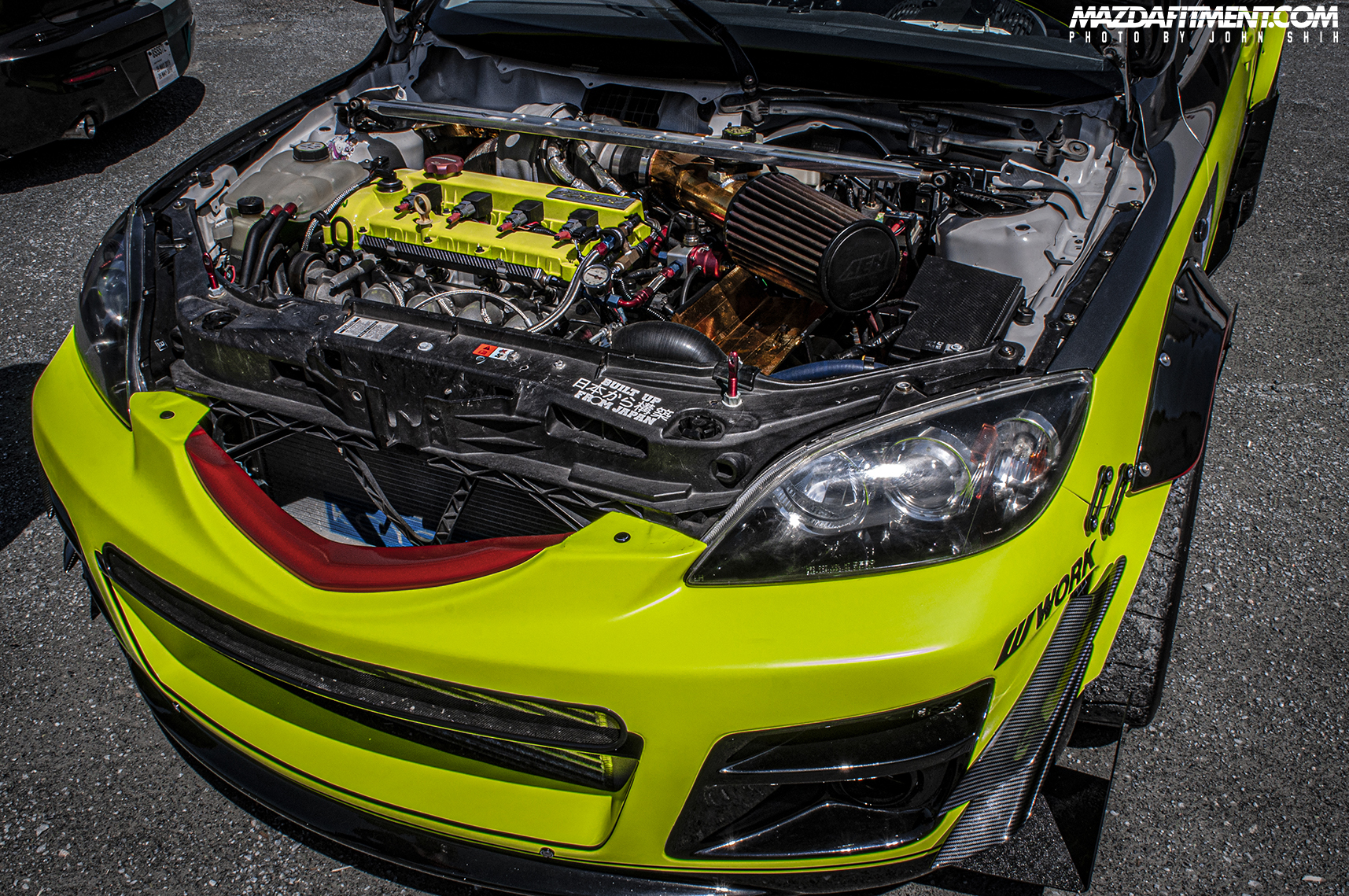 Even with the challenges of boosting this platform, it has brought John great satisfaction to see the fruits of his labor. Not to mention the awesome feeling to drive, and race something that he build with his own two hands. Who doesn't feel happy to enjoy a 390WHP at 20PSI car?
John decided to go with a set of 17×9.5 +0 Work Meister S1 all around with Nitto NT-01 255/40/17 tires. While the suspension is setup with BC Racing Type ER coilovers. For more modifications see the list below.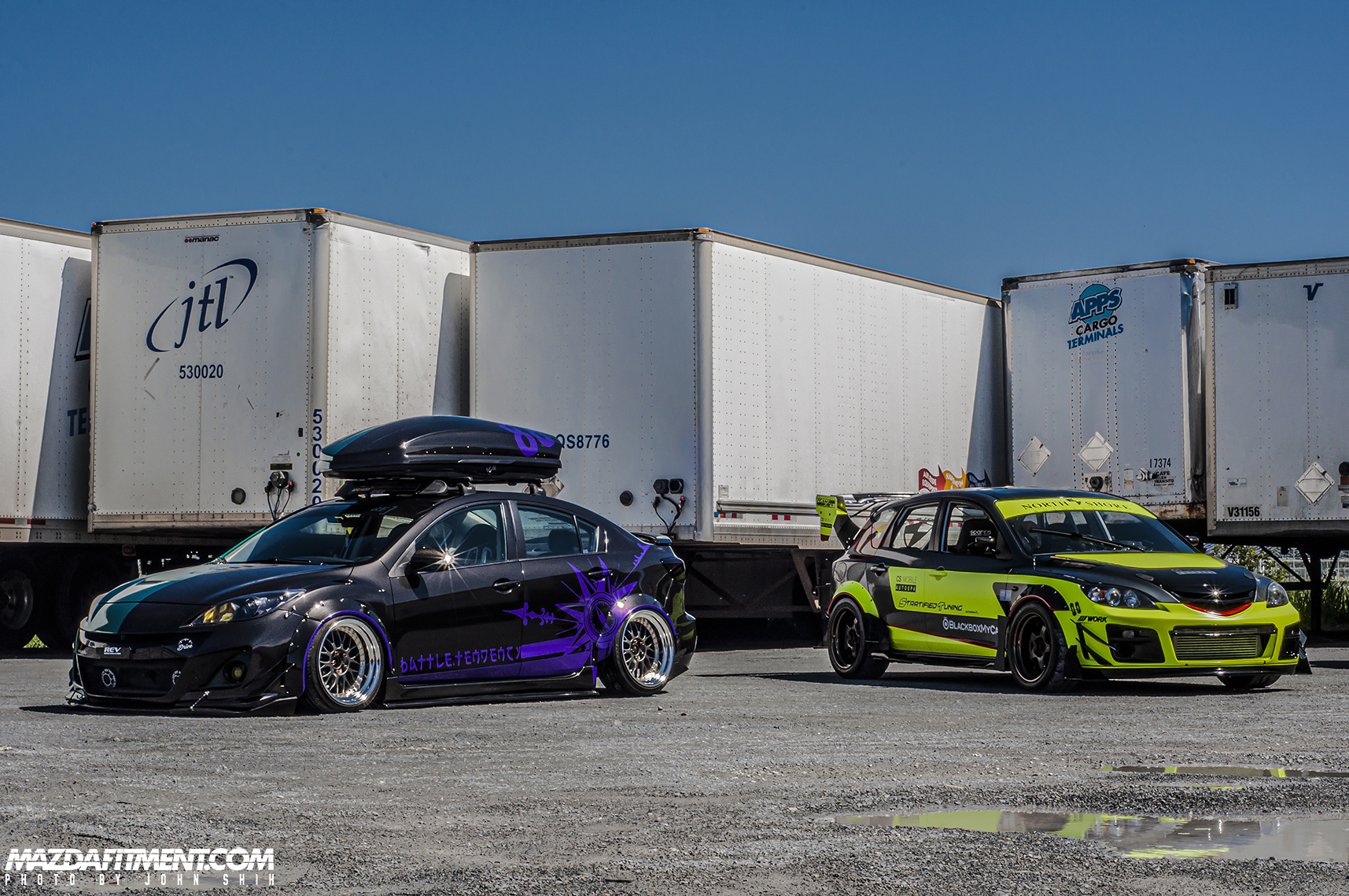 After the 2006 Mazda 3 hatchback was built for power and handling, John wanted something different. At the time he knew he could build a performance car, but he wanted to see if he can take things a complete different direction. Thus, enter the 20212 Mazda 3 Skyactiv sedan.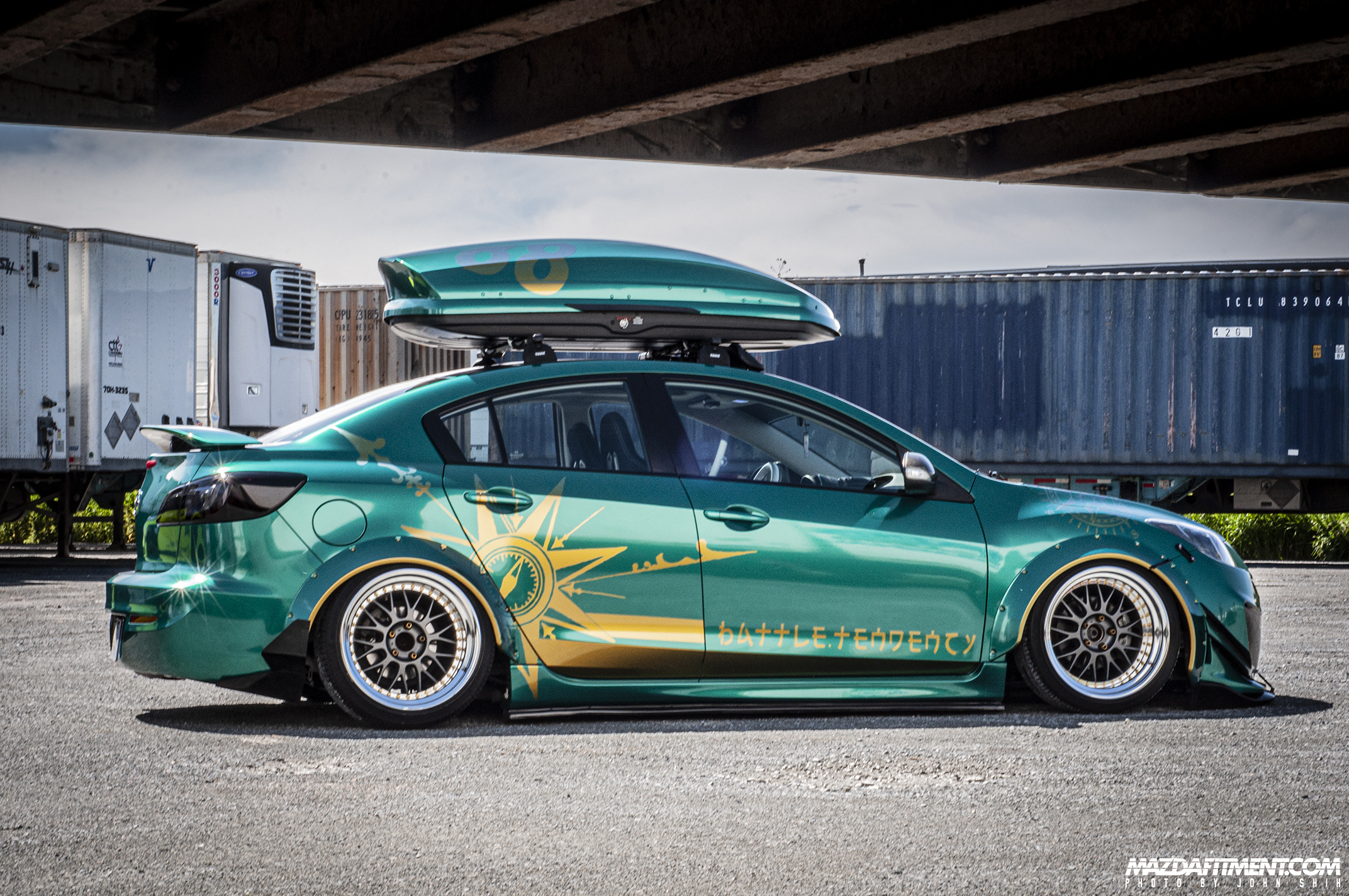 This car was built with three things in mind: fitment, styling, and I.C.E. These three categories were completely new to John, and another learning curve presented itself. During this build he learned how to accomplish the best fitment setup without sacrificing the ride quality, how to design and vectorize his own livery in conjunction with the vinyl wrapper for exterior styling, and how to properly setup sound, entertainment, and trunk system so its both stylish and functional.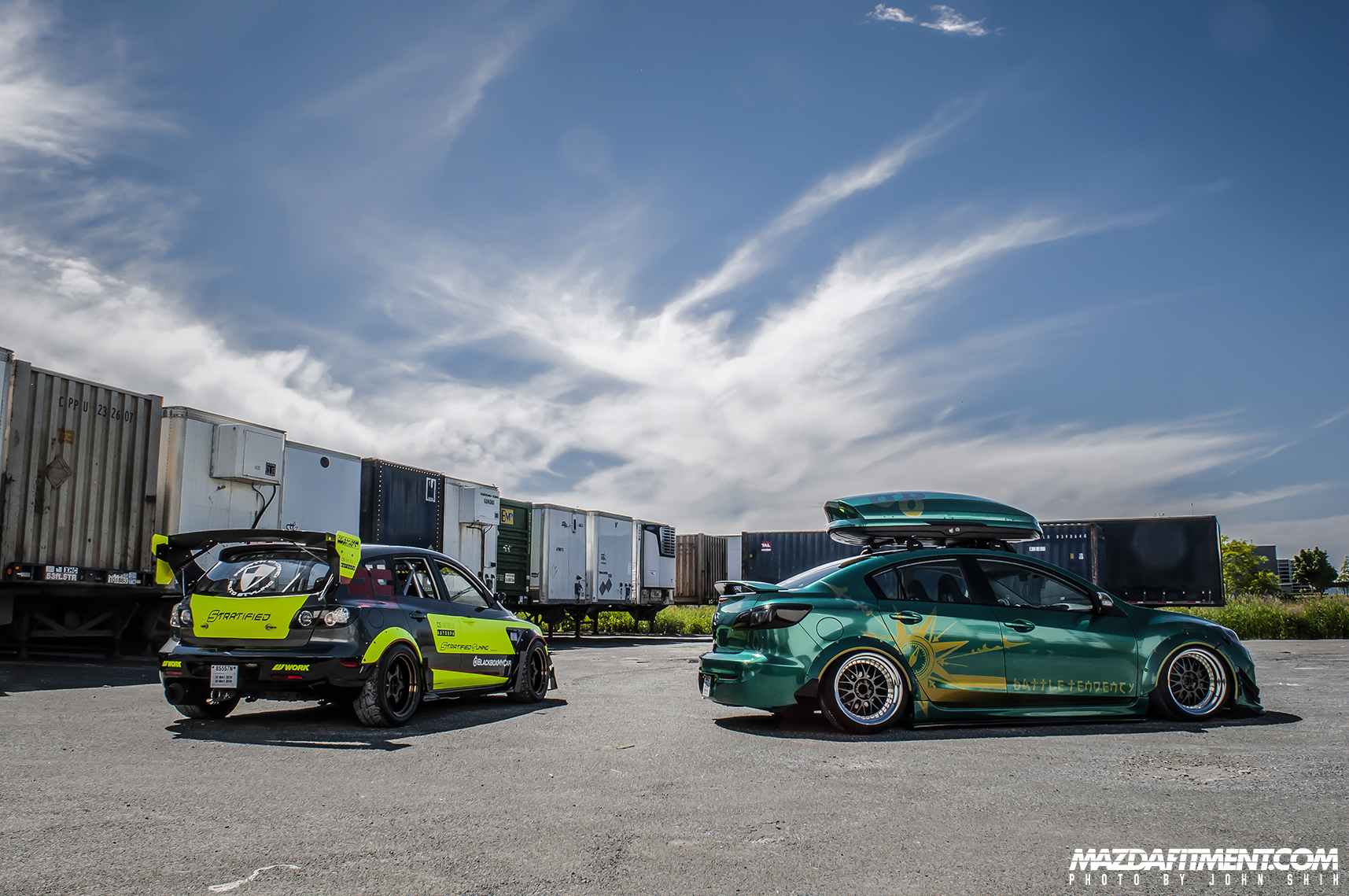 The end result is two cars, base on the same chassis, with completely different results.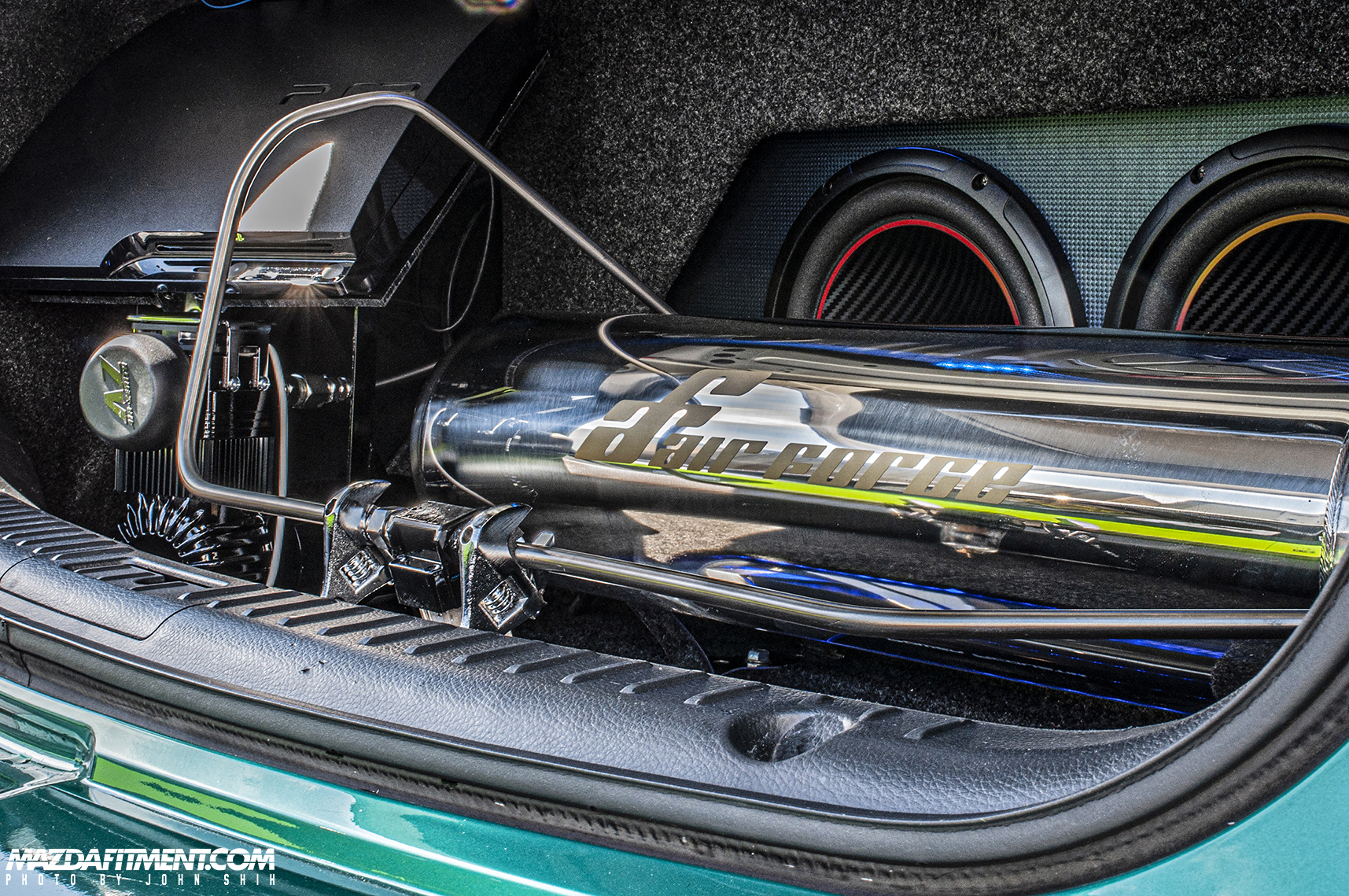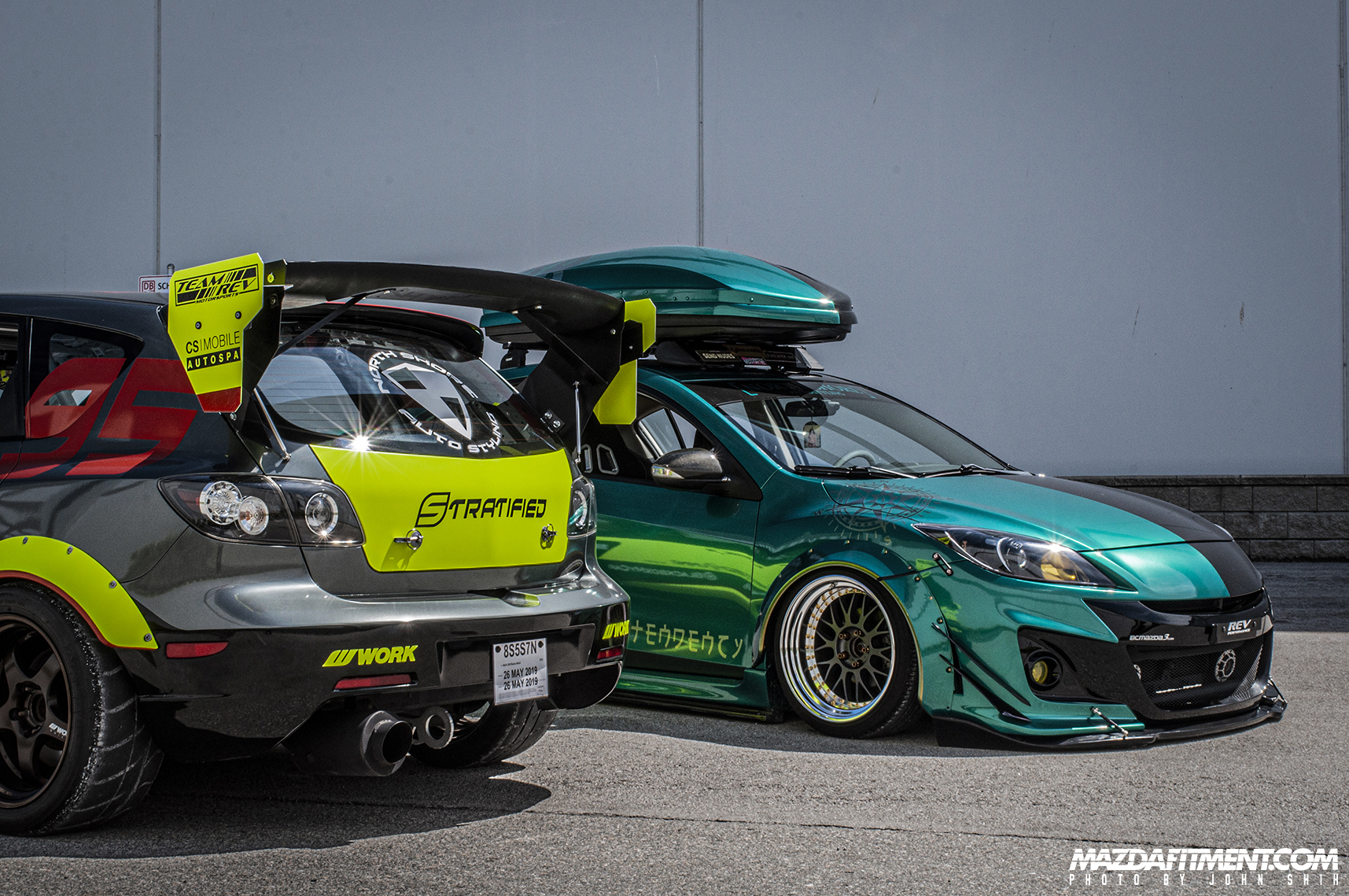 For the 2012 Mazda 3 Skyactiv sedan, John went with Work Meister M1 in 18×9.5 -12 all around with AirForce air suspension. John is actually in the process of boosting the 2012 Mazda 3 Skyactiv sedan this year. The plan is to have it boosted before the end of 2019. He will be teaming up with Orange Virus Tuning, because they have good experience with dealing with the Mazda 3 Skyactiv engine, and it's ECU. While, the 2006 Mazda 3 hatchback has goals for more fine tuning the chassis, suspension, and engine setup; this includes completing the full roll cage.
Modification List – 2006 Mazda 3 Hatchback:
Engine:
Garrett GT2871R ball bearing turbo at 20psi
Treadstone FMIC
Hiboost cast-iron turbo manifold
Haltech Platinum Sport 1000 ECU
CFM 67mm Billet Throttle Body
Lokar 48" throttle cable
Custom Protégé retro-fitted throttle pedal
Greddy Type RS BOV
Tial waste gate
Weapon R intake manifold
AEM Dryflow air filter
AEM electronic boost controller
NGK Iridium IX spark plug (two steps colder)
Weisco pistons with 8.7:1 compression
Eagle I-beam connection rods
Keyed crank
Darton sleeves
ARP head studs
APR main studs
Cometic head gasket
PW Flow 340LPH in-tank fuel pump
Custom fuel pump assembly
Aeromotive A1000-5 fuel pressure regulator
Custom Five-O Asphalt 850cc injectors
Jegs 40 micron inline fuel filter
Russell braided oil and fuel lines
Custom 3" to 3.5" exhaust with Magnaflow glass-pack resonator
Genesis EP compact battery
Balance shaft delete
AC delete
Greddy oil catch can
AEM Water-Meth Injection
Drivetrain:
Mazdaspeed 3 six speed transmission
ACT 6-Puck stage III ceramic Mazdaspeed 3 clutch kit
Mazdaspeed 3 clutch slave cylinder
TRZ "dogbone" rear engine mount
Street Unit transmission mount
Street Unit passenger side engine mount.
TWM short shift plate
Custom 6 speed short shifter
Wheel/Tire:
Dry: Works Meister S1 R 17×9.5 +0mm
Nitto NT-01 255/40R17 tires
Wet: Work Emotion T5R 17.9 +12mm
Bridgestone Potenza RE71R 245/40R17 tires
Brake:
Wilwood Dynapro 6-piston front brake kit (#6712)
Wilwood Powerlite 4-piston rear brake kit (#7912)
Hawk DTC-30 brake pads
Suspension:
BC Type ER 4-way adjustable coilover
SPC rear camber adjustment arms
GT-Spec front ladder brace
Mazdaspeed 3 mid chassis brace
GT-Spec rear V-brace
Vibrant front strut tower bar
Vibrant rear strut tower bar
Racing Beat rear sway bar
Exterior:
Autoexe BK02 front bumper
Autoexe BK02 front grille
Clinched 70mm fender flares
Vis carbon hood
Sickspeed tow hook
Autolismo 6000K HID head light
Autolismo 5000K HID high-beam light
TerasAero rear custom spoiler
Custom front splitter
NSAutostyling custom full livery
Interior:
Sparco Evo bucket seats
Momo Tuner steering wheel
NRG hub adaptor with NRG quick release
Cypher Autosport 3" 5-point harness
Custom center dash for gauge mounts
Stripped interior (carpet, rear seat, and interior trim removal)
Autopower roll cage
Electronics:
Pro-Sport electrical oil pressure gauge
Pro-Sport electrical oil temperature gauge
Pro-Sport electrical boost gauges
Pro-Sport electrical fuel pressure gauge
Pro-Sport electronic tachometer with intergraded shift warning light
Innovate wide-band O2 sensor with AFR gauge
Autometer voltage meter
Fluids and Such:
Royal Purple 5W30 motor oil
Royal Purple Max Gear 75W90 transmission oil
Motul DOT 5.1 brake fluid

Modification List – 2012 Mazda 3 Skyactiv Sedan:
Engine/Drivetrain:
Corksport Skyactiv SRI
Corksport rear engine mount insert
Corksport 2.5" cat-back exhaust
MazdaEdit custom tuned ECU
Suspension:
AirForce V3 Digital air-suspension kit
Corksport front camber plate
SPC rear camber arm
Mazdaspeed rear sway bar

Wheel/Brake:
Work Meister M1 3P 18×9.5 -12mm offset rims
Nankang AS-1 215/40R18 Tires
Sickspeed gold lug nuts
Hawk HPS brake pads
Exterior:
Mazda factory rear spoiler
Knightsport BL front bumper
STI front lip retrofit
GTA Retrofit custom headlight with
 Custom matte black low beam and turn housing
Custom gold high beam housing
Custom ironman low beam shroud
Custom switch back halo with white DRL and yellow turn signal
Custom RBG demon eye with Bluetooth enabled control
Bi-Xenon custom projector
Morimoto 6000K HID
Custom front lower crash bar
Bayson R side skirts
Bayson R side skirt extension
Custom rear bumper winglet
Custom front bumper winglet
NSAutostyling custom wrap
Clinched NewType 70mm flares
Thule Sonic roof box
Thule Evo cross bar
Interior:
Arc shift knob
NRG Neo-Chrome / White steering wheel
Cipher CPA1016 seats
NRG steering wheel hub adaptor
Blue LED footwell light
Blue LED glove box light
Custom fabric shift boot
Custom side panel fabric insert
BPG Auto custom twin sub box
BPG Auto custom false floor with amp mount
Custom hardwood floor trunk set up
Electronics:
Pioneer AVH-X5700BHS DVD receiver/radio
Power Acoustik GT5-2500W 5-Channel Amplifier
2 x Pioneer TS-W254R 10" 4 ohm sub woofers
2 x Infinity Kappa 6"x8" 2-way Component Speakers
2 x Infinity Reference X-Series 6"x8" 2-way Speakers
ScyTek back up camera
Playstation 2 glove box mounted and connect to the Pioneer deck
Playstation 3 trunk mounted and connect with custom 18" TV monitor
Sickspeed Supertone dual horn
Prosport Evo series water temperature gauge
Prosport Evo series oil temperature gauge
Prosport Evo series voltage meter
John would like to thank all his sponsors for making his car a reality. Rev Performance Auto for supporting me with all the parts for the past years. North Shore Auto Styling for wrapping both of my cars.  Stratified Automotive Control for providing tuning service for my 2006 Mazda 3. Orange Virus Tuning for involving with my 2012 Mazda 3 boosting project and tuning. GTA Retrofits for supplying me with a set of awesome headlights for my 2012 Mazda 3. Airforce Suspension Canada for hooking me up with my air suspension set up. Black Box My Car for supplying me with a set of dash cams on both of my rides.  CS Mobile Auto Spa for keeping both of my car at their best condition.
Thank you to John for sharing both of these with us. You can follow more of this build at @Monster_Turbo on IG. More pictures in the gallery below. Enjoy.