Here we have a long time follower of MF that has continued to enjoy his ride through the years. David Jackson's 2013 Crystal White Pearl Mazda 3 Skyactiv from Knoxville, Tennessee.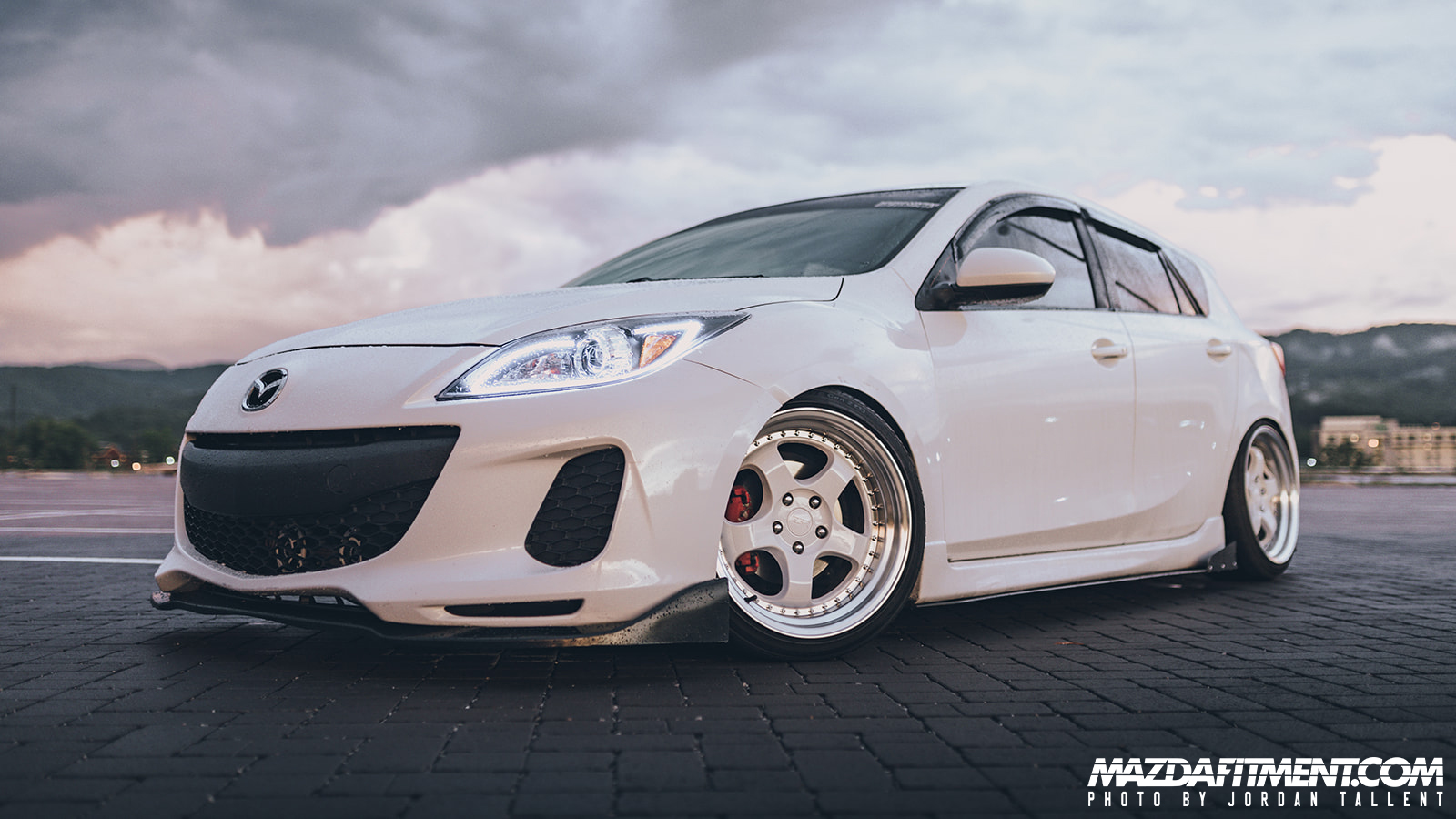 What made you buy the MZ3?
"I was just starting to get into cars. I always liked sharp body lines on vehicles. The thought process at the time was to buy a vehicle that I thought looked cool and was good on gas mileage. I wanted a hatchback, but most of the hatchbacks at the time looked really boring. The lines of the car really sold me."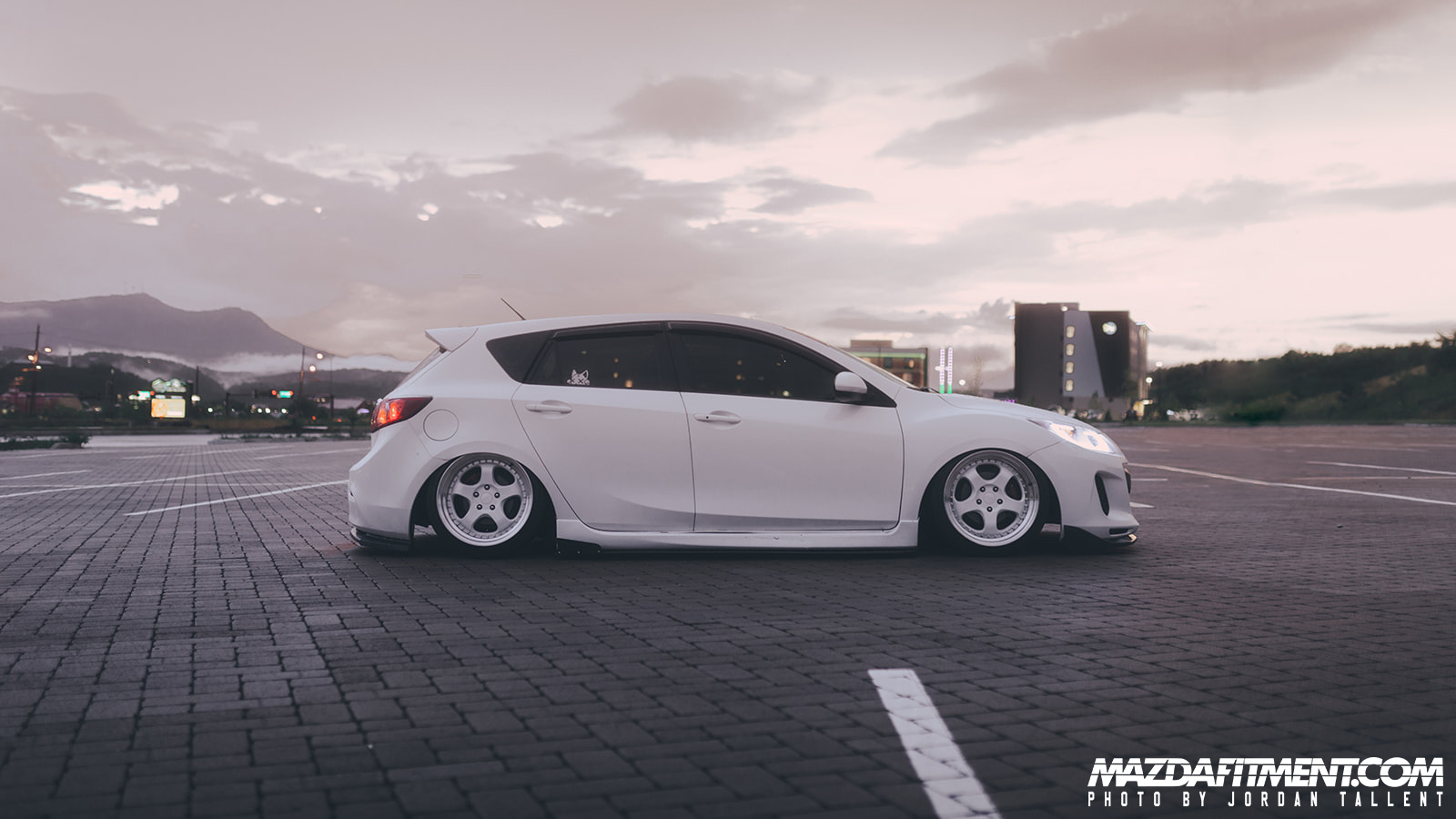 What was your inspiration behind this?
" I was always a fan of Japanese car culture. The lowered cars and how far they pushed away from the "norm". I didn't want to drive another boring car. I wanted to make the car a reflection of myself. If there was any part of the car I thought I didn't like, I tried to change it…"
"…I grew up around friends that built cars to go faster. I never had too much interest in flying down public roads as fast as I could. Seeing a car basically laying frame on the ground just seemed a lot cooler to me. I started thinking "if they can do it why couldn't I?"

What made you decide on this set of ESR wheels?
"As far as wheels go I had some WCI's and Rotiform's, which were some of the busier wheels I used to be into. When I planned to bag the Mazda I wanted a more traditional 5 spoke with a decent sized lip. The ESR's were really convenient in the specs, color, price, and delivery time. So far they have treated me well! No cracks and no bends, so I'm pleased with them!"
Any future plans for the MZ3?
"Soon I'll be adjusting my suspension to air out a bit lower in the front. Maybe making another set of eyelids for the headlights. A new wheel set up may be in store for the future as well. Right now I'm very happy with the overall ride quality and look of the car. Anything soon will be small changes. The future is uncertain, maybe in a year or so the car will be completely different!"
Anyone you want to thank or shout out?
"I'd like to thank: RM Motorwerks, Jordan Tallent, Mazda Fitment for the inspiration! And shout out to Corksport, Project Motorsports, Airlift Performance, and all the friends and family that helped me along the way!"
MODIFICATION LIST:
-Airlift 3P management
-Airlift bags with airlift performance shocks
-SPC rear adjustable camber arms
-Spec D tuning headlights
-Sick Speed horns (White)
-18 x 9.5 ESR SR06 wheels
-Rolled and pulled fenders
-Corksport cat back exhaust
-Corksport short ram intake
-Aftermarket Subaru STI front lip
-Bayson R side skirts
-Bayson R rear diffuser
-Project Motorsports side skirt extensions
-Mazda 3 2.0 sport wing
Thank you to Jordan Tallent for this photoset, and David for the years of following MF. More photos in the gallery below. Enjoy.
There are lot of builds we will never be able to come across, so please email us if you think we would be interested!
Email us at mazdafitment@mazdafitment.com