The Mazda Protege is known to be a highly reliable, and solid car to own for years and years.  This is no surprise being it was the best in its class during its time, and the bases for the Mazdaspeed Protege. Before the Mazda 3 replaced the Mazda Protege, the Protege was extremely popular, and highly modified by many. It has been nearly 23 years since the Protege first appeared in the market, but now it has become rare to come across a well kept one. For Brandon McDow's 2002 Gloss Charcoal Metallic Protege ES from Ontario, Canada, it has been able to survive the time, and still looking in style with the times.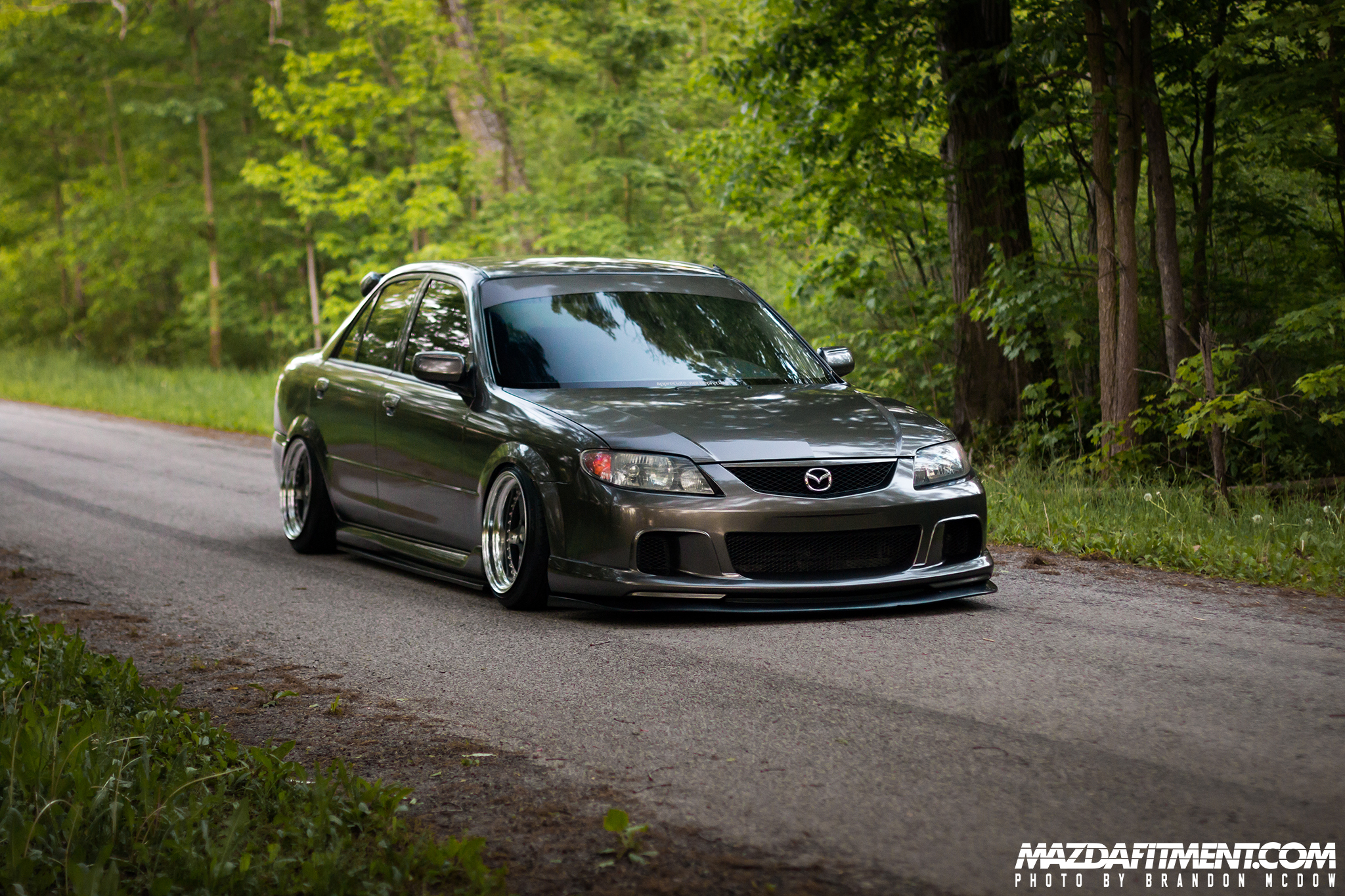 Brandon, what lead you to owning the protege we see today? This was your first modified car?
"My aunt decided to sell her Protege which she bought new back in 2002. I bought it off her back in 2012 as my first car. I've slowly built it up over the 8 years to what it is today, so yes, this is my first modified car as well…"
What drew you to modifying it? And what was your inspiration for the way it's styled today?
"Initially I wasn't too keen on the looks of it, and naturally being a car guy, I wanted to make it my own…Over time and each modification it grew on me a lot. After lowering it on the first set of coil-overs, the lines of the car became much more apparent and that's when I fell in love with it…I drew influence from mostly what I saw on Instagram. A lot of what guys were doing in Japan and of course what a couple of guys were doing to Proteges here in North America."
Never wanted a MSP? Plan to keep the protege forever?
"I've wanted an MSP for while now. It's very hard to justify the price of a clean one though. Yes, I plan to keep it forever…"
Any future to plans for the protege?
"Near future plans include….Nardi steering wheel and some cool old school Recaros…I think. Something that's been on my mind for awhile is a subtle chop top, and a subtle widened metal fender…."
Anything else you want to highlight about the car?
"It's a very underrated car in my opinion and with how cheap they are, a few modifications make it a great driving experience…"
Any shouts outs?
"Shout out to my friend's Gray and Conner with always helping out with the car, and thanks to my aunt for buying this car brand new back in 2002."

MODIFICATION LIST:
-2002 Mazda Protege ES, originally Sand Mica colour, now 3M wrapped Gloss Charcoal Metallic
-Corksport 2.5 inch Stainless Cat-Back Exhaust
-RPE Motorsports Short Shifter
-BC Racing BR Coilovers
-F: 12/ R: 14kg/mm Swift Springs
-Custom Slotted Front Camber Plates
-Ksport Rear Camber Plates
-2010-2011 Mazda 3 Side Skirt Extensions
-Isport Carbon Rear Diffuser
-2006-2007 Subaru Impreza Wrx Sti Front Lip
-Carbon 2006-2007 Subaru Impreza Wrx Sti Rear Roof Spoiler
-T-Demand Gunmetal Grey Lug Nuts
-Work Meister CR-01: F: 16 x 9 +7 / R: 16 x 9 +21
-EBC Slotted Rotors and EBC Pads
-2003.5 Mazdaspeed Protege Front Bumper and Front Lip
-Mazda Protege 5 Side Skirts
-Mazda Protege 5 Front Strut Brace
-We Are Like Wise Thicc Boi Shift Knob
-Clarion CX501 headunit
-Infinity Kappa Front 2-Way Speakers
-Infinity Kappa Rear 3-Way Speakers
-Infinity Kappa 12″ Sub Woofer
-Alpine PDX-V9 1600W 5-Channel Amp
Thank you Brandon for sharing this with us. Glad we finally got to share this here. Enjoy.
There are lot of builds we will never be able to come across, so please email us if you think we would be interested!
Email us at mazdafitment@mazdafitment.com