We are all for encouraging self-motivation when it comes to building a car through the years to accomplish a goal.  The journey to the goal can be long and difficult, but the need to push through to the end is important. If you end things before they are finished you will never feel the sense of accomplishment, and this is when you live your life with regret. For Marko Anttila and his 1986 Pure White FC RX-7 from Turku, Finland this is clearly seen with the build.
Marko, what got you into rotaries?
"I've been playing with Mazdas for about 15 years. Rotaries has always been an interest, but never got to own one. Maybe was a little afraid…We have a RotaryGarageFin community here in Finland, and there is a lot of know-how in that group. I have an FB RX-7 also now, so I guess i'm not so afraid anymore."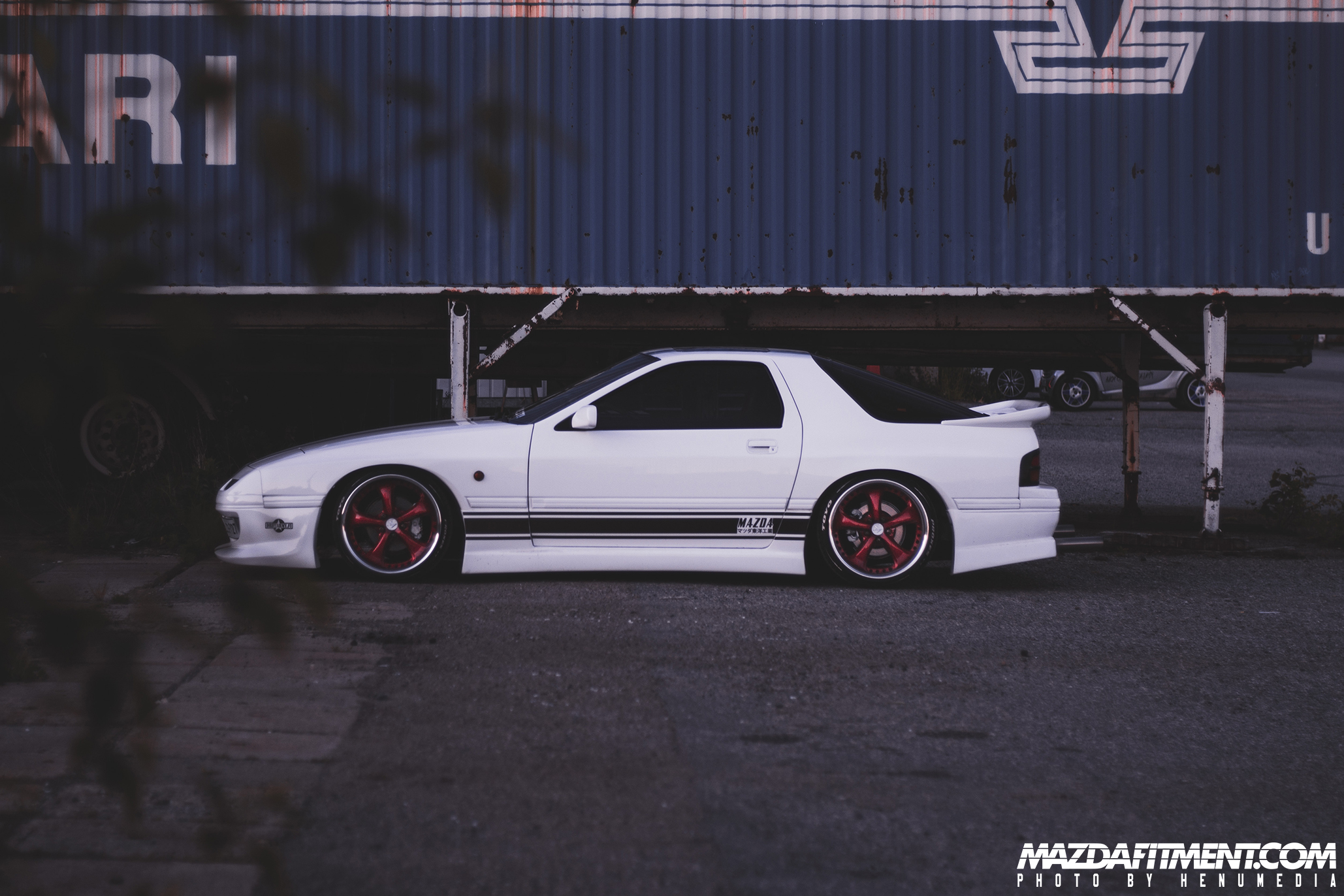 So, how would you describe the car culture in your home town and in Finland? 
"People really like the low style, maybe less is more is something here .Although, JDM scene is making it's way…Flashy vinyls, etc…"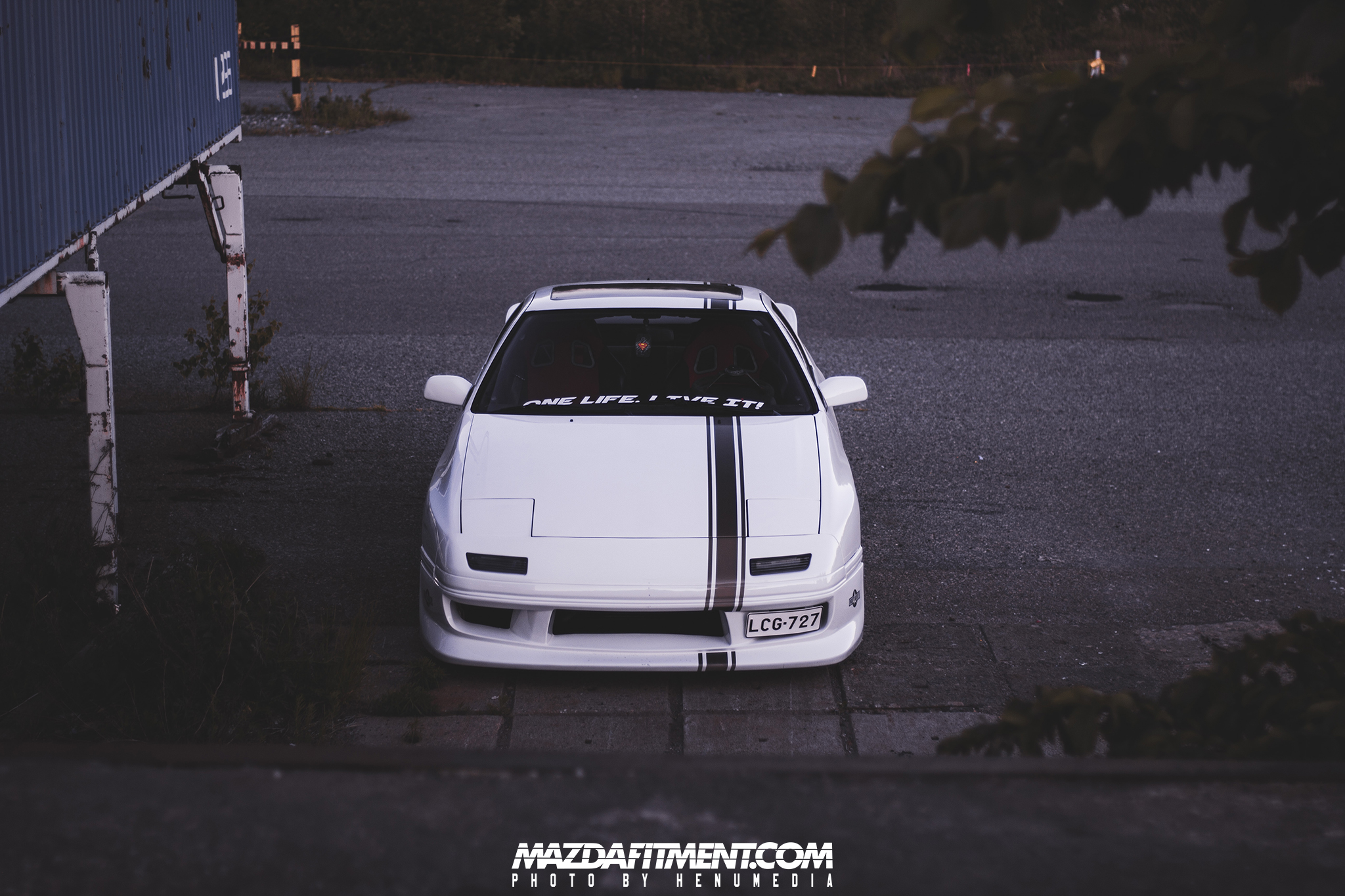 What inspired the style we see on the FC? 
"I've always liked drift style bodykits. There aren't too many kit's for FC that are to my liking. Since this kit came a bit warped we made some changes to the front. Rear wing was something I had been looking for a year, then a friend bought a spare car that had one with it, so  I grabbed it right away…"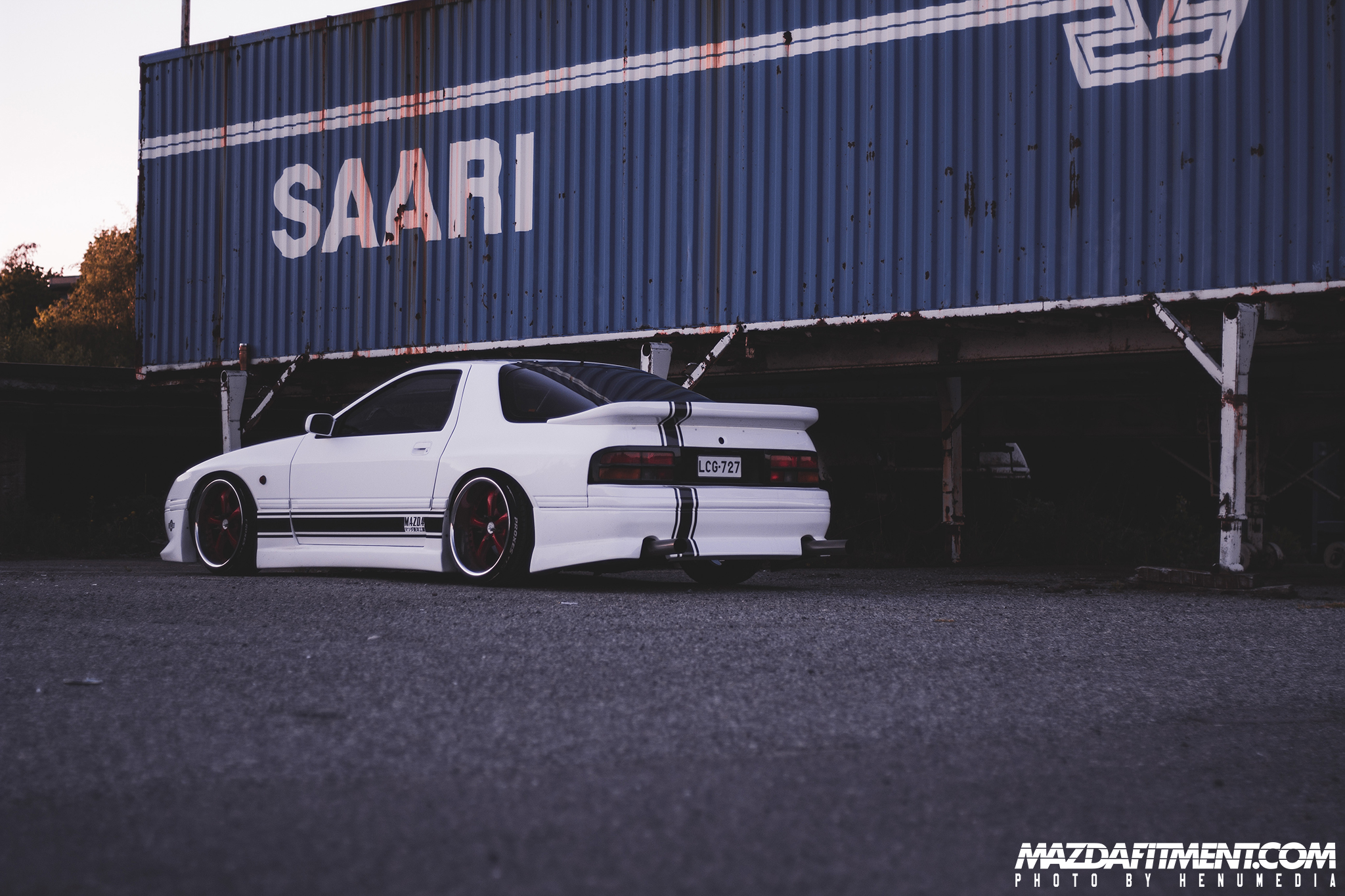 "…Wheels were something I wasn't sure…Had 16″ first, but after the body kit those looked so small. So, 18″ was the way….Could be a little more of aggressive fitment, we'll see what happens with these…"
Any future plans for the FC and FB RX-7?
"The FC will get a turbo and LSD in the rear, and later rebuild…Haha.. For the FB RX-7, I am waiting for wheels. SSR mesh 15″….But, other than that it will stay mostly stock…"
We see that you have"One Life, Live It!" on your front windshield. That is a good saying.  Any story behind that? Reason for putting that on?
"Well, you know you have that one life, and the actions how you live that one life should be something that you don't have to regret it when you are old. I just like the message, because we are here for this life, and this life only. Make it count! "
What's the biggest challenge you encountered in your journey to modifying the FC?
"Really the body kit…I have two friends that were such big help; one is a wizard in fiberglass and one knows how to lay down some putty. Thanks for Niko and Hoikkis."
MODIFICATION LIST:
-1986 Pure White, 13B 6-port N/A
-Bucket seats
-4 and 5 point harness
-coilover suspension
-18″ Work VS-KF painted Mazda's Soul Red -Rebarreled front 3.5″ & rear 4″ lips
-Body kit by AeroKit Spec D1 made to fit
-Rear spoiler Wangan style
-Reflective vinyls
-Exhaust one off
Any special shout outs or thanks?
"Yes, to those that came already. Thank you. And special thank you to Niko Kangas (paint) and Toni Hoikkala (fiberglass). Also, Motonet Korjaamo repair shop in Turku, Anttila & Kujander Oy."
Thank you to HenuMedia for sharing this with us and Marko for having a quick conversation about his build. Enjoy.
There are lot of builds we will never be able to come across, so please email us if you think we would be interested!
Email us at mazdafitment@mazdafitment.com