We are currently standing on a point where exciting things are about to be unveiled by Mazda in the next few years. New models with new powertrains/drivetrains, and current models undergoing revisions to keep Mazda's Soul of Motion expression current. The current generation of Mazda 3 (BP) features all kinds of drivetrain/powertrain options from traditional NA FWD to diesel to Turbo AWD. So, it is no surprise to find car enthusiasts around the world in love with the platform to turn it into something special for themselves to enjoy even more. Here we have Potchara Paha's 2020 Rosso Corsa Red Mazda 3 from Bangkok, Thailand. Special thank you to Pixir and Karakunn for the wonderful photo sets.
First, if you aren't familiar with the automotive culture in Thailand, then you should know that it is nearly as big as it is in Japan.  Car parts, wheels, suspension, custom modifications are easily accessible in Thailand with many automotive shops to provide services for whatever you may need. So, if you are traveling and looking to do car things, then you will enjoy Thailand car culture.
So, Potchara what lead you to the 4th gen MZ3? Is this your first Mazda? First modified car?
"Well, actually one day I was just driving down the road and I saw at a glance this new 3 drove passed by. I didn't know what model was it at first (I noticed the Mazda logo) but the design and shape was very appealing to me. So then I started doing research and found out that it was the new mazda3 4th gen. Next couple of days I decided to go to the Mazda dealership and bought one. Yup, this is my first Mazda and my first modified car."
What made you decide to modify it?
"Well, I started following Mazda accounts on IG and joined various Mazda groups on Facebook and I saw plenty of stunning modified Mazda and I just got carried away you know. Started searching for bodykits, wheels, brakes and so on…"
To those unfamiliar with Thailand car culture. How would you describe it? People are interested in the low flush style? Easy to get car parts/modify your car there?
"Well majority of Thai people are into modifying the 90s' JDM cars (ex. supra, rx7, r34, nsx, evo, impreza etc.) for high performance and speed with just the right fitment. Low flush style cars isn't much of a trend here in Thailand, only in a particular group of people that have interest in it. Car parts, bodykits, wheels, suspension etc are very easy to get access to in Thailand. We have plenty of shops/garage that provides them both local brands and brands from overseas. We do also have engine modifying services, as well as custom build car parts. So it is very convenient for us."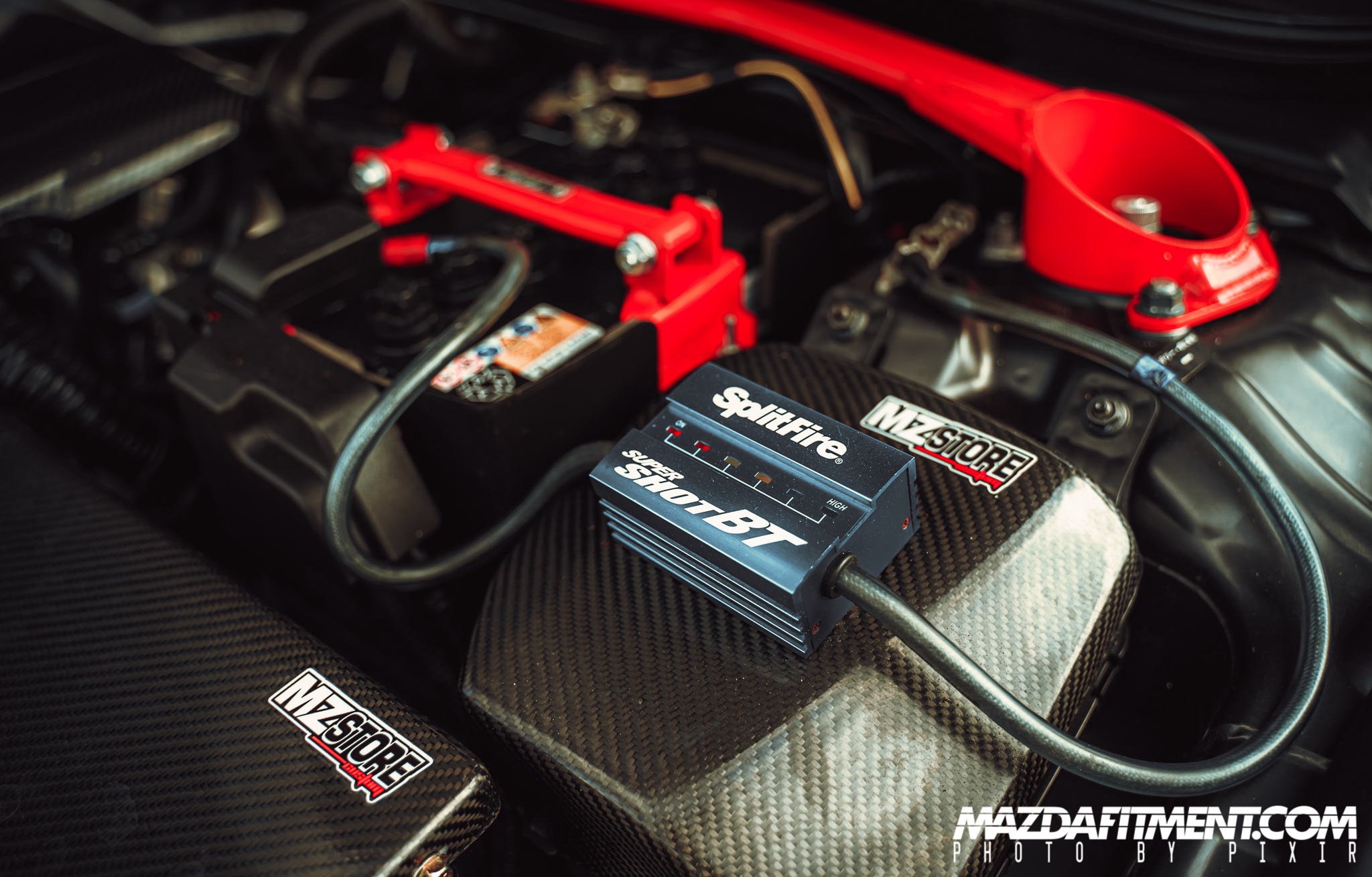 MODIFICATION LIST:
-Original: Machine Grey Metallic
-Vinyl wrap: Rosso Corsa Red
-Knight Sports front bumper
-Mz vision carbon side skirts
-Garage Unique custom carbon rear diffuser
-Autoexe carbon spoiler
-TCR style carbon hood
-Carbon shark fin antenna
-Carbon pillar
-Carbon mirror covers
-RSR Best-i suspension
-WedsSport 105n wheels 18×8.5" et35
-Bridgestone re003 225/40 r18
-Rays lock nut
-H-drive RS brakes 6pot 355mm disc
-BMC air filter
-Carbon cold air box intake
-Autoexe front strut tower bar
-Autoexe oil filter cap
-Autoexe oil level gauge grip
-Autoexe brake fluid cap
-Autoexe battery clamp
-JTC mid pipe
-JTC full titanium tail pipe
-Full option carbon steering wheel
-Autoexe carbon paddle shift
Any future plans for the car we can expect?
"The future plan for my car is that I will be hopping on air suspension for sure and possibly be changing my wheels to either Work or Rotiform."
The 6 pot calipers/brakes from H-drive look lovely behind the WedsSports.
Anyone you want to thank or give a shout out to?
"Lastly, I would like to thank all the Team REV members who has helped me out during the process of making this car and all the knowledge that has been exchanged. Also shout out to these shops that put together all these masterpiece into a car. MPS Shop, KC racing, Garage Unique, JTC Titanium, & MZ store."
Typically we see carbon fiber accents/parts too overly done, but Potchara really went with the right pieces to make it all come together nicely.
The Autoexe carbon paddles flow nicely with the full option carbon steering wheel.
We are excited to see more builds shared here from Thailand, and excited to see what Potchara does with this platform even further. You can guarantee that we will be sharing an update on this by the end of the year. Thank you to Potchara for taking the time to share this with us, and Pixir and Karakunn for capturing this for us. Nearly 200 photos in the gallery below. Enjoy!
Want to feature your ride? There are lot of builds we will never be able to come across, so please email us if you think we would be interested!
Email us at mazdafitment@mazdafitment.com