Anyone starting out today as a car enthusiast will not know the glory days of car forums. Car forums were an organized place of knowledge, where you would even make your first internet friends along the way. We even had our own forum here until it become dead with the rise of Facebook groups and Instagram. Now we have our own FB community group, but that is not the same at all. Maybe that has to do with it being easier to chat/share with strangers under an alias or screenname rather than your own personal name. But, those glorious days are behind us, and we just need to wait for Facebook groups to mimic a forum style interaction experience. Here we have Joey Montano's 2010 Ruby Red Pearl 2.5L MZ3 hatchback from Houston, Texas. We got to talk to Joey about his ride, and he is no stranger to our old Mazda Fitment forum days and has even used our articles here to gain useful knowledge/inspiration.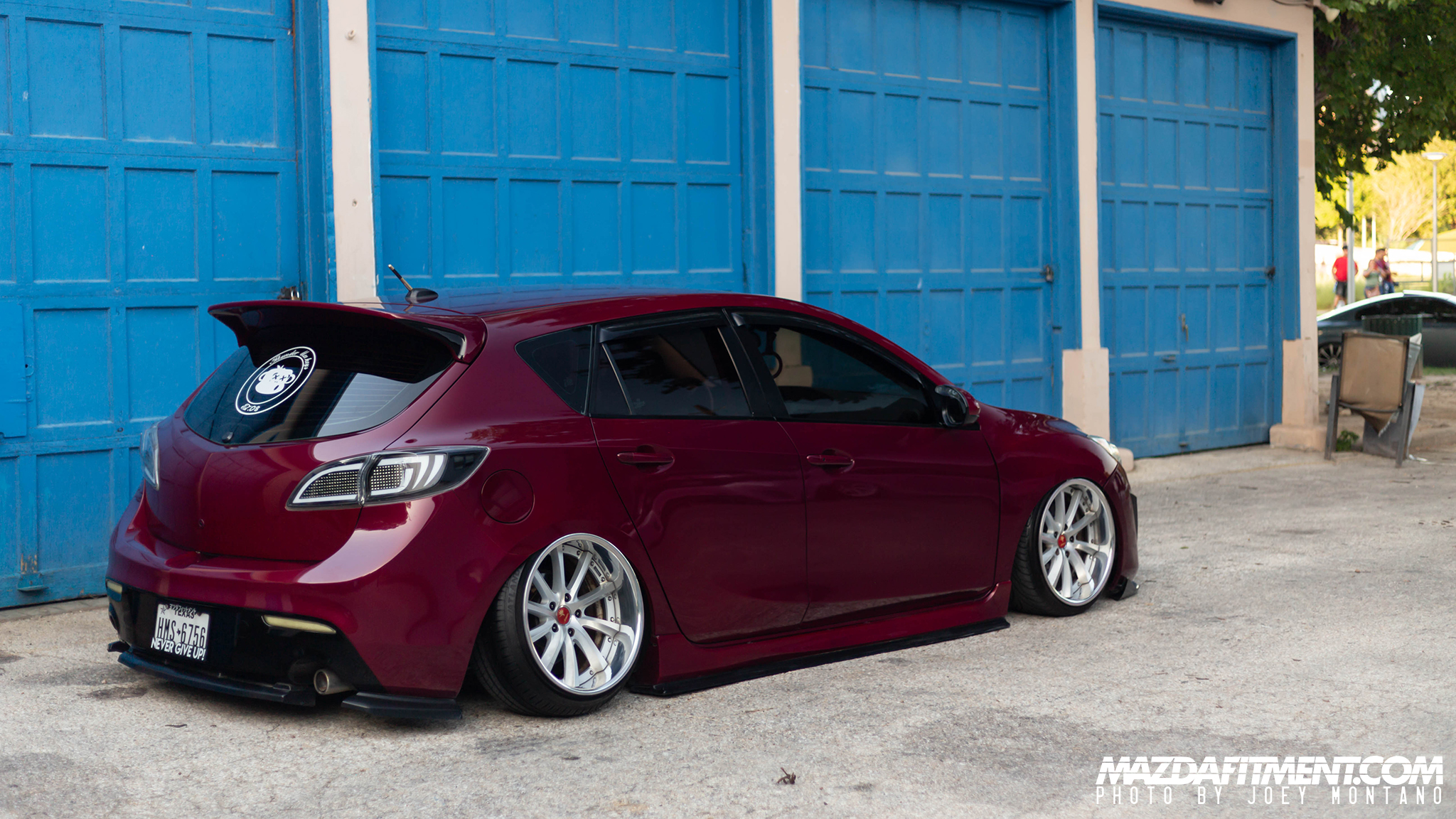 So, Joey, what lead you to the 2nd gen MZ3 we see today? Always intended to modify it?
"Long story short I used to work at a car dealership and seen it get traded in. Told my manager that's the one, I was looking for a car at the time. I remember looking out the glass and thinking what I could do to it how it would be different than what's out there. Next thing you know I'm driving it home the next day. I always intended to do something with my next vehicle, but to this extent never thought it was possible. Things kinda fell in place at the right time and met some great people who helped me get the car to where it is today."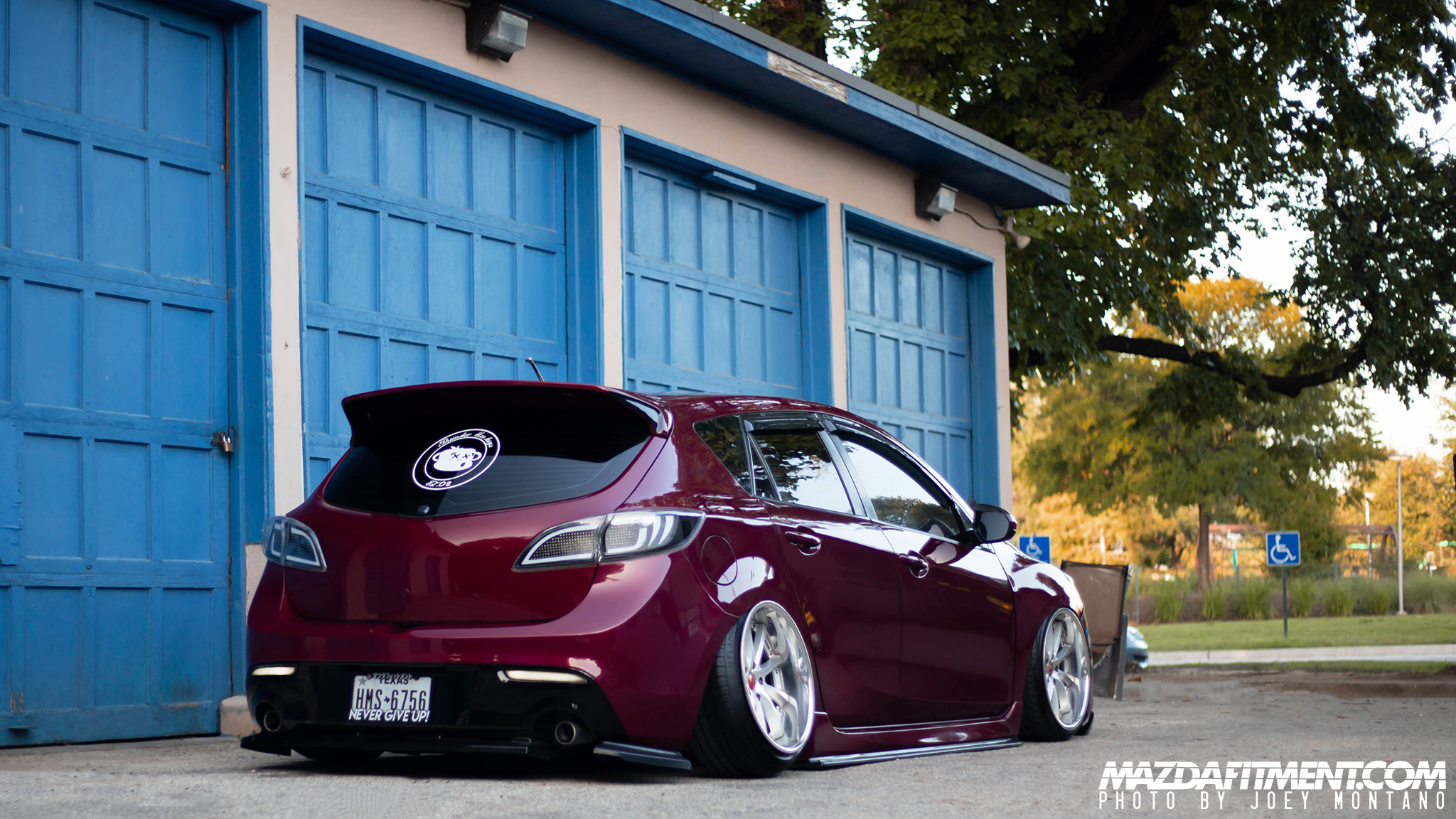 What or who inspired the way you modified/styled the car?
"I come from a time where Instagram was just getting started so there wasn't much of a who really. I built the car for my city I wanted people to look at the car be like yeah he's from Houston from the paint to the wheels to the execution. If we're being honest you guys Mazdafitment were the first forum type website I found, I would read your articles and features to find what parts I needed from camber, suspension to wheel specs. Although it helped I still found my self experimenting on tire sizes and wheels specs, Juan Ortegas blue wide body is part reason why I have my taillights today, with our chassis we have to think outside the box and that pushed me to get a set of my own made."
Tell us more about the taillights? Who built the taillights? They look great on the car.
"For the taillights it was year long project from finding the right builder to getting the design down and then leaving the entire show mode up to the builder. He drew me a few designs to pick from and we went with what I currently have at the moment I wanted something aggressive and that had a great flow and they excelled at what I was looking for after that we reached out to illumaesthetic and they created the diffuser part of the Taillight. I then had the decision to use my oem tech taillights or to grab a set of regular ones. David, the builder advised since there would be some cutting we should go with the regular ones. I opted for some regular ones just in case I would need mine for the future. I went with gloss black reflectors instead of the oem red. We removed my reverse light option to get a full show effect…"
"…He also created a custom wire harness for easy installation. From start to finish I believe it was around 120 hrs to build this set and roughly 1-2hrs to install them which is a lot faster than what I've heard others talk about. I would like to shout out @dee_spd3 and @jcautolabs for making my dreams come true on these. They also have sequential turn signals, full led mode when braking, and sequential emergency brake lights. The design glows when I have the day time lights running."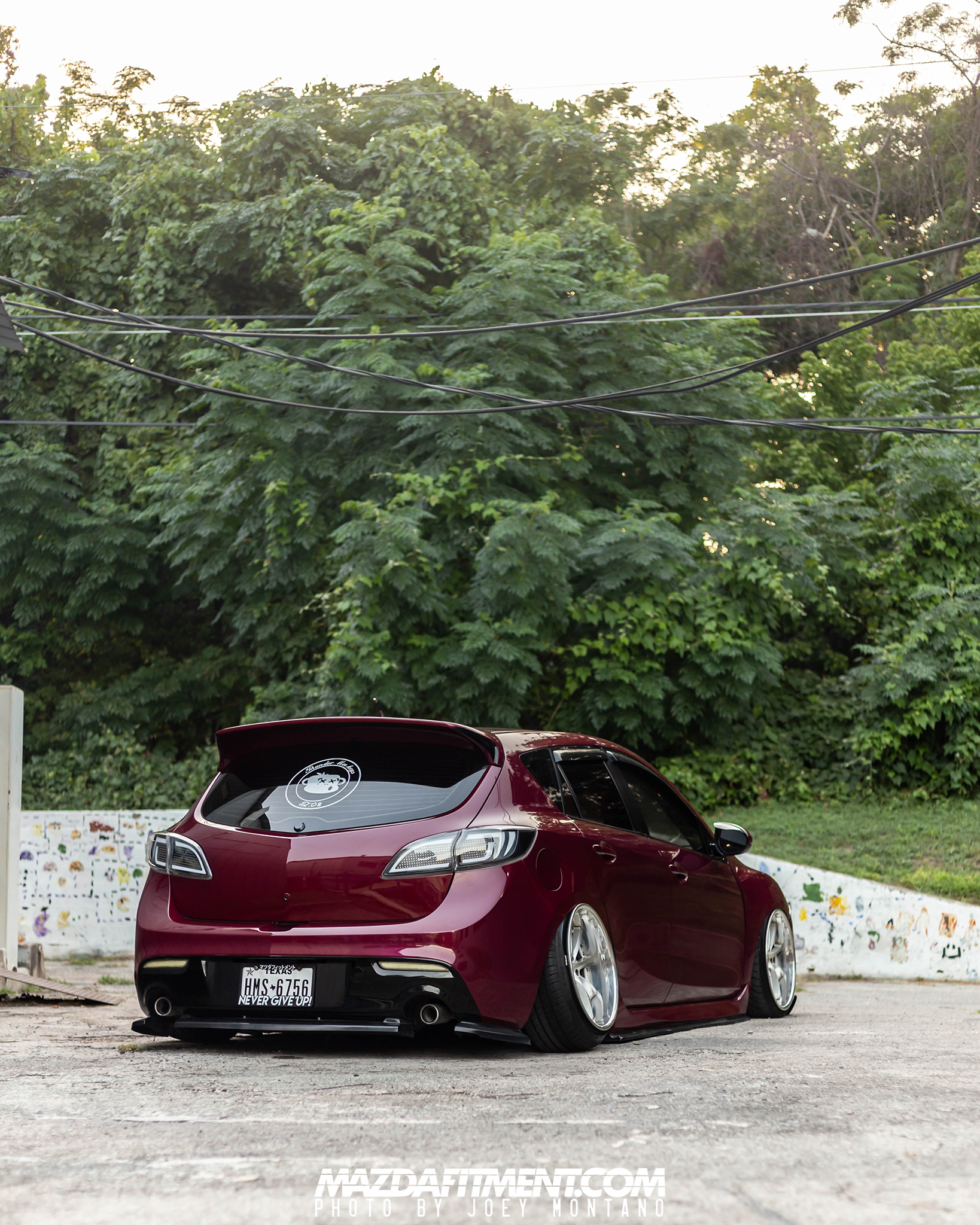 Any future plans still for the car?
"Yes of course as long as the car cooperates lol I'd like to get my interior redone with a double diamond stitched on the seats and door panels still deciding if I'm going black leather or changing it up with a peanut butter color. I have plans to get a trunk setup done here soon with audio and I'm in the process of getting my front fitment dialed in a bit better camber wise…There is talks about doing a new paint color tbd…I am changing wheels for this next half of the car show season. And I'm looking for a builder to get my headlights done…Proud but never satisfied."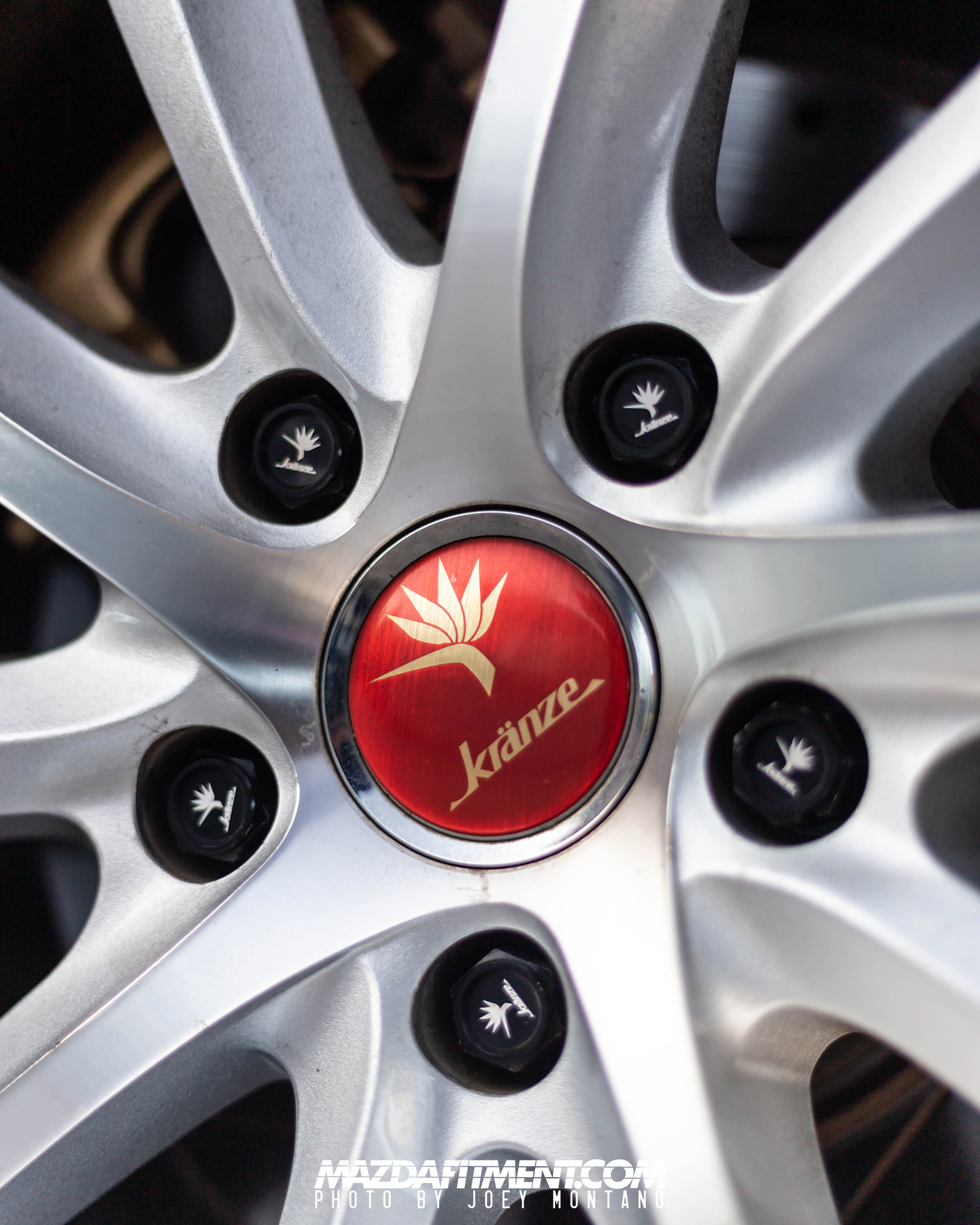 Love the matching Weds Kranze lug nut set to go with the Weds Kranze Vishunu wheels.
Joey rocking the Mazda Fitment Never Give up! license plate frame. Only a very few in stock. Available at shop.mazdafitment.com
Anyone you want to thank or give a shout out to?
"First shoutout to you guys 🙌🏽… it's crazy man…This build wasn't done alone it was mostly done in house/garage with friends…Thank you to Davey with Trap house garage car wouldn't run without him…Shoutout Truman's tire shop…Shoutout my team Thunder monkeys , Bangers and Stancedshots…Special thanks to my taillight sponsors @jcautolabs and @dee_spd3…Future sponsors: iCar Houston…And thanks to everyone who has followed the build from day one."
MODIFICATION LIST:
-2010 Mazda 2.5 tech package
-GV type grill
-Front lip -06-07 Subaru sti lip modified to fit bumper
-OEM tech side skirts
-STR side splitter extensions
-Tech LED headlights
-Spyder LED fog light housing
-Corksport 2.5 short air ram intake
-Password jdm carbon fiber 5 piece cover set
-Custom built chasing 1 of 1 taillights by jcautolabs and dee_spd3
-Clear rear bottom reflectors
-JV spoiler
-Corksport rear windshield wiper delete
-Exterior custom ruby red pearl paint & door jabs included
-Weds Kranze Vishunu
-Red/gold Wed center caps
-Wed valve stem caps
-Wed lug nuts with lock
-Front bc coil over with custom made shorter struts with bc slim double bellow  bags
-Mazda Fitment camber plates
-All day Fab rear LCAs
-Universal air house bags 2
-Dominant engineering camber arms
-Godspeed toe arms
-Grip royal patina 3 spoke steering wheel
-Grip royal horn delete plate
-Work bell short hub
-NRG 2.0 quick release
-Grip royal patina black and white shift knob
-Custom red suede shift boot with matching ebrake red suede boot
-Diamond stitch floor mats
-Junction produce VIP neck pads
-Eonon touch screen head unit
-V2 airlift 3/8 manifold
-5 gallon
-Viar 444 compressor
Thank you to Joey for letting us share this here. We just want to say, people like Joey, are the reason we have been doing this for nearly 13 years now. We just want to preserve your car here with some information here and there for others to gain some knowledge or even inspiration. Glad Joey has found our website and community useful for all these years. More photos in the gallery below. Enjoy.
Want to feature your ride? There are lot of builds we will never be able to come across, so please email us if you think we would be interested!
Email us at mazdafitment@mazdafitment.com