Love when we come across a build that is simple and clean. What does that mean? It means finding a balance between aesthetics, fitment, camber, and of course some lows. A prime example of that is Taniguchi Sekishi's 2012 Sparkling Black Mica RX-8 Spirit R from Osaka, Japan. Thank you to Itachi for providing some beautiful shots of this.
We got to talk to Taniguchi recently about his clean RX-8 Spirit R.
What lead you to owning the RX-8? Did you come from something different before this?
"At that time, I was thinking of buying GH Atenza Sports, but when they changed the model to GJ Atenza, I couldn't buy GH Atenza Sports, so I bought RX-8 among the candidates."
What inspired your styling?
"After watching the cool v36 Skyline Coupe online, I aimed for this style. Until then, I was going to ride it genuine."
What would you say was the biggest challenge with modifying or styling the RX-8?
"If you modify the car with static, the under parts such as the fuel tank are low…So had to lift the engine and relocate the fuel tank to the trunk."
Anyone you want to thank for helping with RX-8?
"I'm a car dealer who worked on aerodynamic processing and fuel tank relocation."
The AutoExe SE-04 front bumper looks so good. And love the integration of the Stage21 S15 front lip.
Bringing everything together are these SSR Formula MKIII wheels that were originally 19 inch and got rebarreled to 18×10 front and 18×11 rear.
The rear is styled with a Nakamura Racing Factory (NRF) rear bumper and wing.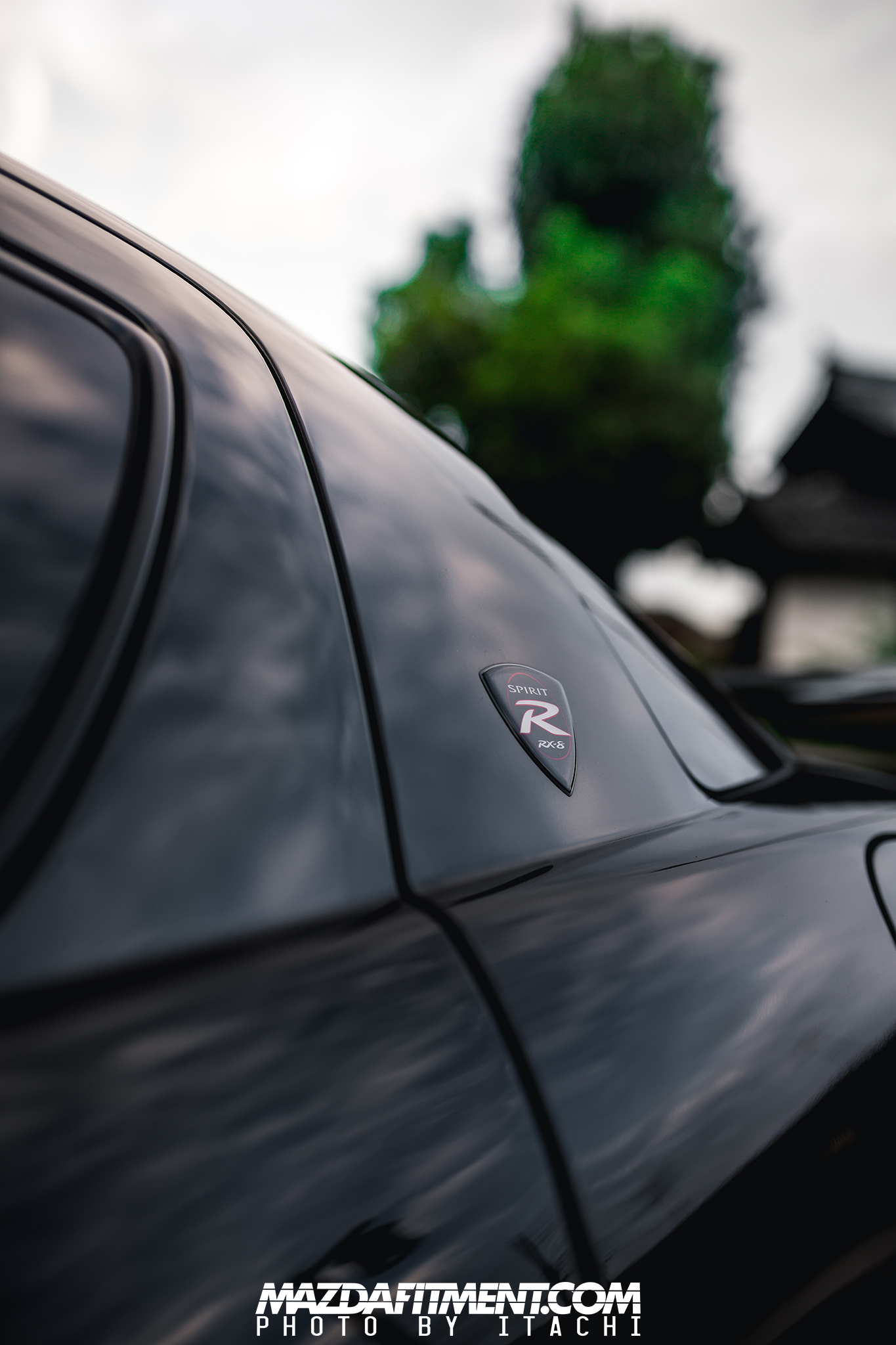 MODIFICAITON LIST:
EXTERIOR
-AutoExe SE-04 front bumper shortening + smoothing
-Stage 21 s15 Silvia front lip processing Installation
-Genuine sideskirts
-NRF rear bumper smoothing + throttling
-NRF wing
-Ganador door mirror
-USDM headlights
ENGINE
-AutoExe Sports Induction Box + TRUST Air Filter
-Odula Ram Air Intake RS
-KTS suction pipe
-Autocraft Kyoto exhaust gas/exhaust manifold
-Weds WedsSport catalizer
-Maker unknown muffler + one-off intermediate pipe
-Fuel tank relocation
SUSPENSION
-326power coilovers
-KTS front arms
-Genuine rear arms
-Supernow tie rod ends
-Eibach stabilizers
-Honda Civic FD2 Genuine front stabilizer link
-Unknown Manufacturer Short rear stabilizer link
WHEELS
-SSR Formula MK-III
-18×10 front
-18×11 rear
INTERIOR
-NARDI Classic Wood & Black Spoke Deep Corn
-Cusco roll cage
Thank you to Taniguchi for taking the time to share this with us, and loving Mazda Fitment. We have been wanting to share this with everyone for awhile. Thank you again to Itachi for taking these photos. More photos in the gallery below. Enjoy.
Want to feature your ride? There are lot of builds we will never be able to come across, so please email us if you think we would be interested!
Email us at mazdafitment@mazdafitment.com