We love sharing unique builds, especially those of long time friends and followers of MF. Here we have a prime example of that with Cristian Laureano's 2013 Mayo Ketchup MZ3 sedan from Orlando, Florida. Cristian aka STXCKS is a long time friend and photographer of Mazda Fitment; you will probably recognize some of our content over the years is produced by him. But, this time around, we finally get to share his own personal car build, and got to talk to him about his journey.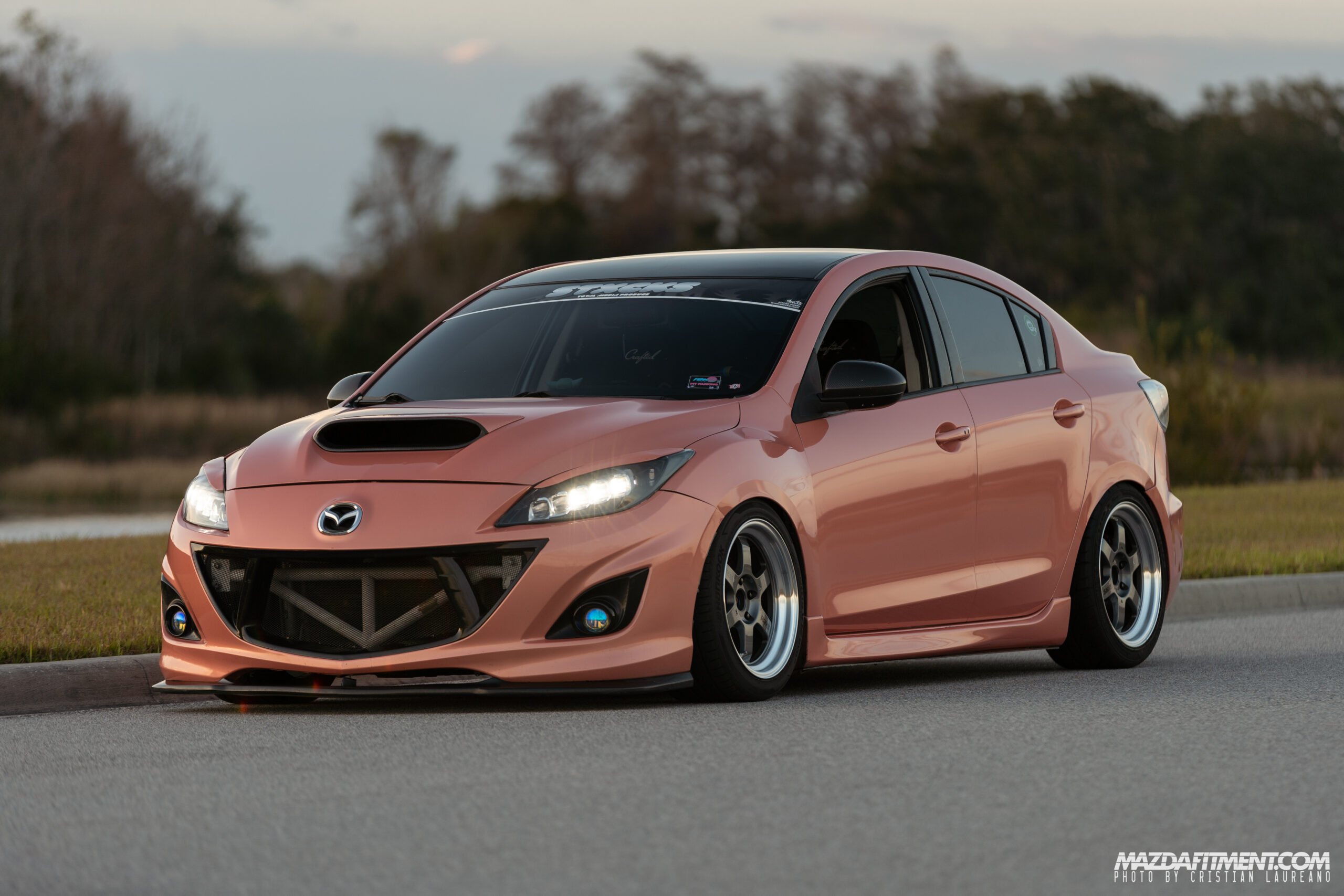 So, Cristian what lead you to owning the MZ3? And also what made you chose the sedan variant?
"Well funny enough, this car used too be own by my mother. After my old 2007 Mazda 3 sedan got totaled, lucky enough my mom offer for me to buy her car because she wanted a new car. So as a young man with not a lot of money, I just went ahead with it even though I didn't really want it. You know I wanted something RWD and cooler. A Mazda sedan just isn't cool enough in the car scene if we are going to be honest. Everyone ask why didn't I get a Mazdaspeed 3? Well I just couldn't afford it at that time. The sedan its one of the least Mazdas that gets love in the scene. After doing some mods, it was a mission to make it different. That was my goal. How can I make this sedan different and just enjoy it overall for myself."
What inspired your modifications and styling?
"Of the top of my head, I can't think of who inspired me the most. But of course you know OGs in the Mazda scene like Framebanggang and Shavi who I followed growing up and motivated me to keep on modding the Mazda. I just wanted to do something different to it and have stuff that has never been done before you know."
So, you have been in the low style Mazda 3 community for awhile…how is it different than when you first started? Or do you think it's still the same?
"Being in the low style scene for a long time really shows the difference from back and now. It's definitely easier to achieve that static look now or just being low from all the info out there nowadays. Back then, if you had double digits camber, you were a God in the scene. Now it's so common that it's nothing new. So the stance scene definitely evolved. Who knows what's next."
And then what made you choose this color? It was blue before, you didn't like that?
"So my previous color blue was good but just got bored of that color quickly and also that material was cheap so we knew it wouldn't last long on the car. I just wanted something around a salmon/peach color and this is what we mix together and here we are today. A Mayo Ketchup color."
Any other future plans for the car?
"As of right now, I'm going to keep the car how it is and just enjoy it. BUT, if a K24 falls in my lap or something."
Lastly, anyone you want to give a shout out to or thank for your journey with the car?
"I'll give a shout-out to all the homies that helped me get this car to how it is today."
MODIFICATION LIST:
-Multicolor Glass Fogs
-Strafe Design Side skirts
-BC extreme lows 15k w/ reservoir
– Godspeed toe arms
-Corksport Full Exhaust w/ Speedfactory turndown
– Hybrid Shift knob
– Aspire Garage carbon fiber mirror caps
-OEM 2012 Mazdaspeed 3 front end
– Mazdaspeed 3 Whitezilla Front grille
-Hybrid Retrofits Custom Jewel Mazda headlights
-Terlizzi Auto Concepts Clear Taillights
-Corksport engine Mount
-Corksport short ram intake w/ K&N filter
-Corksport CF hood scoop
-Corksport Adjustable Short Shifter
-Corksport Upgraded Shifter Bushing
-Titan Motorsports Front Crash Bar
-Titan Motorsports Rear Crash Bar
-Rear Euro OEM Fog light
– [x] Rays Volk Racing TE37v Front 17×9.5 Rear 17×8.5
– Front 255/40/17 & Rear 235/40/17
-Rays lug nuts
-Crafted Bucket Seats
-Greddy steering wheel
Hope you enjoyed this unique MZ3 sedan. It is not everyday you see a 2nd generation MZ3 sedan with a 2nd generation Mazdaspeed 3 front end. And not to mention the unique color and modifications done. It is just so appealing. Well done, Cristian!
Want to feature your ride? There are lot of builds we will never be able to come across, so please email us if you think we would be interested!
Email us at mazdafitment@mazdafitment.com