Trying to stand out from the crowd is great and all…as long as you do not go overboard. Just keep it simple. Here we have an great example of standing out, but done clean and subtly with Branden Edwards' 2004 Gloss Flip Psychedelic RX-8 from Boise, Idaho.
You are probably looking at this thing thinking that its just a grey colored RX-8, but it is vinyl wrapped with 3M 2080 Gloss Flip Psychedelic. What that means is that it will change during different lighting conditions…we didn't know that, and thought it just faded from the sun.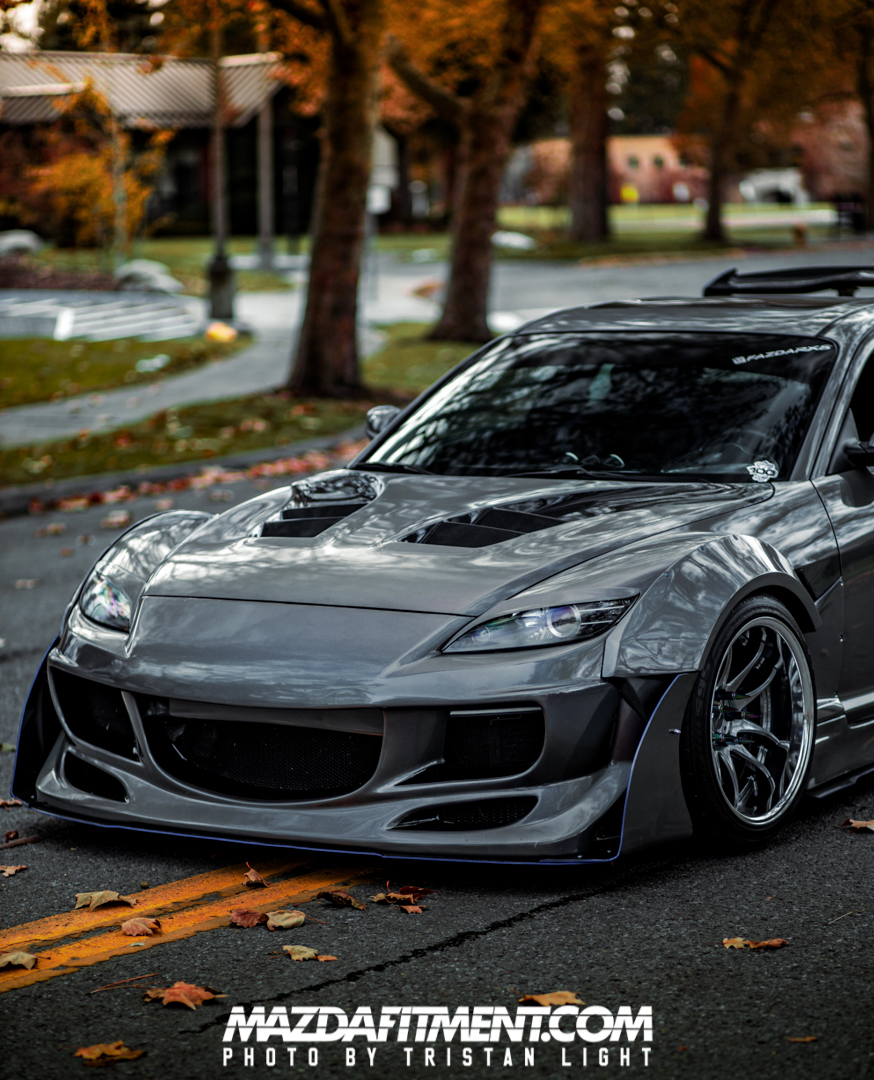 We are curious…did the wrap fade from the sun? Doesn't have that rainbow effect as I previously saw….
"No, sun plays a huge part, if there is no direct light, then there is no to little effect. Sometimes I oversaturate on IG to make it pop more…"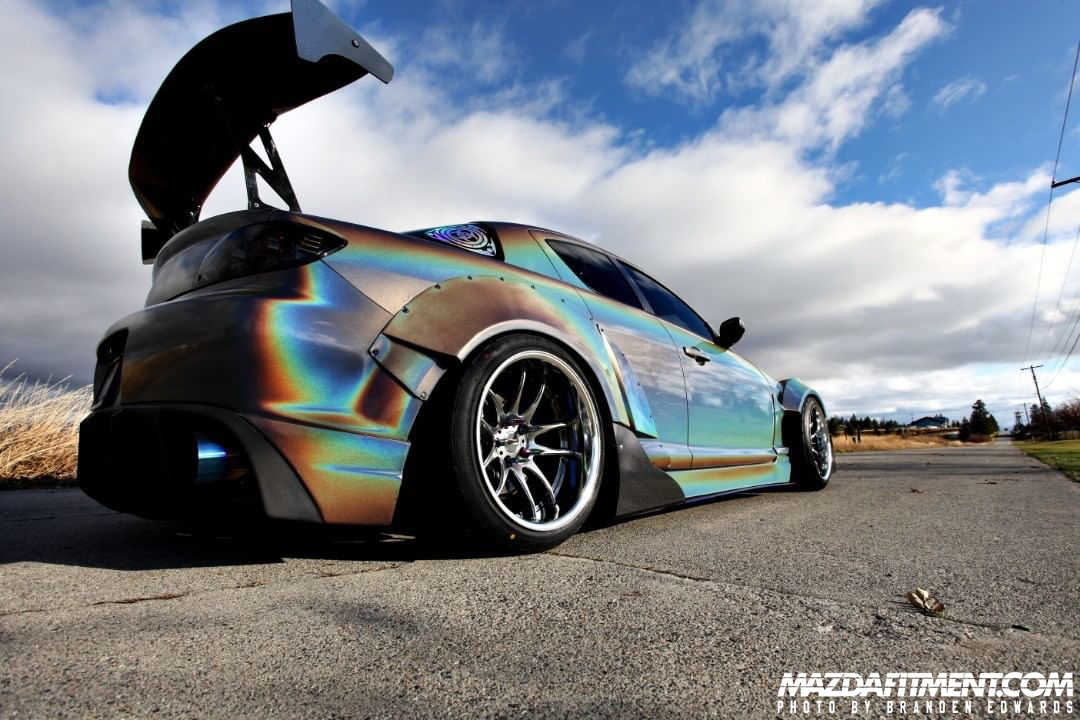 "…Photographers don't like it much…its to hard for them to shoot. Here we have with light and no overcast."
What lead you to owning this? Is this your first car? Own anything else?
"My first car was a 1995 Ford Probe. I started building that up for performance driving and that's essentially how I got into car modifications. In 2004 Mazda's lines attracted me to the RX-8…the unique engine intrigued me and the suicide doors seemed pretty utilitarian…"
"…I went to a local dealership to test drive one and fell in love. The engine was butter cream smooth, throttle response was great and it handled like a dream. I told myself I would get own one day…4 years later I found a used RX-8 with low miles and a great price…"
"…I brought it home and have since sold the Ford probe. I daily drive a Ford fusion plug-in hybrid to make up for the gas the RX-8 uses. And from there one modification became the next and the next…"
"…At first it was mostly performance stuff and boosting later I got into mazdasNW. I went to a, at the time popular car show called "Forum Fest". I realized I could win a trophy. The next year I focused on some aesthetics and themes that year I took best Mazda. Since then it's been a combination of performance and aesthetic modifications and multiple car shows with multiple wins from best Mazda, best coupe, best import, best sport compact, and even a few best in show…"
"The car has undergone several transformations; some new parts, others are replacements, 2 interior changes, 3rd set of wheels, color changes. When the wide-body kits started coming out at first I was not a fan, but I liked the Lions v2 kit, but it was for the series 2…"
"…I did some custom body work to make it match the r-magic front. And custom aero. It's a decently supported platform, but not has much as say a BRZ/FRS or 240…"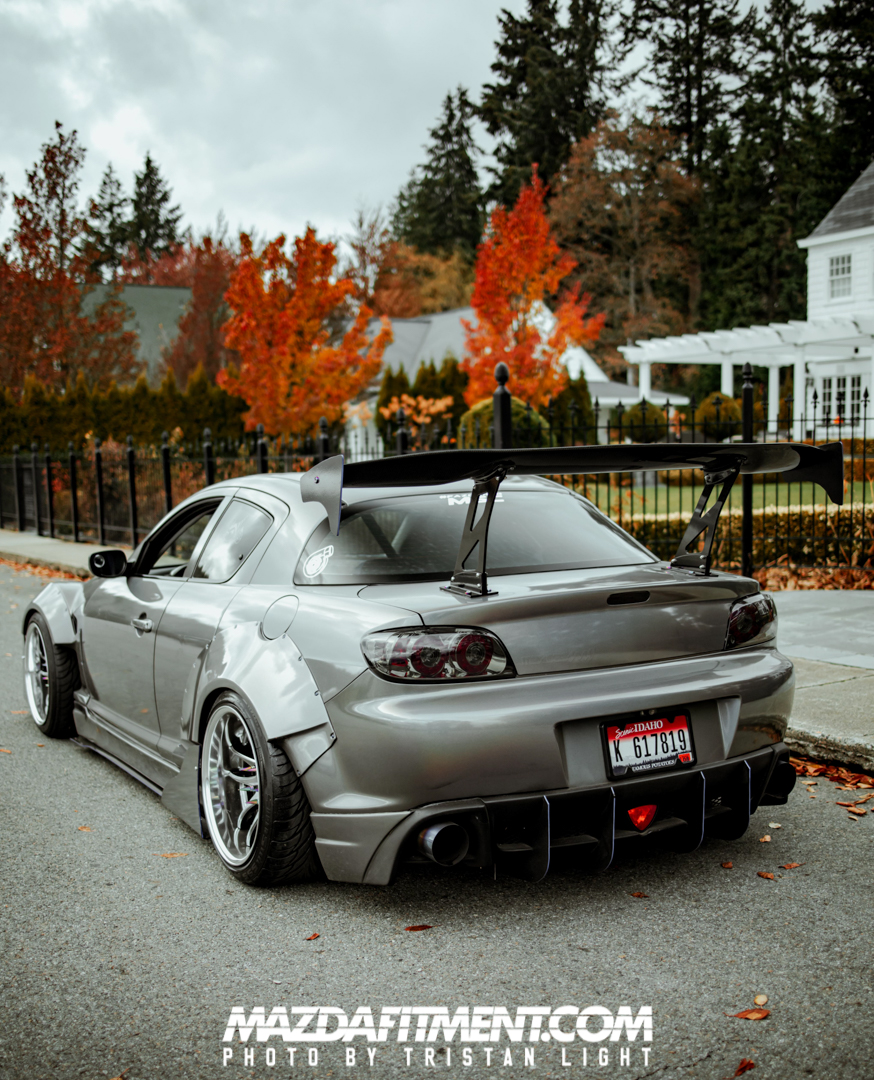 "…I've stuck with the RX8 waiting for RX9 or something as cool. But nothing has excited me that fits my style."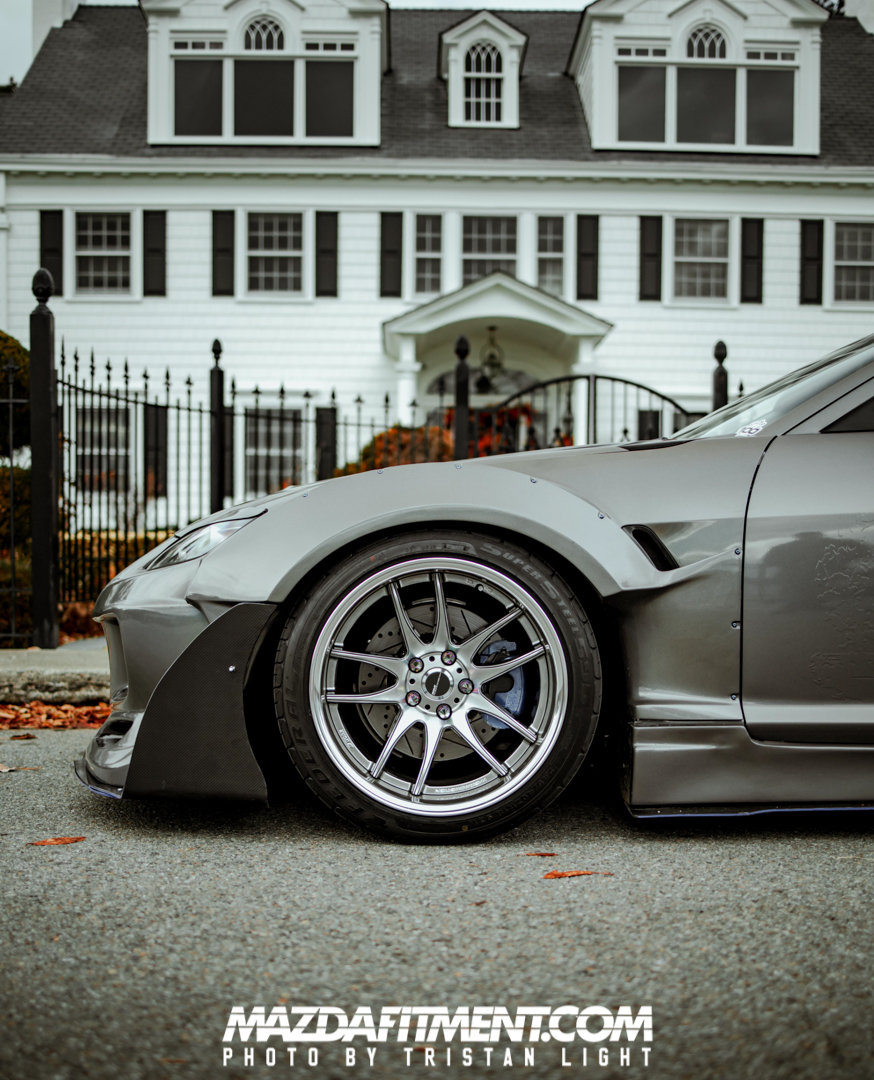 Never thought of getting the more popular older rotary models?
"FB, and FC are to square and old, I like modern car features. The FD would be cool, but it's been played out…nothing really new, and at this point it feels very dated as well. I have worked on one for many hours, tuned, and drove, but it never hit me like I must have one. A local friend of mine had one…even did a 20b swap, but in the end he sold it for modern muscle. I really want a modern RX-7 or an RX-9."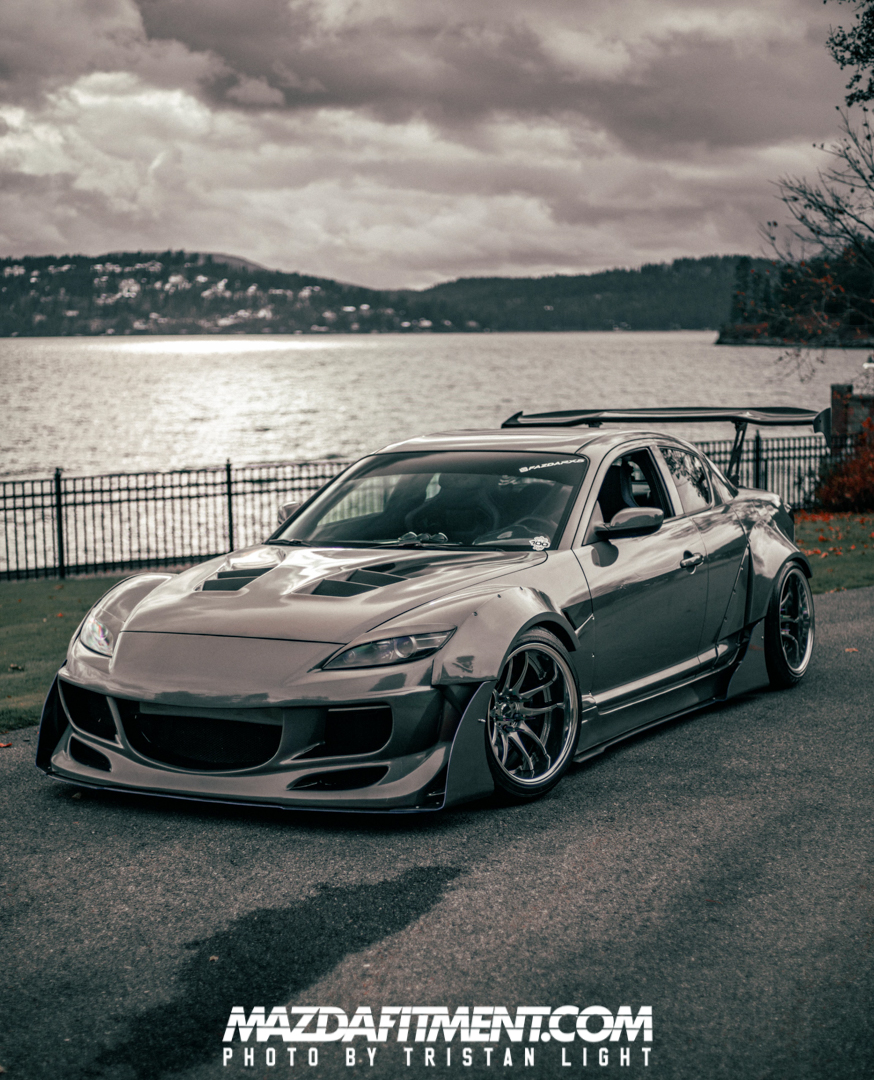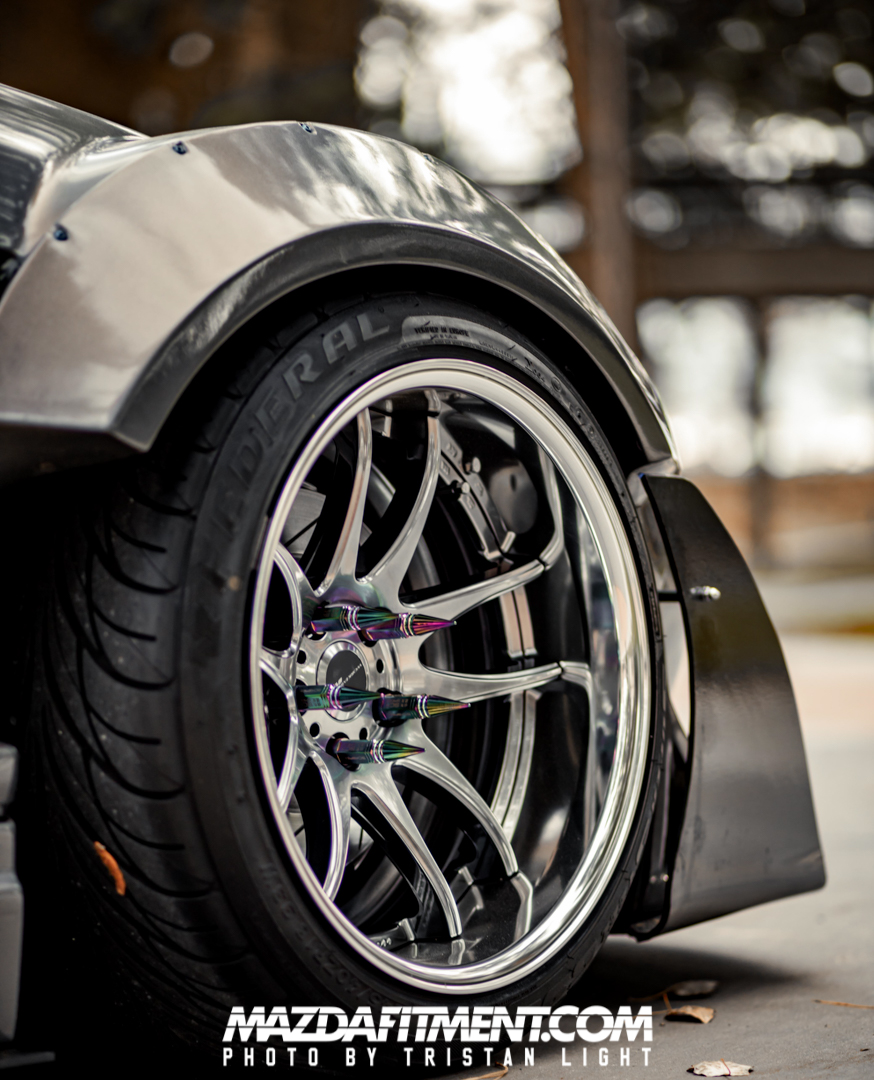 What inspired the way you modified your car?
"Well, I wanted to go faster so easy button was turbo, but it wasn't that easy. I built it from the ground up…My friend was a welder…I did some CAD work over winter, and we had a complete kit…then onto tuning. Aesthetics it was you know what was popular at the time, and I really like the 90s fitment. Stance is kind of cool but I like straight functional fitment.."
"…Beyond that it was what would grab the attention at car shows…what were judges looking for and how could that align with what I like…Then there's the typical JDM style…how can I make my car look like it rolls right off the boat."
Any future plans? Or pretty complete now?
"Possibly big brakes and possibly air bags."
Anything else you want to highlight about the build?
"Embossed wrap in the pictures…There is only a castle, but there are full scenes on both sides. All the turbo stuff was custom build along with roll cage…"
"…In person you can see the embossed, but camera can only get a 1/3."
"…And I would like to thank Kash Verhage for keeping me driven and going to events with me, and also my wife for supporting me."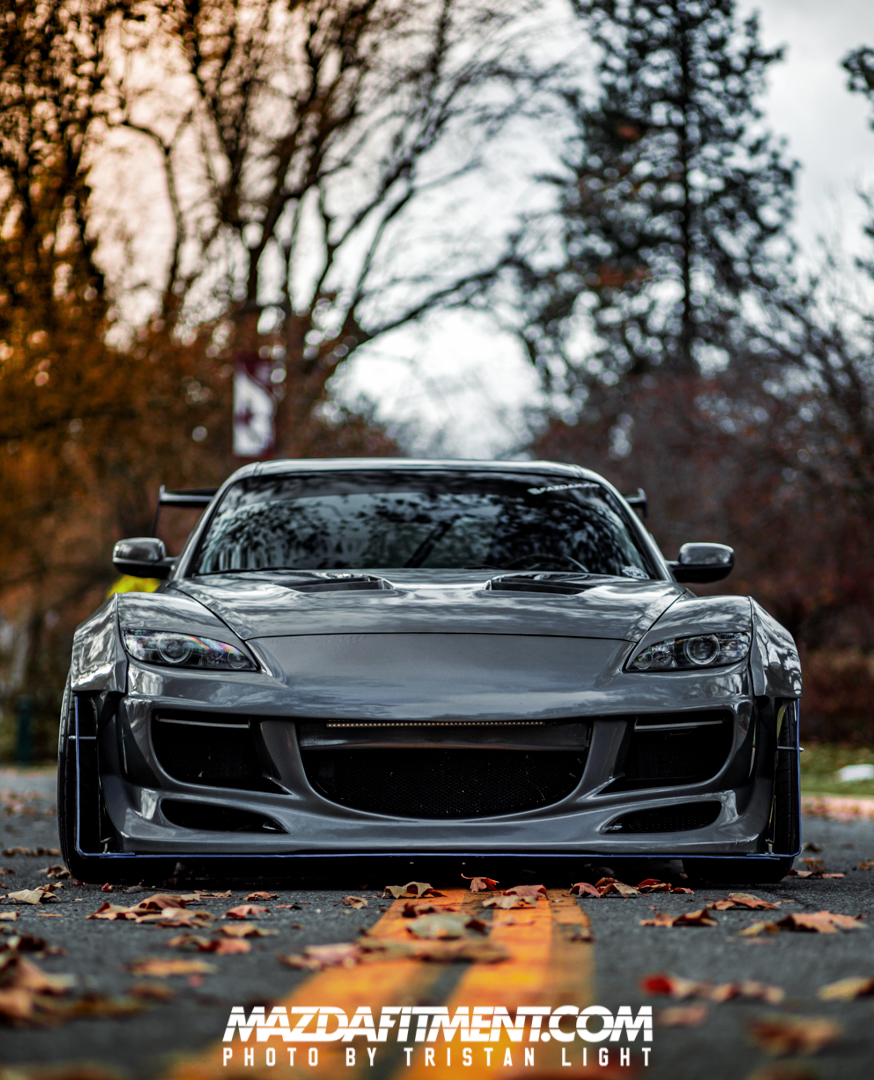 MODIFICATION LIST
APPEARANCE
-R-Magic Front Bumper
-INGs Side skirts and Rear
-Sick Speed Neo Chrome lug nuts
-Custom Painted Brake Calipers
-NRG Carbon Fiber Rear Wing
-Custom Front Splitter
-Custom Side Splitter
-Custom Rear Diffuser
-RE-Amemiya Carbon Fiber Vented Hood
Suspension
-Work Emotion CR2P
-18×10.5 -13 5×114.3 -Federal 245/40r18
-18×11.5 -10 5×114.3 -Federal 275/40r18
-Stainless Steel Brake Lines
-Hawks HPS Brake Pads
-Drilled and Slotted Rotors
-Tein S-tech Springs
-Koni Yellow Shocks
-Progress Tech Rear Sway Bar
-Corksport Front Strut Brace
Interior
-Prosport Gauges: Oil Temp, Oil Pressure, Water Temp, Boost, Fuel Pressure
-Custom Molded Lotek Gauge Pod
-Racing Beat Gauge Pod
-Custom Roll Cage/Harness Bar
-Corbeau Racing Harnesses
-Braum Leather Racing Seats
-CorkSport LED Lighting Kit
-Interior Trim Painted
-Custom rear seats
-Custom Door inserts
-Blox Shift Nob
-Custom Racing steering wheel
ICE
-Custom Sub Enclosure with Battery door
-Kicker 8" L7 sub
-Kenwood 500W Amp
-Infinity kappa 10.9t Tweeters
Performance
-Power Output ~400whp ~330TQ 15PSI
-Agency Power Mid-Pipe & Cat-Back
-Walbro 255 Fuel Pump
-Four 800cc Injectors
-Tuned Cobb AccessPort
-BHR Racing Ignition Kit
-Custom Street Port
-Machined Rotors to accept rx-7 seals
-Goopy Performance rx-7 Apex Seals
Atkins Solid Corner Seals
-Custom Built, Top Mount Turbo Kit
-Garret T04b, 60-1 trim
-Synapsis Waste-Gate VTA
-Synchronic BOV
-V-Mount 3" core Intercooler
-K&N Filter + Injen Filter Sock
-Innovative WO2 and Air/Fuel Gauge
-Exedy Stage One HD Clutch
-Stainless Steel Clutch Line
-Speed-Daddy 1.75in Core Radiator
-Mishimoto T-Stat (176)
-Custom fan try
-Coolant Reservoir Relocation
-Pinapple racing oil pressure
-Atkits thermal Pellet
Thank you to Branden for sharing this with us. And thank you to Tristan Light for the photoset. Enjoy.
There are lot of builds we will never be able to come across, so please email us if you think we would be interested!
Email us at mazdafitment@mazdafitment.com