The MX-5 Miata ND is the current and fourth generation of the famous MX-5 Miata.  It is highly praised of course for being fun to drive and a cure for depression. But, what makes the ND roadster cool is the available RF model that provides a retractable fastback (hence the name RF) look similar to targa tops. It even includes some cool special editions like the limited 100th anniversary edition of the MX-5 ND paying tribute to Mazda's R360 (Mazda's first car) or the MX-5 Eunos edition (France special) paying tribute to the Eunos brand for the 2020 models. Here we have Cameron Mccormick's 2019 Machine Gray Metallic MX-5 Miata RF Club from Dallas, Texas that demonstrates his own enhancements to the graceful beauty of the fastback look. Special thank you to John Velasquez for providing these beautiful shots.
So, how did you get into cars and into the ND Miata we see today?
"…As for what got me into cars I guess just like everybody else playing the old need for speed underground games and fast and furious movies. I was lucky enough to have a car for my 16th birthday, but unfortunately didn't get to pick it. So, after the embarrassing high school years of driving a 2004 baby blue Kia Rio I definitely strived for something better to drive, and picked up a 2006 Mazda3 2.3 sport and that's where my love for Mazda kicked in. And now I'm on my 4th Mazda…."
"…Well this is my second ND so I pretty much had full regrets on trading in the first one, but needed a bigger car at the time. But once I heard that the ND2 was adding 30HP and finally having the Recaro seats available for the USDM I knew I had to go back, so I preordered a ND for the 2nd time…"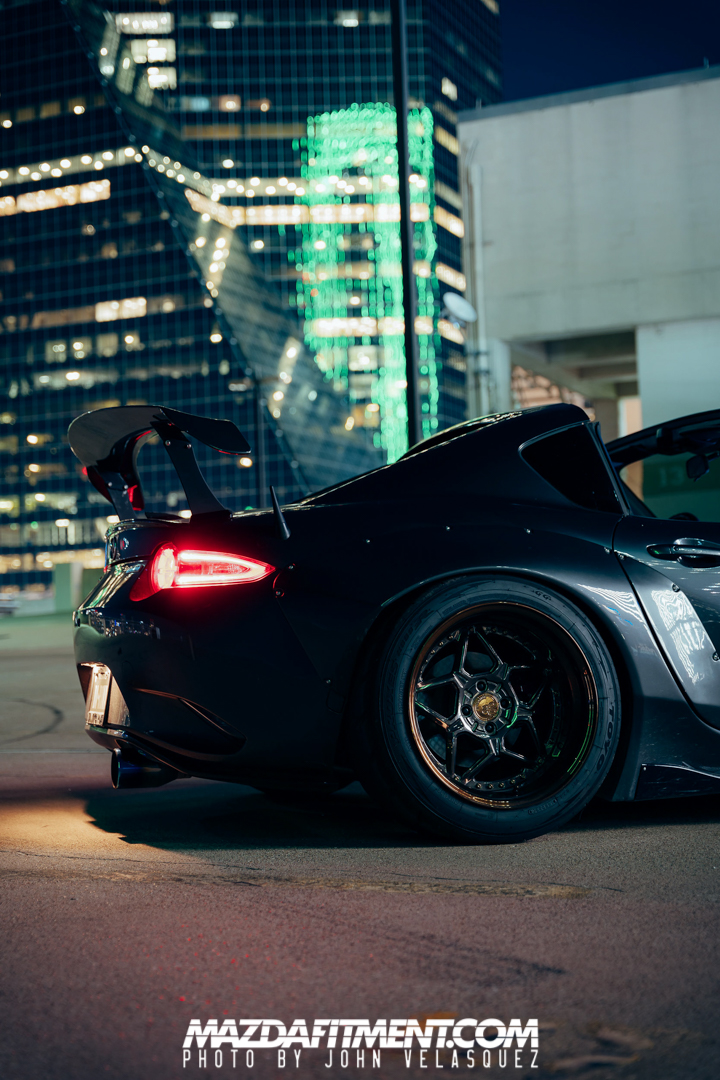 "…I went with the RF  this time around the roof line just complements the body so well. Had the car delivered in January of 2019, ordered the Pandem kit that following month, but just couldn't bring my self to chopping up the car yet and hadn't had a wheel choice in mind yet that wasn't already done…"
"…Fast forward to June of 2020 I finally get the guts to get the kit put on and found my wheel choice. Sizing was a bit of an use for me in the beginning because I wanted a nice meaty fitment with a slight poke over flush, but from research I thought I could pulling off 17×11 all around but I was definitely wrong. Realistically you can run an 11 up front with major stretch, but just wasn't the look I was going for… "
"…So had to  just resized the inner barrels to make the wheel a 8.5 and still had slight rubbing issues so a lot not cutting inside the fender well and headlight brackets had to be done. Also had to have some bumper extenders made to keep the bottom of the bumper pushed out enough to clear for turning. But boy once all 4 wheels were on and rolling I was in love…"
We like the kit and mix of parts. What inspired your modifications/styling?
"Well I liked the OEM styling from the stock trim kit, so wanted to keep a simple clean look with that, and with the Pandem kit it looked kinda empty with the lower side profile so chopping up the Mazdaspeed skirts filled it up nicely…"
How did you decide on the AG wheels with all the other nice wheels out there? 
"…I didn't want to over do it with the giant wing so when saw how sexy the Sard wing looked on the RF I just had to go in that direction. With it being a wing for a BRZ new brackets had to be made to have it centered, and also had to be extended a lot higher for the roof to function. I left the under belly of the wing carbon and had the top paint matched for a nice touch…" 
"I knew I wanted to go with some custom forged wheels and Avant Garde had their signature polished liquid bronze lips that I've always drooled over so I started looking in their catalog. And when I chose the F139 they were able to help me out.."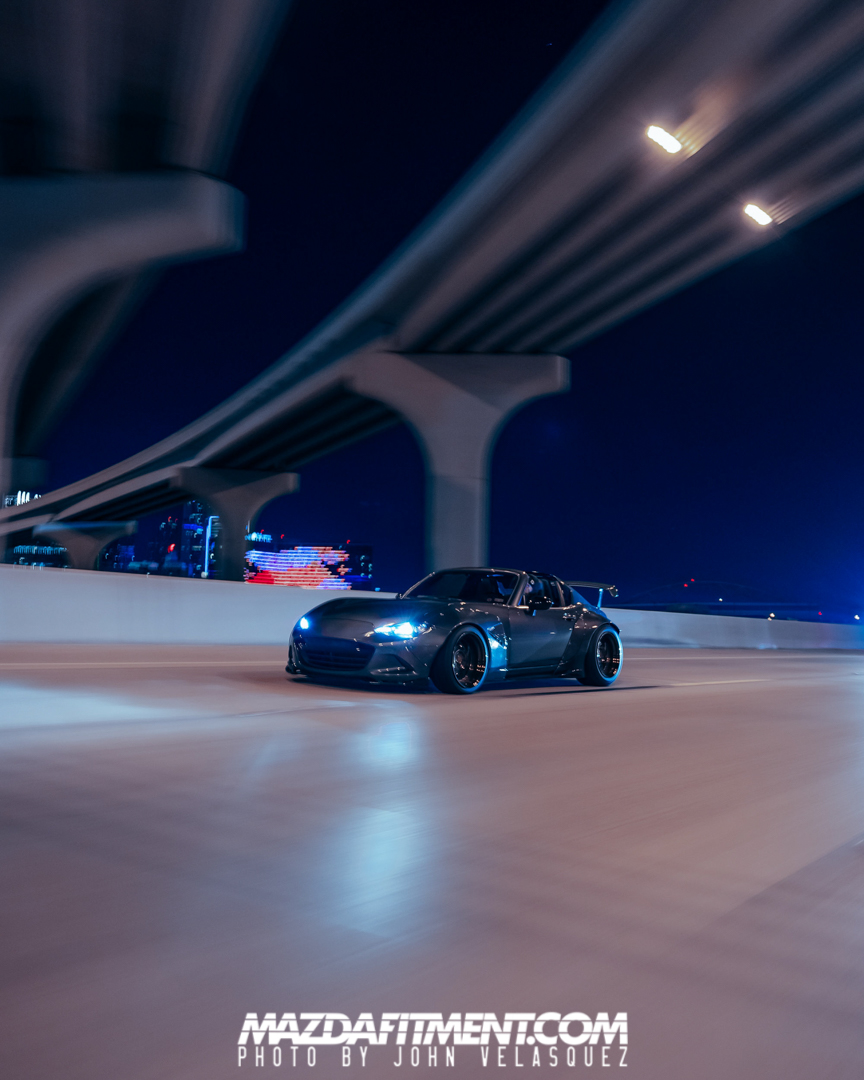 "…By redesigning the center for a 4×100 and boy was that the longest wait of my life especially after having to send 2 wheels back for resizing. But they had great customer service and kept me updated with everything."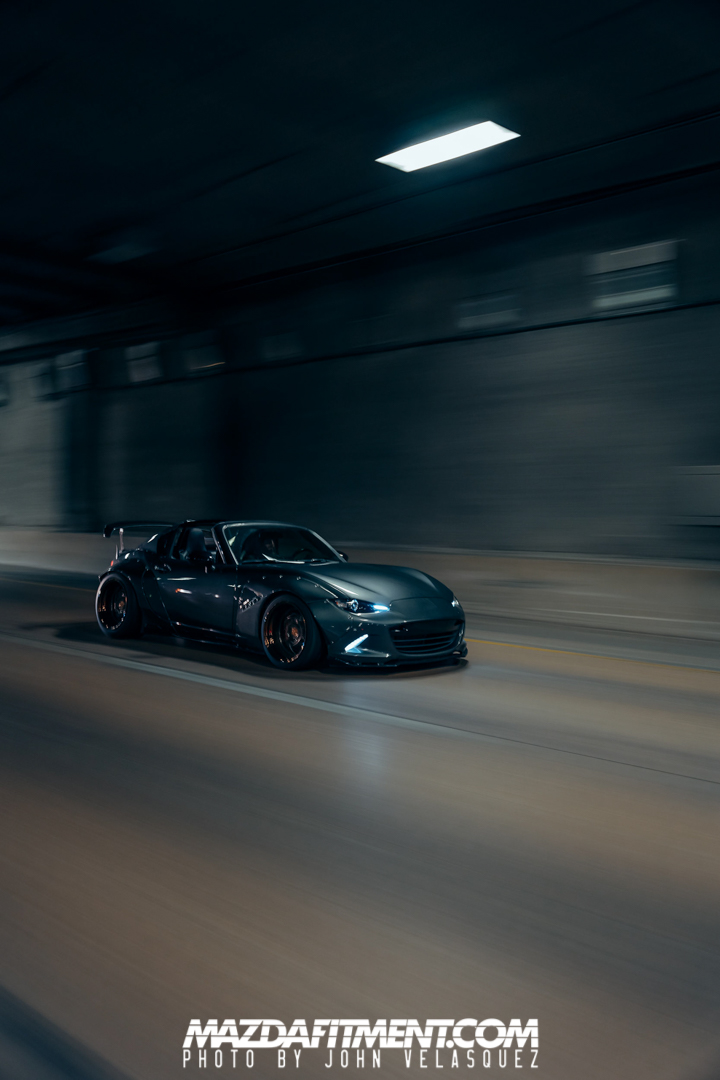 Any future plans for the ride?
"Currently waiting for the Edelbrock supercharger to get released for the ND2 and on the fence for a carbon hood."
Anyone you want to give a special shout out or thank?
"Well my friend Austin that helped order the wheels and tires at a hook up and helping with the front fitment issues. And Brett who designed the extended brackets."
MODIFICATION LIST:
-Shaved front bumper
-Modified Sard wing from the BRZ/FRS
-Custom catback exhaust
-Ksport kontrol coilovers
-AG wheels F139
-Polished liquid bronze lips, black chrome face, black barrels liquid bronze hardware
-Front 17×8.5et-37 205/40-17 R888r
-Rear 17x11et-30 275/45-17 R888r
-Factory Recaro seats and Brembos
-Pandem front and rear fenders
-Full factory Mazdaspeed aero kit modified sideskirts to fit Pandem kit
Hope you enjoyed this. Thank you to Grizzzly Cam for letting us share these, and again special thank you to John Velasquez for providing these beautiful shots. Be sure to reach out to him if you are in Dallas, Texas looking for great automotive shots. More photos in the gallery below. Enjoy.
There are lot of builds we will never be able to come across, so please email us if you think we would be interested!
Email us at mazdafitment@mazdafitment.com