This year went by quickly and it is already the end of the year. Benky's low riding roadster crew put on an end of year meet in Okayama, Japan. At his meeting you can see everything from a NA to ND Miata, and if you check out the video below you can see a lot of other friends with other makes/models come out to socialize.
Tomataro's NA roadster with the Pit Crew Racing front end and BBS RS wheels.
Hajime's NA Miata on Work Emotion RS11.
Naka Akira's Silverstone Metallic NA Eunos Roadster on Work Equip 03.
Previously featured here with Work Equip 40: https://mazdafitment.com/2019/11/11/nakira-v2/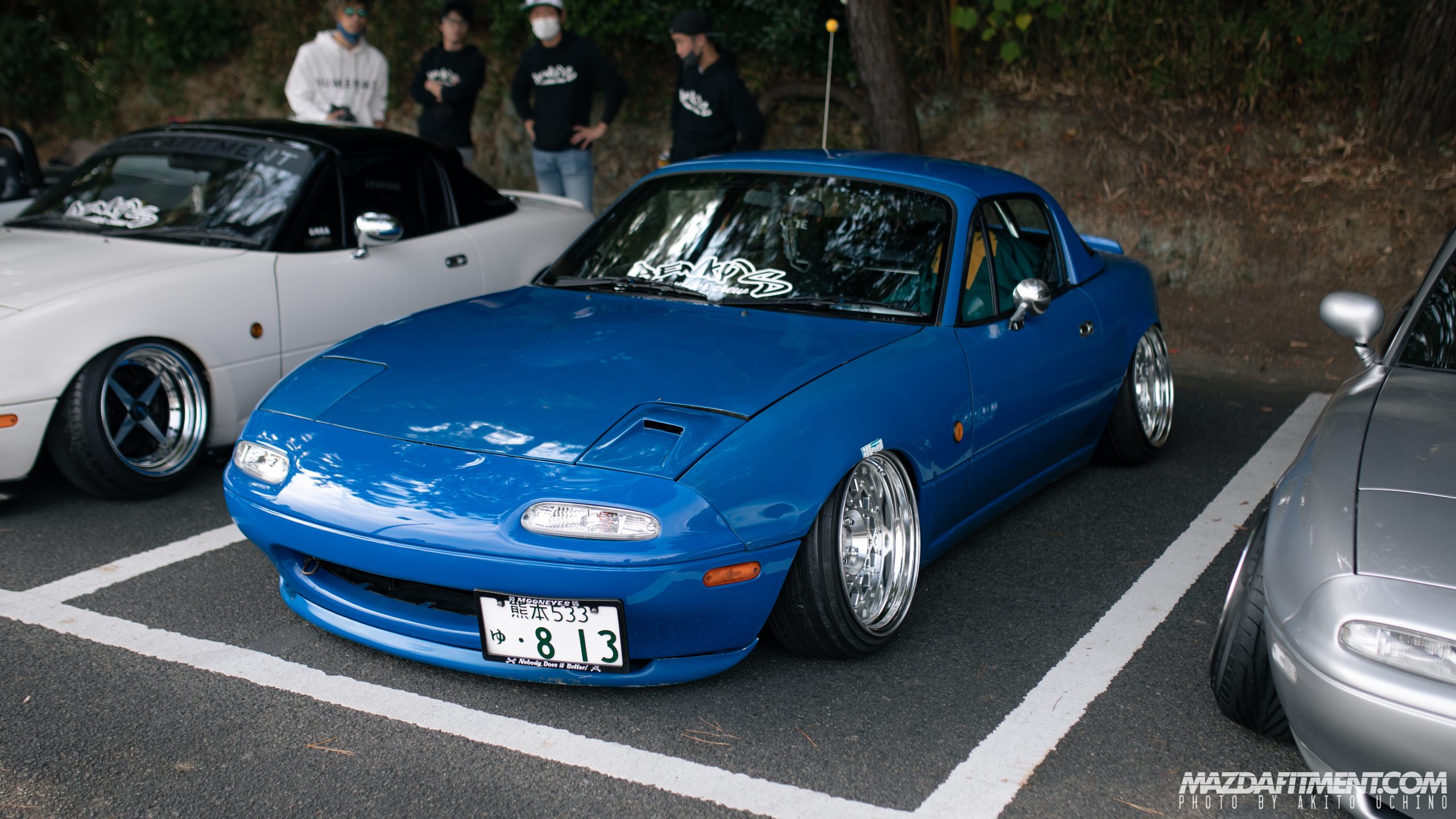 Kiyofuji's Blue 1992 NA6CE Miata on Barramundi Design Grouper.
Takayuki Tsuchido's White NA Miata on Work Equip 01.
Also seen here is the Mazda Fitment universal windshield banner in matte black; available in various other colors as well on shop.mazdafitment.com and shipped to anywhere in the world.
Previously featured here: https://mazdafitment.com/2019/09/05/tsuchido-miata/
Akira Ikeda's White NA Miata on BBS RS.
Masuda's Green NB8C Miata on 16×9 Keskin KT1 wheels.
Atsuya's wide NB6C Roadster on 15×10 -54 Work Equip 03.
Yuya's Red NB8C Miata on Volk Racing TE37V.
Tomoya Kawaguchi's White NB6C Miata on Work Meister S1.
Otako's Black NB6C Miata on BBS RS.
Suzuya Tsukachi's Black NB8C Miata on Work Equip 01.
Low + Roadster = Lowdster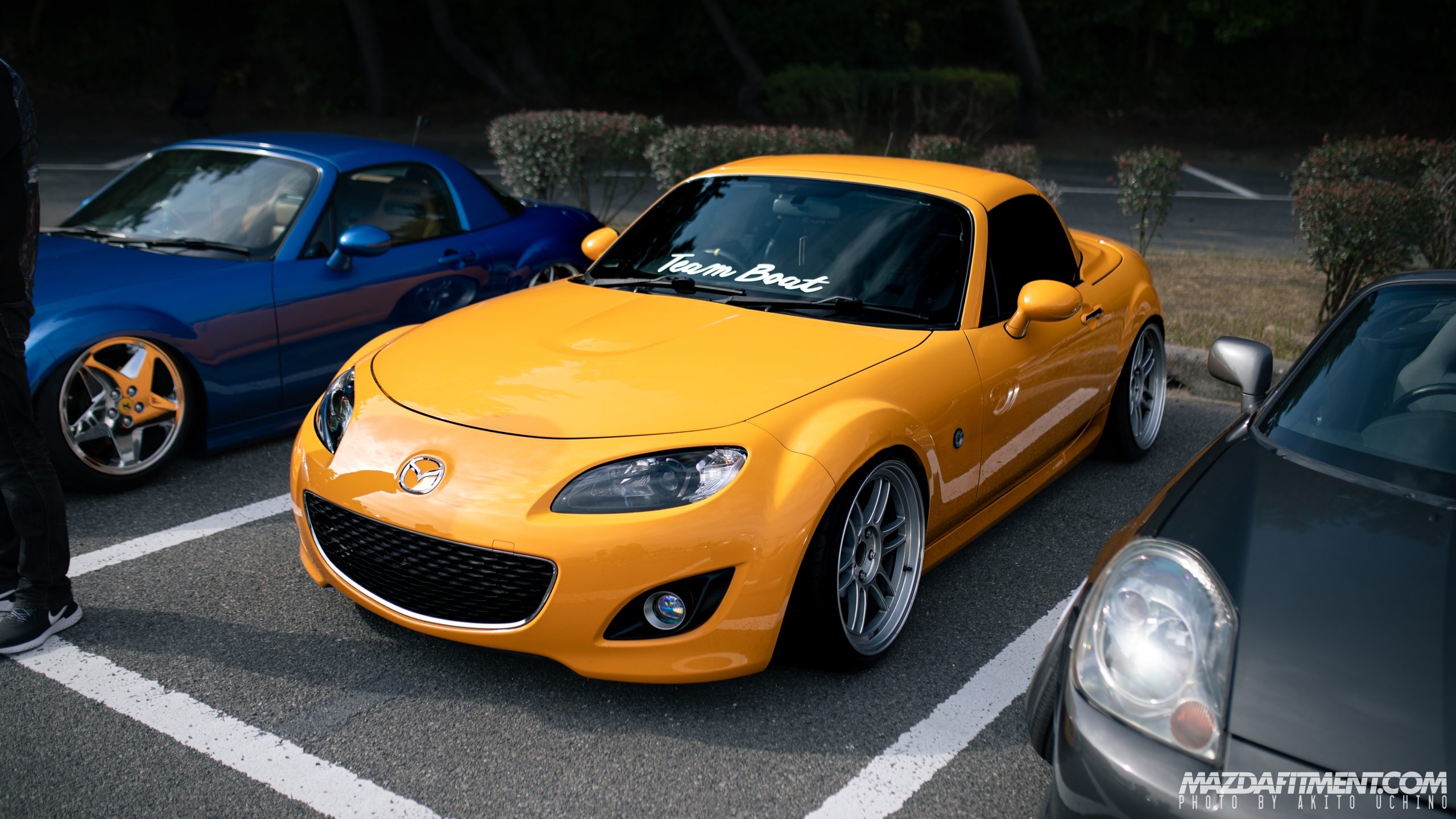 R.Shimokawatoko's Yellow 2009 NC2 MX-5 on Enkei RPF1.
Rocksolid's Blue NC Miata on genuine Ferrari 348 TS wheels.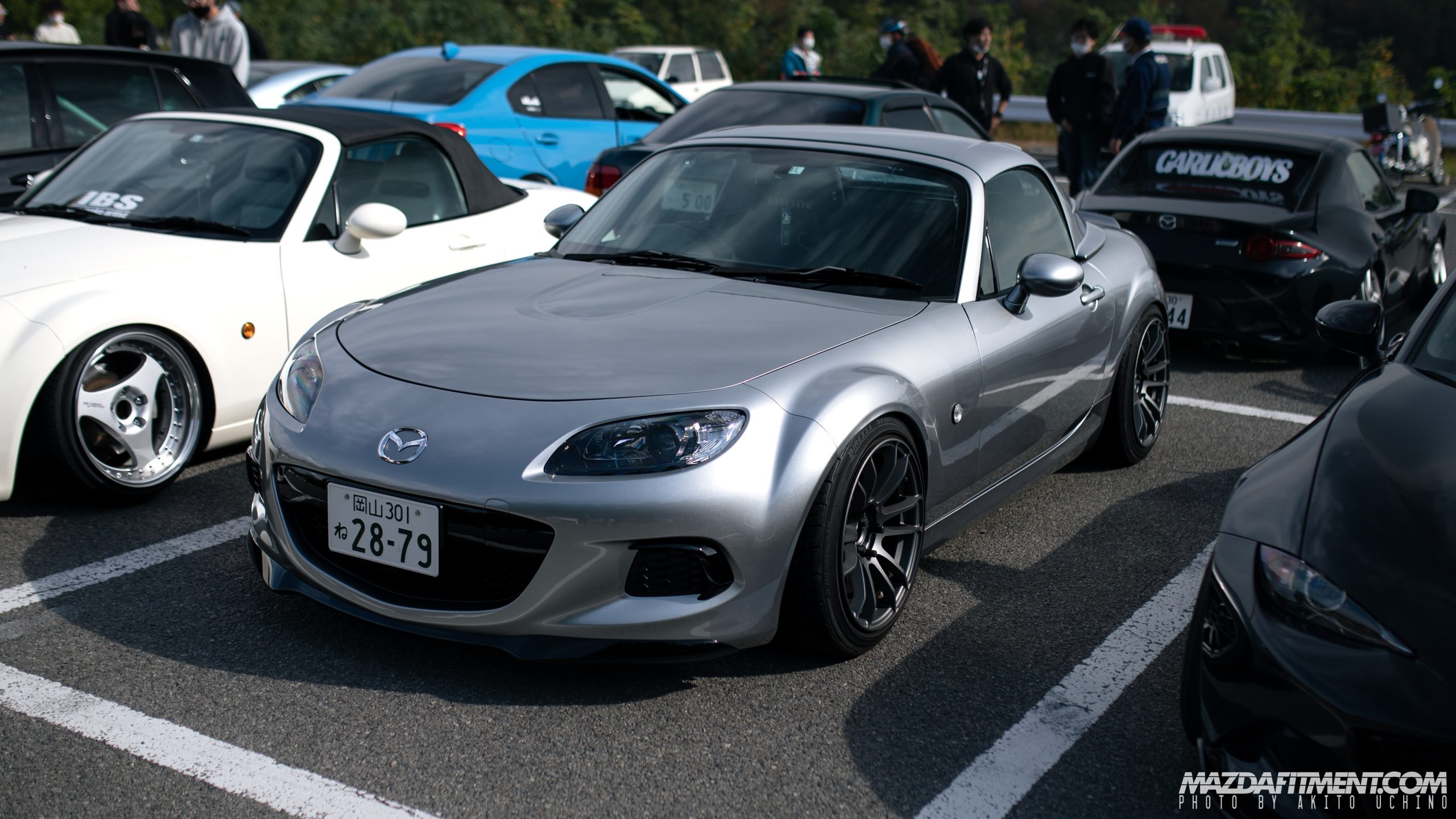 Sugiyama's Silver NC Miata on Gramlight 57XR.
Souma's White NC roadster on Advan Racing Oni.
Akagi Nia's Yellow NC roadster on BBS RS.
Shota Kihara's ND Roadster (ND5RC) on Volk Racing TE37VSL.
Ryunosuke Kato's Black ND Roadster on Work Autostrada Modena wheels.
Yu Mizuno's Red Pandem widebody ND5RC Miata on Barramundi Design wheels.
Love gatherings like this with like-minded individuals just enjoying their passion together. Thank you to Uchiiii for taking photo coverage of this meet-up. Enjoy.
Want to feature your ride? There are lot of builds we will never be able to come across, so please email us if you think we would be interested!
Email us at mazdafitment@mazdafitment.com