It has been about three years since we last saw Kuma Tosaka's 1st generation Mazda Axela (MZ3) from Japan. You can see that previous feature here: https://mazdafitment.com/2019/05/01/tosakajapan-mz3/
It is becoming less common to see the 1st generation still being modified and shared. Kuma is back this year with a refresh on his ride with a full color change, more camber, and different wheels.
We got to talk to Kuma about his new changes and a challenge 1st generation/2nd generation owners face with the fitment game on this chassis.
Kuma, what made you decide on Soul Red Crystal Metallic? Was there another color choice you wanted?
"I like the color red. After Soul Red Crystal Metallic was made, I decided to choose this color. Also, I thought I could make a completely original BK (1st gen) MZ3 if I chose this color."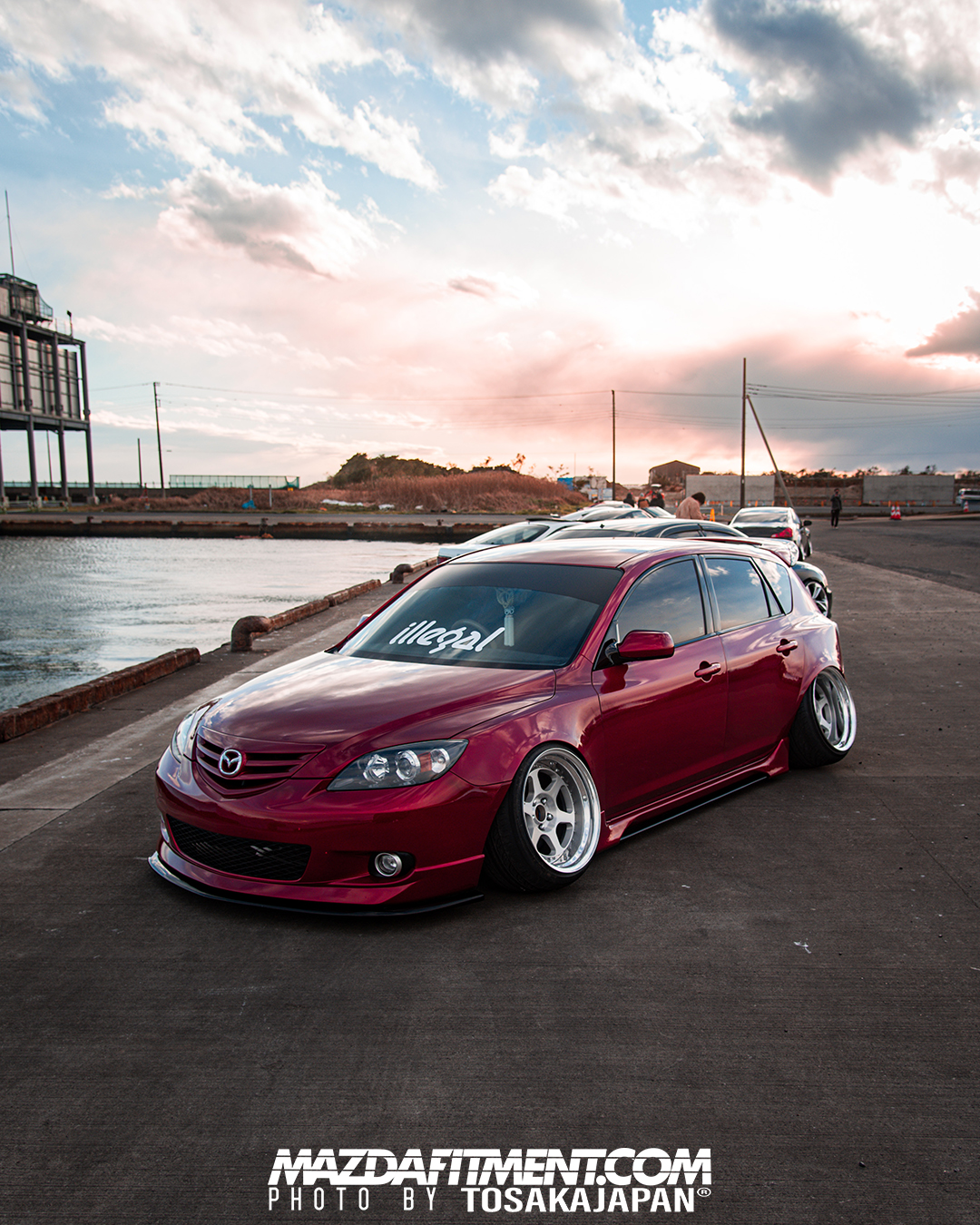 For most first generation/second generation owners achieving more front camber with fit a more aggressive wheel can be hard. How did you achieve your front camber? We like that your front and rear camber is even.
"The lower shock mount where it goes into the hubs was angled and welded to get the front camber I was looking for."
Interested in what your rear glass window sticker says Does it relate to your TOSAKA JAPAN group?
"I am the boss of the team called TOSAKA JAPAN, so the sticker is for my team. The ""友達いないけど" on the rear glass window translates to "This is the family I belong to." It means a lot to me."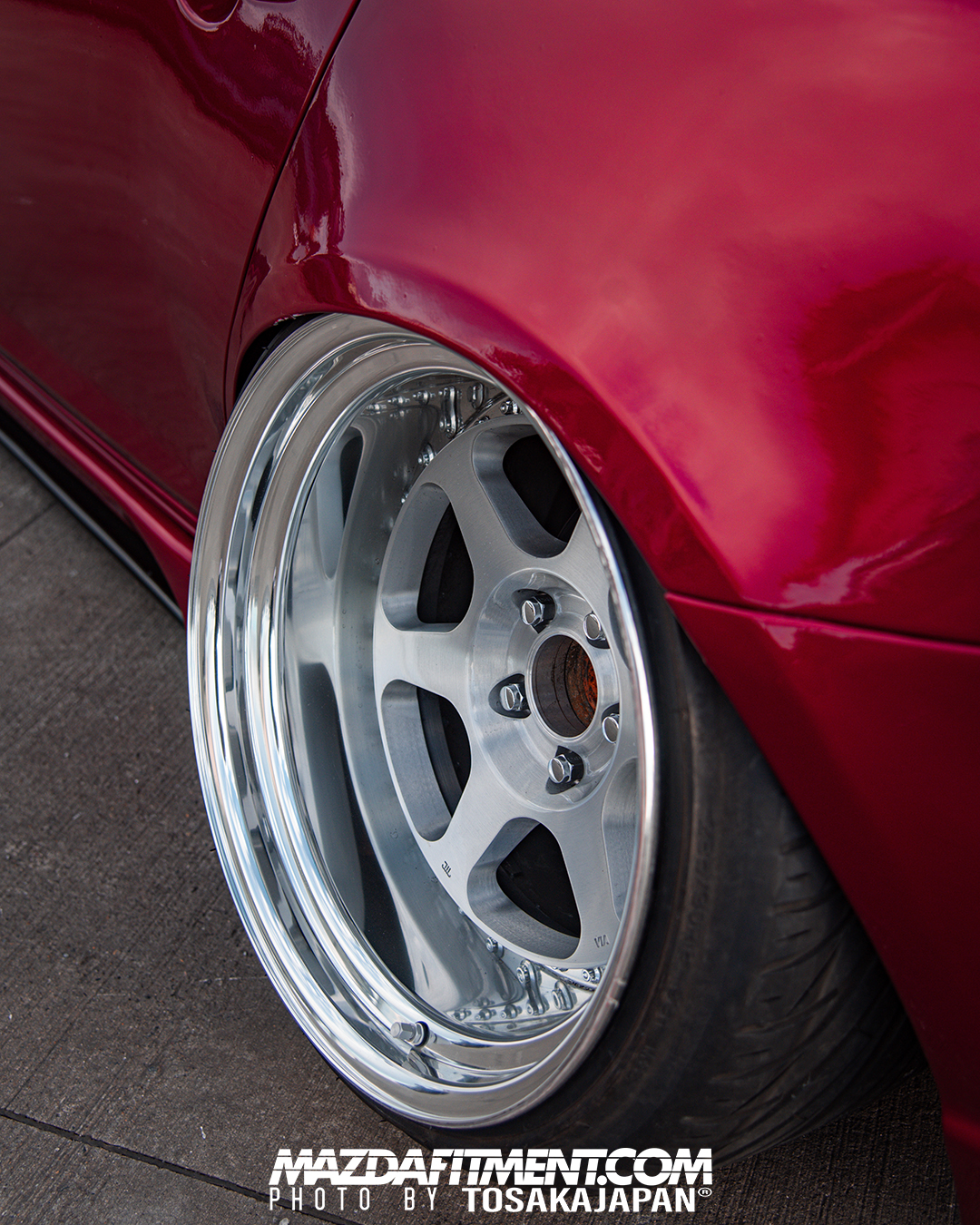 These Work Meister L1 look great on here, and a nice change from the previous setup.
So, what can we expect in the future for the car?
"I am satisfied right now, but it will continue to evolve."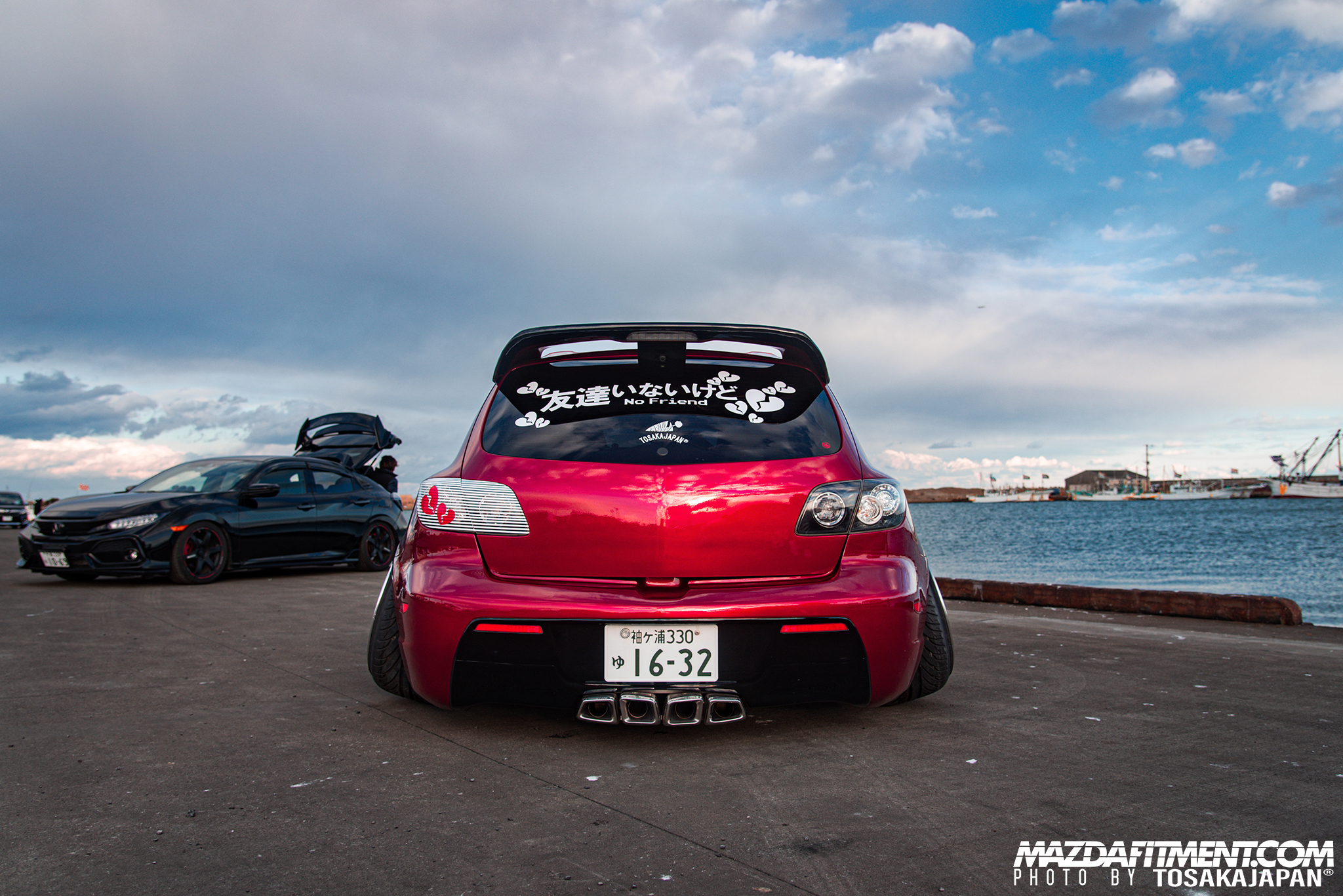 MODIFICATION LIST:
-Mazda genuine color: Soul Red Crystal Metallic
-Work Meister L1 (Brushed faces)
-Front 11J-18 & Rear 12.5J-38
-Camber front & rear -14 degrees
-MS3 rear wing
-Front and rear USDM bumper
-One off front lip and sides add-ons
-Blitz Coilovers (326power 36k springs)
-SPC rear camber arms
-Mercedes Benz E63 AMG muffler
-Front fender radius 20mm and 50mm wide
– Rear fender radius 10mm and 70mm wide
Thank you to Kuma for sharing this update with us. We love seeing the progress with builds and the love the owners have for them. More photos in the gallery below. Enjoy.
Want to feature your ride? There are lot of builds we will never be able to come across, so please email us if you think we would be interested!
Email us at mazdafitment@mazdafitment.com