The Mazda Miata, also known as the MX-5, is a beloved roadster that has seen several generations of updates and improvements. Now on the 4th generation, we still look back at the previous generations for the notable differences that distinguish them from each other. Today, we look at the 2nd generation Miata (NB), which introduced the fixed headlights, more aerodynamic shape overall, and brought some performance improvements.
Car enthusiasts even today love to customize the NB Miata to reflect their own style and preferences. A low style and a wider overall appearance is one way to personalize its appearance and make it stand out from the crowd. But, not everyone can execute it well to achieve their unique vision for the platform. A prime example of this is Kosuke Gando's 2002 Alpina Green Miata from Saitama, Japan.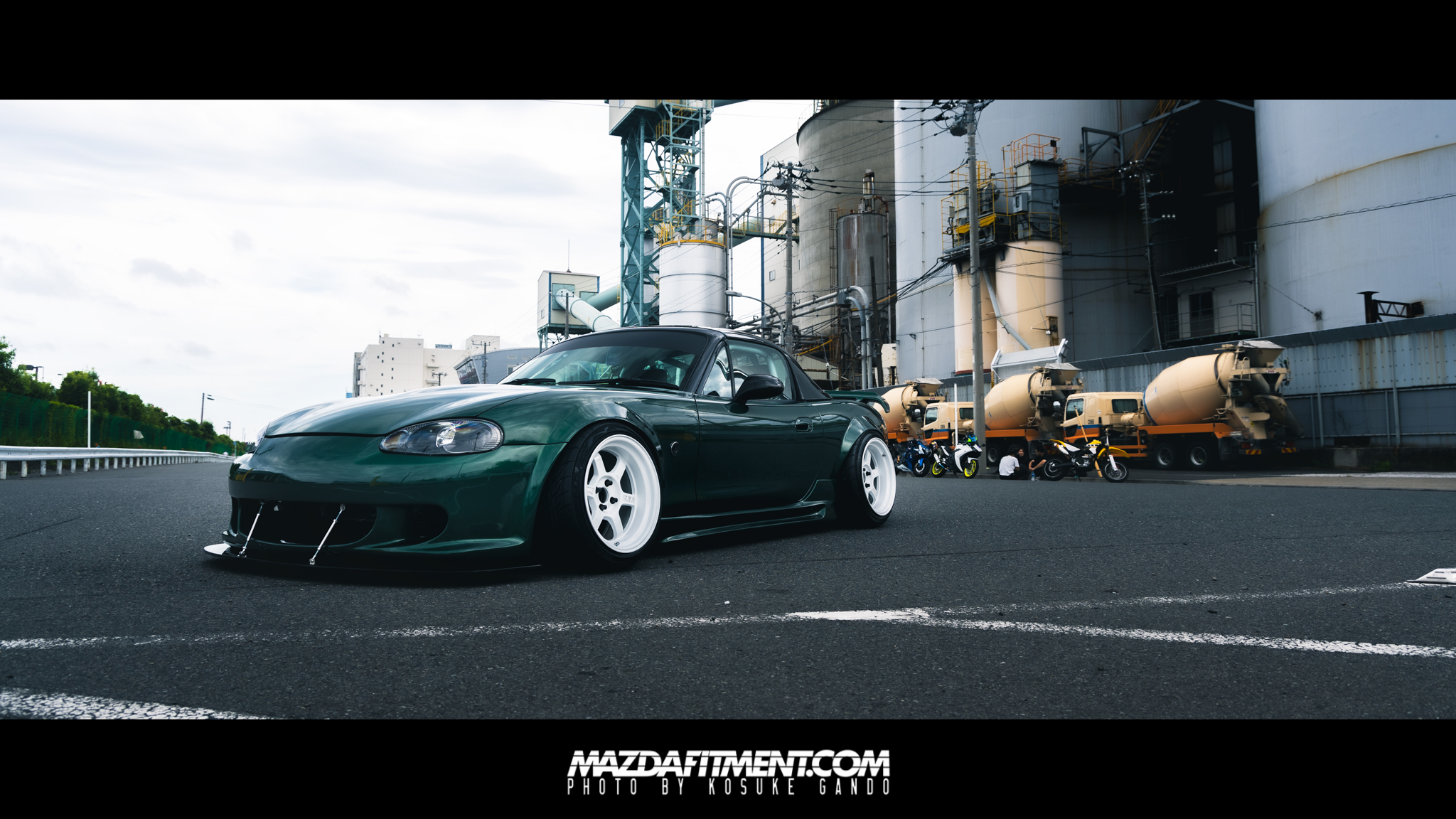 We have been following Kosuke's NB roadster for awhile.
You can see what it used to look at here: https://mazdafitment.com/2023/01/10/late-night-nb-miata-video
So, we just had to take a closer look at Kosuke's complete make over for the build.
 Kosuke, how did you come to own the Miata? Did you have something different before?
Kosuke、どうやってミアータを所有するようになったのですか? 以前は何か違うことがありましたか?

"NB Miata is my first car. My father bought an NC Miata when I was 12, and that's how I got interested in Miata."
"I started thinking about buying a Miata when I was 16 or 17 years old."
"The HellaFlush style was popular at the time, and I wanted to do Shakotan as well."
"Therefore, I was interested in NB Miata, which has a particularly low silhouette among Miata and looks thin."
I actually purchased NB Miata when I was 21 years old.
"NB Miataは私にとって初めての車です。私が12歳の時に父がNC Miataを購入したことから、Miataに興味を持ち始めました。"
"Miataの購入は16〜17歳頃に意識し始めました。"
"当時hellaflushスタイルが流行しており、私もシャコタンをやりたいと考えました。"
"そこで、Miataの中でも特にシルエットが低く、薄く見えるNB Miataに興味を持ちました。"
"実際にNB Miataを購入したのは私が21歳の時です。"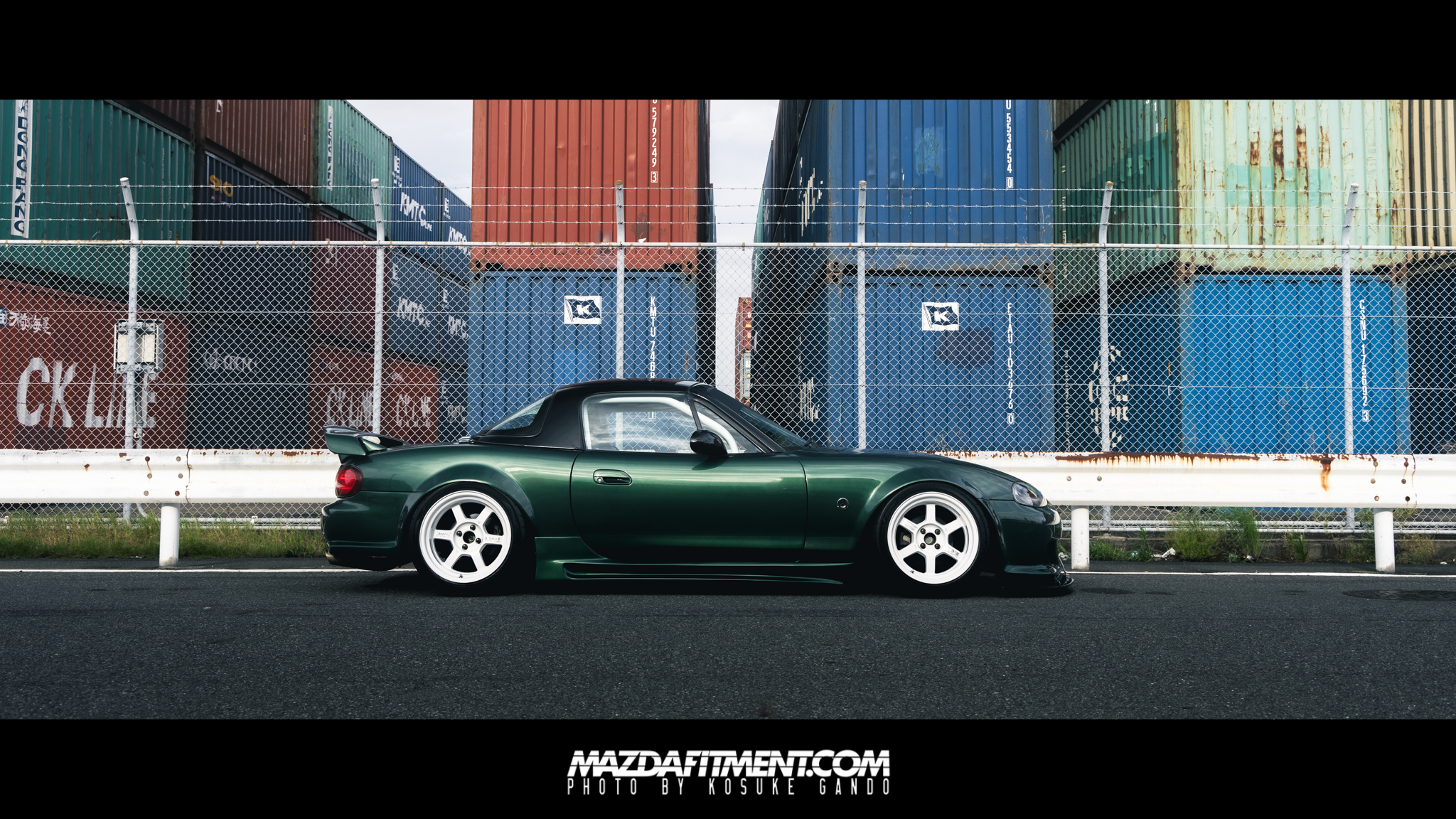 So, then what inspired your modifications and styling?
修正やスタイリングのインスピレーションとなったのは何ですか?
"My first inspiration was @yamata1 (IG)'s Cheddar Cheese Miata."
"When I saw this Miata, I also wanted to ride a low and stylish 16-inch NB Miata."
"Therefore, I lowered the vehicle height, installed Fifteen52 wheels, and attached a plated mirror."
"However, with the introduction of MOMO's steering wheel and RECARO's full bucket seat, the sporty elements have increased, so we changed the wheels to TE37V, introduced a roll gauge, and aimed for a track stance style."
"The current styling is inspired by the Silvia and S2000."
"For example, the AutoExe front bumper has a duct shape similar to the ASM S2000 front bumper."
"In addition, the Garage Vary rear wing is similar to the 326 Power MAN-RIKI Wing often used in Silvia."
"Steel plate welded wide fenders are a technique often used in dress-up drift car events (DORI-DORE) held in Japan."
"私が最初にインスピレーションを受けたのは @yamata1 (IG)の Cheddar Cheese Miataです。"
"このMiataを見た時に、私も低くてオシャレな16インチを履いたNB Miataに乗りたいと考えました。"
"そこで車高を下げてFifteen52製ホイールをインストールし、メッキミラーを付けていました。"
"しかし、MOMO製ステアリングホイールやRECARO製フルバケットシートなどを導入したことで、スポーティな要素が増えてきたため、ホイールをTE37Vに変更し、ロールゲージを導入し、トラックスタンススタイルを目指しました。"

"現在のスタイリングは、シルビアやS2000からインスピレーションを受けています。"
"例えば、AutoExe製フロントバンパーはASM製S2000用フロントバンパーに近いダクト形状となっています。"
"また、ガレージベリー製リアウイングは、シルビアでよく使われる326 Power製の満力ウイング(MAN-RIKI Wing)に似ています。"
"鉄板溶接のワイドフェンダーは、日本で行われるドレスアップされたドリ車のイベント(DORI-DORE)でもよく使われる手法です。"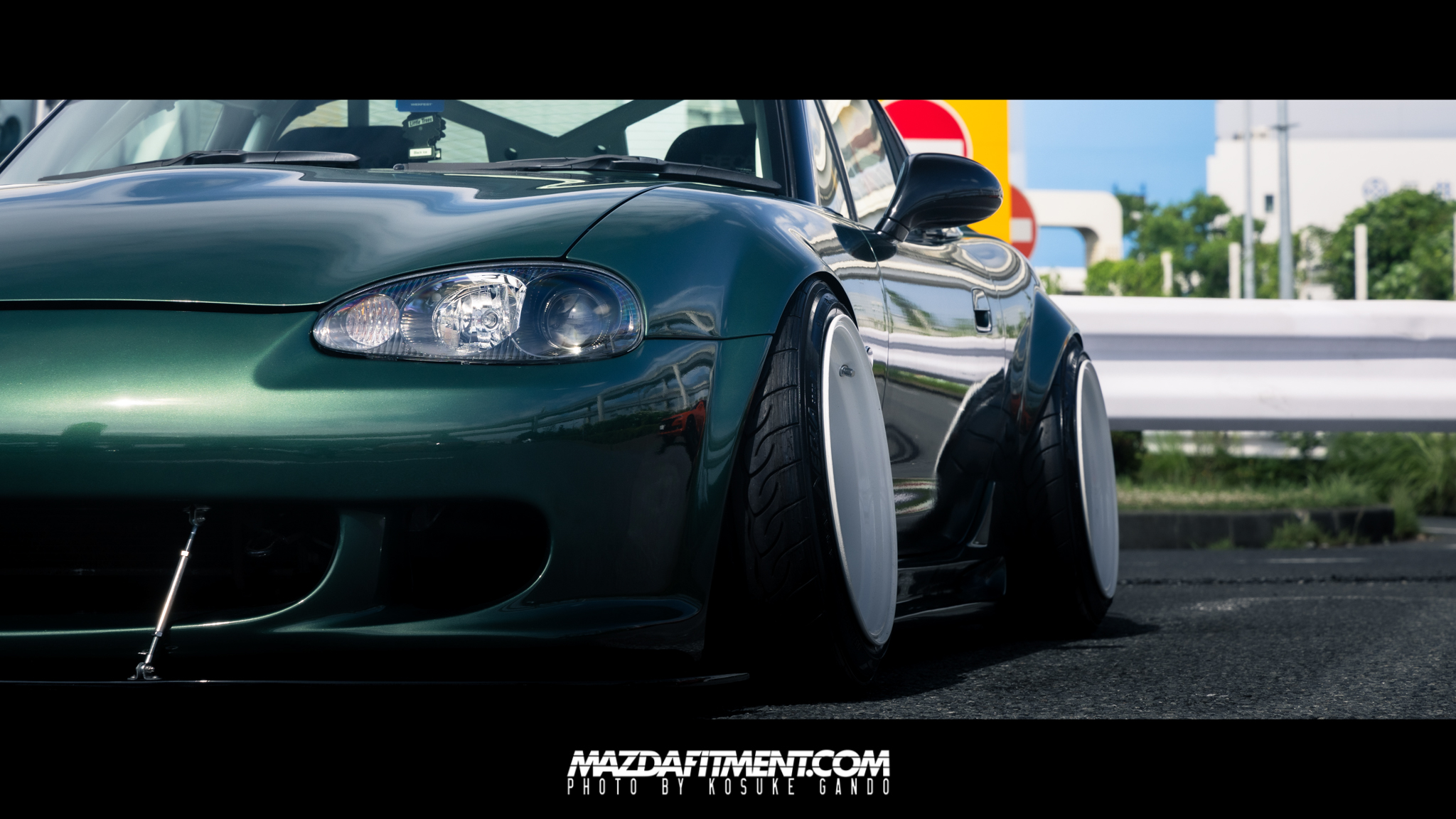 Then we wonder what is the biggest challenge with modifying and styling the Miata?
Miata の改造とスタイリングが最大の課題ですか?

"The biggest challenge was figuring out the total balance of the aero parts."
"I had decided to install an AutoExe front bumper, but it was very difficult to find a side skirt and rear bumper that would match."
"I chose Garage Vary for the rear bumper, but I processed it so that the shape of the front bumper and the sense of unity would come out."
"Also, when the fender is widened, the tire size has been increased from 195/40R16 to 195/45R16 so that the impression of the tire is not lost."
"Furthermore, when processing the fenders, the wheel arches were raised 4 to 5 cm to make the body look thinner and the sidewalls of the tires visible, resulting in a strong fit."
"エアロパーツのトータルバランスを考えるのが最大の課題でした。"
"AutoExe製フロントバンパーを装着することは決定していましたが、それに似合うサイドスカート、リアバンパーを探すのがとても大変でした。"
"リアバンパーはガレージベリー製を選択しましたが、フロントバンパーの形状と統一感が出るように加工しました。"
"また、フェンダーをワイドにした際に、タイヤの印象が負けないように195/40R16から195/45R16にタイヤをサイズアップしました。"
"さらに、フェンダーを加工する際にホイールアーチの4~5cm高くし、ボディが薄く見えるようにしつつタイヤのサイドウォールが見えるようにして、力強さを感じるフィットメントに仕上げました。"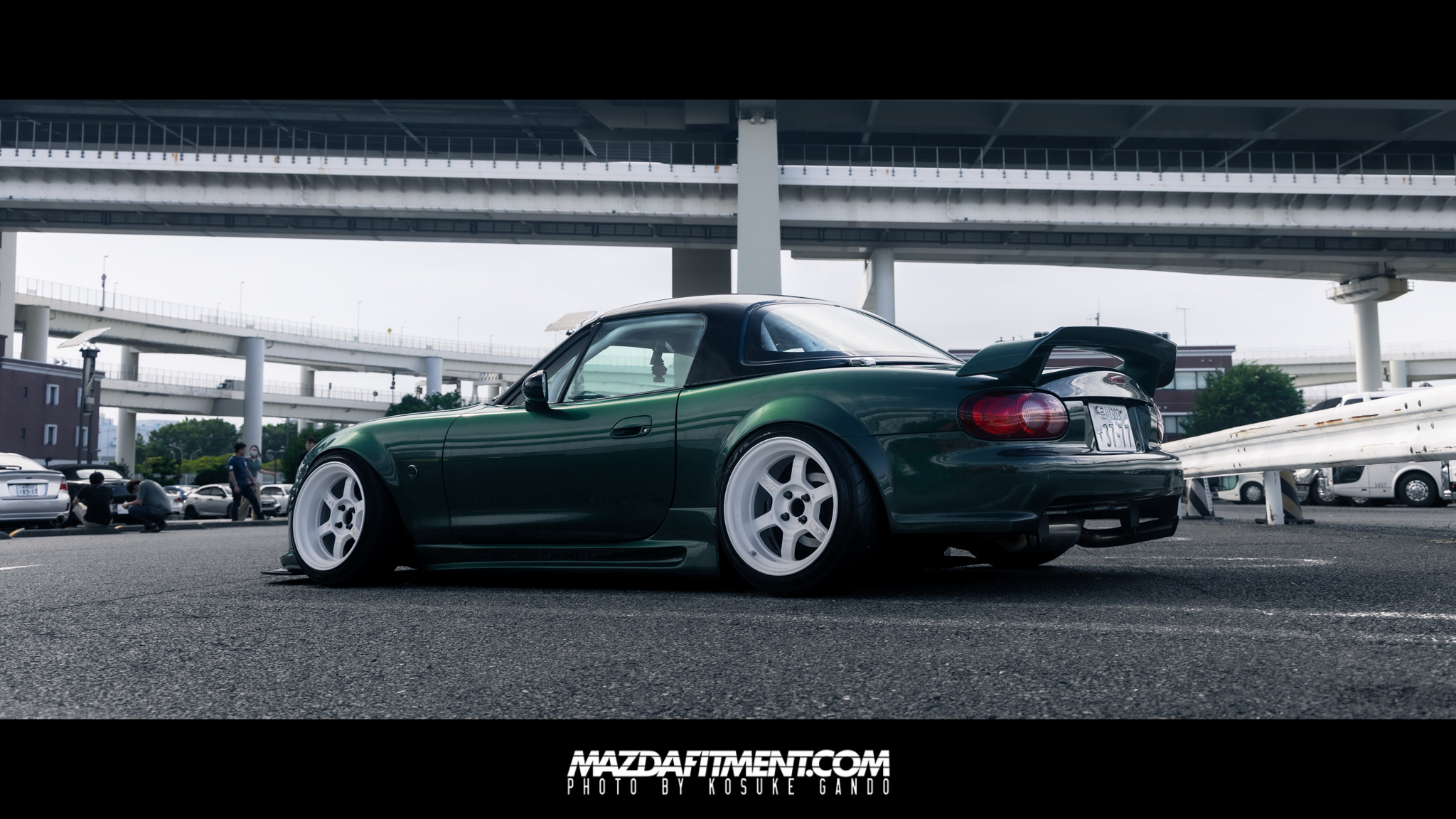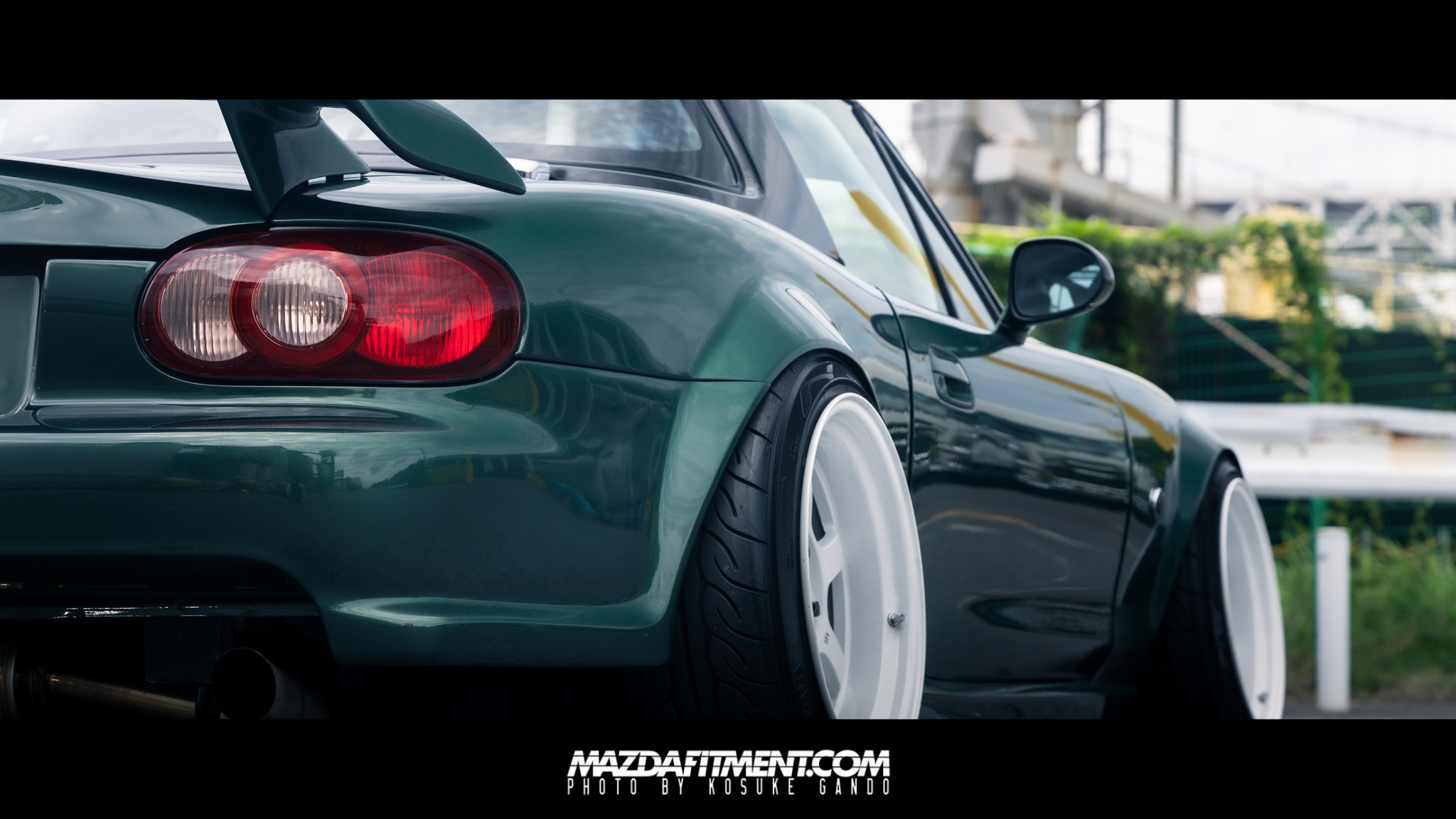 And so what future plans do you have for the build?
では、今後のビルドについてはどのような計画があるのでしょうか?
"Wheels with deeper rims"
" Bigger brakes than now"
"Door mirrors that look like Racey"
"Addition of rear diffuser"
"Tear off the interior carpet"
"Shaped bay"
"Weld the roll cage and A pillar with a burring plate"
"Engine tune"
"Exhaust manifold replacement"
"Reinforced clutch and lightweight flywheel"
"There are so many things I want to do."
"I haven't set a date yet, but I'd like to finish it little by little."
"今よりもリムが深いホイール"
"今よりも大きなブレーキ"
"レーシーに見えるドアミラー"
"リアディフューザーの追加"
"内装のカーペットを剥がす"
"シェイプドベイ"
"ロールケージとAピラーをバーリングプレートで溶接"
"エンジンチューン"
"エキゾーストマニホールドの交換"
"強化クラッチ、軽量フライホイール"
"など、行いたいことはたくさんあります。"
"期日は決めていませんが、少しずつ仕上げていきたいと考えています。"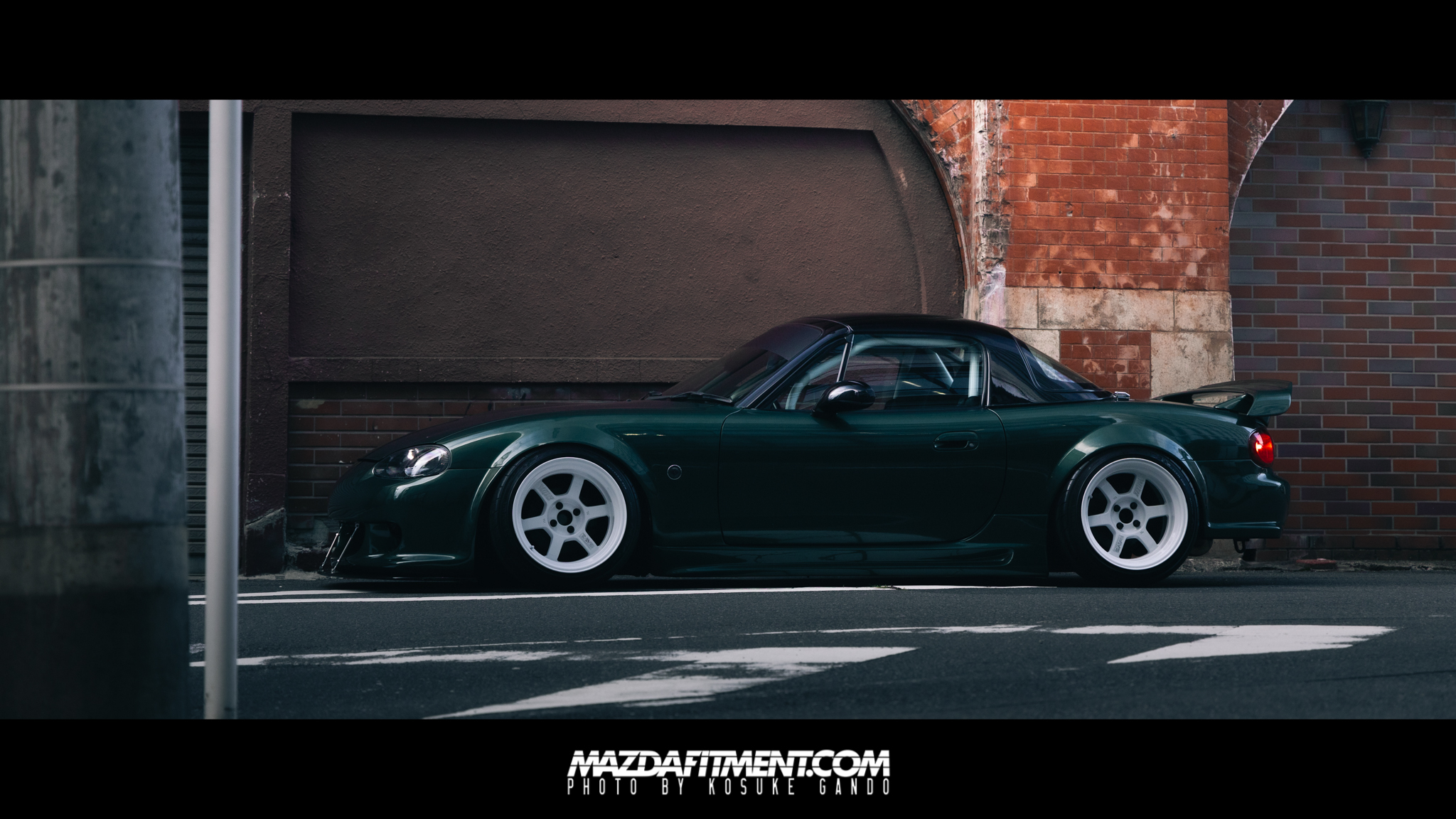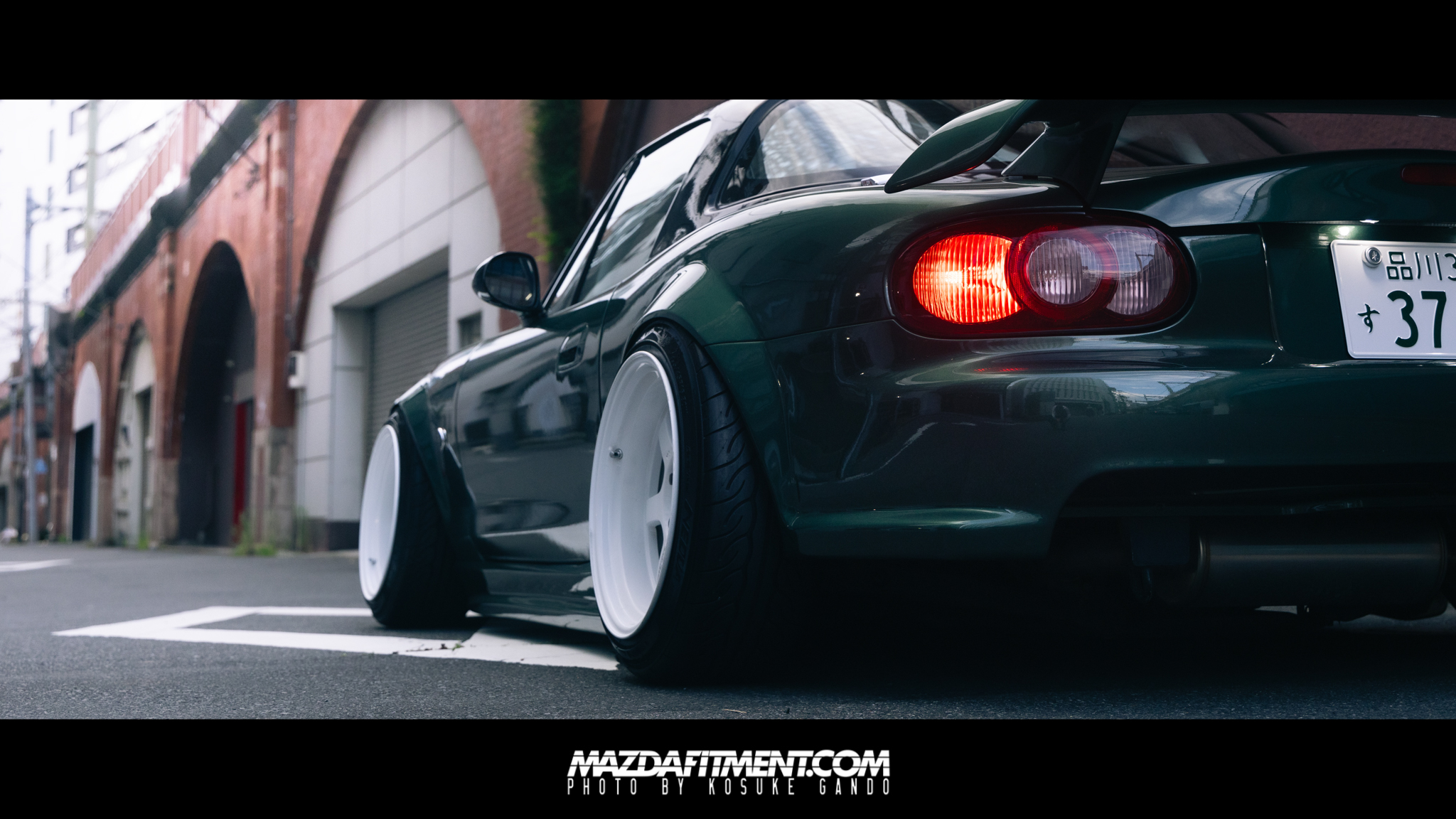 And lastly, is there anyone you would like to thank for helping with the Miata?
Miataを手伝ってくれて感謝したい人はいますか?
"I am grateful not only to those directly involved in Miata, but also to those who gave me ideas for Miata's styling."
"Miataに直接関わった人のみならず、Miataのスタイリングにアイデアをくれた人も含めて全ての人に感謝しています。"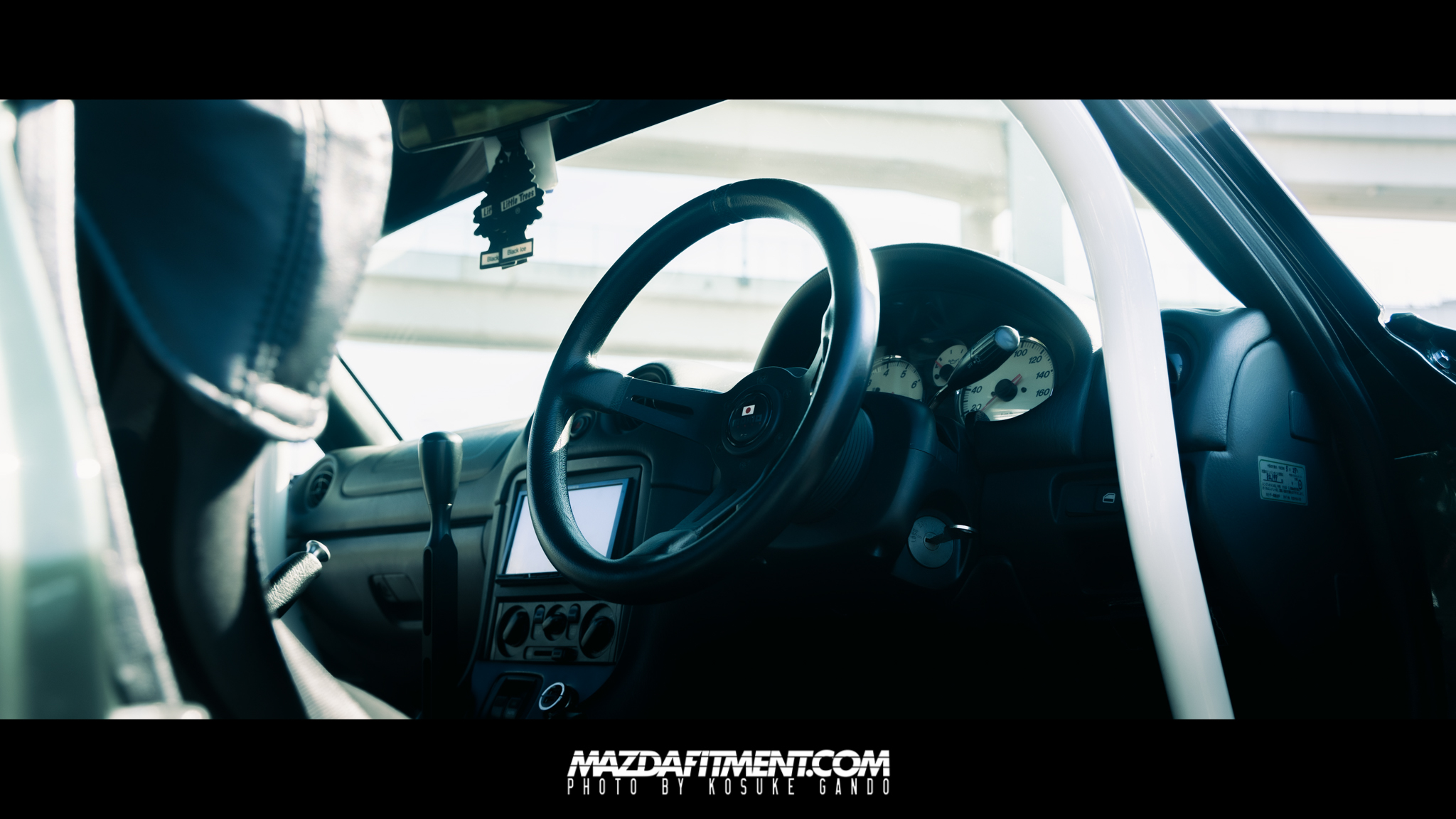 MODIFICATION LIST
EXTERIOR
-BMW ALPINA GREEN
-Original wide body
-Ulterior Motives Flare SV6
-Roadster turbo headlight
-AutoExe Front Bumper
-URAS Under flap TYPE-A (custom made)
-URAS Connection Rod
-US Racing side skirt
-Garage Vary Rear Bumper TYPE-N (custom made)
-Garage Vary Rear Spoiler
WHEELS / SUSPENSION
-RAYS VOLK RACING TE37V 10th Anniversary
-Front 9j ±0 16 inches (Add 50mm spacer)
-Rear 9j ±0 16 inches (Add 60mm spacer)
-SHORIN damper
-Front 326 power springs 32kgf H100mm
-Rear Nissho tires springs 22kgf H80mm
INTERIOR
-Momo Racing steering wheel
-RECARO TS-G full bucket seat
-IRP Short Shifter
BODY REINFORCEMENT
-Okuyama DASH 8-point roll cage
-LAILE Beatrush Brace Bar
With Kosuke NB roadster, we were really interested in learning about his approach to achieve his vision. Love everything that is done so far, and excited to see this build evolve.
Hope you guys enjoyed this one. Special  thank you to Kosuke Gando for sharing the makeover with us.
Want to feature your ride? There are lot of builds we will never be able to come across, so please email us if you think we would be interested!
Email us at mazdafitment@mazdafitment.com