Recently when the world was more focus on the invisible enemy, and majority of the world was more indoors…We had the perfect opportunity with Frank Martin's help to linking up with Chardasouras aka Richard Ribeiro and his 1987 Yellow Mazda FC3S RX-7 Turbo II in the Bay Area, California.
So, Richard what lead you to this FC? Did you come from something different before this?
"So I originally came from an AE86…I got an FC for a daily when I was building my 86. Fell in love with the FC and the rest is history…"
We love the BN Sports kits and Panasports. What inspired your modifications and styling?
"I've always been a Mitsuru Haruguchi fan, so I had to have the BN Sports kit for the FC…"
"My inspiration for Panasports comes from Team Sexy Knights…Panas on the FC has always been my favorite combination. I've owned multiple FCs and each one of them always are fitted with Panas…"
Any challenges trying to emulate those modifications/styling with your FC being in the US?
"Not really…I've been into FC's for about 8 years now, so over time you gather the cool aero bits you always wanted."
We know that your involved in some cool outlets in the car community? But, simply what is Superwow Factory? What is Superwow Coffee? What is Run Up!?
"Superwow Factory is a high end sticker/vinyl business. We make custom stickers, liveries for track, drift, grip cars etc etc…"
"…Superwow Coffee is a mobile coffee operation, myself and David ( owner of SF) came up with. Every time we go to a track event either spectating or driving, we are always thirsty for some specialty coffee. So to try and bring the community closer, the idea is to serve specialty coffee for track events and car shows! Still in it's baby stages, but should be ready to rock and roll hopefully by this year…"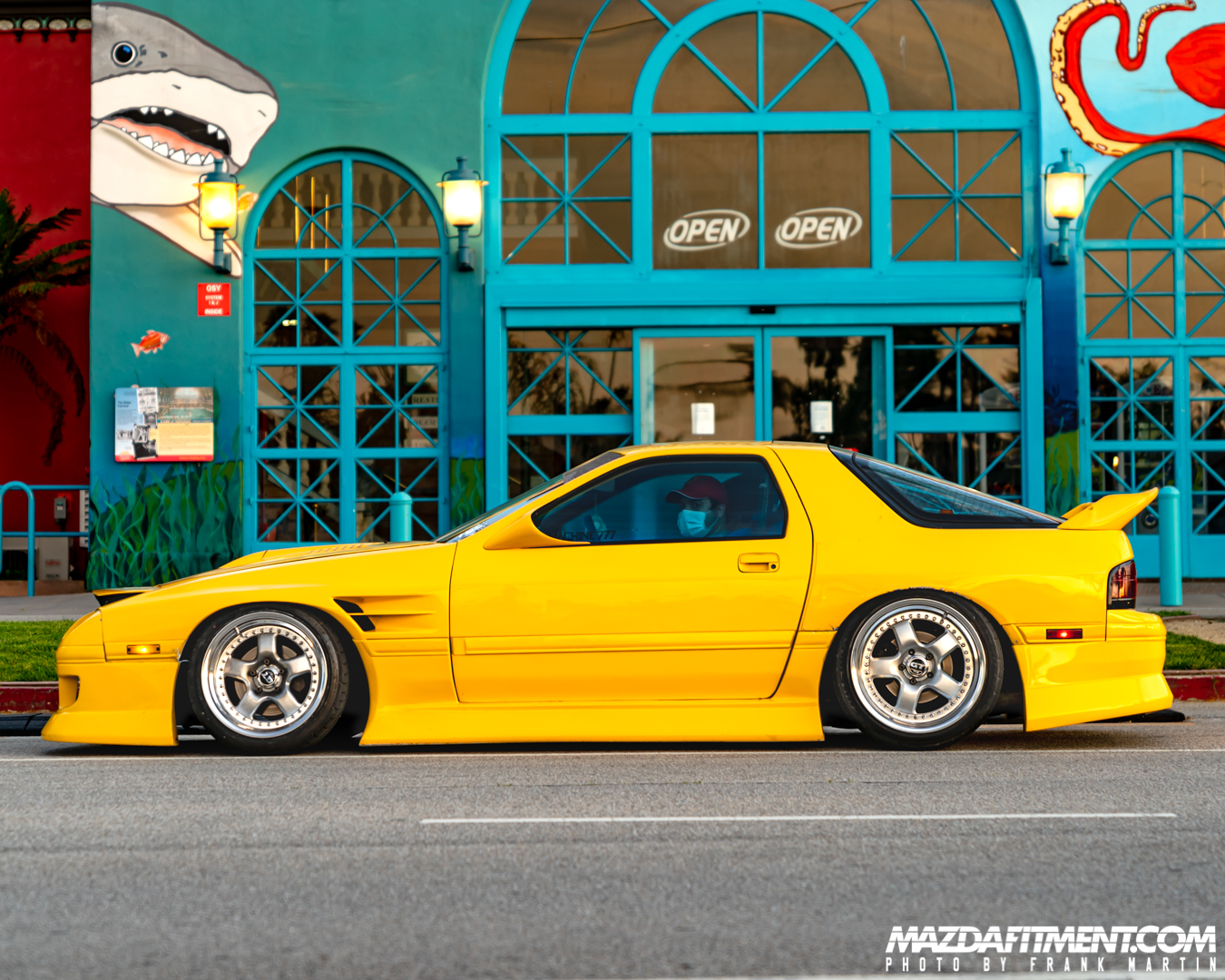 "..Run Up! Is drift team myself and several buddies started couple years ago. We have similar style in drift cars, and always drive together at many events…"
We as a team have driven Super D at Grange Motorsports all the way to Final Bout at USAIR in Shawano Wisconcin. Our goal is to try and make as many events as possible!"
Biggest challenge drifting the FC compare to other chassis?
"Biggest challenge for me is trying to drift well with the teammates…Once you start getting 5 car deep drift train, and your 3rd or 4th in line…you have to have the line perfect from the car in front of you ,or you can mess the cars line behind you up and I starts to look all bad haha."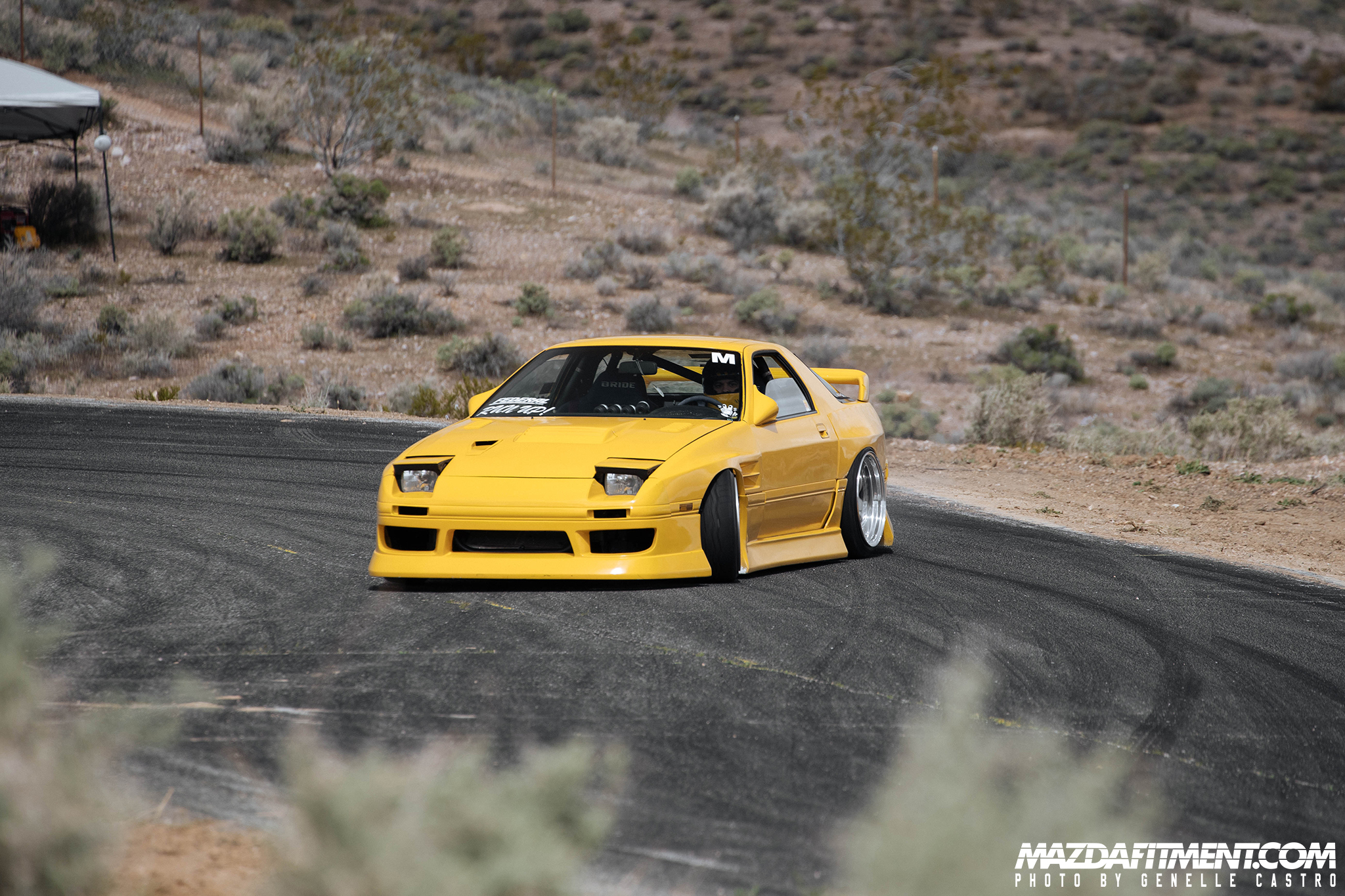 These photos are from Final Bout Special Stage West at Horse Thief Mile in Rosamond, CA. Thank you to Genelle for the photos.
So, anything you think most people don't know about the car?
"Yeah…so my car has a history…previous owner passed away: https://www.instagram.com/p/BZJ8zp0nCno/"
Any future plans for the car?
"Just drive it as much as possible!"
Any shout outs to anyone?
"Yeah, the lady of course haha…Run up! Drift team members…David from Superwow Factory…Darren Tiffany for painting it first, and Expressway Auto Body for rest of my paint needs….Angel Motorsports."
MODIFICATION LIST:
-13BREW from a FD3S built by Angel Motorsports
-Mild street port
-Borg Warner S257 turbo
-Full Function fuel rails
-ID injectors
-Aeromotive fuel pressure regulator
-Haltech 550 stand alone ECU
-Custom down pipe with Apexi N1 canister
-Custom Angel Motorsports V mount
-Stock T2 transmission
-Kazz limited slip differential
-BN sports Aero kit, shaved rear bumper done by ( Chad Soares)
-RE amemiya Type IV wing
-RE Amemiya reverse Turbo hood vent
-Hot rod louvers on hood installed by PRO SHOP NOBLE
-RE Amemiya aero mirrors
-Origin rear over fenders
-front custom vented fenders
-S5 taillights with AZRX7 LEDs.
-Bride Zeta 3 seats with bride rails
-G corporations steering wheel
-Cusco half cage
-Defi gauges
-Custom gradient tint by Superwow Factory
-Parts Shops max coilovers
-Parts shop max LCA, shortened stock knuckles, PBM rear solid bushing set
-Panasport G7 C5C2 wheels 17×9 front & 18×10 rear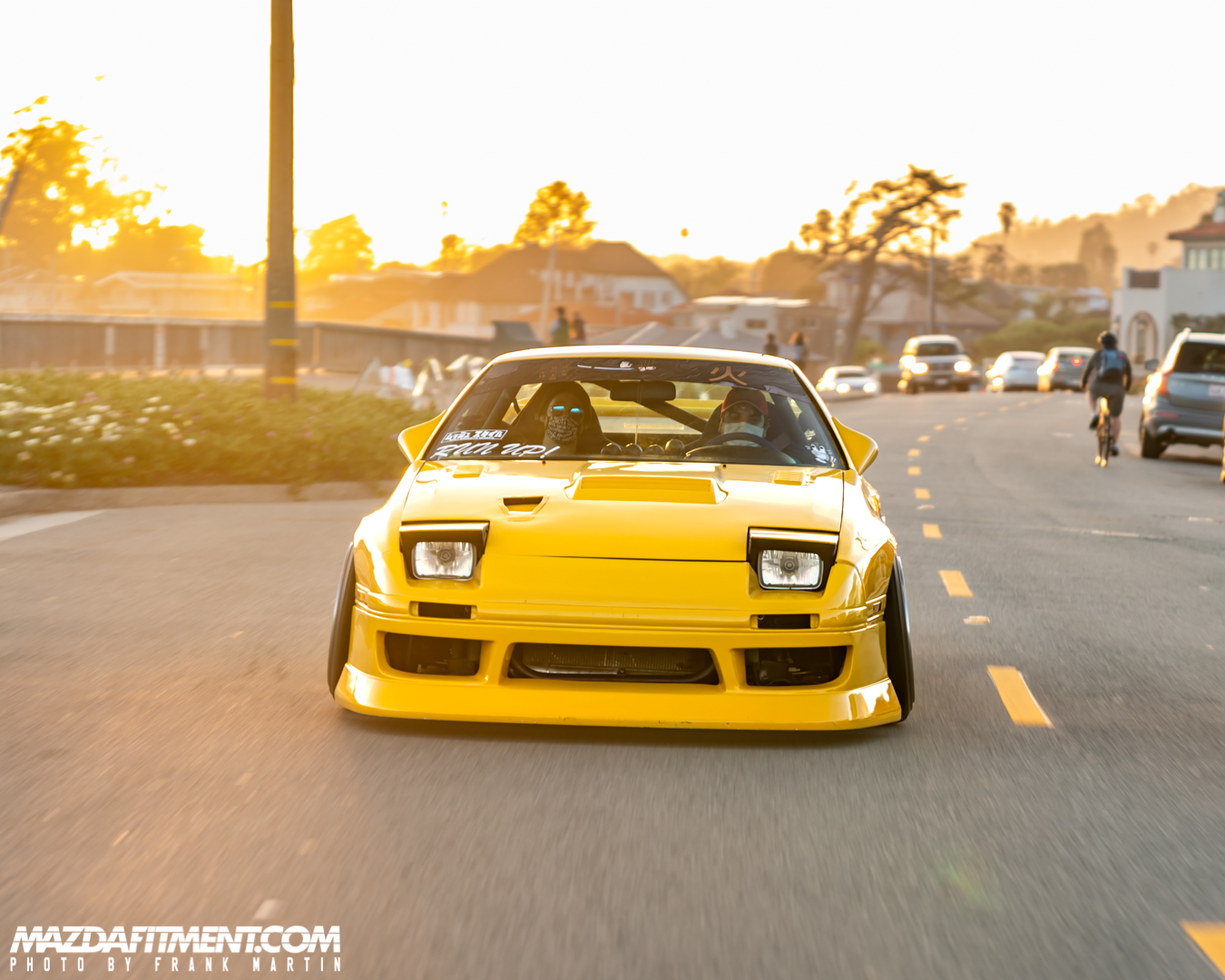 Bottom line, we love this FC for having the style that we as well draw inspiration from, and still looking cool when driven hard. Thank you for Frank for this awesome photo set, and Richard for linking up with us to make this possible. Also, thanks to Genelle for the added drift photos.  A lot more photos in the gallery below. Enjoy!
There are lot of builds we will never be able to come across, so please email us if you think we would be interested! No need to be modest!
Email us at mazdafitment@mazdafitment.com