Switching things up on your ride can be quite refreshing to get a new look out of the car.  Longtime follower/photographer friend Cristian Laureano aka STXCKS shows us this with Tommy Babiarz aka TRMNL5's 2016 Ceramic Metallic MX-5 Miata Club from Orlando, Florida.
You might of previously seen Tommy's turbocharged pandem-widebody MX-5 Miata on Super Street: http://www.superstreetonline.com/features/turbocharged-pandem-widebody-2016-mazda-mx-5-club. Almost looks like a different car now without the livery/stickers, wing, front canards, and wheels.
Tommy now switched it up since the Super Street feature to 16″ Volk Racing TE37Vs. 16×9 with 205/45 and 16×10 225/45 Toyo R888R.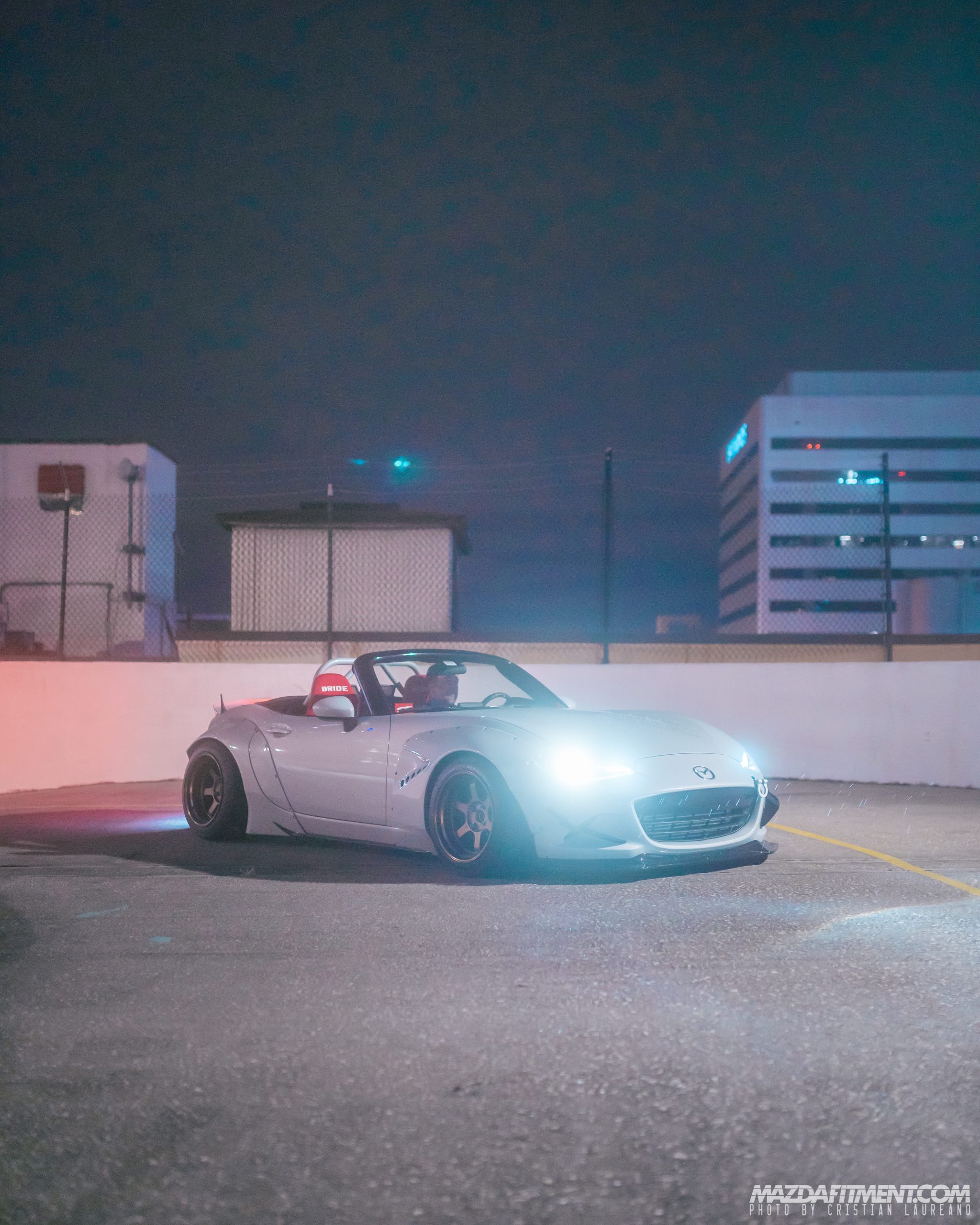 Also, currently with a 1 of 1 Pandem duckbill on the rear trunk. While, Tommy still has the chassis GT wing to switch to whenever he wants.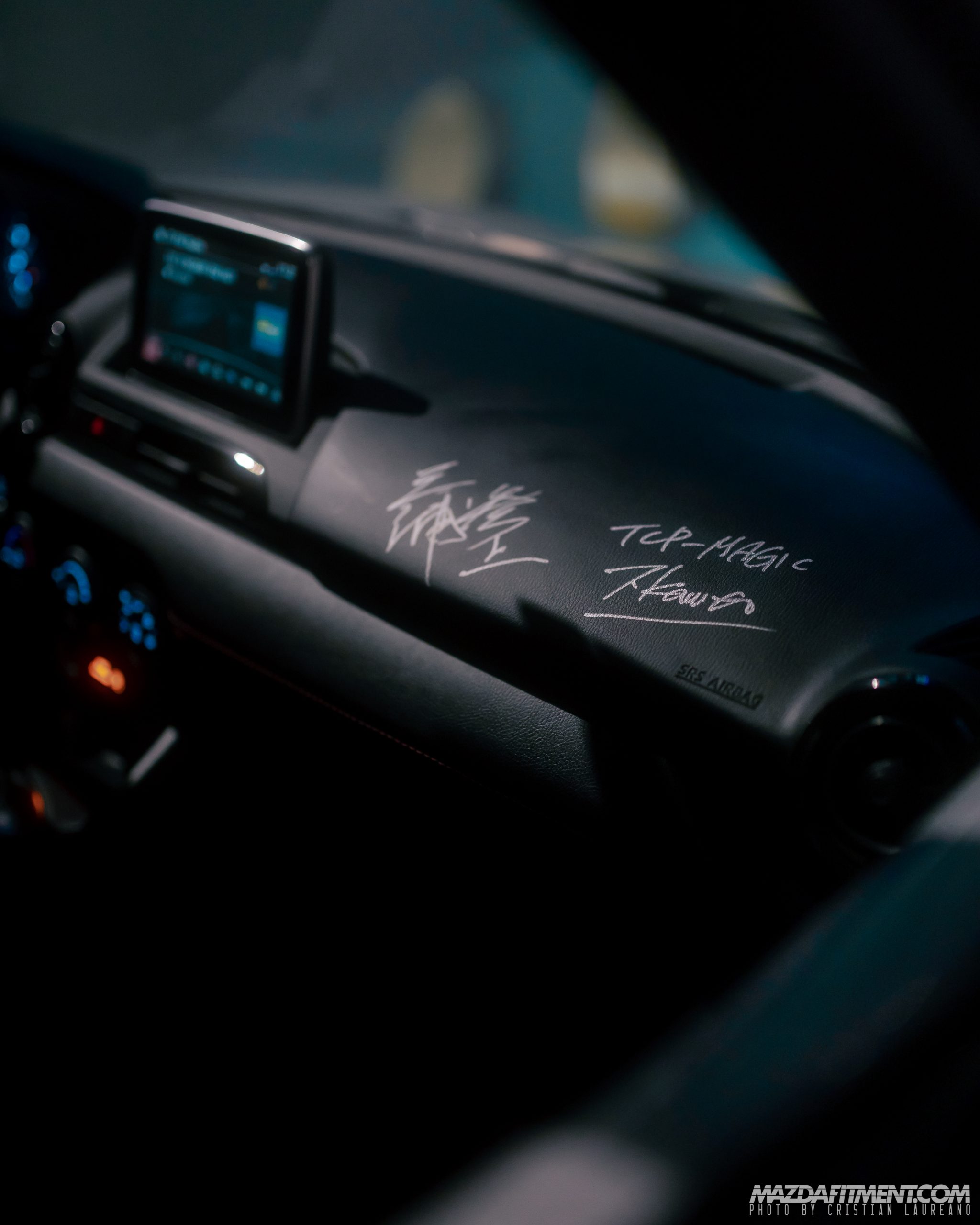 The signature on the dashboard is from Miura-san, who is the force behind Pandem and Rocket Bunny. The other signature is from Kawato-san the CEO of Total Car Produce Magic (TCP Magic).
Tommy has a future plan with this to eventually have the motor swapped for rotary power.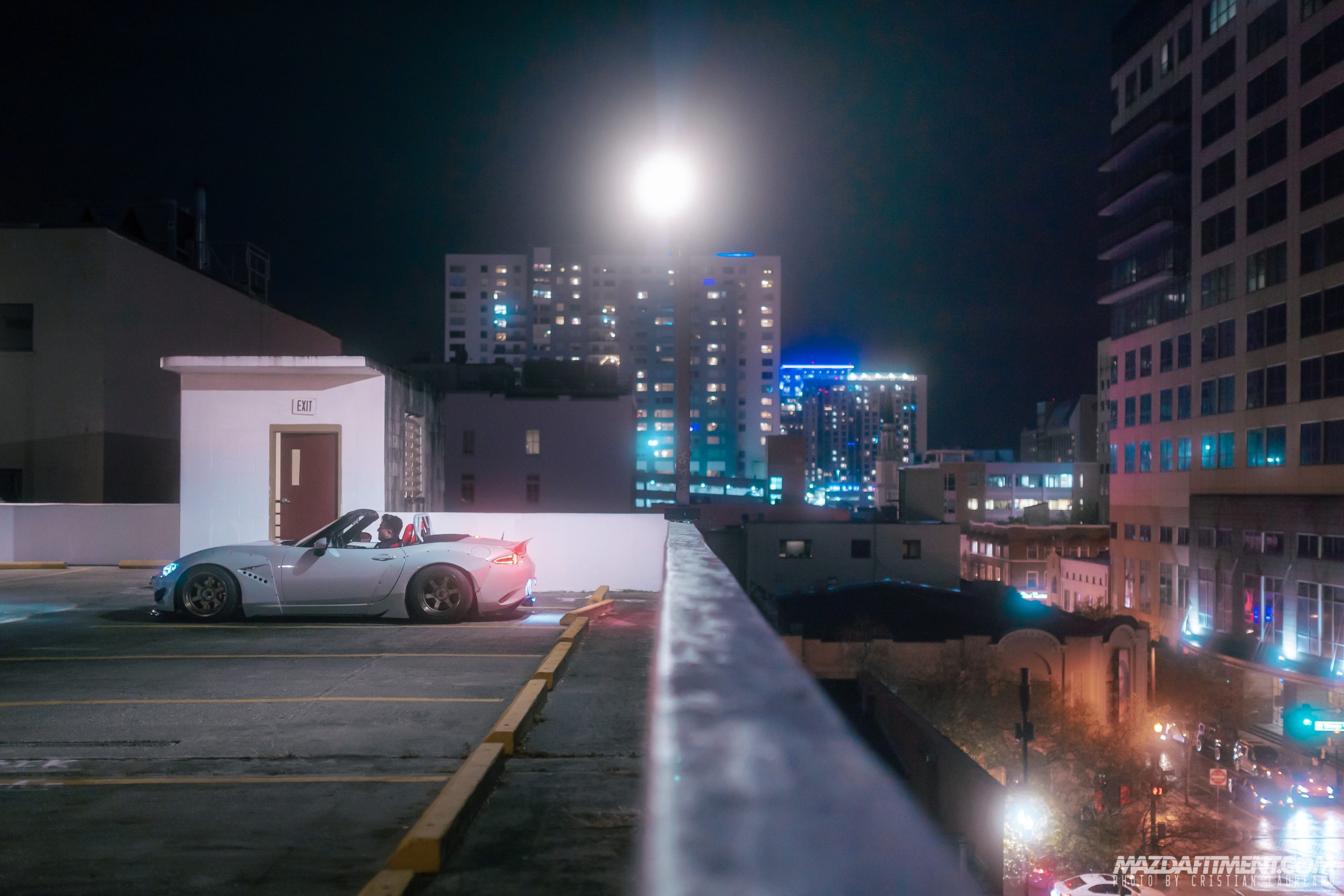 MODIFICATION LIST
ENGINE:
-TurboSource kit with BorgWarner EFR 6758 turbo
-TurboSource manifold
-TurboSource downpipe
-TurboSource crankcase vent
-TurboSource three-bar map sensor
-Treadstone Performance intercooler
-Vibrant charge piping
-HD clamps; Remark cat-back exhaust
DRIVETRAIN:
-SPEC Stage 3+ clutch, aluminum flywheel
ENGINE MANAGEMENT:
-EcuTek RaceROM tune by OrangeVirus Tuning
FOOTWORK & CHASSIS:
-KW Clubsport two-way coilovers
-Cusco Strut Bar
BRAKES:
-Winmax W3 pads
WHEELS & TIRES:
-16×9 front, 16×10 rear Volk Racing TE37V wheels
-205/45R16 front, 225/35R16 rear Toyo R888R tires
-Thunderbolt titanium lug nuts
EXTERIOR:
-Pandem widebody kit and duckbill
-BASF R-M Mazda Ceramic Metallic paint by Famous Customz
-Hard Dog M4 Sport roll bar powdercoated by Extreme Powder Coaters
INTERIOR:
-Bride Zeta III Type L seats
-Takata Drift III harnesses
-Vertex x Tuned Japan steering wheel
-Daikei Boss hub
-Zero floor mats
-Thunderbolt titanium hardware
-A Spec titanium shift knob
THANKS TO: Kei Miura, Jonny Grunwald, Mad Mike Whiddett, Nobuhiro Yamamoto, Rocket Bunny/Pandem, RAYS Wheels, Toyo Tires, TurboSource, SPEC Clutch, BorgWarner, KW Suspension, Bride/Lot USA, Thunderbolt, Tuned Japan, Winmax, Fox Marketing, BASF, Takata/HMS Motorsport, Famous Customz, Remark Exhaust, Vibrant Performance, Extreme Powder Coaters, BC, Pancross LLC, Chris Schneider, Robb Ferguson, Reza Mapili, my wife Chavy
Thank you to Stxcks for shooting this and sharing this with us. And Tommy for sharing the updates with us.
There are lot of builds we will never be able to come across, so please email us if you think we would be interested!
Email us at mazdafitment@mazdafitment.com