Coming from all the way down under is a car that gets mistaken for a Nissan S14 due to its similar visual cues from the era. This is the 2nd generation MX-6, which is similar to the 626 and Ford Probe/Telstar. The MX-6 model ended  production in 1997. Today, these cars are rare to come by, especially one that is modified in a tasteful way. There are hints of the MX-6 model coming back in the future, but who knows how similar it will be. Here we have Albert Lee's 1996 Noble Green MX-6 2.5L V6 NA KLDE from Melbourne, Australia.
How did you get into cars? Was the MX6 your first car? Did you daily drive this in Australia?
"I was always into cars from a very young age, started with hot wheels and dad was always an enthusiast and it rubbed off onto me. Then as the culture grew and grew I learnt more and more it fueled my passion for cars. I don't really discriminate the different types of cultures within the car scene either, my cars been through oem, track spec to stance…"
"…The MX-6 was my first car yes. In Australia, specifically where I'm from in Melbourne Victoria, at the age of 16 we get our learners license where until 18 we need somebody next to us who is fully licensed in order to drive. Then once 18 comes we can take a test to get our probationary license which lasts for 4 years then we become full license…"
"…I was able to learn in many cars for my learning period but the day I got my probationary license my dad handed me the keys to the MX-6 and the rest is history. Dad owned the car since new, bought off the showroom floor in 1996 and passed it to me. It was my first car and it has taught me so much both mechanically and mentally…"
"Yes I did daily drive this in the beginning, the car was handed to me at 70,000kms, and I daily drove it whilst modifying it. It was my daily driver up until I hit 110,000kms or so when I decided to stance the car. Then it was a bit unpractical to drive the car at such tight fitment and low height, especially being static height. The car was around 30mm off the ground at most areas."
What inspired you to modify and style the MX-6?
"Well the general passion of cars lead me to experimenting on minor modifications and the basic things etc. then it lead into me trying to teach myself certain things mechanically. As usual there was the car scene which lead me to doing certain modifications to the car but having the mx-6 as a platform was difficult as there was not really any good aftermarket support for the car hence a lot of what I have done to car is custom or retrofitted…"
"…At first I was very into the track scene therefore my track setup but with lockdown in Australia I went in a different direction of making the car look pretty which is where it is at today. Sacked with stupidly tight fitment and a very unreasonable ride height which at the end of the day makes me happy as it's everything I dreamt the car would look as a show/stance car…"

"…I was lucky enough to be able to try both my dream wheels on the car as well, the XD9's were the first, unfortunately 18×10 +18 was a little big therefore it lead me to selling and finding my actual dream wheels being the Volk Racing GT-N's in the perfect specs I wanted. With that paired with the full custom kit I couldn't be happier with the car."
We are glad we get to preserve this on our website now that it is gone. Any regrets? Any future plans into another Mazda? Or anything modified?
"No regrets at all. Obviously being the first car and the platform I learnt on especially a car which was passed down to me from my dad there is sentimental value. Lucky enough for me I've had my experience and fun with the car and it's time to move on. Honestly I am looking towards and FC or FD RX-7 and doing a ported build but when that will be I still am unsure of…"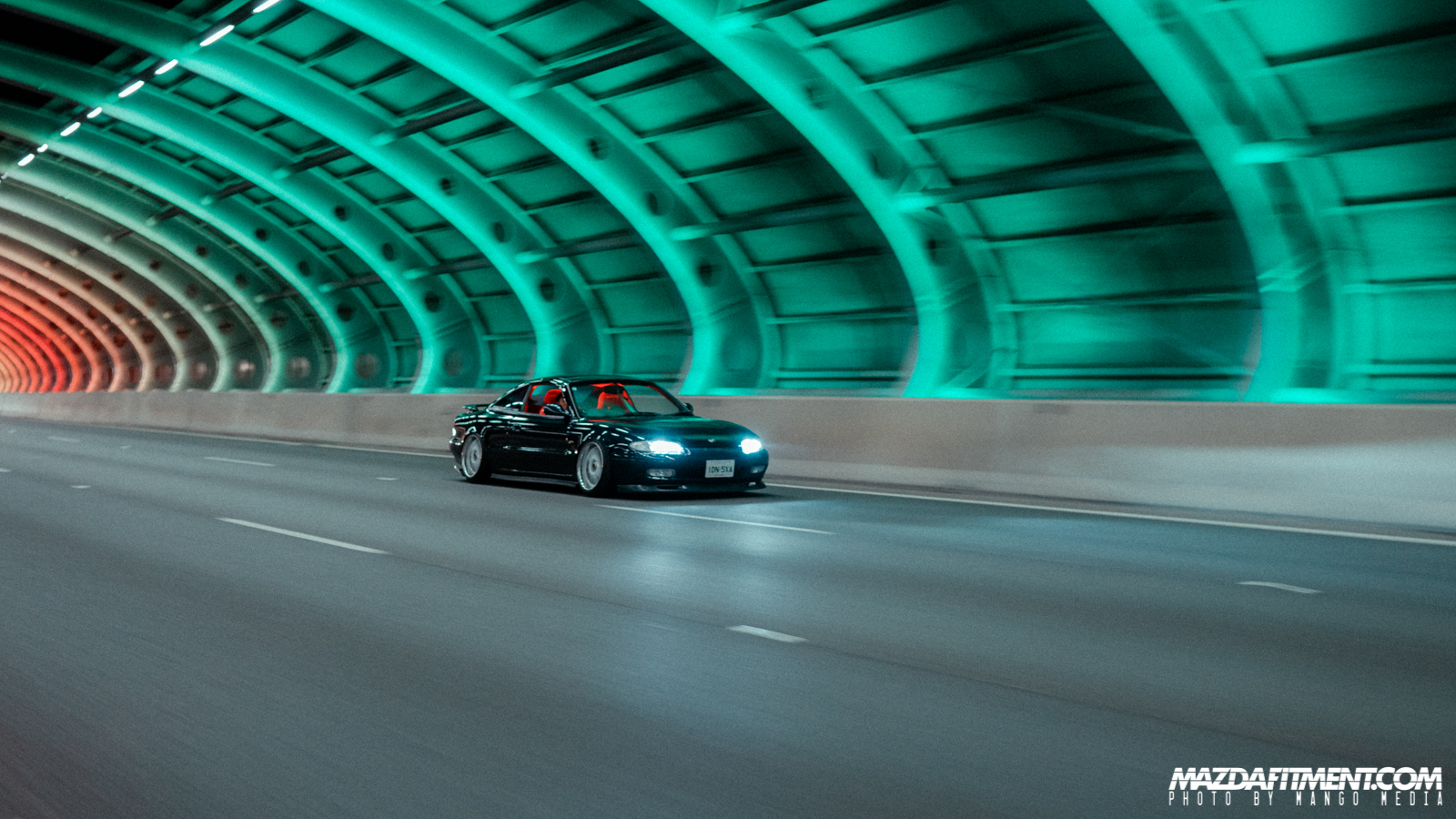 "…I sold the MX-6 for personal growth reasons, I'm trying my best to set myself up early for my future whilst I'm still young. Currently I'm lucky enough to be part of an amazing sales team at Audi so I'm still driving high performance cars and for my own car I've got a 2019 BMW M2 Competition to toy around with in the meantime. So it's definitely not the end of the road for cars for me yet, there's still plenty more to come I can assure you of that, and definitely modified."
Anything else you want to highlight on the MX-6?
"Not really just it's a great and very underrated platform. I can honestly say it was very hard trying to find any reliable info on the car and any non fast and furious sex-spec as we call it in Australia, body kits so everything had to be custom. The car has been through many many phases and trends and at the end of the day it was all trial and error to get to the style I wanted, I can say that I have not seen any other MX-6's with the same style until now while I've been posting my work on the car…"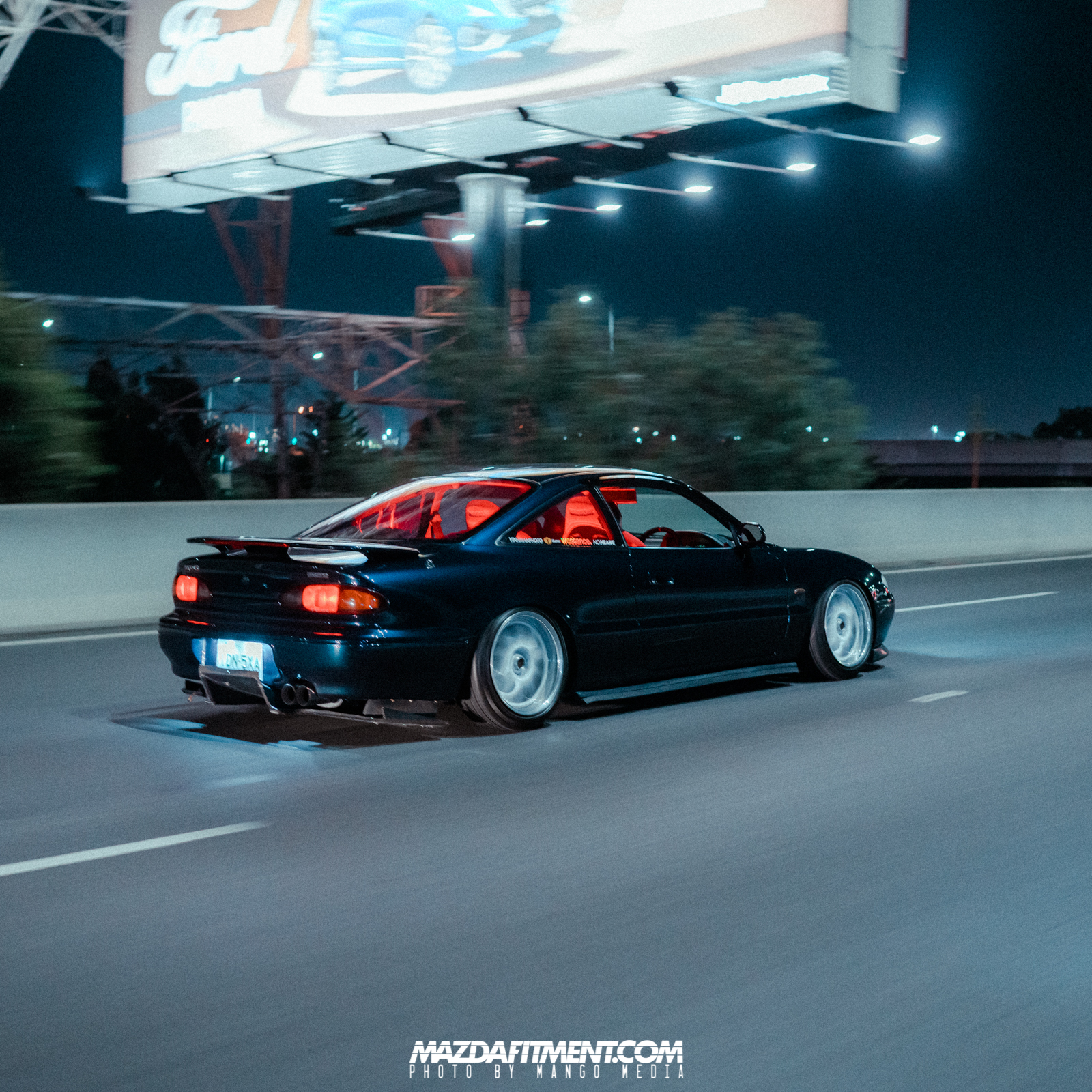 "…Seems like I was the one who experimented a lot on the car and within the community, pushed those around me to step up as well. Can happily say that I did things my own way and never copied anyone on this platform."
Anyone you want to thank or give a shout out to for journey with the MX-6?
"Obviously my dad for purchasing the car when he did in 1996 and handing it down to me. Without him none of this would've been possible and yes I did consult with him before selling the vehicle and he was happy with my decision and agreed with everything. All my mates that helped me get to where I am and the car itself, they have taught me a lot and always been around to see the car grow…"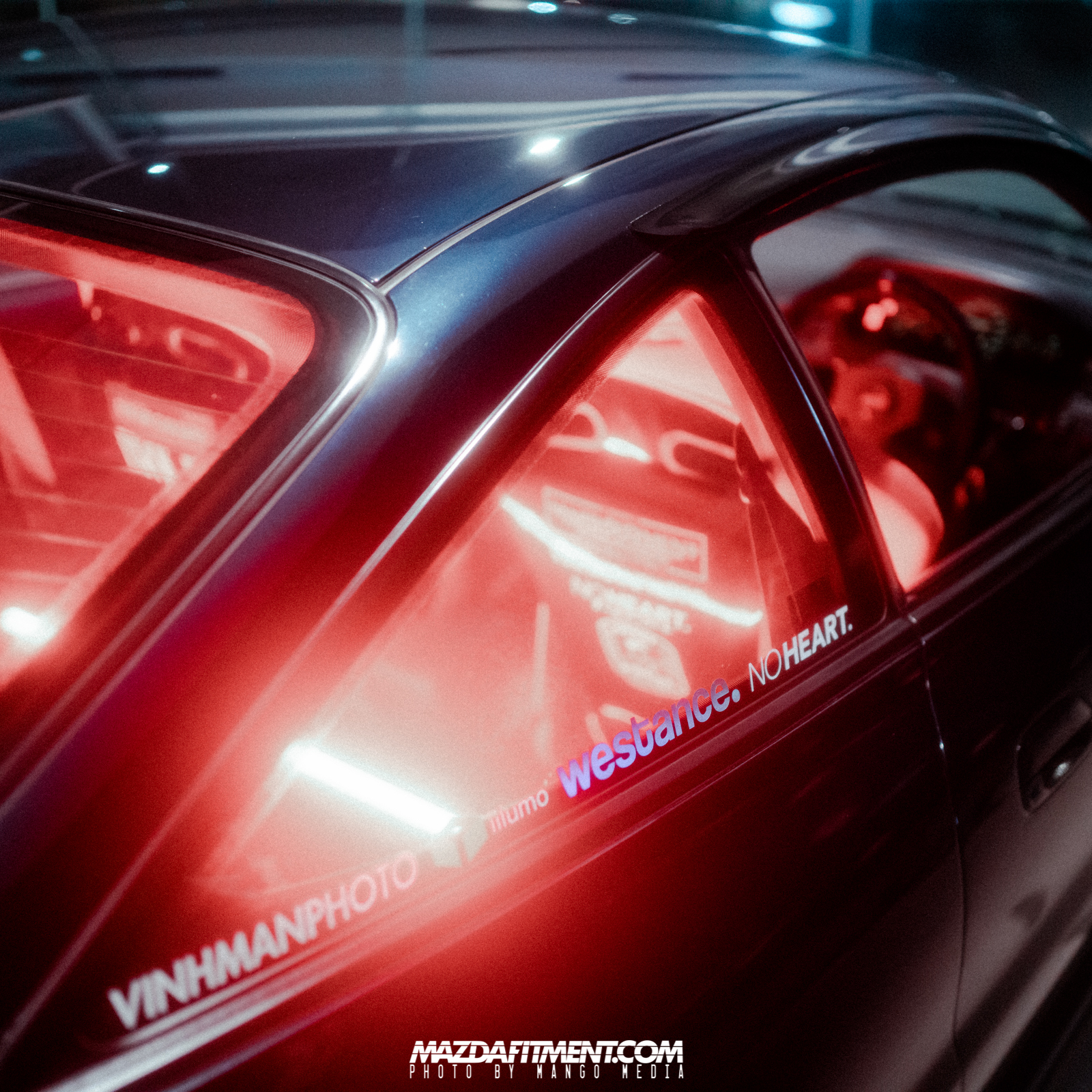 "…All the photographers who have shot the car. Everyone who's followed the build and supported it. Especially company's and business' who have support the build and looked after I want to thank everyone to bringing the car to where it currently stands and I wish the best to the newest owner. If anyone owns the same platform or wants to own the same vehicle and do similar things, don't hesitate to contact me."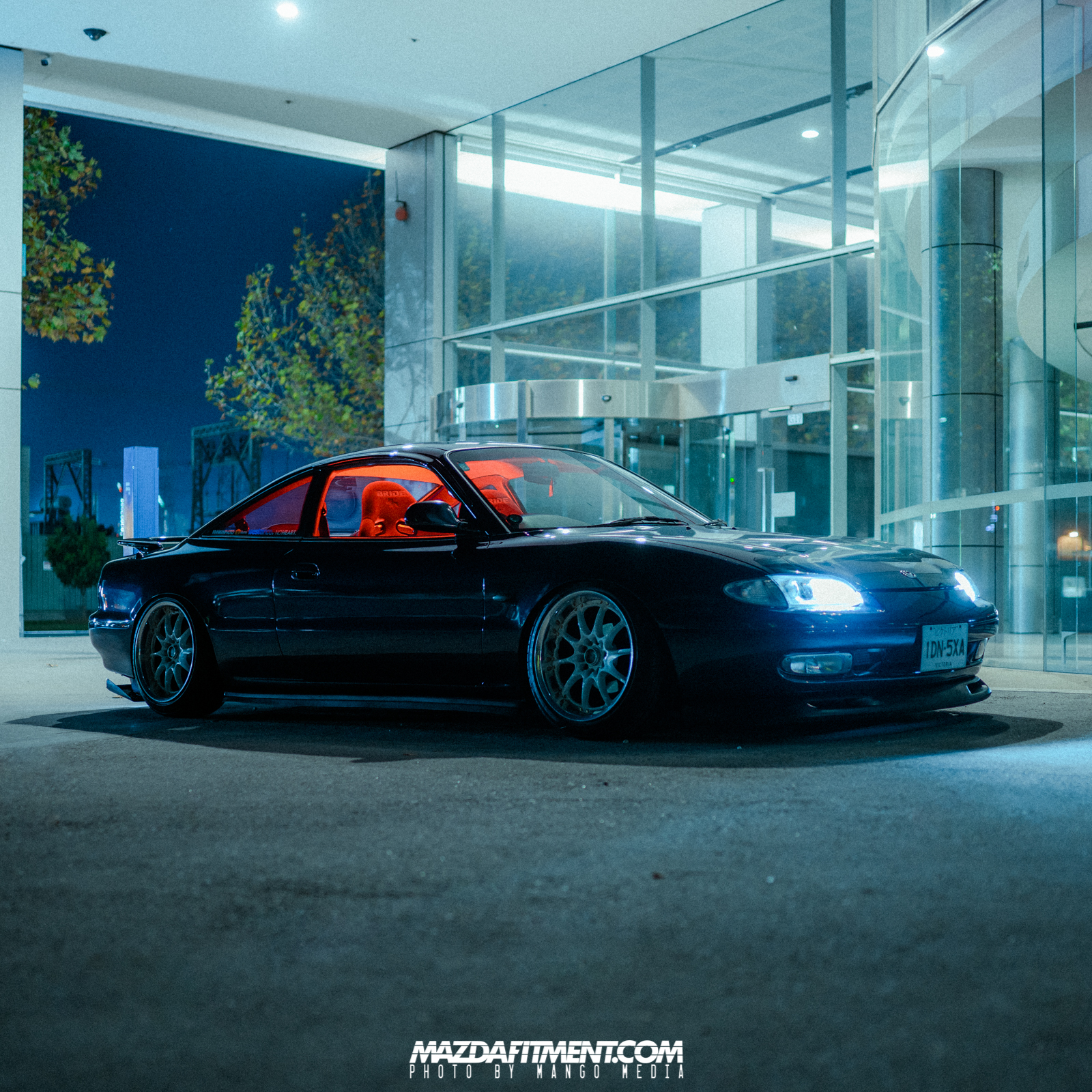 MODIFICATION LIST:
Engine:
-Custom 2.5inch headers into custom 2.5inch exhaust
-Highflow cat
-Vibrant performance hot dog resonator
-Magnaflow dual tip muffler
Suspension:
-BC Racing coils with front pair custom retrofitted fortune auto camber plates. Can revert back to stock settings.
-Whiteline racing camber bolts
Wheels:
-Volk Racing GT-N sand blasted, restored to pearl white face, SRR Gold Hardware, polished lips 17×9 -5 – 215/45/17.
Body work:
-Greddy S14 Zenki polyurethane front lip.
-CS 86/BRZ side skirts with rubber skirts.
-R32 GTR Carbon Fiber Top Secret rear diffuser with retrofitted canards.
-86/BRZ Rain Visors.
Interior:
-DND Performance suede touring steering wheel.
-NRG Innovations quick release and short hub.
-D1 Spec weighted shift knob.
-Custom BRIDE shift boot.
-BRIDE Stradia II.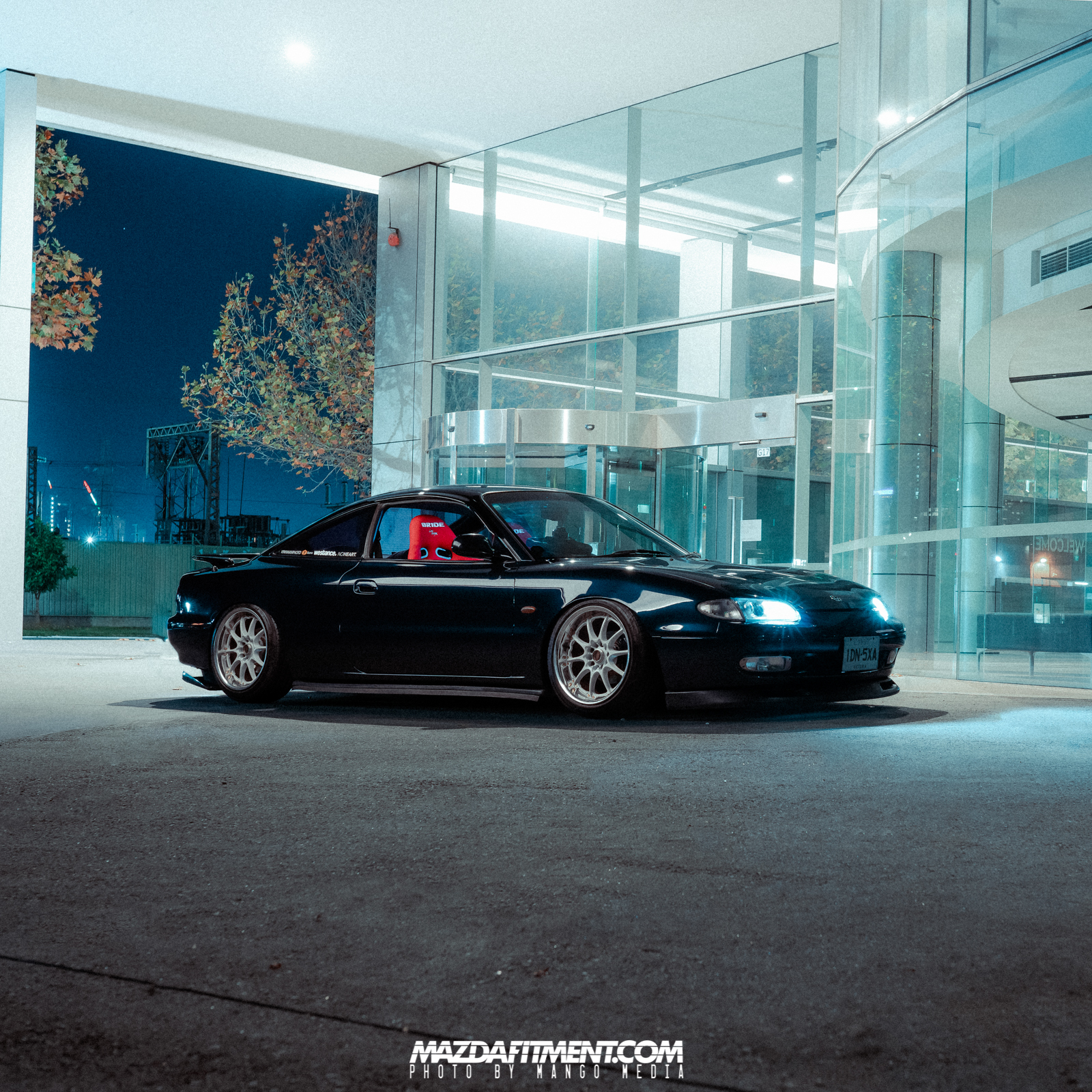 Hope you enjoyed this one. Thank you to Albert for letting us preserve this on here since this car is now gone. And thank you to Mango Media for capturing this. More photos in the gallery below. Enjoy.
Want to feature your ride? There are lot of builds we will never be able to come across, so please email us if you think we would be interested!
Email us at mazdafitment@mazdafitment.com