Years after the RX-7 was discontinued, the RX-8 was overshadowed by the beautiful timeless appearance, and rotary power that the RX-7 provided. However, the RX-8 is still something that can be appreciated today for what it is, even after being discontinued for nearly 10 years now. Recently our friend Zakin was hanging out at the Kaita port in Hiroshima, and was able to shoot Ei Sugimoto's 2008 Sunlight Silver Metallic RX-8 from Osaka, Japan.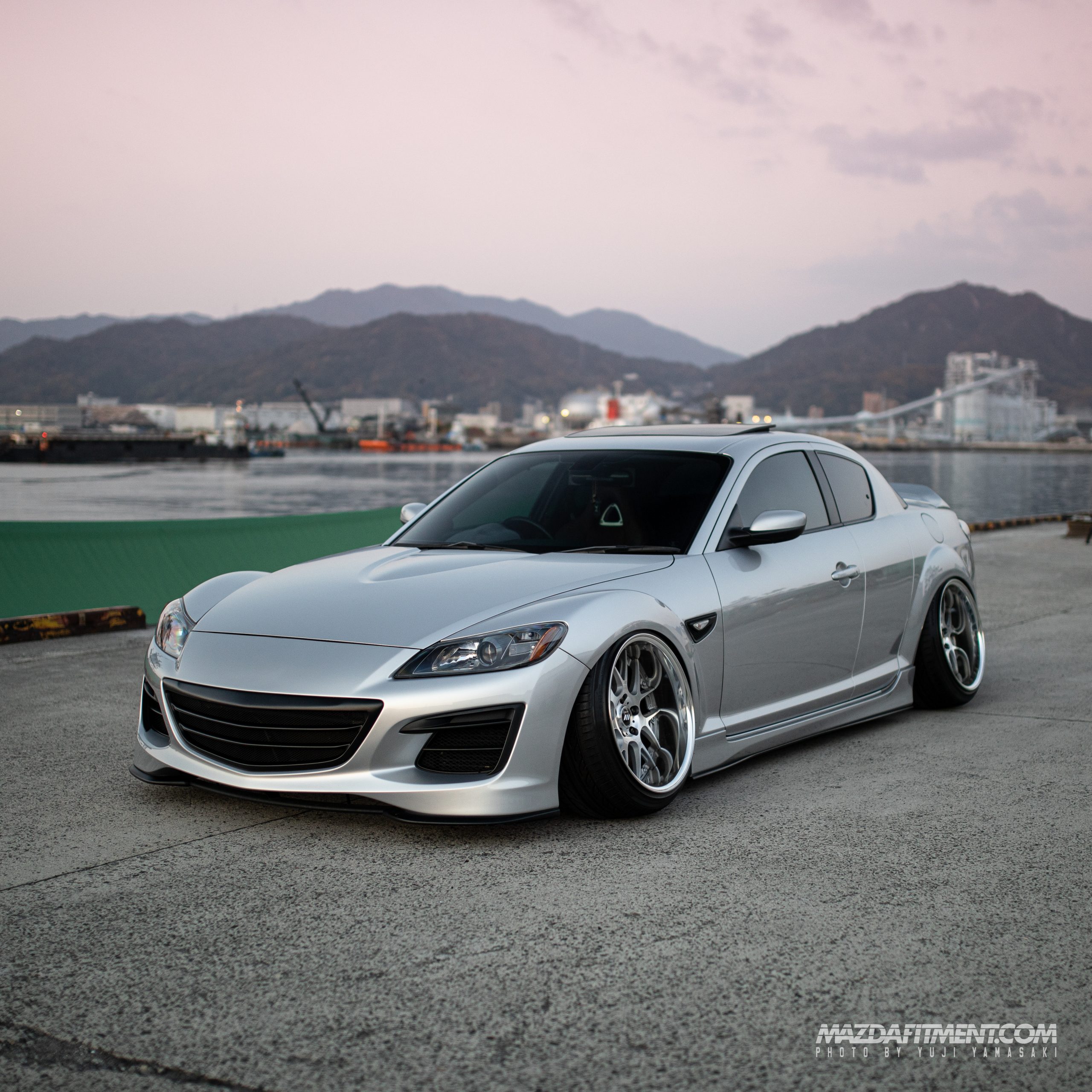 Ei's gave their late model RX-8 a very simple and clean look using the RE-Amemiya front grill, and painting accents on the car.
The Work Lanvec LM7 work really well on here. Running 18×11+3 in the front and rear with Hankook Ventus V12 245/35R18 tires.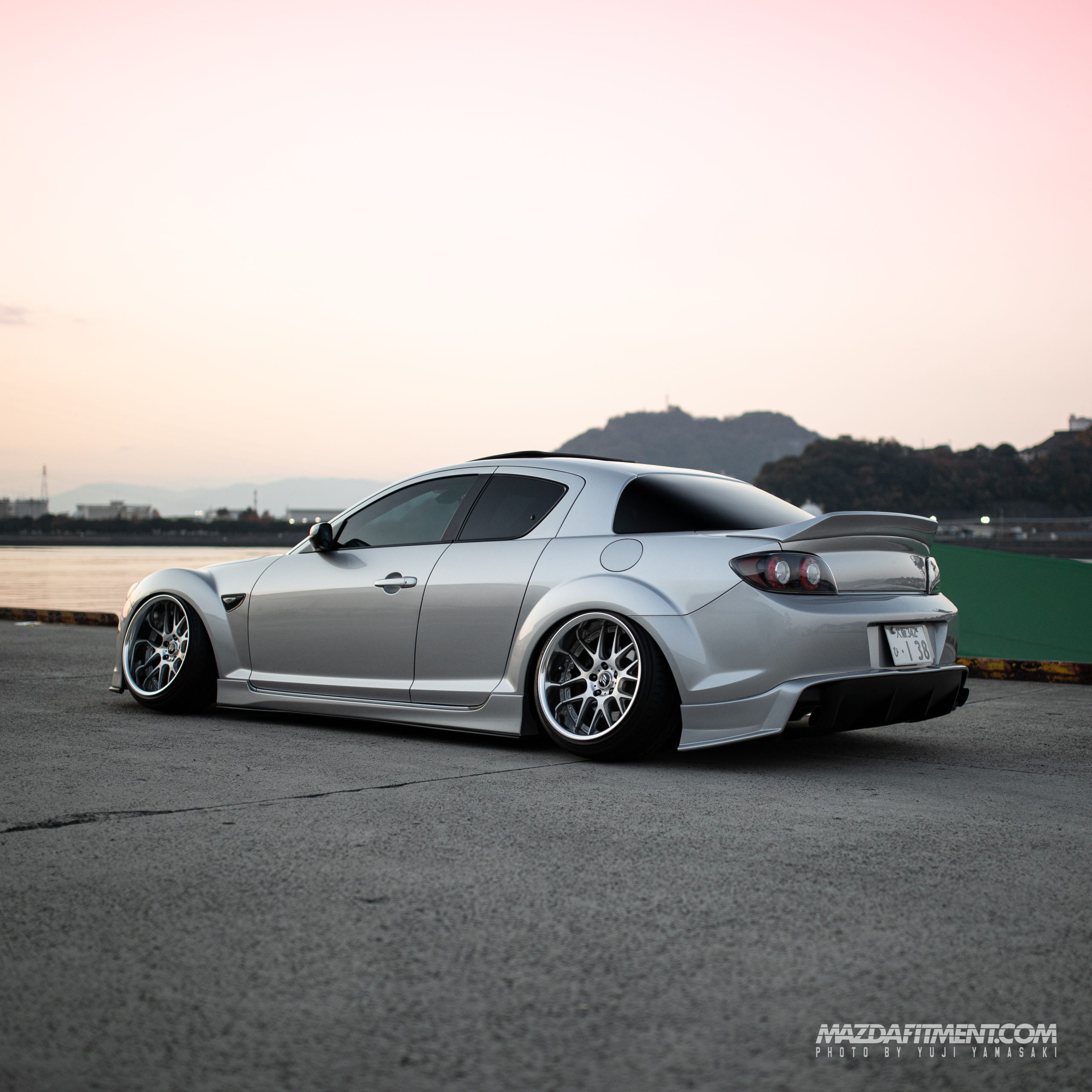 The rear looks great with the Leg Motorsports rear diffuser and Good Gun ducktail spoiler.
MODIFICATION LIST:
Suspension
-T-Demand PRODAMPER
-Front Slide Upper SP25 PRO
-Megan Racing Suspension Arms
-Front Upper Arms
-Rear Lateral Arms
-Rear Trailing Arms
-Rear Traction Rods
-Rear Toe Control Arms
-Super Now Eccentricity Pillows on Front Lower Arm
Tire & Wheels
-WORK Lanvec LM7
-GR Silver Cut Clear
-18×11J +3
-HANKOOK VENTUS V12 245/35R18
Exterior
-Smoothing Ornament on Front Bumper
-RE-Amemiya Front Grill on Matte Black paint
-Headlights with inner Gunmetal paint & Side-lens amber paint
-Frame of Side marker on Matte Black paint
-B-Pillar on Matte Black paint
-Smoothing Ornament & Break-Lamp on Rear Trunk
-Mazda genuine front and sideskirt add-ons
-GOOD-GUN Ducktail
-Spirit-R Grade Tail-Ramps
-LEG MOTOR SPORTS Rear Diffuser
-Smoothiing Center Ramp & Reflector
-Adds Fins
-Top on Body color & Bottom on Matte Black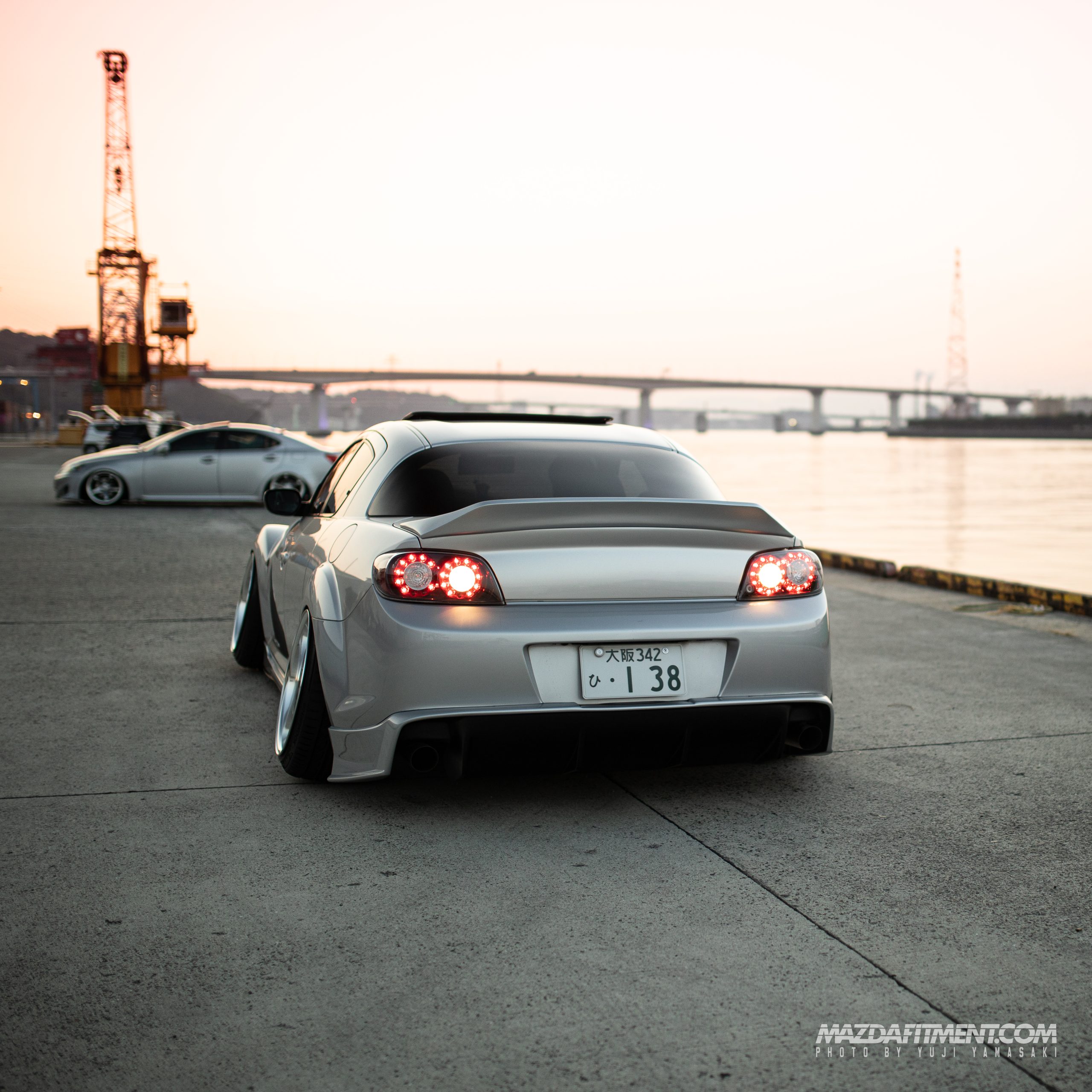 Thank you to Zakin for sharing this with us, and Ei Sugimoto for sharing more information. Hope you enjoyed this.
Want to feature your ride? There are lot of builds we will never be able to come across, so please email us if you think we would be interested!
Email us at mazdafitment@mazdafitment.com