There is just something so appealing about the Mazdaspeed Protege package; especially suited with the right pair of wheels and a good color scheme. Here we have a Mazdaspeed Protege converted Familia (Protege) with Kamata Tatsuyuki's 2002 Alumina Jade Metallic Familia sedan (BJFP) from Kitakami, Japan.
What made you buy a familia?
"I thought it was cool when I got it from a senior who was riding a Familia locally…I thought I could do better than that."
What is your inspiration for the way you modified the car?
"It would be Mr. Gray and Mr. Brandon's protege plus the FINAL FOAM USA RX-7s."
What was the biggest challenge with modifying the car?
"How to get rid of the part where the rear fender arch is too low and the car looks like a sloping front…how to make it look low freely because the car is short and thick design."
Anything you want to highlight on the car to those that don't know?
"There is nothing special about it, but it's a base car with an old man riding around it, so I'm simply happy if you think it's cool."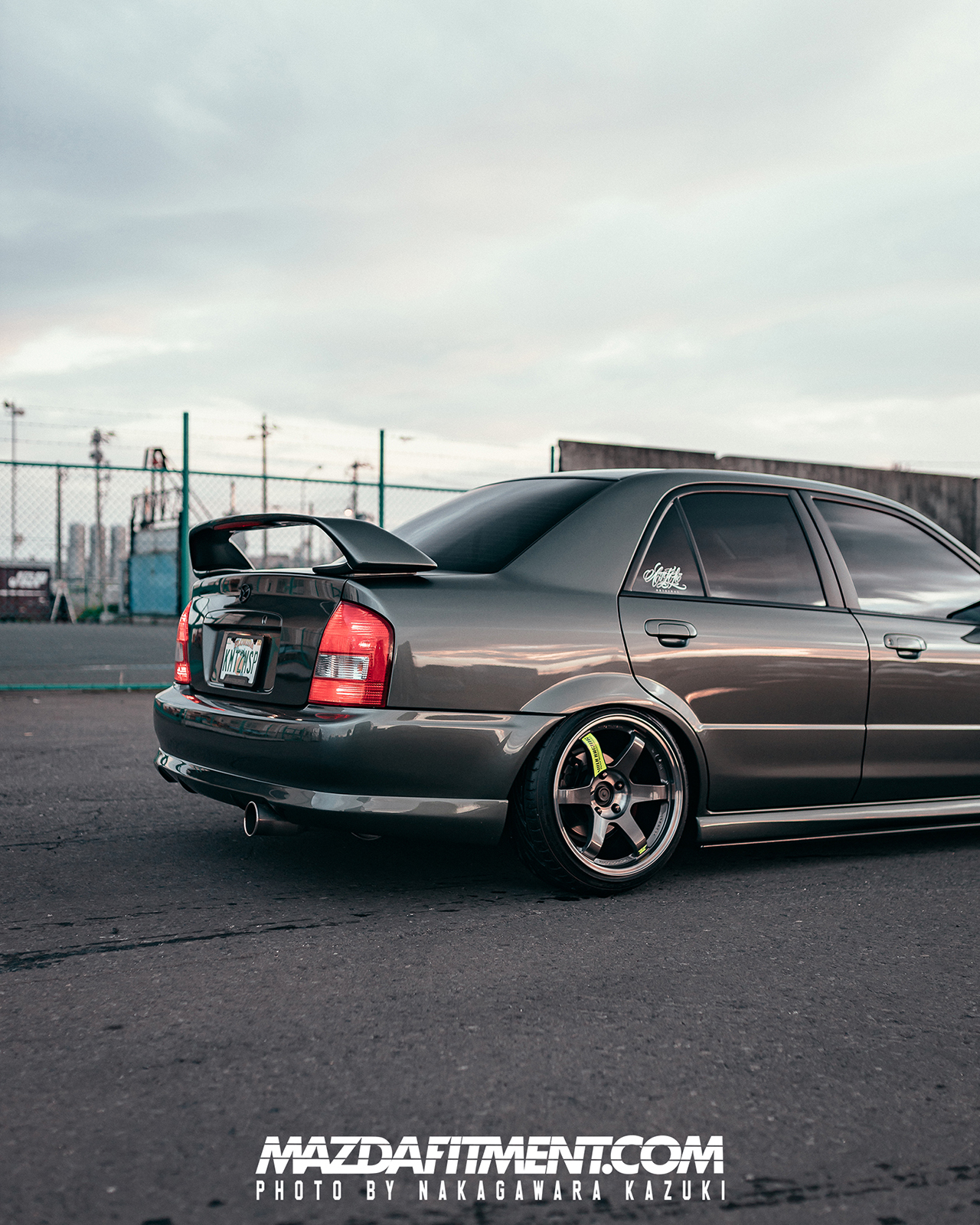 Any future plans for it that we can expect?
"I think that maintenance will be the main task for the time being as the mileage is heavy, but if possible I would like to update to leather bucket seats and brakes."
Anyone you want to thank?
"I would like to thank Mr. Take Kuriyagawa of Autolet TRC, who has been taking care of me since I bought this car, and everyone at AKC who has helped me with this modification."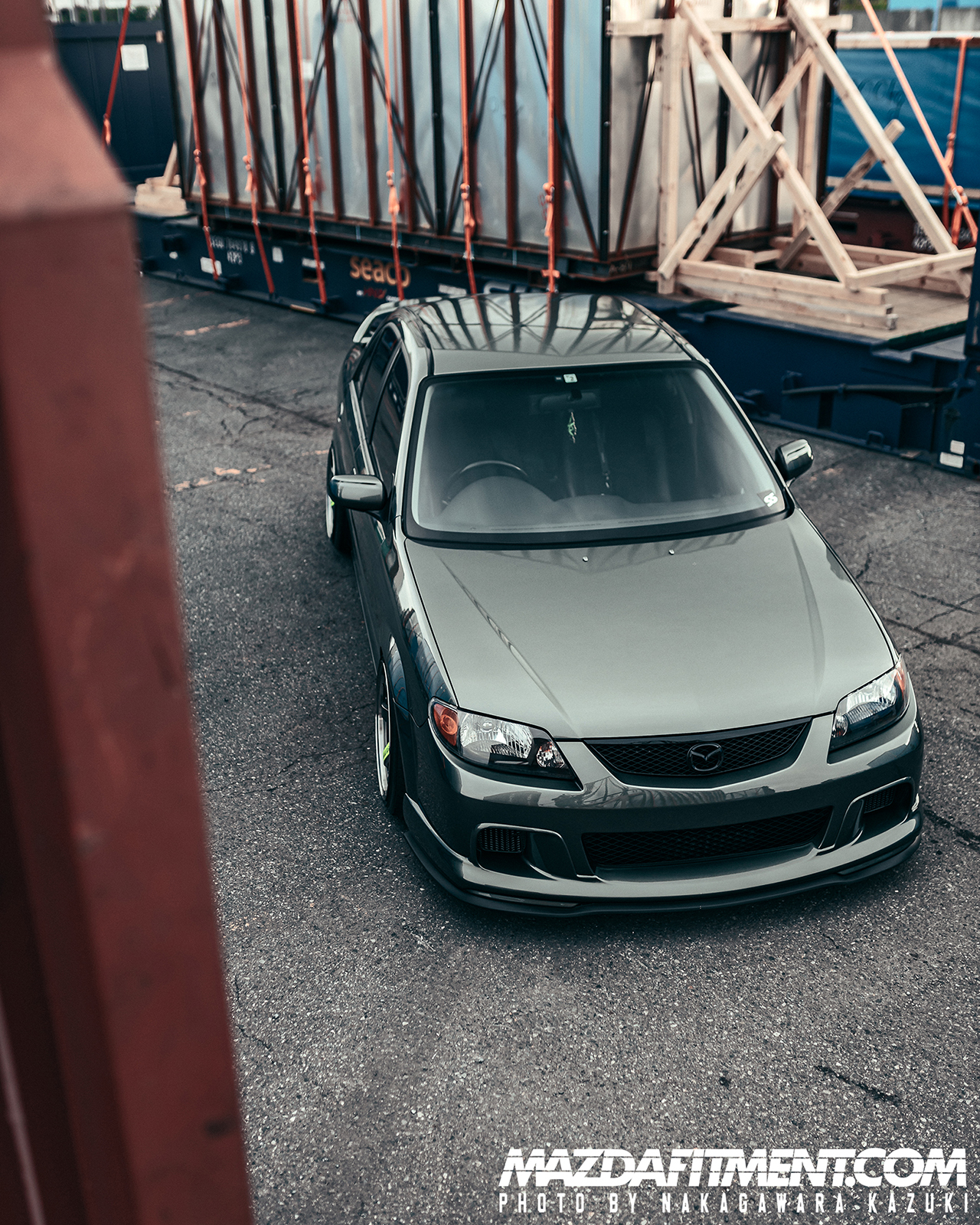 MODIFICATION LIST
-2002 Mazda familia sedan (BJFP) – FS-ZE stock 2000cc
・Mazdaspeed protege oem headlamps
・Mazdaspeed protege oem taillamps
・Mazdaspeed protege front lip spoiler
・Mazdaspeed protege rear wing spoiler
・Mazdaspeed protege rear bumper spoiler + rear under spoiler
・Mazdaspeed protege senter console panel + turbo meter vezel
・Mazdaspeed protege scuff plates
・Mazdaspeed protege mph meter
・Mazdaspeed protege sun vizors
・NARDI steering
・NRG shift knob
・RAYS engineering wheel nuts
・RAYS Volk Racing TE37SL 17inch 9J+22
・TOYO TIRES PROXES T1R 205/40R17
・Auto EXE muffler + custom tail end
・Balance Autoparts warehouse full order
・Suspension system "STATIC" – F:18k R:20k
・Autolet TRC short stabilizer links
・TOYOTA 6w4 Alumina jade metallic paint
・fender marker lumps+sidemolds+rear emblems smoothing
Special thank you to Nakazu for sharing the photos with us. More photos in the gallery below. Enjoy.
There are lot of builds we will never be able to come across, so please email us if you think we would be interested!
Email us at mazdafitment@mazdafitment.com