We are big advocates on never giving up, and perseverance to reach your goals and dreams. And Cristian Tyrell's 1988 White 10th Anniversary Edition FC RX-7 from Houston, Texas is a prime example of this. We have witnessed several phases that Cristo has taken this FC RX-7 though, and it is finally looking really good thanks to his own dedication and perseverance.
What lead you to the FC we see today? Did you come from something different before this?
"Well what got me to do this vision honestly was seeing this wild ass diffuser that I thought was a bumper, almost 326power-esque. After asking my local RX-7 friends no one seemed to know what it was. I don't know how I stumbled across the owners build thread in Japan. Found out is was a one off Tamon Designs diffuser. That had me searching the name and that is when I came across this kit…"
"…Now I had seen FC2000 before but it just seemed a little off like it was missing something that the GT-spec kit completed. From that moment it was my goal and vision with each step carefully planned to reach the state it's in now. Especially only having a handful or completed cars to get inspiration from just made the desire greater…"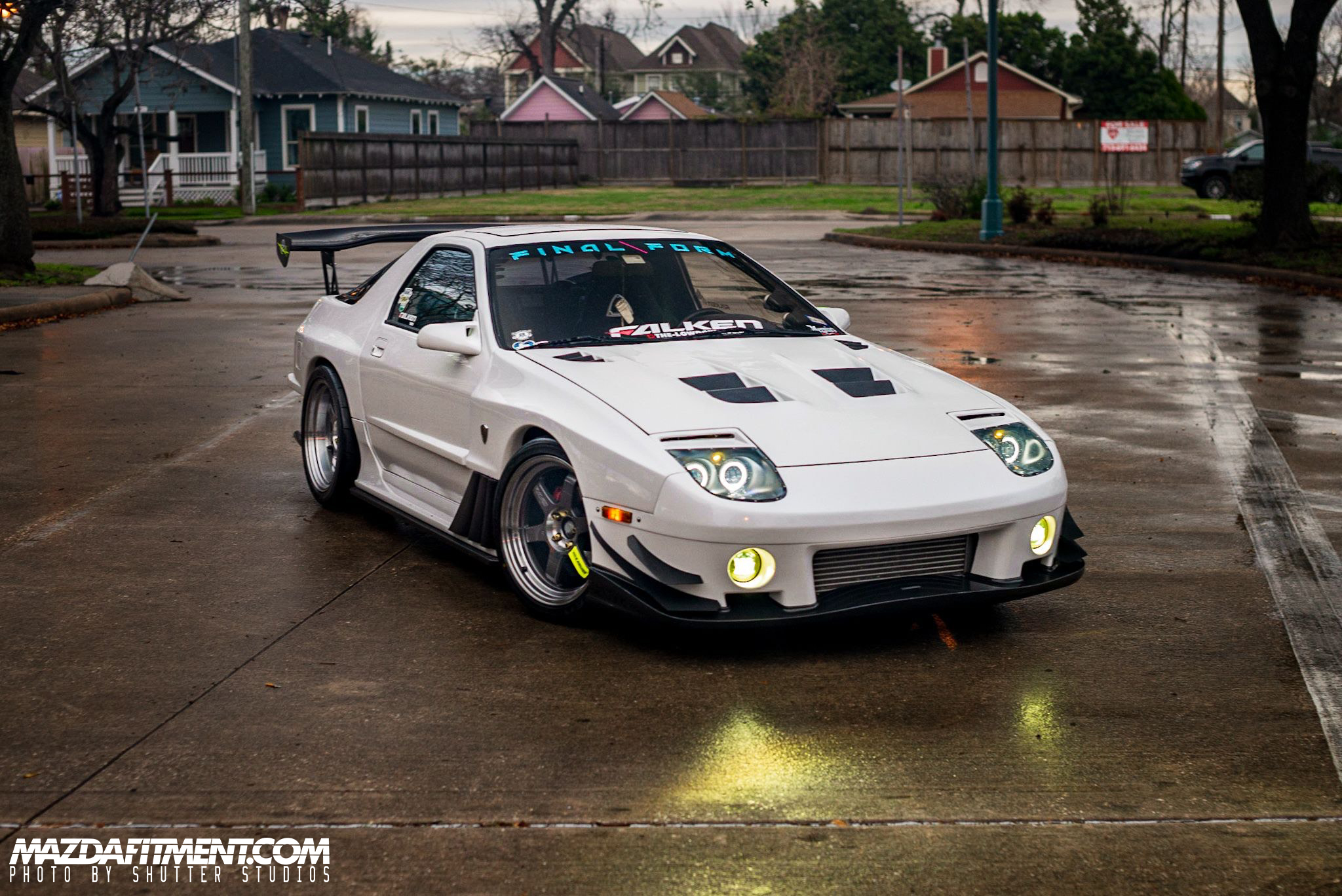 "…Hmm well if you mean coming from something different or a different chassis I can answer both at the same time. I grew up skateboarding from age 4 to 18…I had a bad string of injuries where I broke my wrist three times consecutively with the last time being the worst giving me extensive nerve damage and needing surgery. In my downtime I came across old Junk House videos of street drifters in Chicago and that's where I saw my first FC; Ilia's was so clutch. In kind of a roundabout way that's how I got into RX-7's but it wasn't quite then…" 

"…These old Junk House videos were really reminiscent to old skate videos which is why I dug it so much….I wanted an 86…I didn't really know what a FC was at that point. So when I moved down to Houston from Portland my older brother had a 2001 Toyota Corolla that he was just gonna let his ex-girlfriend have and I somehow convinced him to give it to me. I sold it to buy a 1981 Corolla because I couldn't find an 86 in my price range, but that had manual rear wheel drive so screw it close enough…"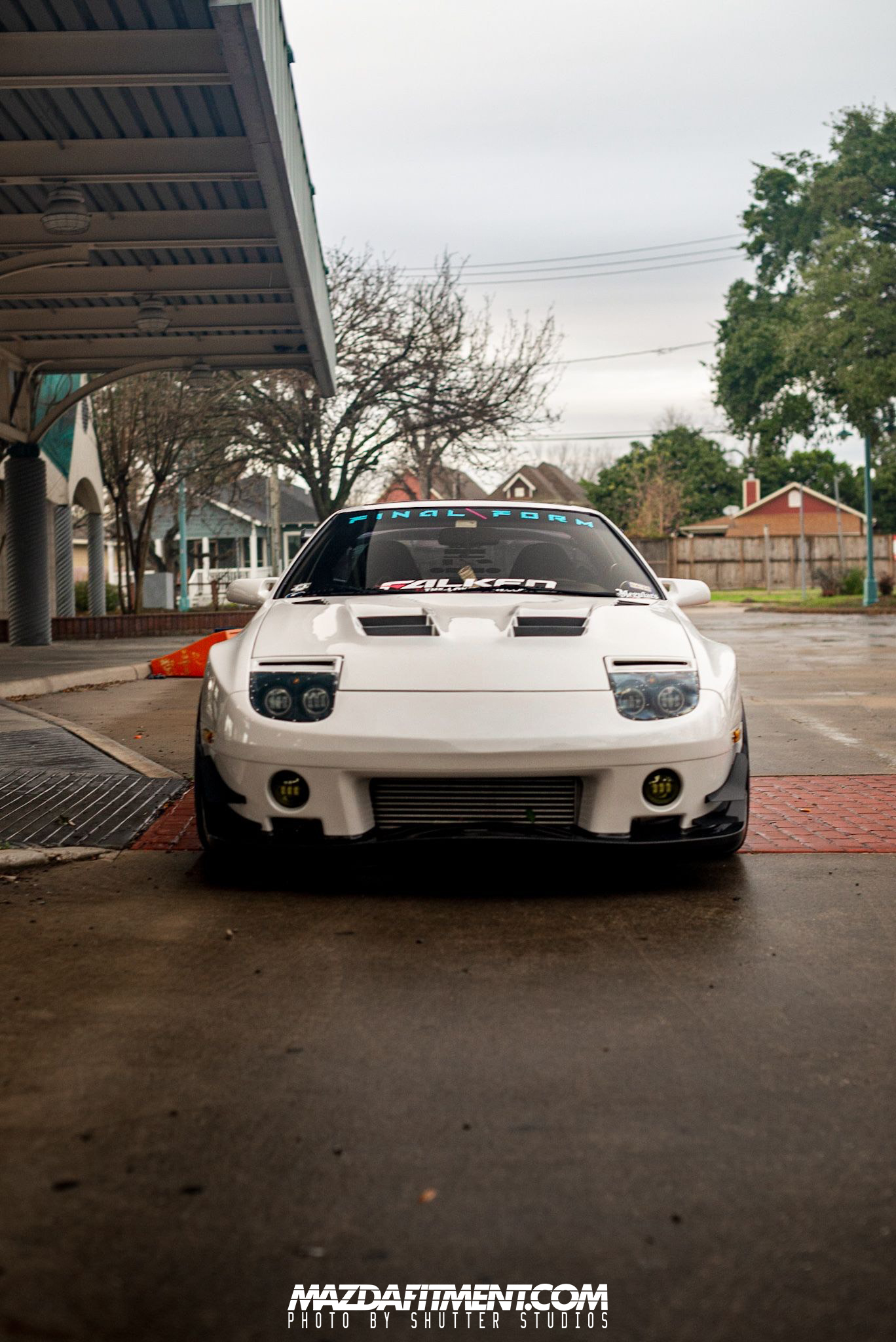 "…It wasn't until a Puerto Rican came up to me at a gas station and said 'Hey man nice Corolla'…he was the first person in the wild to actually know what my car was, so he told me 'you know what we do in Puerto Rico is throw a rotary in it'…already having a power issues I instantly started researching and that's when I fell in love. So I ended up selling that 81 Corolla to get an 88 GXL. Unfortunately I got t-boned but it was a blessing in disguise because that insurance money got my 10AE haha. I was just searching for a 1988 White RX-7 and there is 2/10 Anniversary…not knowing how rare they were I just wanted the same thing as my car but turbo."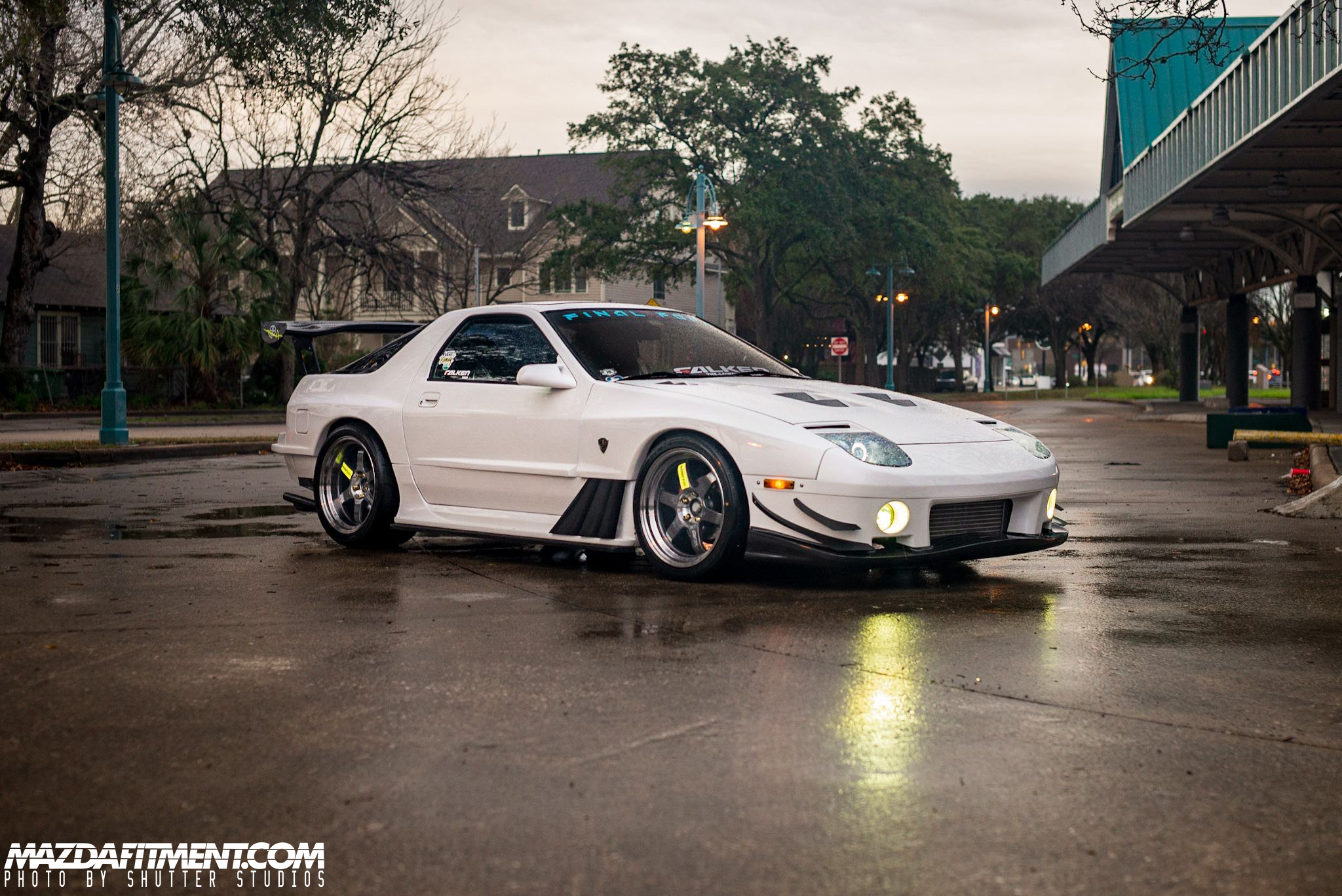 To those discouraged with rotary builds; what advise would you give to tackle the ownership of a rotary powered 7?
"I am literally the example that any body can do this. I don't come from a family with money in fact I was homeless when I was 14 and I've been on my own since. I built the entire car over 10 years of working at a grocery store while supporting another person through college and of course two cats. Honestly it all comes down to what you are willing to sacrifice and give up to meet your goals and how serious you are because I put almost everything I love in jeopardy in order to accomplish my goal with hard work and perseverance…"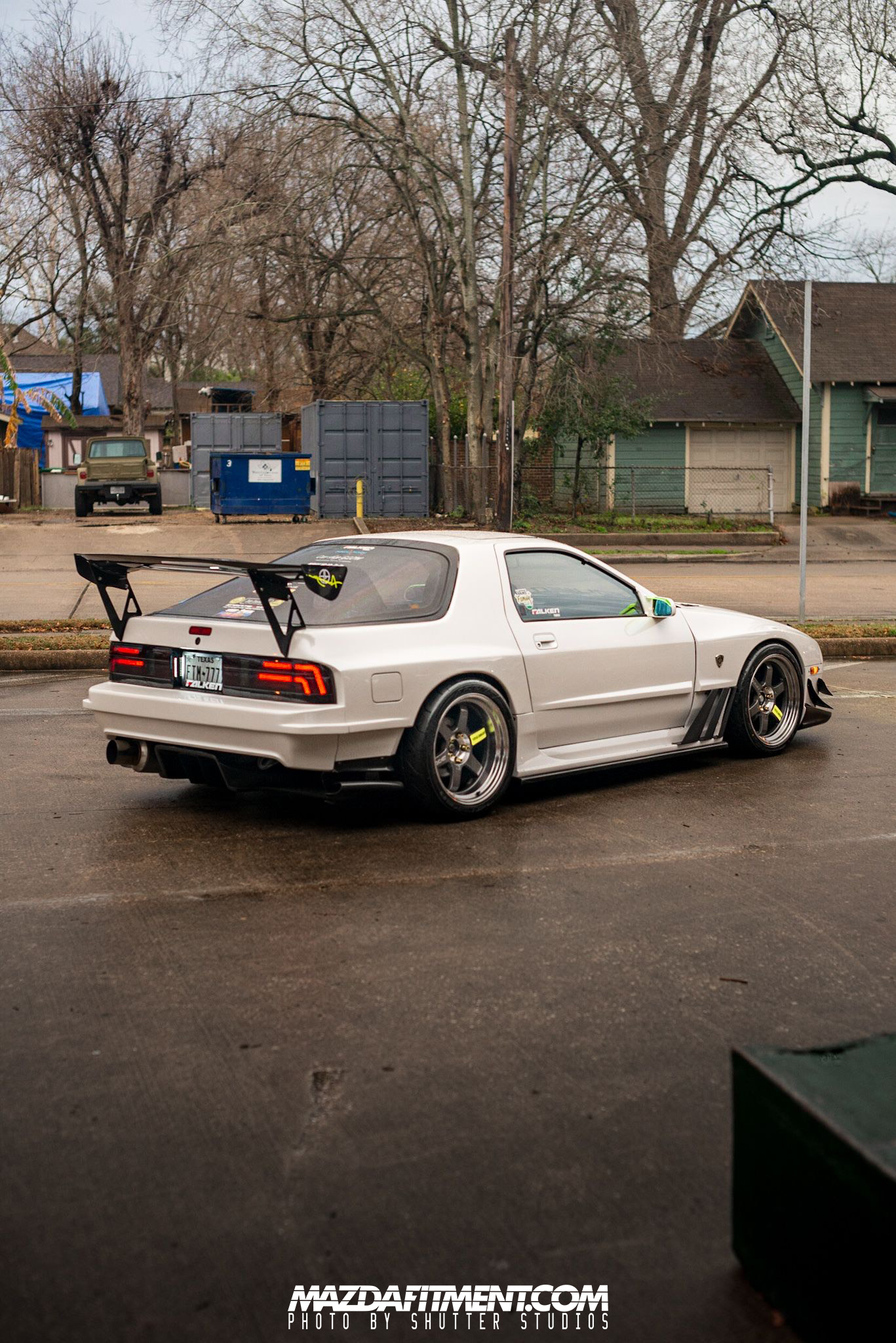 "…I remember there was a phase where I even quit smoking for a year just to see if that extra 10 bucks a day would make a difference. And at the end of the day if you don't do it for yourself and you're in it for the wrong reason…Your never going to get very far because in this game you either become an expert or you give up and in that same breath…'never give up.'"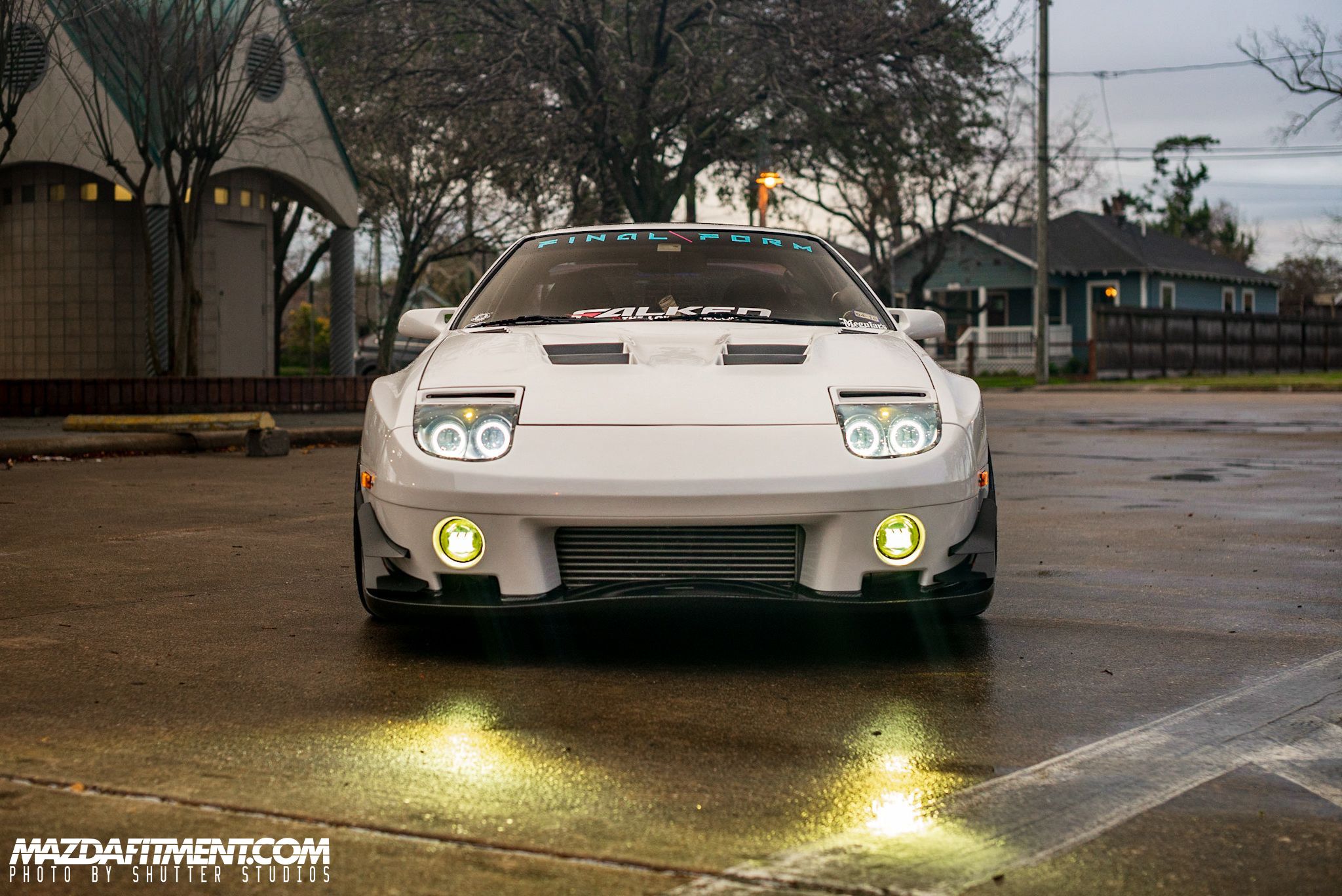 Would you say this is the "final form" for the FC? Or what future plans do you still have?
"No definitely not. Although the exterior almost is. Just missing two things for my vision. Lmfao and that's two more wings. I just redid all of my suspension and that was a lot of fun being able to take neglected parts off to give them new life but then I'll revisit the engine bay again possibly a rebuild to last me until my ultimate goal/vision….20b. I guess I should start on interior, but I've always said that's dead last.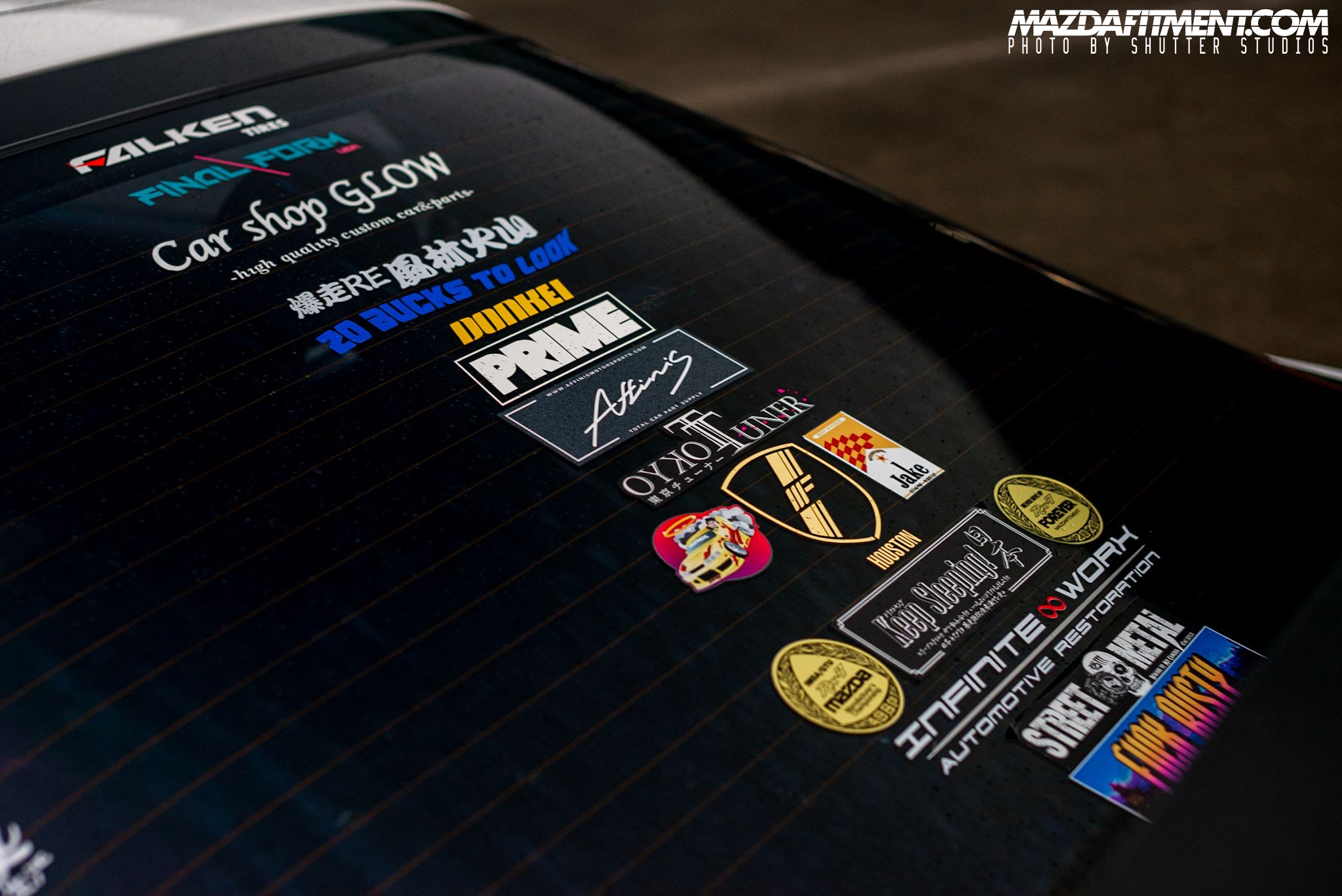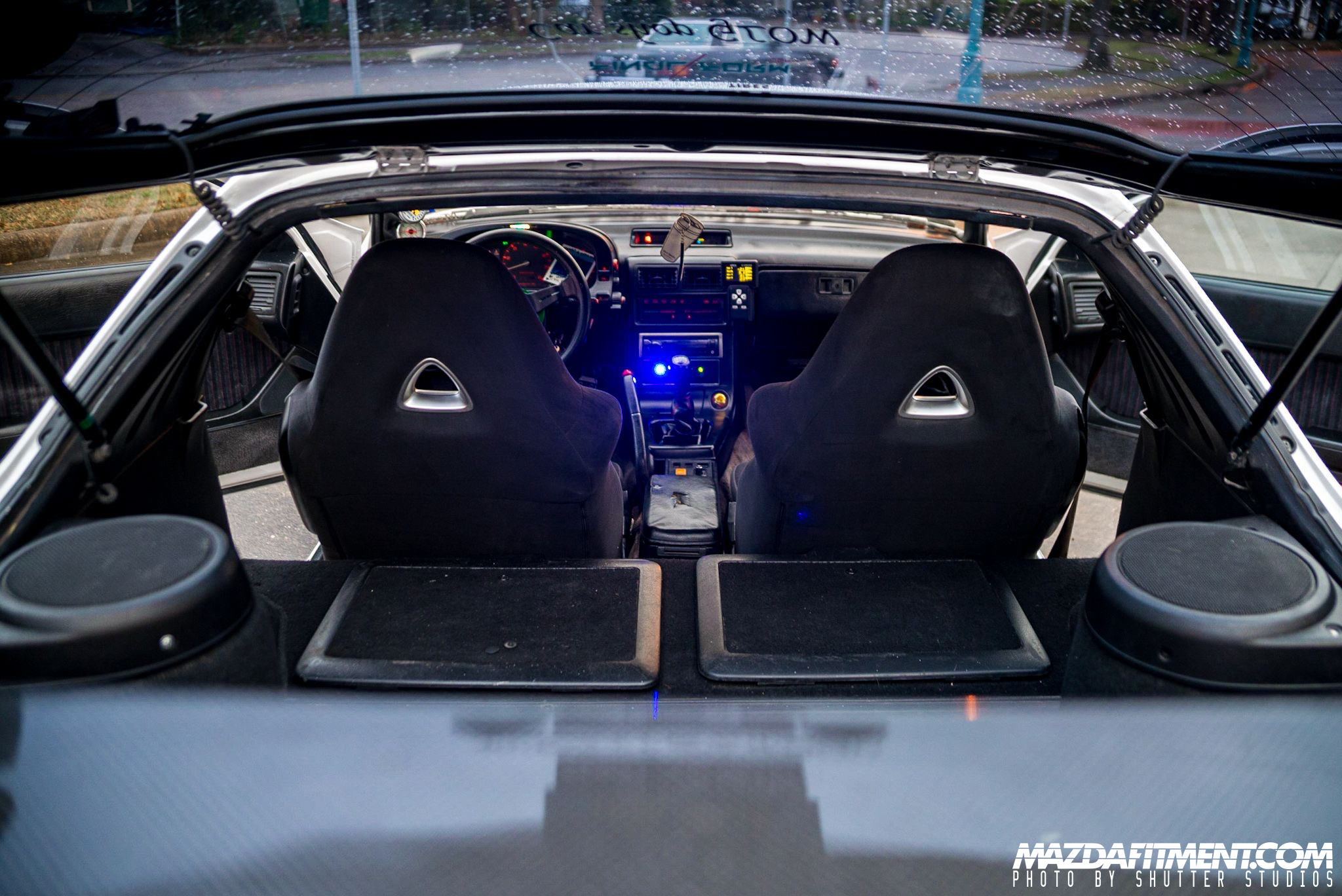 Anything else you want to highlight on the car to those unaware?
"The coolest feature in my opinion is the custom arduino-based sequential shift light that I've setup, replacing the dash clock with the digital rpm gauge/menu installing the control knob in center console and the high intensity LED for the sequential light is hitting within the gauge cluster surround."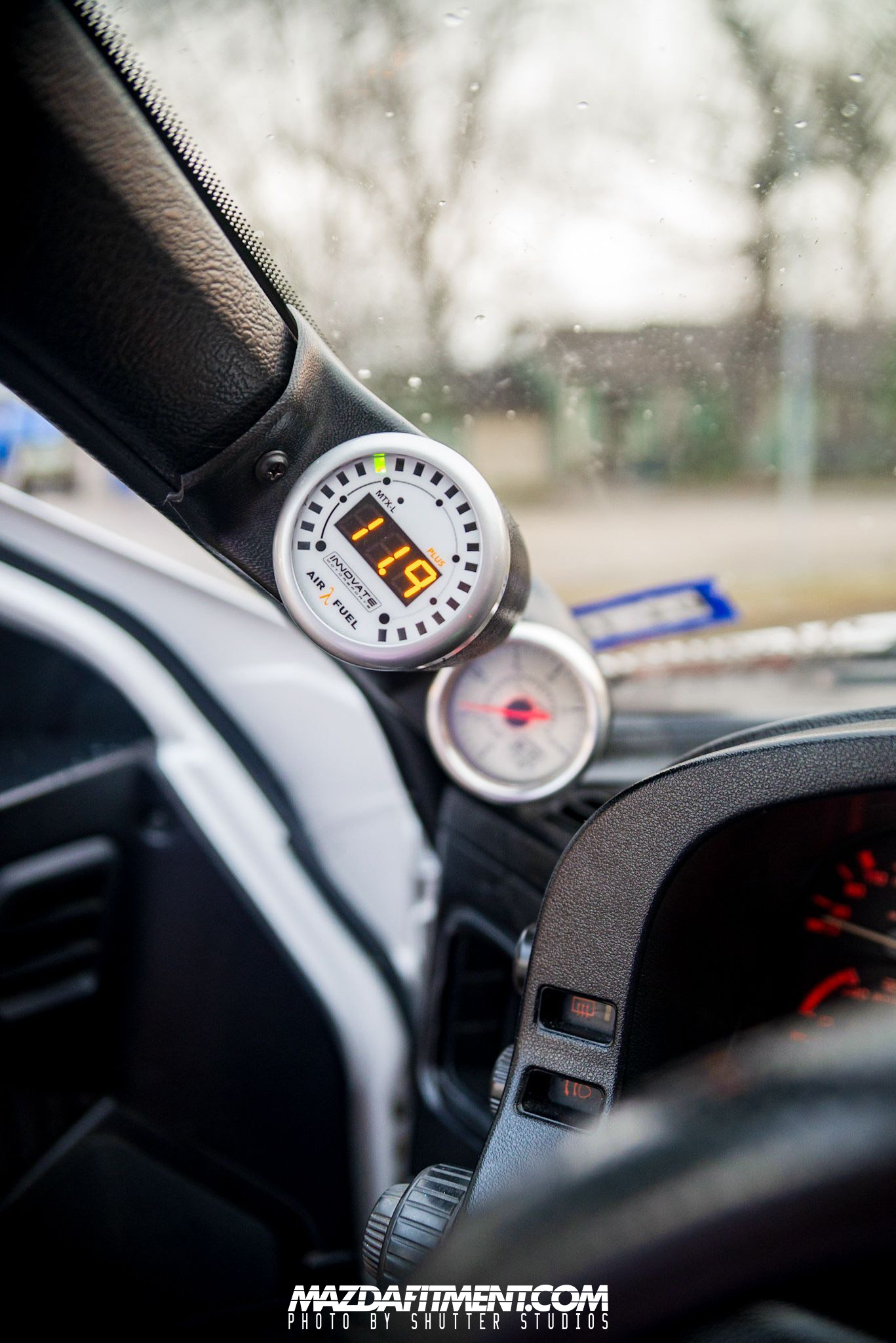 Anyone you want to thank or give a special shout out to?
"Ken Suzuki, David Do, Khiem Pham, Clay Barnett, Andy Lin, Tito Perez, Aivory Lagto."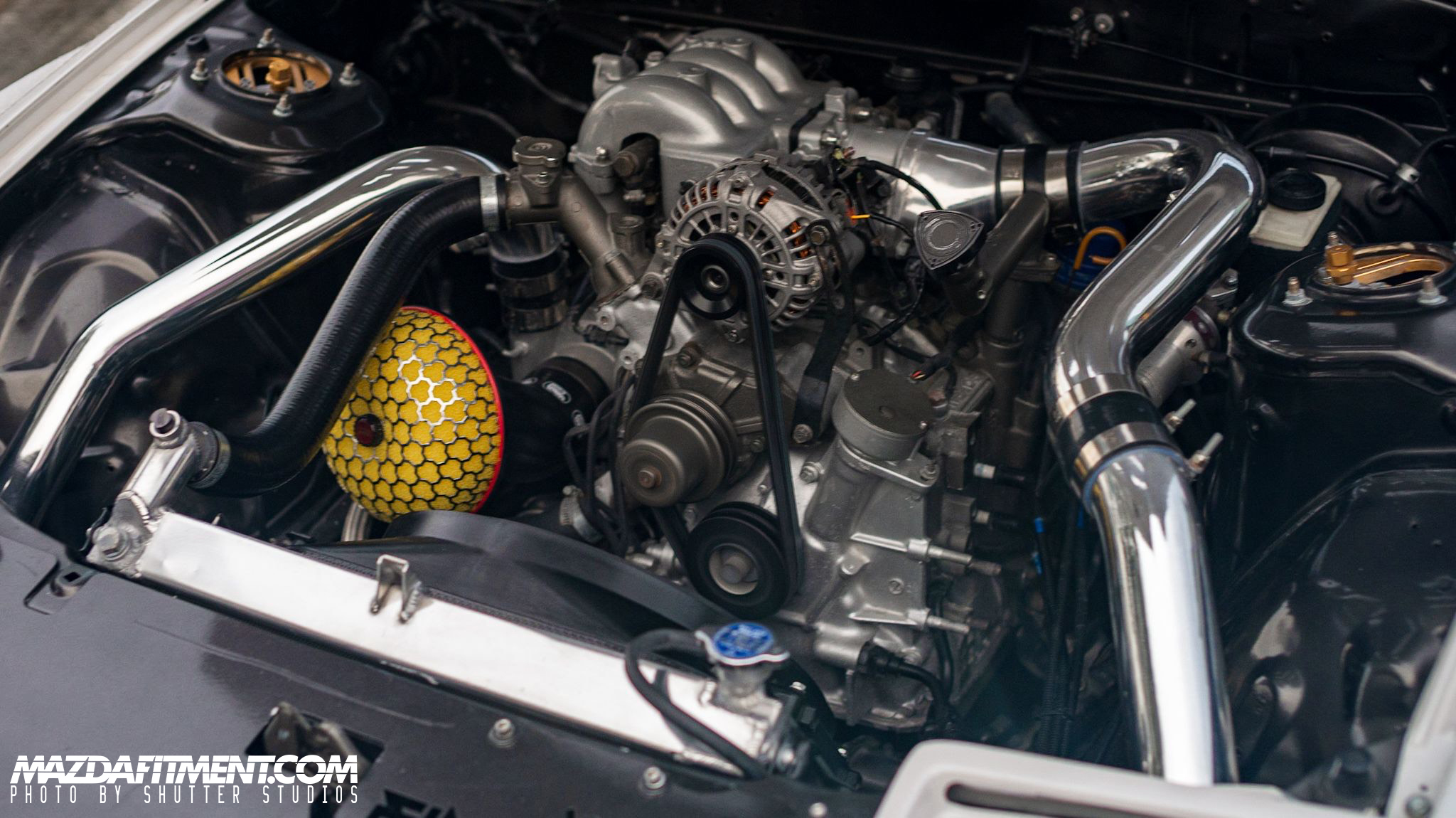 MODIFICATION LIST:
Exterior:
– Car Shop GLOW LED tail lights custom made 1 of 1
– Tamon Design FC3S-GT vented hood with carbon fiber overlaid vents
– Tamon Design FC3S-GT front fenders
– Tamon Design FC3S-GT rear fenders
– Tamon Design FC3S-GT rear bumper
– Tamon Design FC3S-GT door mouldings
– Tamon Design FC3S-GT Carbon fiber front undersweep
– Tamon Design FC3S-GT Carbon fiber front fender diffusers (demo cars only)
– Tamon Design FC3S-GT Carbon fiber side diffusers
– RE-Amemiya Style FC2000 front bumper
– RE-Amemiya Style FC2000 side sill extensions
– RE-Amemiya Style Carbon Fiber Pro rear diffuser
– RE-Amemiya Style Carbon Fiber Side vortex generators
– RE-Amemiya Style Carbon Fiber Center air diverter
– RE-Amemiya Carbon Fiber GT SPEC wing
– RE-Amemiya Carbon Fiber Front Canards
– Aerowolf ganador mirror visors
– Lexan headlight covers
– OEM Series 5 body moldings
– LED 4" headlights x4
– LED 2" turn signals
– Aero wolf ganador mirror visors
Wheels/Tires:
– Volk Racing TE37VSL 2021 edition 18×9.5 +15mm, 18×11 +18mm Pressed Graphite
– Falken Tire RT660 255/35/18, 315//30/18
Suspension/Brakes:
– Powered by MAX Solid toe-steer eliminators
– Powered by MAX Coilovers
– Powered by MAX Upper pillow ball mounts
– Powered by MAX Adjustable Camber Plates
– Powered by MAX Solid subframe mounts
– Powered by MAX Solid differential mounts
– FD3S 4 piston calipers custom painted
– Stop Tech brake pads
– Solid Aluminum motor mounts
– Stainless steel braided brake lines
– Custom painted lower control/trailing arms
– Energy suspension polyurethane bushing master kit
Engine:
– 333 BHP on 8psi
– Street ported and built by Rotary Performance
– BNR Supercars Stage 4 turbocharger
Apex'i Power FC engine management
– Apex'i Twin Chamber blow off valve (1 hot side, 1 cold side)
– Apex'i GT Spec SS 3.75" cat back exhaust
– ACT 6 puck clutch
– Greddy front mounted intercooler
– Koyo radiator
– Kemitec Racing coolant
– SuperNow oil cap
– Blitz Racing radiator cap
– Pineapple Racing Oil Pan
– GReddy Oil filter
– Idemitsu 20w50 Rotary Racing Oil
– Banzai Racing FD3S to Series 4 jumper harness
– Walbro 255lph fuel pump
– Aeromotive Trick-Flow fuel pressure regulator
– 1680cc secondary injectors
– Series 5 89-91 rotors
– S4 to S6 Under drive pulleys
– Stainless Steel braided clutch line
– Stainless Steel braided custom brake lines (from master cylinder)
– GM 3 bar MAP sensor
– FD3S air intake temperature sensor
– Custom trailing ignition system
– Custom straight mid pipe
– Powder coated Lower intake manifold
– Powder coated upper intake manifold
– Powder coated alternator
– LRB Speed cooling plate
– HKS 100mm Super Mega Flow Reloaded air filter (discontinued yellow)
– Black Magic 160 electric fan
– Tucked and simplified engine wire harness
– Tucked chassis wire harness
– Graphite Gray painted engine bay
– Phaze2motortrend hood dampers
Interior:
– Nardi 330mm deep corn rally steering wheel
– Apex'i PowerFC commander
– Banzai Racing PFC commander holder
– Blitz boost gauge
– Innovate MRX-L plus Wideband gauge
– OEM Mazda RX-8 seats
– NRG quick release
– NRG short hub
– Custom arduino sequential shift like designed by chippernut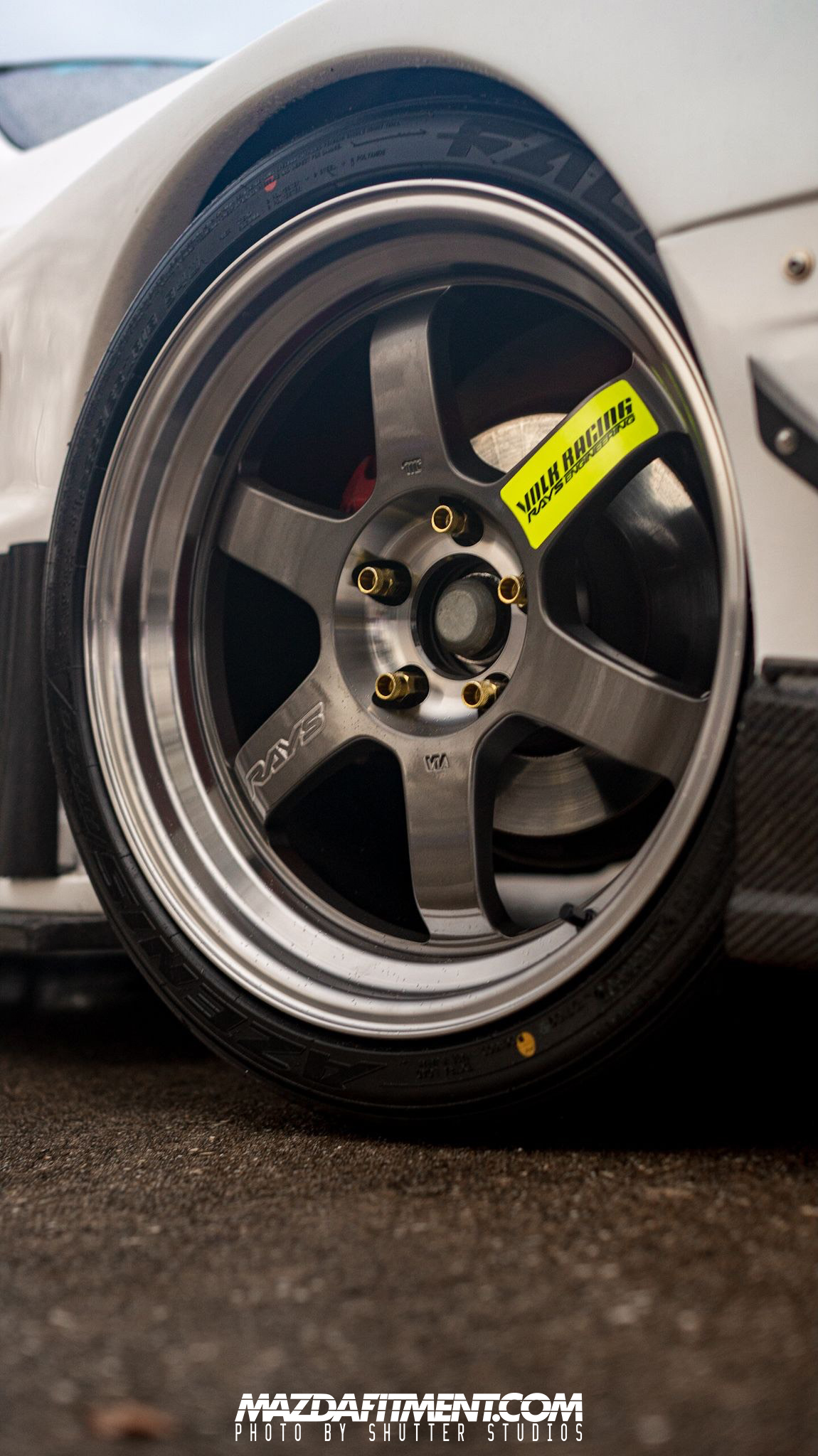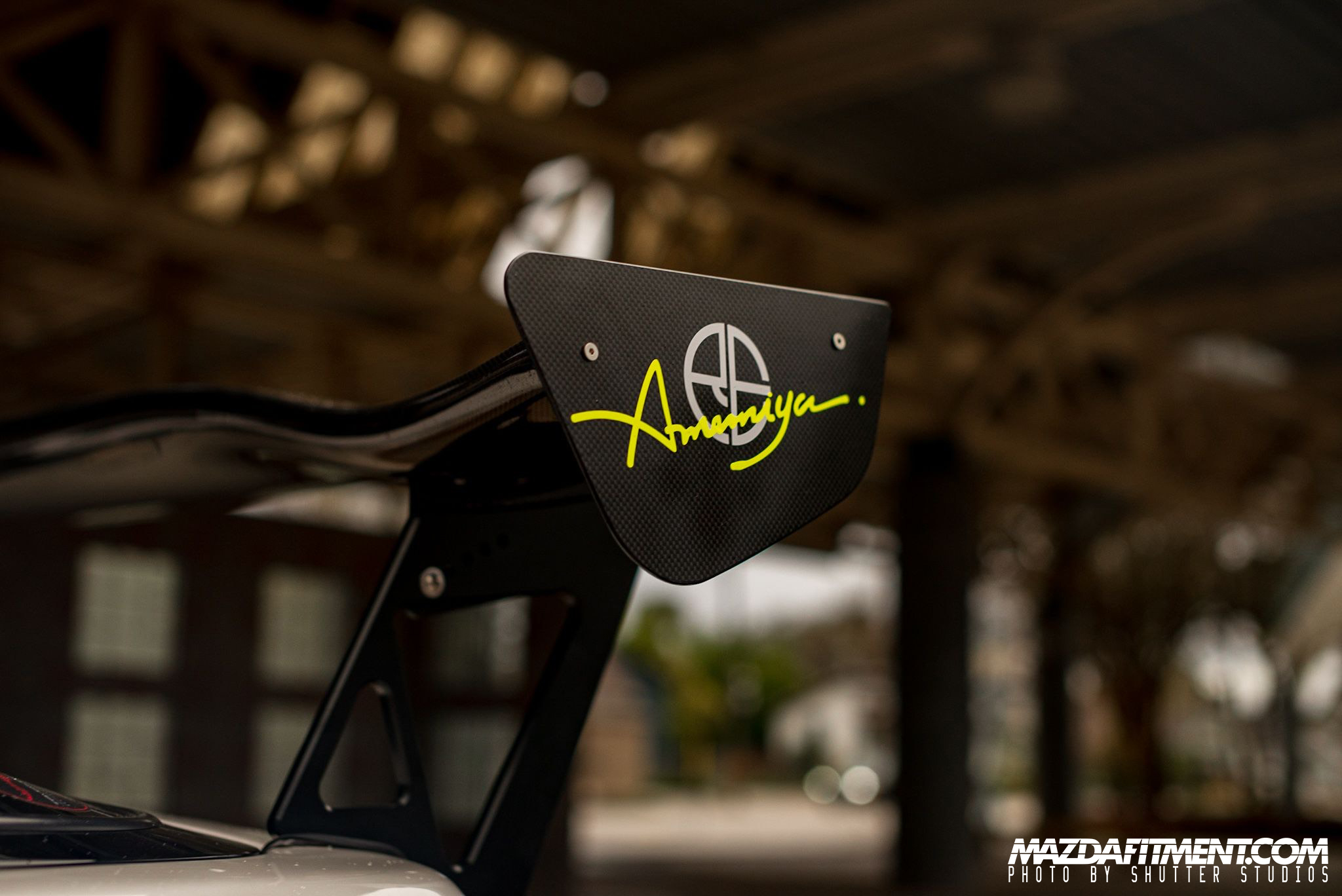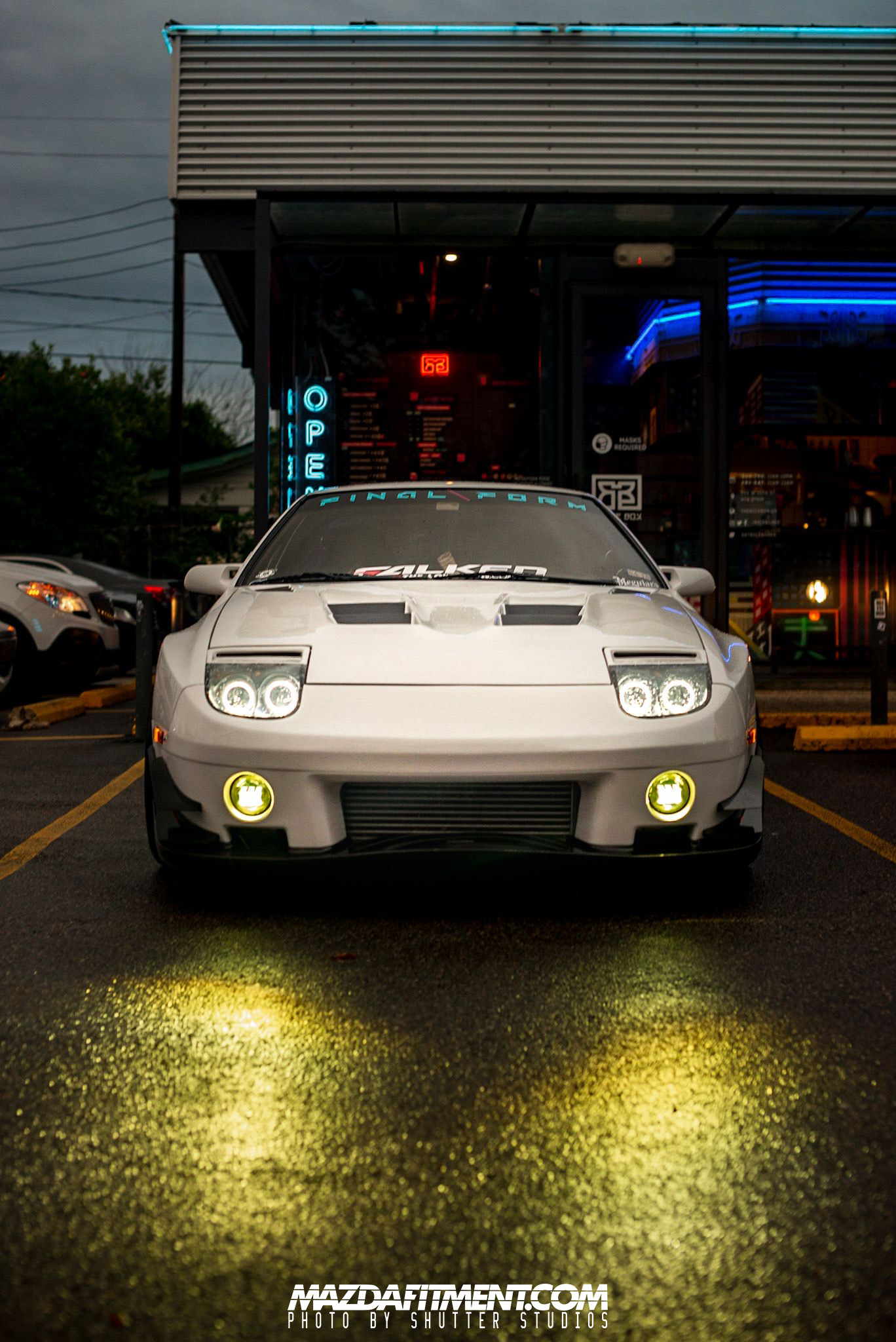 This feature highlight on Cristo's FC was a long time coming. Thank you Cristo for taking the time to share this with us. And special thank you to David at Shutter Studios for this awesome photoset. More photos in the gallery below. Enjoy.
Want to feature your ride? There are lot of builds we will never be able to come across, so please email us if you think we would be interested!
Email us at mazdafitment@mazdafitment.com