Over the past 7 years we have featured Yoshiyuki Hamasaki's FD3S RX-7 multiple times to demonstrate progress, and share the changes with everyone. You might of first seen this in a 2014 feature, 2016 feature, 2018 feature, and other rotary coverage features in 2019 and 2020. You can learn more about Yoshiyuki from his past features if you are interested. Hope you enjoy Yoshiyuki Hamasaki's 2001 Sunburst Yellow FD3S RX-7 from Takasago, Japan as much as we do. Everything is nicely done as always, and nothing is over the top.
Yoshiyuki's front end hasn't change much over the years, which is not a bad thing at all. The EUROU front bumper and EUROU front under lip spoiler just looks so good. One thing that is unique is the embedded side markers from the Toyota 86 on the EUROU front bumper, and deleted OEM fender side markers. This is a very nice touch.
The biggest changes come from Yoshiyuki's new wheels and suspension.  The wheels are Russian made, Desmond Regamaster EVO II, in 18×10.5 +22 front and 18×10.5 +7 rear effectively after spacer with 285/30/18 tires all around. Suspension is set with the Japanese premier suspension brand, T-Demand, with their PRO Damper 80s, and front 30k and rear 26k spring rating.
Another big change is from bringing back the Mazdaspeed A-Spec Type II rear spoiler wing, and combining that with the Carshop Glow carbon ducktail.
The lower portion of the rear end still has the DAMD rear diffuser painted gunmetal, but with a one-off Massaw dual muffler (with solenoid valve). Another small detail is the rear side markers went from blacked out to red.
A must have on any car are Ganador aero mirrors. Much better than the bigger OEM mirrors.
Yoshiyuki's interior has changed as well. The interior used to have a little too much yellow for our taste, but now its simple and clean.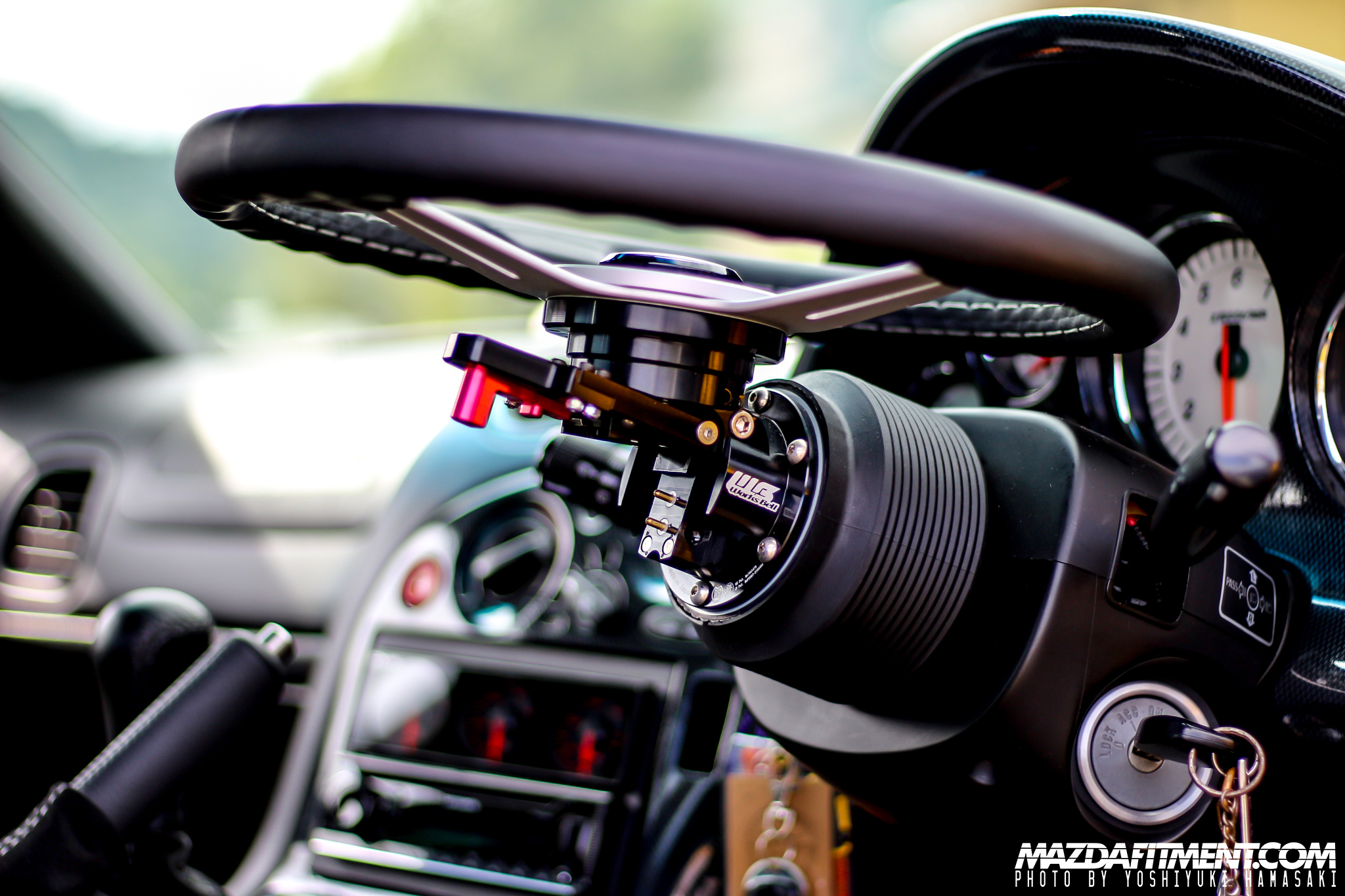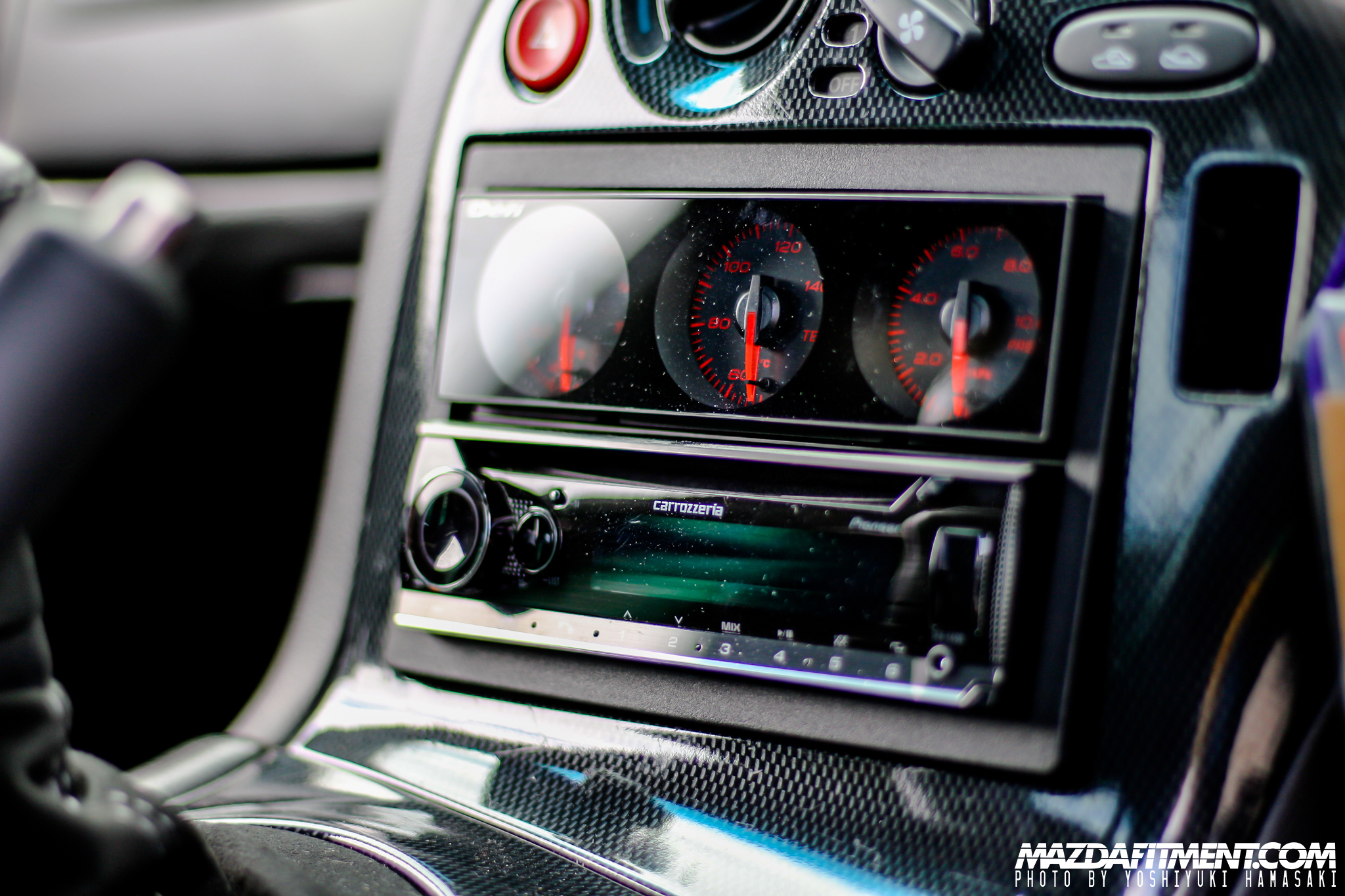 MODIFICATION LIST:
EXTERIOR
-EUROU front bumper (side marker embedded for 86)
-EUROU Lip Spoiler
-Genuine Mazda hood (smoothing)
-Front and rear 20mm wide blister fender
-(front indicator & antenna smoothing)
-cool veil windshield
-Mazdaspeed A-Spec Type II Rear Spoiler
-Genuine Mazda trunk (back wiper & washer nozzle smoothing)
-Type 6 Privacy Rear Glass
-Original tail lamp
-Carshop Glow carbon ducktail
-Genuine Mazda rear bumper (keyhole smoothing)
-DAMD rear diffuser
-Ganador Aeromirror (Blue Lens)
-RE Amemiya ADstep D2 Side Step (shortening)
-Mazda Pure Soil Guard
-carbon doorknob
-BOSCH Aero Twin Wipers
-fcl LED headlights
-Wise Square headlight lens
-ODULA traction hook
WHEELS/TIRES/SUSPENSION
-Desmond Regamaster EVO II 18 inches
-F:10.5j+22R:10.5j+7 (Sato Seiki 15mm spacer)
-DUNLOP DIREZZA Z3
-FR : 285 / 3018
-T-Demand PRODAMPER 80s
-F : 30k R : 26k
-All NMB 3-piece full-piro ball
INTERIOR
-NARDI Classic 34Φ
-Workbell GT-C
-NARDI shift knob
-defined gauge 3 meters
-Carotzeria 1din Audio
-RECARO Full Bucket Seat SP-G × 2
-TAKATA 4-point full harness × 2
-Bathurst R Carbon Panel
-Next Miracle crossbar
ENGINE/EXHAUST
-13B engine
-SARD sports catalyst
-One-off Massaw Dual Muffler (with Solenoid Valve)
DRIVE SYSTEM
-AutoExecution Lightweight Flywheel
-Mazdaspeed Engine Mount
-Mazdaspeed Diff Mount
-17-inch RS brake
-Dixel slit rotor
-Autoexecution clutch hose
-Project Mu brake hose

Thank you to Yoshiyuki Hamasaki for sharing his FD3S RX-7 with us for all these years. Hope you enjoyed his latest rendition as much as us. Looking forward to seeing how this will change in the future. Enjoy.
Want to feature your ride? There are lot of builds we will never be able to come across, so please email us if you think we would be interested!
Email us at mazdafitment@mazdafitment.com